Acknowledgements and Adjustments
May 22, 2011 1:46 AM

COMMENT
I'm republishing this article because it got buried quickly by the Killebrew news. I'll have another piece on Killebrew in the coming days, and definitely plan on attending the memorial Thursday night.
But the mourning has been taking its toll. Time to talk a little baseball -- which is exactly what Harmon wanted to do in the hours before he died. Too bad his final baseball conversations had to center on the theme "What's wrong with the Twins?"
Over the weekend, a visitor from the south side of Chicago asked me if I was "embarrassed" by the Twins. He was shocked when I said I wasn't (being himself readily willing to admit embarrassment by the Sox).
"They'll need to run their major league team out there a few times before I can say I'm embarrassed."
And that's really how I feel. We haven't seen what the 2011 Twins can do yet because we haven't really seen the 2011 Twins -- at least not the team we expected. A Molotov cocktail of injury, illness, and confidence-sapping bad luck have conspired to create the Frankenstein's monster of a baseball team we've been watching. You can almost see the bolts sticking out of the lineup's neck.
But we must also acknowledge that all the bad mojo has revealed something fundamental: What looked like a more or less routine "Twins way" offseason (cheap equivalents replacing expensive departures, non-move after non-move being regarded as "moves"), now looks more like a dereliction of duties, or at least a serious misdiagnosis. Most of the nonsteps now look like missteps.
In other words, blaming the results on circumstance rings decidedly hollow. Look back to reports during the offseason or spring training and you'll see that much of this mess was actually visible (and acknowledged) in foresight. Here are some big things which now glare at us from the Twins dugout.
1. The failure to pair Nishioka with a worthy double-play partner.
Whether he ended up at short or second, Nishi wasn't going to be able to handle the entire middle infield by himself. The pairing with Casilla was more out of a lack of alternatives than it was an unwillingness to cut bait on an underperforming, aging, former prospect. But cut bait they should have.
We don't know who the Twins may have tried to go after, but running Casilla out there on opening day was the first sign that maybe this season was going to be lumpy. It was the first dent in the confidence of the defense, which also became the first dent in the pitching performances. (Confidential to J.J. Hardy fans: More upside? Yes. Reality? No.)
2. The failure to retain a qualified backup catcher.
Stocking a backup messiah is expensive, so most religions don't. But when your messiah isn't available, you should at least be able to turn to a worthy apostle -- one whose name the faithful have at least heard. (Peter was no Jesus, but he did keep the franchise viable.)
Drew Butera has done yeoman's work, but he is half a player. This is not a surprise. Nor is it a surprise that Joe Mauer isn't catching every day. No one expected Joe Mauer to catch every day, even if he were 100% healthy. (Some would say that $23 million buys you every day. Such people do not know very well how professional baseball works.)
But by retaining only Butera as a backup, the Twins were essentially giving away all of Mauer's scheduled/anticipated/planned/guaranteed off-days. At one day a week, that's a hefty number of games to concede before the first pitch has been thrown.
You can look at the individual deals which moved Ramos and Morales and make a case that each was necessary and reasonable (maybe) at the time. But you cannot claim that Butera was ever going to be a viable, long-term sub for anybody. We have been spoiled with Mike Redmond, Henry Blanco and even Tom Prince -- catchers who were perfectly suited for one or two-days-a-week service, and who could also provide much-needed veteran presences. Butera is none of the above, and neither are the other anonymous and fleeting guys we've seen so far.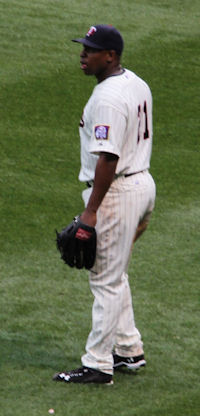 Delmon Young
But here's what's lost in the Butera-can't-hit focus: Twins pitchers post significantly higher ERAs when anybody but Mauer is calling games. That's major dent #2 in the pitching performances.
3. The failure to flip Delmon Young.
I have a friend who will defend Young as a potentially great player whose offense will always make up for his defense.
Not only do I disagree, but I've never been convinced by this offense/defense trade-off nonsense. Whole players do both. Players who are deficient in one or the other are wasting space. Winning teams have whole players at every position, with "specialists" sitting on the bench.
Young's defense moved up a notch in 2010 -- from dreadful to merely awful (I believe that the PC term is "replacement level") -- but it has tanked again in 2011. I think you can make a case both for his lack of abilities out there, and for his lack of comfort in the organization. He doesn't buy the "Twins way" and when the team is not winning, you get effort like we saw against the Blue Jays.
Not only does he not provide solid defense on a good day, but he does not add any of that "certain something" that winning teams need. He looks like a misfit out there, and the clubhouse stories that we hear suggest that he's been a misfit for the organization from day one.
After his relatively productive 2010 season, he became a natural candidate for exchange. Perhaps the Twins tried. We do not know. But that he's out there again this year represents a step backward, and his defense is yet another dent in pitching performances.
4. The failure to retain/build bullpen confidence.
What could the Twins have done to prevent the bullpen purge which took place? Staggering contracts might have helped. But picking the best of the bunch and resigning him also could have made a difference.
As it is, all the swagger drained into the Target Field bullpen turf just like snow in the wan spring sunlight. For years, guys who were serviceable at best somehow found a way to be better as a unit than any one was individually. That's a rare quality, but it has characterized the Twins bullpen for the better part of a decade.
Now, without any confidence, the weaknesses of each individual pitcher are on display, and they are left to flounder, alone.
I know that the salary numbers were prohibitive, but pick any one: Crain, Guerrier, Rauch, Fuentes, Neshek. I'm not saying that any of these guys could have been a savior -- wait, that's exactly what I'm saying. And I'm saying it because the turnover took away about one familiar face too many. One more continuous cog and that wheel might have been able to continue turning.
Barring that, a proven -- i.e. veteran -- replacement would have served. Joe Nathan as a leader can only do so much a year into Tommy John recovery.
5. The failure to move beyond wishful starting pitching.
It's not quite the same thing in the rotation. We signed the next best pitcher on the free agent list. But nobody's kidding himself about Pavano's status as an ace. He's not. On a contending club, he's a fine back-of-the-rotation starter. But the Twins have tried to elevate him, while surrounding him with the ruins of once great potential (and at least a little bit of remaining, though not-quite-realized potential).
But knowing all of the weaknesses in this rotation -- which have been talked to death in the past year or so -- it seems like somebody could have imagined that a few bad outings could break the confidence of the whole staff. To get at that, one fresh veteran arm seems like it would have at least given this crew some hope, and a little elasticity to absorb the inevitable bad things to come.
I don't know who that arm might have been, or what it would have cost. We also have no idea what deals the Twins tried but failed to make. But standing pat with a rotation which everyone knew was seriously flawed must be considered a big mistake.
---
.....deep breath.....

---
You may have noticed that I'm focusing on the reasons for the problems with the pitching. That's because, when I look at these box scores, I see the amount of runs we're giving up as the primary problem.
The hitters are having their struggles, and that's not to be discounted. But it's a lot harder to hit when your team is down 8-0 after three and a half innings. You can keep telling yourself that you'll come back, but after a few weeks of, um, not coming back, you have to start calling yourself a liar.
For the offense, here's my main beef:
6. The absence of spark.
You can work your tail off, but your personality is built into your genes. Some guys are born sparkplugs, others are not. Right now, it's hard to find a sparkplug on this team.
I was only half-joking a couple of weeks ago when I suggested that losing Nick Punto had a bigger effect on this club than any other single offseason move. Analysts have been lamenting for years what the Twins have been paying for a utility guy, but maybe they were actually paying for something else.
The highlight reels don't lie. Punto has a way of making the play that needs to be made. And he plays the game with a vigor that is contagious. The Cards are literally seeing the benefit of having him around. Teams have needed and benefited from mascots/cheerleaders for more than a century, and there's a reason.
This was on May 11...in the FIRST inning... Confidential to scoreboard guys: Really? This kind of thing looks pretty desperate.
I think that I'm still half-joking about this, but you let me know when you see another Twin playing with the excitement of a Little Leaguer.
All the great teams have that. And it comes from somewhere deep within the organization. The Twins need that desperately.
7. Over-reliance on the "Twins way".
Baseball is a game of adjustments. Working the count and trying to hit opposite field singles worked for a while. But let's face facts: that is not an exciting way to play the game. It's methodical and sensible. Sometimes, baseball is a game about abandon and crazy chances and swagger. (Besides, most of the Twins not named Mauer aren't really that good at working the count anyway.)
Sometimes they seem to be losing the head game, swinging at pitches that they have no business swinging at, for reasons unknown.
The 2011 Twins need to listen to the wisdom of Tony O, captured for all time in commercial form: "See ball, hit ball."
I've been watching a lot more non-Twins baseball on TV this season (for reasons which have been well-whined-about in this space before), and I've noticed something. Other teams are getting hits on pitches that are -- gasp -- not in the strike zone. I've actually seen home runs hit by pulling the ball!
Waiting for your pitch is all well and good, but what do you do if it never comes? Sometimes the Twins seem to be so intent on waiting for that pitch, that when they do swing, it looks to be more out of impatience and frustration than anything else.
I don't think there's a statistic for it, but is there a worse bad-ball-hitting team than the Twins? They seem to have forgotten that you can do something with any pitch you can get to. (Vlad Guerrero is the poster child for this ability.)
They need to consider this famous advice: "If every instinct you have is wrong, then the opposite would have to be right." To paraphrase, instead of tuna salad and waiting for a mistake pitch to hit to the opposite field, chicken salad and hitting the next pitch from where it is to wherever the hell it wants to go.
Please note, this is not a suggestion for a long-term replacement to the "Twins way". It's just time for acknowledgements and adjustments. It's time for "do the opposite" day -- or season.
---
Now let's move to the the less tangible and wholly irrational.
8. Blaming Target Field.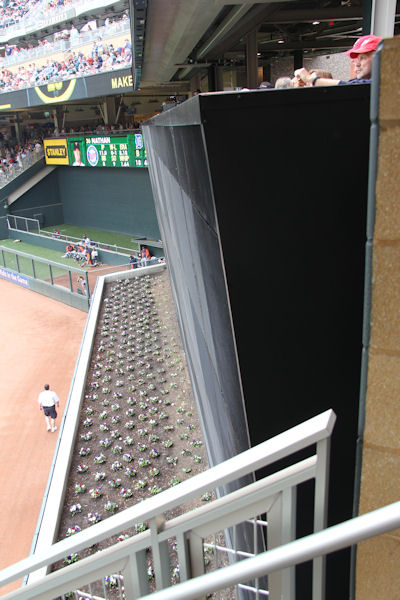 The angle of the batter's eye has been changed.
A ballpark can get in the head of its players. The Twins were convinced that the Metrodome provided a measurable home field advantage, so it did. The Twins are now convinced that Target Field is stealing their offense, so it is. (Perception is reality.)
First it was the trees, now it's shadows or bright spots or goblins or something. (The angle of the batter's eye was changed during the last road trip to reduce "glare" even further. See photo.)
First, they need to shake this off. The ballpark is not going to change. Deal with it. You play half your games on the road anyway.
But the next thing I'd do is go out there while the team is on the road and . . . fly a kite.
We know that the air currents in and out of this stadium are somewhat funky. We know that the flags are of essentially no use in determining what the wind will do to a batted ball. We know we've all seen at least one homer mysteriously turned into a can of corn.
Flying a kite is just an example of how to explore the wind currents. I'm sure there are more scientific ways. But whatever is going on, the team needs to know how to harness it. If nothing else, it will convince the players that it can be harnessed. That's all they need.
I have this probably irrational theory about the profile of the canopy and what it could do to wind currents (think airfoil or spoiler). I've also mentioned before the wind tunnel effect that seems to happen regularly in the upper concourse, where wind enters above the concession stands, whips around in a frenzy, and exits toward the field through the "split" in the upper deck.
The best thing the team could do is thoroughly investigate the place, report to the players, and devise a scheme to put the knowledge to competitive use.
But blaming the ballpark just has to end.
9. Further irrationality.
If I've got irrational theories, imagine what's going through the clubhouse. Bad water? HERC fumes? Contagious hypochondria? When results don't come, confidence is down, and no rational explanations are found (or perhaps even if they are), we tend to turn toward irrationality. And there are signs of this happening.
Here's my other latest irrational thinking:
Did anybody else cringe just a little bit when Joe Nathan mixed Metrodome dirt into the Target Field mound?
As I said before, it was a sweet gesture, truly, to try and transplant some of his success from one park to another. But the other part of my brain realized that Target Field was built to be the anti-Dome, and was very successful in that regard pretty much until that exact moment. There's something unholy about mixing those two kinds of dirt.
If Bill Smith can't solve the roster problems, and Jim Rantz can't solve the farm system problems, and Gardy can't solve the line-up problems, and Rick Anderson can't solve the pitching problems, and Joe Vavra can't solve the hitting problems, well, perhaps a simple exorcism is in order...
I'm kidding, of course! It's time to let all that go.
See ball, hit ball.
Upgrade your shortstop and back-up catcher and left fielder.
Grab a sparkplug.
Do the opposite.
Stock the farm teams.
OK, these are not exactly short-term solutions. The lumpiness of 2011 may very well be here to stay.
But this organization has shown itself very capable of acknowledgements and adjustments. We may have to be satisfied with watching to see what the Twins' brain trust can really do when the chips are down.
Either that or enjoy the idea that it will be very easy to get good seats to games for the next few years...
Comments
To utilized enhanced comment features, please enable cookies in your browser.
---
This page was last modified on May 29, 2011.