The Delusional Hills of Arden
October 13, 2011 11:53 AM

COMMENT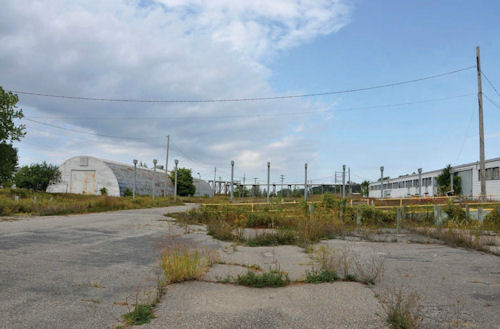 Desolate. Dirty. Mysterious. Expensive. Unlikely.
Ah, Arden Hills. Where to begin?
I've generally stayed away from talking too much about the Vikings and their fantasy facility (and fantasy competence on the field too, for that matter), but it got interesting for baseball fans this week when a new idea for stadium development and management appeared on the scene. I'll get to the MEC (Minnesota Entertainment Commission) proposal in a bit. It's a very intriguing idea.
But first, we need to check in and see if Zygi's northern tailgaiting dreamland has developed any chance of actually being built.
The short answer is "no". And the long answer is "hell no".
Before I dig into this, I just want to make sure everyone (especially any radio referrals out there) understands that I am NOT, in any way, anti-stadium. Quite the contrary. The Vikings are due a new facility (Deserve? No. Need? No. Overdue? No. Due? Yes.) Beyond that, the public has a vested interest in getting it built sooner rather than later. If we've learned anything about building stadiums it's that A) we always do it, and B) we always wrangle and delay it long enough to increase the cost substantially. (The MEC would solve this. More to come on just how.)
So, just build it. And hurry up.
We could talk for days about the irrationality of building stadiums. It most definitely is irrational to spend a billion on 10 games a year (and only slightly less irrational to spend half a billion on 81 games). I wish that we did not want these big, expensive toys. I wish that we found more happiness in different pursuits. But, as a society, as a whole, collectively, football makes us happy -- God help us -- and we are willing to pay for that little bit of Sunday afternoon happiness -- even if no one anywhere will ever come right out and admit it to you or me or a pollster or a legislator or even themselves.
Important: You may not be willing to pay, but we as a whole are. How do I know? Because we've done it over and over and over. Because the NFL is a $9 billion industry (that's an average of $30 per year from every single person in these here United States).
Also, I want to make it clear that I am NOT inherently against putting a new stadium in Arden Hills. It would not be my first choice, but I'm confident that it could work. Hell, anything can work if you can get the funding to build it.
But let's be clear about one thing. It's not hard to understand why that tract in Arden Hills would be Zygi's first choice. It's a ton of vacant land, at the intersection of two major interstates, which somebody else would buy and clean up for him and yet which he would control completely. It's a developer's wet dream.
If the stadium were built there, Zygi would be able to extract money from the fan base to his heart's content. Lots of money. For every little thing. Forever. $100 for a tailgating spot on game day? Count on it. $400 for a room at his hotel? Without a doubt. Just bear that in mind if you ever feel the urge to drool over the current proposal.
But don't worry. It's not going to happen. If you've followed the stadium saga even a little bit, it's also quite easy to spot why this plan has been dead in the water from day one. And there are a whole lot of reasons:
---
1. We've already spent a ton of money on infrastructure elsewhere which would have to be duplicated out there. (Legislators hate that.)
2. For a public facility, the Arden Hills deal would give way too much power to a private entity. (Legislators hate that.)
3. The tax burden being proposed is massively greater than was used to build Target Field. (Legislators hate that.)
4. Many key decision-makers are quietly against it -- some not so quietly. (Legislators are very sensitive to that.)
5. The business community gets nothing out of it, and loathes the plan, mostly silently for now. (Legislators live and die by this one.)
6. It flies in the face of decades of urban planning. (Legislators try to avoid that.)
7. Tailgating aside, there is no compelling reason to choose that location over any other. (Legislators see that.)
8. There is no political path to getting it done. (The final blow.)
But, just for good measure, yesterday we added one, via special report...
9. The unknowns on the site and its path to development are pretty darn scary. (Legislators hate that.)
---
I'm going to repeat myself now, just because some people will read that list and nothing else: I am not personally against either the stadium or the Arden Hills site. I am a stadium supporter. But I just think this current plan has no possible way of ever becoming reality, so every moment spent on it is a waste of time and money.
Some of these reasons are self-explanatory. But let me hit a couple in greater detail.
In terms of infrastructure, everybody likes to leverage what they already have. We've already spent a couple of billion dollars on transit into the downtowns. We've spent hundreds of millions on parking facilities. We've spent more money than can be counted on creating and maintaining sufficient freeway access to the downtowns.
These are all investments which would be leveraged by siting any new stadium in one of the downtowns. And here I'm not suggesting either Minneapolis or St. Paul specifically, but rather the need to build where the infrastructure has already been paid for rather than paying for it all again somewhere else. Going to any suburb is going to have a very high hurdle with the governmental bodies who have already invested a lot of money in preparing the downtowns for just this type of project.
CONCLUSION: This deal will not happen because legislators will think it squanders previous investments.
I terms of the deal itself, Zygi's hand got tipped when an early site plan showed a potential convention center next to the stadium in Arden Hills. But even setting that aside, the proposal gives Zygi essentially total control. He can and would build hotels, restaurants, shopping, and who knows what else. He would set all the prices, and have a complete monopoly on most aspects of a fan's gameday experience. All of this would benefit him exclusively and not the public in any financial way, while also competing with and potentially taking business from similar facilities nearby on non-game days.
The biggest problem with this is that the Governor has mandated that whatever gets built be a "people's stadium." This plan is about as far from that as you could get. It's very much a one-person stadium.
It's actually pretty hard to imagine why any governmental body (at least one without delusional stars in their eyes) would make such a deal. It would be an affront to the citizens, and an unprecedented multi-billion dollar giveaway. And it would lock the Vikings out of the reach of most citizens for the foreseeable future. Make no mistake, all publicly-funded sports facilities are giveaways to a certain extent. But this deal is orders of magnitude beyond anything else we've ever seen, and Zygi knows it. Why else would he keep casually upping the amount he's willing to pay?
CONCLUSION: This deal will not happen because, for the Governor, it's not a "people's stadium" and for the Legislature, it gives too much away to a private developer.
You don't hear much about the sales tax beyond a (favorable) comparison to the tax which is funding Target Field. But these are very different taxes, when looked at apples-to-apples.
First there is the percentage rate:
0.15% in Hennepin County, versus
0.50% in Ramsey County.
This gets glossed over with language like "half a cent tax," which some people will think is pretty close to what they did in Hennepin. But when you do the math, Ramsey would be collecting more than three times as much on each transaction. In dollars:
$.03 on a $20 purchase in Hennepin, versus
$.10 on a $20 purchase in Ramsey.
You can argue that a dime still isn't that much, but you can't argue that it isn't a big difference. It is.
Another fudge comes in the specific dollar amount given to the project. Ramsey is committing to $350 million which, not coincidentally, is exactly the same amount that Hennepin committed to Target Field. But Hennepin County has over twice the population of Ramsey:
$350M split among 1.15M residents = $304 per Hennepin resident
$350M split among 0.50M residents = $700 per Ramsey resident
Hennepin also has a whole lot more people coming and going and buying things there (an economy roughly four times the size of Ramsey's), which dilutes the per capita contribution even further.
It's also helpful to look at the sales tax in real purchases (2007 numbers):
Hennepin: $19,646 retail sales per capita, or $29.46 per person in stadium tax per year
Ramsey: $12,328 retail sales per capita, or $61.64 per person in stadium tax per year
Shoppers in Ramsey buy much less, and will pay much more! Yikes!
And, if that weren't enough, Ramsey also has a significantly larger percentage of its population living in poverty (16.4%, 2009) than Hennepin (11.9%). These are the people hit the hardest by sales taxes.
My point is, the proposed Ramsey County sales tax may sound comparable to the Hennepin one which funded Target Field, but it is not. It is very substantially higher. And this is necessary because Ramsey is substantially smaller and poorer than Hennepin in every measure.
CONCLUSION: This deal will not happen because the tax burden will be widely considered unreasonable.
Within the Legislature, decisions are all about politics. In fact, politics almost always overrides any other consideration, even fiscal. As such, it's not a surprise that certain legislators will hate this plan on its merits, while others will oppose it just because they need to in order to keep their jobs. But as we saw with Target Field, it is possible to get everything lined up so that the politicians who really need to oppose it can do so, while it also passes.
The question becomes whether anyone in government has the will or ability to navigate that path for Arden Hills, or whether it exists at all. In this case, someone would need to break out the machete and hack through the densest forest seen in a long time.
Tea Partiers, as we are all painfully aware, are rabidly against taxes, and they currently hold sway over pretty much everything. I could go on and on about how insane this is, but let's just say that it totally dooms a Ramsey County tax which no one could love anyway. If the TPs don't kill it outright, the Repub leaders will just fall back on requiring a referendum, which would effectively kill it. And that's all before the discussion even opens on the state contribution, which would face an almost identical hurdle -- unless enough people agree that the plan is mutually beneficial. That can't happen for Arden Hills, but might for somewhere else.
The Dems, meanwhile, historically oppose these things on instinct. (Don't judge. I agree with their instinct, but side with practicality on this issue.) But this time, urban legislators can also oppose it because the urban core gets ignored. Legislators from the south and west will hate it because it's too far away by highly-congested freeway.
If there were to be a path to passing this plan, the coalition would be made up of northern suburb or outstate, non-TP Repubs, plus moderate northern suburbans of either party. Good luck with that.
CONCLUSION: This deal will not happen because there is no political path to passage.
And even if you could find such a thing, signals from the business leaders would work hard against it. It's not always possible to define just who the "business leaders" are, but they're all people who recognize when dollars are being misspent. They were no doubt the first to recognize the swindle Zygi was attempting, and the first to realize the advantages of clustering the sports facilities in order to leverage public money already spent.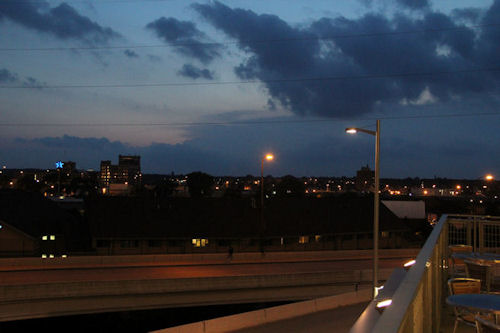 Looking toward the Farmer's Market site from the balcony of the 573 Club at TF
In other words, business leaders see the fiscal insanity associated with the Ramsey plan and have no political considerations to cloud their decision-making. (Oh, wouldn't it be great if legislators could have even one moment of such clarity. So many problems could actually get solved... But I digress.)
Here's the important point: Quietly, over the past six months or so, the Farmer's Market site has become the glaringly obvious choice for the stadium. The consensus is so strong that Arden Hills has been completely dropped from the discussion materials I've read, under the presumption that the proposal will collapse well before the next session begins in January. Those still arguing publicly for the Metrodome site have privately acknowledged (or huffily refused to acknowledge) that it cannot match the Farmer's Market in a number of significant considerations. (If you're curious, here are just some of the reasons.)
This coalescence of opinion parallels a similar convergence in early 2005 around the Rapid Park site (where Target Field now stands).
There are a lot of reasons for this, but rather than detailing them here and now, I just want to point out that the Twins were among the last stakeholders to accept the site where they ultimately ended up. In fact, at one point the Twins leaders emphatically stated that they would never stoop to building their new ballpark in some ditch out by the railroad tracks.
The Vikings project, regardless of site, will face (and ultimately overcome) some political hurdles. But the Minneapolis site avoids some of the key ones because Hennepin County can step in with a much larger economy, and a proven track record for getting such a project done.
I'm not as confident as I once was that 2012 will be the year, but since the Farmer's Market easily avoids most of the negatives which doom Arden Hills, and is decades more forward-looking than the Metrodome site, I'm still confident that it will be the final destination. (Personally, my first choice would be the HERC site. But that facility isn't going anywhere anytime soon. My second would be Mary's Place, but folks I've talked to say that they'd rather not disturb her -- and not out of fear, but respect for what she does. FM would be my third choice, but its strengths are substantial. Redeveloping the land near the Basilica is desirable, but its relationship to the freeways which surround it, and therefore the downtown core, is problematic.)
CONCLUSION: This deal will not happen because a different option has gained wide favor.
Multiple sites competing? Multiple cities and counties bickering and accusing each other? Multiple financing plans, all with gaps? Angry public meetings? Demands for a referendum? Haven't we been here before? Isn't there a better way?
I'll talk about the MEC (and its potential impact on baseball) next time. Meanwhile, here's a sneak peak from last Friday night's Almanac.
Comments
To utilized enhanced comment features, please enable cookies in your browser.