Around the Horn #1: New Siebert
April 13, 2013 2:10 PM

COMMENT
With Target Field starting to get that sort of lived-in, feels-like-hominess air about it, it's time to turn our eyes outward a bit and see what else is happening in the baseball and stadium world right here in the Twin Cities. If nothing else, it will serve as a distraction from the lack of springiness. Surprisingly, there's lots to see.
Over the next three posts, we'll poke around at New Siebert Field, the new Saints park in St. Paul, and the fiscal monstrosity set to emerge like a chest-burster on the eastern edge of downtown Minneapolis. But I'm getting a little ahead of myself.
New Siebert Field
The first game at New Siebert Field was played on Friday, April 5, under grey skies that sprinkled very light snow on the proceedings. It was certainly a happy occasion.
Slideshow
Image

1

of 9
Overview
I've followed this rebuild sort of from a distance. I took my kids to the last game at old Siebert last spring, and managed to get to the groundbreaking ceremony for the new one back in June. I've also swung by there a few times to get a look at the progress (the slideshow below documents the whole transition).
Slideshow
Image

1

of 42
May 1, 2012
Truth be told, it's been sort of hard to get into the project, and mostly because it's, well, a little underwhelming -- in both aspiration and realization.
Don't get me wrong. It's great that the U has a new baseball stadium, and certainly impressive that they were able to raise the money needed (project budgeted around $7.5 million) to replace a facility which was way beyond decrepit. The list of names of people who came together on this project reads like a who's who of the baseball elite in the Twin Cities. Their generosity really makes it hard to criticize the project.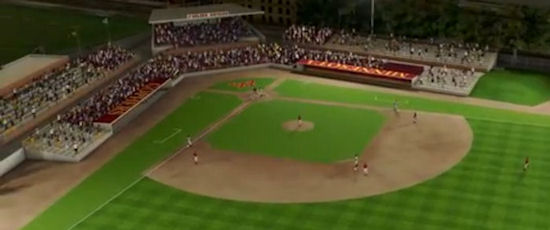 What has been actually built so far is only a tiny subset of this vision.
But the design-build team, which actually spent the money, has managed to create a replacement that is all about practicality and very slight on imagination. There's not much here to get excited about beyond its mere existence and the goodwill of those involved.
The project reused a terrible site, replaced truly beautiful grass with durable and economical but wholly disheartening FieldTurf (not even retaining dirt cutouts around the bases, despite what the concept video shows), and is essentially a rather small-scale modernization which may have lost more than it gained -- or maybe not, depending on who you are. (The people at the baseball program seem giddy beyond words.)
Before I continue, let me make clear that I understand they have not finished this ballpark yet, and will be doing so in phases over the next few years as funding becomes available. Eventually there will be (according to the concept images at least) several additional seating areas, lights and possibly a canopy over some of the seating. But what you see now is pretty much what you are going to have, at least for a while. (I'm assuming it will get some sort of nice sign out front sooner rather than later.)
There are certainly things to like about the product as it stands already. It's nice that there are grass berms which, I presume, could be sat on if the crowd grew that large (and the snow piles melted). The free viewing area beyond the left field fence is a great touch. If I were still a student living over on University Avenue, you'd find me out there at every opportunity.
Grass berms are sort of trendy right now, probably because they are cheap and bucolic and suggest a picnic lunch rather than a big-money sport. In this case, they can also serve as attractive placeholders for the stands which haven't yet been built. They are probably all ready for easy upgrade when the funds appear. All in all, not a bad solution (way better than the old cement and asphalt), but it does call attention to what was not built in this round.
The park's opening day capacity of 1,420, while certainly more than sufficient for the opening day crowd, actually seems kind of dour. What does it say about the program when the people who run it can't imagine attracting more fans than that? Even Northwoods League ballparks typically seat 2,000 to 5,000. I know, the Gophers also play in the Metrodome. And they just don't draw. But really. This program may be a little too humble for its own good.
My biggest lament is that the whole thing has a generic, utilitarian quality that leaves it essentially devoid of, if you'll pardon the expression, ballpark magic. The designers might have done well to take cues both from the grandstand it replaced (which had a wonderful 1970s late-Brutalist beauty), or even the much more imaginative, refined, lively and intimate Cowles softball stadium (with its handsome maroon seats) which sits within view beyond the center field fence.
They might have simply moved the ballpark one notch to the east on 8th Street (currently occupied by a pressurized dome, and formerly softball fields), where they could have had a proper northeast orientation for the playing field, and connected to the larger sports facilities just across the railroad tracks. That might have even created a tailgating-for-baseball opportunity which just can't exist in the current cramped plot -- shoe-horned as it is between practice facilities for other sports, with no street profile (or parking) whatsoever.
Some separation could have helped minimize the sense that this is also just a practice field sandwiched between other practice fields. Or better, it could have minimized the perception that the baseball program at the U is an after-thought. The new Siebert does nothing to feel like a marquee facility which celebrates the Great Game on the campus of a great university (my own alma mater). That makes me a little sad.
But let's give the baseball program some credit for actually accomplishing what they set out to: modernization. That's a laudable goal in itself, which I understand well.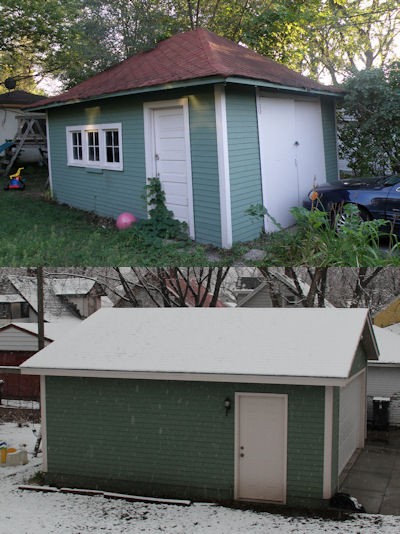 This is why I get it, even if I don't like it.
In fact, this rebuild reminds me of my own garage-replacement project a few years ago. Our old garage was built with the house in 1907, featured a matching roof line, quaint windows and a five-paneled door (just like the house). It clearly had been home to horses at one time, and was a lovable throwback to a simpler era.
But the roof had holes, the studs were rotted at the bottom, the windows were a security hazard, and the pull-out doors were impossibly impractical. We hardly ever used it because we felt it might collapse onto the car at any moment. (I'm fairly certain that the five-paneled door was load-bearing.)
When we decided to replace it, we talked with contractors about recreating some of the distinctive features, but quickly found out the difference in cost and logistics and wound up building something that looks pretty much like every other garage in south Minneapolis. (Using Hardy plank and our specific house color does offset the generic appearance at least a little bit.)
But one of my neighbors appeared one day to lament the loss of the quaint old structure. "It was so beautiful," she said. "We'll miss it."
But I don't miss it at all. You see, we love -- and use -- our new garage much more than our old one. We aren't the least bit regretful that practicality and economics intercepted our initial wishes. It's better in so many ways that we have never looked back, not for a moment. We tore down something arguably more attractive than what we built, essentially modernizing at the cost of some romance, but we went from barely-functional to streamlined and essential.
That's how I would describe what happened to Siebert Field. And I get it.
But garages and ballparks fall into two distinctly different classes. A baseball stadium actually has a responsibility to inspire -- players, coaches, fans, financial supporters, other teams. And while the cost of creativity and imagination is greater than zero, so are the benefits. In fact, the benefits can often be measured in way more than dollars.
It's one of the founding principles of this web site, borne out by what we saw happen with Target Field: The vision and details matter. You can have exactly the same functionality while building with vision and aspiration. As a building, Target Field soars in many ways. It solved problems, but it did so while also engaging the spirit.
It has nothing to do with scale. Even small parks can inspire. Even parks on a limited budget can engage the imagination and stoke the love of baseball. Even small parks can focus (and build) the fan base. Even parks sandwiched between practice fields for more popular sports can make a statement and grab some glory. All it takes is setting that as a goal, then measuring each aesthetic decision you make against that goal.
Given that New Siebert Field is not finished, I'm going to hold out hope that creativity and imagination will play a larger role in the inevitable future upgrades. The U's baseball program deserves that.
Next up: Baseball in Lowertown.
Comments
To utilized enhanced comment features, please enable cookies in your browser.
Hide Facebook box
---
This page was last modified on April 15, 2013.
"You talk about the magic, the aura, but what really makes a stadium is the fans. Concrete doesn't talk back to you. Chairs don't talk back to you. It's the people who are there, day in, day out, that makes the place magic."
– Bernie Williams
Explore the Site
Here are 50 images chosen randomly from the 3042 found on this site. Click the image to be taken to the original post. A new list is created every 10 minutes.

The Northstar circulation building is starting to take shape.


Here is where the signature art (original Twins logo) will be placed.

This area will supposedly show the Twins chronology. Will it stretch back to 1901?

The parking bay structure is now clearly visible

This is a slightly blurry view of the pavilion in center. It has a quirky shape, but one which is completely consistent with the overall ballpark design. Nice work there. You can also get a glimpse of the greenery which will rise above the fences.

Looking back toward downtown from the end of the balcony


Off-topic, but this gigantic, cool, retro sign is just across the street from S&CH. Why? I don't know. Might look nice on top of one of those municipal parking ramps...

Ticket booths.

Cleveland

Looking from near the entry doors toward the center, the atrium is just visible at the far right.
This is the outside portion of the Metropolitan Club.
Click to enlarge. (Photo by Tyler Wycoff)


Here's the field of posts which will support the third base side of the grandstand. Some walls have started to appear about where the Northstar riders will enter the park.

At lower left are the seats I'm not going to use any time soon.

Bike parking available along Second Avenue

This looks south and shows the track configuration for Northstar. The platform shown is just a placeholder. To the best of my knowledge, concept drawings for this platform have not been released. Keep in mind, this is NOT part of the ballpark project. It is completely separate.

The restaurant.


The electronic sign has been corrected (and never forget that ballpark is one word, not two)



Seating mound (seen from the B ramp)

Chef stand and menu in the Carew atrium

Hubert's remains the only sports bar within site of the Dome after 28 years of its existence. It's a cautionary tale.


I had to hold the camera as far over my head as I could to get this shot, in which the infield is finally visible. It's a spot made for your average Timberwolves player.
Is it possible to take a bad picture of this building?

This looks south and shows the track configuration for Northstar. The platform shown is just a placeholder. To the best of my knowledge, concept drawings for this platform have not been released. Keep in mind, this is NOT part of the ballpark project. It is completely separate.

Glove from above



The right field overhang as seen from Seventh Street (with dude)

Another deck to come...

Loading docks to the right, VIP entrances to the left.


Those little oval additions are positively laughable!

A slightly different angle, and you can see some of the structural elements.

The Metrodome hot dog vendor. (Source: RP)

Spring of 1982 (click to enlarge greatly -- can you pick out Kent Hrbek?)

Home plate mount from Met Stadium (Source: LP, courtesy Clyde Doepner)




Secret entrance exposed!
Glossary
BPM - Ballpark Magic
BRT - Bus Rapid Transit
DSP - Dave St. Peter
FSE - Full Season Equivalent
FYS - Fake Yankee Stadium (see also: NYS)
HERC - Hennepin Energy Resource Company (aka the Garbage Burner)
HPB - Home Plate Box
HRP - Home Run Porch
LC - Legends Club
LRT - Light Rail Transit
MBA - Minnesota Ballpark Authority (will own Target Field)
MOA - Mall of America
MSFC - Minnesota Sports Facilities Commission (owns the Metrodome)
NYS - New Yankee Stadium
SRO - Standing Room Only
STH - Season Ticket Holder
TCFBS - TCF Bank Stadium
TF - Target Field
Selected Bibliography - Analysis

Selected Bibliography - Surveys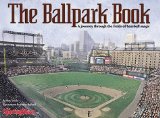 Not a "Third Edition" exactly,
but it replaced the above title
(2000)


Original edition (2000, round)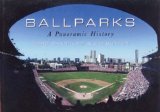 (2004, very large coffee table)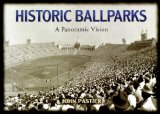 (2006, very large coffee table)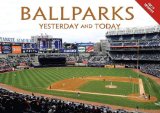 Combines the previous two titles
(2007, medium coffee table)

Selected Bibliography - Nostalgia



Book and six ballpark miniatures
(2004)