August Afternoon
Words From the Ballpark
August 2, 2012 2:13 AM

COMMENT
If years were days, August would be the afternoon of the year.
(White Sox score first on a sac fly from Adam Dunn. Is this guy back?)
It's that moment in the year when everybody sort of looks up from whatever they are doing, stretches a bit, maybe yawns, and thinks about -- if not actually doing it -- taking a nap. Vacations and long weekends prevail, we focus more on water, and the world takes on a warm, sleepy, hazy quality.
I purposely try not to schedule very much for the month, knowing I won't be very engaged or productive. Were the Twins a little closer, my thoughts would actually start to turn toward a pennant race about now. As it is, it will be thoughts of '13 and '14 instead -- though baseball will still begin to occupy an even larger portion of my consciousness.
(Twins answer by way of a Ben Revere double, a Sox pick-off play at second which sent the ball into the gap in right, and a Mauer RBI groundout.)
Given all that August is, it makes sense to begin the month with a sunny afternoon game, beginning at glorious midday.
Afternoon baseball is really one of life's great pleasures. The shadows are small but intense, the ball looks impossibly white, and the whole affair takes on a sort of Huck Finn quality -- you know that maybe you shouldn't, but you will.
Taking the field
By all rights, August in Minnesota should usher in the heat, but by that measure, it's been August since sometime back in March. Today, the game begins at a somewhat-steamy 81 degrees which, though sticky, actually feels like a relief.
(The Sox go quietly in the second, but Danny Valencia, apparently really wanting to stay in the bigs, hits a high homer to left-center. Twins go up 2-1.)
Here at Target Field, the flags above the left field stands are blowing robustly as if the wind will knock down fly balls to right today. In actuality, the first few innings have seen some towering flies that haven't appeared knocked-down in the least.
Ben Revere
Despite the beauty of the day, the stands are nowhere near full. It's hard to know why. Maybe not everyone has looked up from their work yet. Maybe not everyone appreciates that each individual contest has value even if the overall campaign has already been conceded. Maybe not everyone prioritizes the early innings.
Maybe not everyone realizes yet what a joy it is to watch Ben Revere play the game. Hard as it was to let go of Joe Nathan as my favorite Twin, it's been pretty easy to accept Revere as a worthy replacement. So far today: single, double, stolen base and diving catch. And it's the third inning!
People resist comparing him to Kirby Puckett because he doesn't have anywhere near the same bat, but one can easily recognize the same smiley approach and obvious love for what he does. It's contagious, and the team could do way worse than to use this guy as a rebuilding block.
(The visitors were victim to a double play and Revere's dive, but the home team couldn't capitalize on Revere's hit and Mauer's walk. Still, they hold on at 2-1.)
Five years ago today was to have been the eve of the groundbreaking for this ballpark. I'll never forget coming by to document the setup for the event late that afternoon, then continuing on to errands which would bring me to a choice I'll never forget.
But for a flash of impatience, I might very well have been on the 35W bridge when it collapsed. As it is, I'm able to look back at this as someone else's tragedy. But I take little comfort in that. Much of life is arbitrary and random.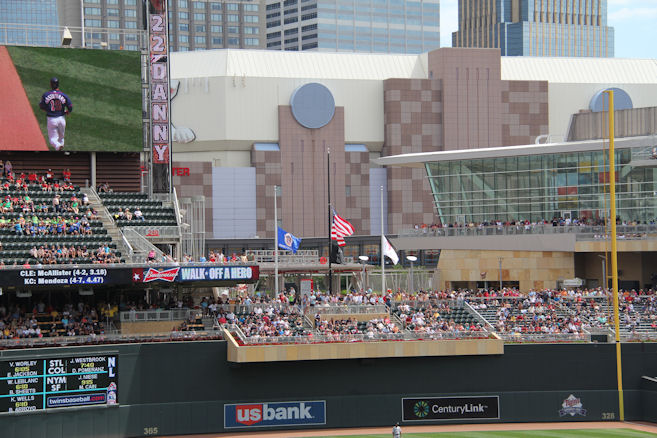 Flags at half-staff in honor of the bridge victims, five years ago today
(Not an hour into this game and already in the fifth inning. This game is moving quickly thanks to a whole bunch of quick at-bats followed by groundouts. Call it "good pitching" if you prefer yin over yang.)
The stands remain stubbornly thin, perhaps 60% full, though the crowd is attentive and appreciative. I've chosen to sit in the air conditioning for a little while, though there's a palpable downside in not being able to hear or join the cheering. Somehow one's own cheering sounds a little absurd when part of a smattering.
Contrary to what you may believe, people in the air conditioning do follow the game, but they do other things as well.
Some talk loudly on cell phones, be it about important-sounding business deals, or just to describe where they are.
Exact quote #1: "I'm at the ballpark! ... The BALLPARK! ... I don't know, but it says 'Chicago 1' and underneath that 'Minnesota 2'. ... Yes, that's what it says! ... I'm not sure, but I think it means they're leading."
Exact quote #2: "No, it's an AMENDMENT! ... It's the part that says they only get PART of the land! ... Just look at the bottom and sign it! ... Then give it to MARY! ... No, MARY or whoever!"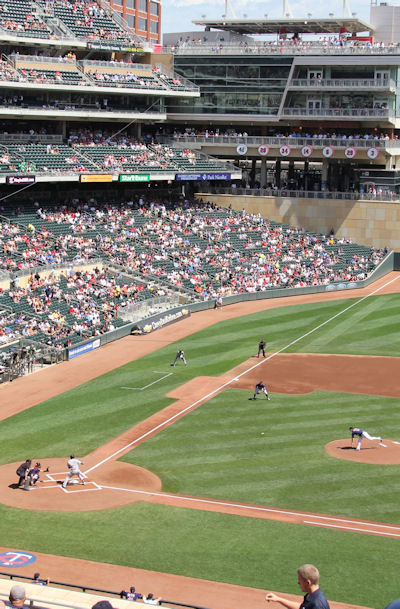 First pitch
(The Sox get a run to tie it in the fifth on a couple of singles and a fielder's choice which might have been an inning-ending double play but for a little bobble by Brian Dozier. 2-2)
The woman to my left says nothing after hanging up the phone. But the man to my right is a gentleman who is happy to talk about his days as a season ticket holder back at Met Stadium. He worked at the downtown Dayton's for 30 years, and had tickets every year just behind third base. "Cheap ones," he emphasizes. His wife owned a beauty shop in Bloomington and often did hair for the players' wives. For himself, he made friends with the stadium club manager and always got to head down there for free drinks during the late innings.
In the recent past he's lived in Florida, "not three blocks from the Twins spring training. I seen 'em every year."
This is his first visit ever to Target Field, though he's seen it on TV. He declares it to be "just beautiful", though he has less kind words for the changes he's seen today in downtown Minneapolis. "Too much traffic," he said with disgust. "All these one-way streets..." He tossed up his hands.
He also quickly describes being shocked at the $30 he needed to spend on hot dogs and a couple of drinks. "These kids'll never know what it used to be like out at the Met," he says, gesturing in the general direction of, well, the whole stadium.
(Brian Dozier gets props for making it all the way to third with only one out, but winds up being doubled off when Denard Span lines out to first. Ouch. 2-2 after five.)
My companion, who declared himself to be 86 years old, decided to return to has actual seat, now finally in the shade. "I can't take the sun like I used to," he says with a smile of resignation. He's obviously been watching his actual seat very closely as the shade crept toward it.
Yes, it's the kind of a day at the ballpark when shade makes a difference, and not just to the octogenarians.
(Scott Diamond looks strong at 75 pitches after six innings. He gave up a double, and a long fly ball, but tamped down the Sox with two strikeouts. Still 2-2.)
I've been in the air conditioning long enough now that it's starting to feel kind of cold. Maybe it was just following the lead of my new ballpark buddy, but the sunshine now looks just too enticing. Grabbing a burger, I also grab one of the very many empty seats on the Skyline deck. For what it's worth, the air conditioning works a lot better on the shaded side of the ballpark.
As I sit down, the sun hovers mostly behind the clouds, bright enough to feel like a sunny day, but certainly not at full strength. The difference is definitely noticeable when the clouds part, and I immediately wonder just how long I can sit here without any sunscreen.
I gave up the bottom of the sixth to changing seats and the burger purchase, sitting down just in time to see a classic strike-em-out-throw-em-out double-play on Willingham and Mauer. The seventh I gave over to eating the monstrous burger, which I still contend is the best food deal in the ballpark at $9.
The game continues to fly by, with the eighth inning just getting underway as the clock on top of Twins Tower shows 2:10. In this inning, the Twins will basically gift a run to Chicago, Scott Diamond's day will end, and the crowd's attention will begin to drift. The scoreboard will begin to plead more frantically for "noise" and the sound system will bleat "Everybody clap your hands" a few times. Frankly, I think we'd be more likely to actually do it if we weren't being manipulated -- at least I know I would.
With the Olympics dominating the sports landscape, It's worth noting that here in downtown Minneapolis this afternoon you can actually see 50 of the best baseball players in the world battling out a game. No wonder baseball was eliminated from the Olympics. The world's best players are busy.
(Jake Peavey still looks strong while passing the 100 pitch mark, though the Twins seem to be making it easy on him. They benefit from another Sox error, but cannot score. 3-2 Chicago.)
As the ninth inning begins, the midday of that first pitch is long gone, and real afternoon has arrived. The shadows have lengthened accordingly. The players look more and more like they are trying. The sun, however, does not have to try. It remains highly potent whenever it gets a clear shot at us.
A foursome of young adults bearing frozen treats has taken up the seats in front of me. They appear to be just arriving to their seats for the first time today. Not surprisingly, they also appear not more than marginally interested in the game, looking off in odd directions, laughing at somewhat unexpected times. They appear to be mocking among themselves the collective reactions of the fans, such as the booing over pick-off attempts, and all the Pavlovian clapping.
OK, I sometimes think that, but open mockery? Not cool. Clapping, cheering and booing is what people come here to do, you know.
It's two married couples, and the only evidence I see that anyone in the group is a fan is a Millers throwback cap being held -- not worn -- by one of the guys. Frankly, it looks newly-purchased.
With 35,000 people here, there are probably at least as many stories, and at least as many reasons for finding themselves here at the ballpark. I cannot tell why these four people might be here. They look mightily out of place.
But, technically, they are not. The ballpark, despite its rigid separation of classes, has something of a flattening quality about it. Is it too much to say we're all one in baseball?
Yes, it probably is. We're not all one, we're still 35,000, with just as many approaches to the game, the team, the ballpark, and fandom in general.
But, as we begin the bottom of the ninth, with our team down by a run, we all have the same hopes and fears. Even the mockers in front of me turn toward the infield, clapping (with nearly no irony) at what transpires: a double and walk with two outs, followed by a beautiful double-steal.
Let's let that be our last image of the game, and of this bright August afternoon. The boys swung the bats and ran the bases until the very end. That's all we need for now.
August is special to me for another reason. Late in this month I'll begin my fiftieth year. And if our lives were days, I'm pretty sure our fifties would be the afternoons of our lives. Our blazing middays have passed, and it's time to look up from what we're doing, stretch, and think seriously about that nap. Then, maybe, it will be time to consider what comes next.
I love the afternoon sun. It feels great on the skin, creates a beautiful shadow, and serves as a reminder that every day ends.
So, soak it up, boys. Swing your bats. Run around those bases. Dive for the ball. Make the plays. Whatever you start, do it well, and do it until it's done.
This is your midday, ablaze with potential. Whatever you do, don't just sit there: start something!
Comments
To utilized enhanced comment features, please enable cookies in your browser.
---
This page was last modified on August 2, 2012.