About Authority
August 4, 2006 11:58 PM

COMMENT
How can I describe the Ballpark Authority? Or maybe it's better to ask, how can I describe the vast gulf between what the Ballpark Authority cares about and what I care about?
Take a look at these two quotes:
"Space-age gadgetry is now the byword in ballpark construction, with fountains, waterfalls, light shows, exploding scoreboards, escalators, posh clubs, and form-fitting chairs now the order of the day. The new parks have, at least in the short run, broadened the base of baseball attendance and brought women and families in record numbers. But we've been down this path before.
"The major attraction is still baseball, and the hard-core baseball fan is still the most important customer. The more things change, the more they seem to remain the same. A fan can see fountains in a city park, light shows on a tote board, and go to a posh club anytime he has the money. But the only place he can see baseball is at the ballpark. The only thing the ballpark can give him that he cannot get anywhere else is baseball."
Bill Shannon and George Kalinsky
The Ballparks, 1975
"This may be the largest real estate transaction the state has ever undertaken."
Steve Cramer, Chair
Ballpark Authority, July 21, 2006
There you have it in a nutshell. I see this project as Shannon and Kalinsky might. The commissioners, of necessity, must see it quite differently.

The Ballpark Authority at work (Source: RP)
I've been to all three of their meetings, read the handouts diligently, studied the resolutions and bylaws, and been completely bored out of my mind most of the time. If it hadn't been for some very nice supporting documents (most of which will appear here in one form or another), this might have been a total waste of my time (something I have very little of, what with numerous CD and DVD projects on my plate and a sweetly persistent toddler tugging on my shirttails for large portions of each day).
But really: Who knew that building a ballpark could be so painfully tedious?
I suppose this is just how government bodies work. It's probably the people who can stand the tedium who end up in that line of work. And it's very clear that the members of the Ballpark Authority are very focused people -- people who care about dotting and crossing, as it were.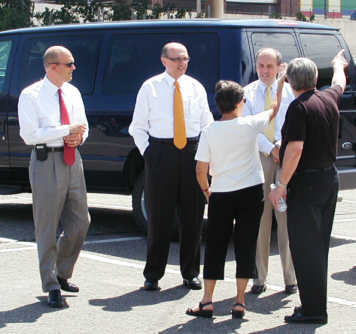 Touring the Rapid Park site (L-R: Commissioners Wade, Vekich, Sykora, Cramer, and tour guide Chuck Ballentine, source: RP)
What's more, this is probably a Good Thing, because a very reliable inside source told me that these people were appointed to make sure that a ballpark gets built, and nothing else. They were selected because of their skills at making sure nothing -- whether it be political, logistical, or financial -- gets in the way or derails the process at any point. That means they were selected for expertise in documents and contracts, not vision. From what I've seen, they seem very well-suited to their task.
So I can accept this, but I may not be going to too many of their meetings going forward. It looks like the vision thing will be coming from the Twins anyway. By the next meeting, it's expected that the Twins will have presented a letter formally requesting the right to design the park (as originally predicted here, by the way).
That leaves the Ballpark Authority to handle mostly contractual and financial things, while the Twins get to do all the fun stuff.
I'm willing to keep track of some of the boring stuff, but this site will hereby be primarily focused on the fun stuff. So, in order to have made this time at meetings worthwhile, here are a few of the fun things I've learned -- things which either were not public knowledge, or simply have not been widely reported.
1. Rooftop Seating - Preliminary plans call for something of a "wildcat bleachers" approach with warehouses and parking ramps in the area. You may actually be able to buy a seat on top of that ugly municipal parking ramp. It's not Wrigley Field, but it's a great idea.
2. Standing Room - I haven't seen this in any of the public documents before, but the early designs include 1500 standing room only places. Presumably, these will be game day only tickets.
3. 360-Degrees of Views - You can't do this in every park, but you sould be able to: walk all the way around the playing field on the open main concourse, never losing sight of the game. If you've never done this, you're in for a treat.
4. Prevailing Winds - I've mentioned before my minor disappointment that the park orientation allows skyline views for less than half of the seats. A slight change could easily fix this. But the architect working on the early sketches (from HOK, of course) has indicated that the orientation was selected in part to shield the park from the "prevailing winds." What this means in meteorological terms, I do not know. But I'll find out!
5. Wind Protection - The upper deck will feature a back wall, again for wind protection.
6. HERC Energy Uses - You may have heard it mentioned that the nearby garbage burner may be able to provide steam heat to the park. This is only partly true. The plant generates enough electricity to power 25,000 homes, and does have some excess heat. But the primary use for this steam may end up being to keep the playing surface warm and free of frost and snow in April and October. Chilled water from the plant may also be used for air conditioning in the suites, restaurants, and offices.
7. Concourse Stays Open - I don't think this is a unique feature, but the main concourse will remain open at all times, whether there is a game or not. It will be a place for commuters to stop and buy a newspaper or coffee (like a mini-mall, I suppose) at any time that trains are running.
8. Speaking of Trains - There will be two tunnels built beneath the stands, each of which will enclose two sets of railroad tracks. The outer tunnel will contain the BNSF freight tracks which are also going to be used by the Northstar commuter line (and perhaps other similar lines). The other tunnel is being included with an eye toward future rail expansion in the form of either a new light rail line, or a "bullet train" running from the Twin Cities to Chicago. In fact, plans have already been drawn up for a platform capable of handling such a high speed line which would not be built before 2040 or 2050. Between the two tunnels and surrounding them will be special "crash walls."
9. Affordable Tickets - The Twins, as part of their financial contribution to construction, have made some sort of commitment with regard to keeping affordable tickets available. What this means exactly is not specified, but it's an important principle. Baseball games should not be only for the wealthy,
10. Dugout Switch - The preliminary drawings all have the Twins switching back to the first base dugout. For those too young to remember, this is how it was back at Met Stadium.
Finally, this interesting concept drawing was included with today's handouts. It was described as just some doodling done by the architect, but it gives an idea of what the pedestrian bridge over 394 may look like. (The inset shows the parking ramp from about the same angle as the drawing.)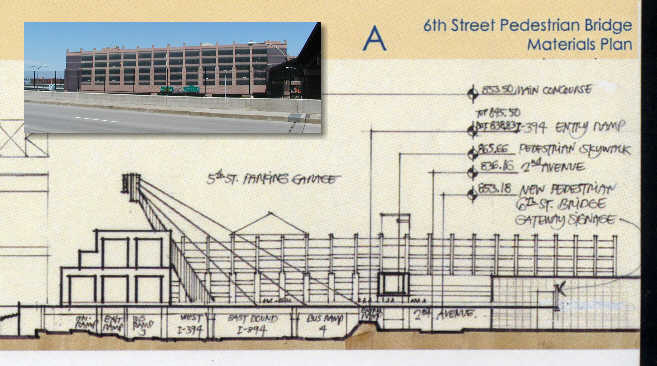 An early concept for the pedestrial bridge. (Source: Ballpark Authority, RP)
You can see that there are some very dramatic possibilities, given that they are already considering using suspension cables. This would be the perfect place to situate the two gigantic Twins statues...
Special Request: I will be out of town during the week of the three public hearings planned by Hennepin County. They will be held Tuesday, August 22, 5-7 PM (Hennepin County Government Center), Wednesday, August 23, 6-8 PM (Bloomington Civic Plaza), and Thursday, August 24, 6-8 PM (Maple Grove Government Center). If you plan to go to any of these, please drop me a line. I'd love to have some first-hand accounts.
Also, if you'd like to write for this site, drop me a sample entry at the same email.
Thanks for stopping by today. Updates will be coming as often as time allows!
Comments
To utilized enhanced comment features, please enable cookies in your browser.
---
This page was last modified on January 21, 2010.
"You talk about the magic, the aura, but what really makes a stadium is the fans. Concrete doesn't talk back to you. Chairs don't talk back to you. It's the people who are there, day in, day out, that makes the place magic."
– Bernie Williams
Explore the Site
Here are 50 images chosen randomly from the 3045 found on this site. Click the image to be taken to the original post. A new list is created every 10 minutes.

Click to enlarge. (Photo by Tyler Wycoff)

Yankee Stadium


Looking through it, you can see the outfield pavilion (upper deck at least).

"I've never seen them do that before," said a Metropolitan Club waiter as I snapped this picture.


Awesome seat. Awesome sun. Awesome hitter. (Photo by Tony Voda, courtesy Jared Wieseler)

They can put a camera just about anywhere. (Photo by Jeff Ewer)




Seville's certainly will benefit from 81 games a year played about a block away! (When I walked by on this day, the place looked deserted, but I stand corrected!)

A seating bowl comes into focus. Note that the netting has been installed on the foul pole. (Field Box)

10 years ago, Bruce Lambrecht looked at this land and thought, "Why NOT a ballpark here?" It took a long time before anybody else saw the same potential.

The LRT station, sitting in a brand new urban canyon, takes shape.

Noah is checking out the ample leg room and truly exemplary sight lines.

A little higher angle shows how the two stations are close to one another but distinctly separate. The oval, glass-enclosed area is the entrance from the Northstar platform below into the ballpark. The LRT platform is comparable to the other stations along that route.
Concept drawing for the fan/player appreciation wall. (Click to enlarge.)

As mentioned earlier, one of the best climate-controlled views of construction is from the 7th floor elevator lobby in the A ramp. (That's Noah getting his first glimpse of the new ballpark.)


Many people will approace the park from this direction and it's a pretty great first glimpse. It features all the design elements in modestly condensed form, and still manages to look like a ballpark (instead of something else).

Beams connecting the plaza to the Target Center walkway


Target Headquarters

Look familiar? Unfortunately, just adding little balconies with cool angles will not offset the pervading ugliness.

Harmon is visible (barely) at the very center of the crowd.


The gate has grown a row of sponsorship
Click to enlarge. (Photo by Jared Wieseler)


The Puckett Atrium

Photo by Tyler Wycoff


Staircase entrance. You cannot miss them.

How many times did we water down our field as kids? More times than we played games, that's for sure!

Home Plate Terrace -- really great seats; maybe my personal, budget-based favorite
Looking up toward Seventh Street.

A cross section of the field construction. (Click to enlarge.)

Such promise. (Click to enlarge.)

Killebrew's mammoth shot on June 3, 1967 is currently memorialized on a wall at the Mall of America

This maze of scaffolding is something you'll probably never see again.


Here's one big problem with a retractable roof: completely terrible seating in left. These scant few seats would have been tucked under the track. No sunshine, no open concourse, it was a terribly kludgy idea. With some hindsight, it's very clear that adding a retractable roof on this small site would have required compromises which would have just been too extensive to tolerate. Without it, the design was free to grow into something much more memorable.

Walkway overview

Dome, what have you taken from us?

From the roof of the B ramp, you can see just how futile it will be to get a glimpse of the action.


Glossary
BPM - Ballpark Magic
BRT - Bus Rapid Transit
DSP - Dave St. Peter
FSE - Full Season Equivalent
FYS - Fake Yankee Stadium (see also: NYS)
HERC - Hennepin Energy Resource Company (aka the Garbage Burner)
HPB - Home Plate Box
HRP - Home Run Porch
LC - Legends Club
LRT - Light Rail Transit
MBA - Minnesota Ballpark Authority (will own Target Field)
MOA - Mall of America
MSFC - Minnesota Sports Facilities Commission (owns the Metrodome)
NYS - New Yankee Stadium
SRO - Standing Room Only
STH - Season Ticket Holder
TCFBS - TCF Bank Stadium
TF - Target Field
Selected Bibliography - Analysis

Selected Bibliography - Surveys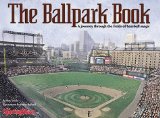 Not a "Third Edition" exactly,
but it replaced the above title
(2000)


Original edition (2000, round)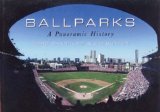 (2004, very large coffee table)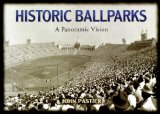 (2006, very large coffee table)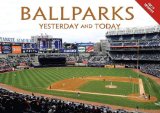 Combines the previous two titles
(2007, medium coffee table)

Selected Bibliography - Nostalgia



Book and six ballpark miniatures
(2004)