Bay Ball, Part 1
Perception and Emotion
June 2, 2011 2:02 AM

COMMENT
Avert your eyes and thoughts for a moment from the 2011 Twins campaign. You'll feel better, and we can travel together to another place where plenty of baseball is also played.
In 1955, the Athletics left Philadelphia, a two-team market, basically conceding the City of Brotherly Love to the National League.
Three years later, in 1958, the Giants joined the exodus from New York, a three-team market, basically conceding baseball's largest market to the American League.
The Polo Grounds (left) and Shibe Park (Connie Mack Stadium)
Fifty-odd years later, here these two teams are, basically back where they began, trying to capture baseball hearts in a multi-team market. It's working out a lot like in the olden days, too. One team is thriving, the other pulling teeth.

AT&T Park (left) and the Oakland Coliseum
As always, results on the field tell a part of the story. But the ballparks also play a major role.
Don't believe anybody who tries to tell you this is two markets. A quick trip to a Walmart in Oakland (of necessity only) found the two baseball teams represented exactly equally, and right next to one another in every place they appeared.
The Bay may be a big psychological divide, but there's no denying that these two ballparks are about 10 miles apart as the crow flies, and only a 20-minute BART ride (see the sidebar for more on my public transportation experience). Visible logos on the trains I rode were split almost equally between the Giants and A's. The same was true pretty much everywhere I went other than the ballparks.
For the ballpark-obsessed visitor, however, this makes for a truly great two-for-one destination. If you go, be sure to work both parks into your schedule. I saw the Giants and Diamondbacks on a Thursday afternoon, and the A's and White Sox the next night.
Like the franchises and the cities, the ballparks are a study in contrasts. There are definitely two different demographics at work here, not unlike those of the old-time two-team towns. Thus, the ballpark experiences are pretty different, just as you would expect.
Here are some very quick baseline comparisons, featuring a few broad generalities and TF for reference:
| | Coliseum | AT&T | Target Field |
| --- | --- | --- | --- |
| Completed | 1966 | 2000 | 2010 |
| Cost | $25M (2010$178M) | $337M (2010$422M) | $435M |
| Financed | 100% Private | 100% Private | 60% Public, 40% Private |
| Renovated | 1996 | -- | -- |
| Cost | $200M (2010$275M) | -- | -- |
| Financing | 100% Public | -- | -- |
| Class | Superstadium | Revival | Post-Revival |
| Schematic | Concrete Donut | Compact Urban | Compact Urban |
| Style | Utilitarian/Brutalist | Ballpark Retro | Ballpark Modern |
| Architect | Skidmore, Owings & Merrill | HOK/Populous | HOK/Populous |
| Usage | Multi-purpose | Baseball only | Baseball only |
| | Coliseum | AT&T | Target Field |
| Footprint | 606K sq ft | 500K sq ft | 477K sq ft |
| Site | 4600K sq ft (incl arena) | 500K sq ft | 534K sq ft (incl plaza) |
| Context | Suburban/Industrial | Urban/Entertainment | Urban/Entertainment |
| Arrive | Car or BART | Muni, foot, ferry | Fan's choice |
| Capacity | 35K (or 48K, or more) | 43K | 42K |
| Sightlines | Distant, not bad | Excellent | Mixed bag |
| Better | Field Infield | Premium Lower Box | Legends Club |
| Worse | Anywhere in center | Arcade | RF Bleachers |
| Value | Value Deck ($12) | Who knows? | Field View ($12) |
| | Coliseum | AT&T | Target Field |
| Crowd | Sparse, noisy | Almost full, polite | Packed, giddy |
| Fans | Working, diehard | Upscale, casual | Young, suburban |
| Vibe | Comfortable, loose | The place to be | Big baseball party |
| Kids | Participating, watching | Distracted, disinterested | Trying to start the wave |
| Staff | Sleepy | Serious | Smiley |
| Concourses | Partly open, narrow | Closed, narrow, quiet | Open, clogged always |
| Signature | Covered seats, Mt. Davis | Bottle, glove, bay | Minnie & Paul, skyline |
| Scoreboards | Ancient, creaky | Modest, useful | Huge, a bit busy |
| Ribbonboards | None | Surprisingly few | Everywhere |
| Sound | Single-point, acceptable | Crystal clear | Very uneven |
| Advertising | Typical, scattered | Very restrained | Sufficiently restrained |
| History | If you look for it | Everywhere, nice | Mostly inside clubs |
| | Coliseum | AT&T | Target Field |
| Cool | Tailgating | Free-standing backstop | Overlook, flowers |
| Uncool | Neighborhood | Backless bleachers | Moats, SRO overload |
| Weird | Staircases to field | Wandering concourses | French fry lights |
| Interesting | Original fixtures | Right field wall | Wood-backed seats |
| Notable | 2 decks, 1 concourse | Stand/walk in right | Stand wherever |
| Outside | Walk-away bazaar | Real knothole area | Public art |
| Do | Consider the upper deck | Dress in layers | Sit almost anywhere |
| Don't | Kids' area | Stand still too long | Bud Deck |
| Must | Irish pub | Bayside promenade | Batter's eye drink rail |
| Purist | Value Deck | History wall (incl NY) | Standings flags |
| Critics | Cavernous, dull | Weather, congestion | Sterile, Target-y |
| Meh | Suites, clubs | Kid zone | Hrbek's, Twins Pubs |
| Sigh | Troughs | Water, mountains, grass | Sunset over the canopy |
| | Coliseum | AT&T | Target Field |
If you see something in the chart which isn't self-explanatory, don't worry. I'll elaborate at some point in this series. And while this article and the next focus on comparisons between the two parks, I'll have more about each park individually immediately following. For now, let's continue the comparisons.
Perception and Emotion
I've not heard this said before, but I found that AT&T Park has a miniature quality about it, as if Dayton's (er, Macy's) 8th floor auditorium was putting on a baseball-themed Christmas show. At first glimpse of the field, I wondered if I had wandered into a Little League facility by mistake. (Indeed, before the day was over, two teams of tweens would take the field in a beautiful display of youth baseball.)
This perception is partly because there is a gigantic expanse of water visible beyond the outfield stands. The optical illusion is striking and spectacular. The park feels very much like an oasis, or perhaps on its own island.
Exactly the opposite effect is in place in Oakland. The field is literally dwarfed by "Mount Davis", the colloquial name (used by every single person I talked to) for the football pavilion installed in 1996. One could be forgiven for wondering if that monstrosity is as tall as the field is deep.
But if you think this stark difference is going to lead me to lavish praise on one park and trash the other, not so fast. AT&T is naturally and definitely the winner in any competition between the two parks, but I found quite a bit to like about each, and for various and unexpected reasons.
For example, I was prepared to hate the Coliseum. In most corners it's simply dismissed as a relic from a different era, hopelessly out-of-date. To an extent, that is true. Multi-purpose concrete donuts are certainly anachronistic. The revenue streams are decidedly out-of-date, and it easily fits the definition of "economically obsolete."
It also falls squarely in the "pile in a parking lot" category. My first glimpse of it came on a shuttle bus ride from the Oakland airport to the BART station, and I'll admit this: it's ugly.
But, it's also kind of beautiful, in a modernist/brutalist, 1960s sort of way -- an era when bare concrete was the stuff of art, architecture and big thinking. The building essentially has no facade. It looks like what it is, and lets it all hang out. I can respect that.
Facilities from the 50s and 60s all had a get-it-done quality to them which has been superseded in successive generations of stadium design. Nobody cared about the facades back then. They were afterthoughts –- if they were given any thought at all.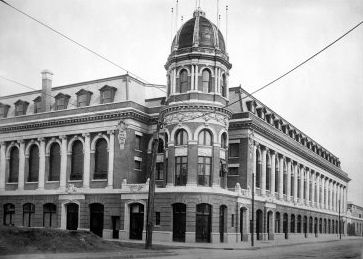 Shibe Park
This is in stark contrast to the eras both before and after. The A's seminal home, Shibe Park, had one of the most ornate facades in baseball history. It was intended to imply prosperity, permanence, and confidence. It wrapped the pastoral game in classic motifs -- repetitive, vertical, rounded, comforting, awe-inspiring. It was also very much in line with other urban (and baseball) architecture of the time.
Shibe Park was also built to integrate with and anchor a neighborhood. There are certain expectations of architecture in such a situation. Shibe met those expectations and exceeded them.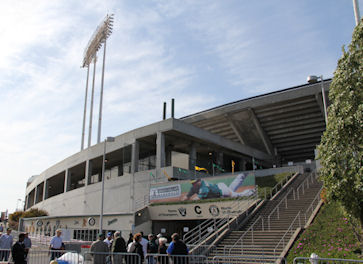 Oakland Coliseum
No such thing can be said about the Coliseum. It was built to lure a team, and what it looked like on the outside really didn't mean much. There would be no neighborhood, just the standard sea of asphalt stretching off in every direction. (Confidential to Zygi: Those days are so gone.)
With such a big, flat parcel of land, it made sense to the engineers to put the facility smack dab in the middle of it all -- effectively equidistant from all the cars, but also as far away from any neighbor as possible. And because they were much more concerned with wind control than they were with aesthetics, they opted to bury much of the building.
As a result, like the later Metrodome, the Coliseum is surrounded by an artificial hill which hides about half of the total height. What can be seen above is mainly the underside of the upper deck, with gates appearing at regular intervals but recessed so as to be almost hidden.
At one point as I walked around the exterior I came across a large group of people milling about mysteriously. Turns out they were in line to enter a gate I couldn't see! Once inside, these are the same type of long, low entrances which graced so many shopping malls and other public buildings of the era.
The exterior concrete walls which you can see remain relatively free of the nearly-ubiquitous gigantic banners which are often used to try and disguise seemingly unattractive facades. The result is that the place wears its origins with a sort of resigned pride. (The Vikings improved the look of the Metrodome when they became the sole tenant, but they're not fooling anybody. The place is still made of cement. And not the modernist, potentially attractive kind. Sometimes it's best to just be who you are. Sometimes not.)
It's also a pleasure to see the original light standards still in service, reaching out of the heap, and looking like living cousins of those we remember from the Met.
As an aside, that football pavilion, despite its ugly and tall hugeness, also reminded me emotionally of the Met and its own gigantic football pavilion, in which I sat (cheaply) for most of the games I attended. I was unprepared to be taken back to that emotional space, and my heart warmed to the Coliseum as I entered it. (But let's be clear: Mount Davis may be one of the most unfortunate pieces of sports architecture in history. More on that later.)
The experience across the bay couldn't be more different. It starts with the fact that the Giants franchise has a very different stadium history.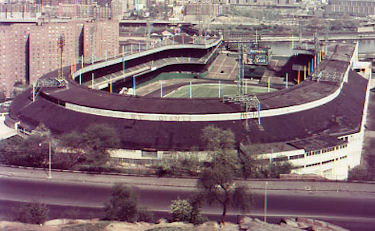 Polo Grounds facade, obscured
The Polo Grounds, by virtue of (I think) geography, had a very plain facade in its ultimate incarnation. There was no real way to see the whole exterior, so there was little point in adorning it. (Not so across the Harlem river.)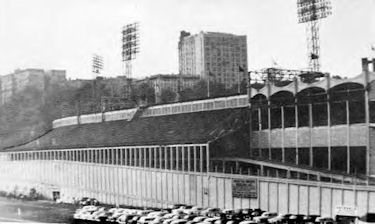 Polo Grounds from the south
Candlestick Park has much in common with the Coliseum, being from only a few years earlier. It's a lot of cement and parking, with nearly identical light standards. The facade is slightly more refined (and was when built), but certainly wasn't on anyone's priority list.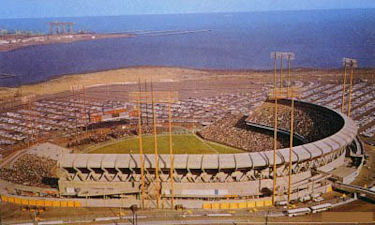 The original Candlestick Park
Between those two was Seals Stadium, an Art Deco gem which housed the team while The Stick was under construction. It had the most distinctive appearance of any Giants stadium before their current home.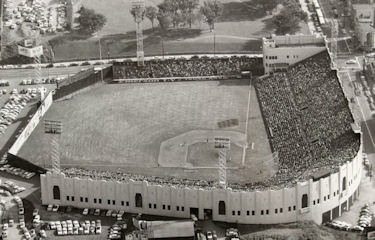 Seals Stadium
Thus, the outward appearance of AT&T Park is not really intended to connect with anything which has gone before in Giants history. Instead, its facade is a direct result of two factors: neighborhood and fashion. When it was built, the retro ballpark movement was essentially at its peak. Everyone wanted one. Happily, this also worked well with the China Basin site.
The red brick, large windows and semi-ornate detailing (nothing as careful as Shibe, but carefully considered, nonetheless) reek of the retro trend, but with sufficient reason. While it's not fair to say it fits perfectly with its surroundings (several nearby buildings are glass boxes), it does put an exclamation point at the end of Second Street, which is lined with early 20th century structures. Ultimately, the ballpark fits well with the neighborhood.
On the horizon, the profile of AT&T park neither soars nor sprawls, unlike its ugly stepsister across the bay. It is every bit as tight and compact vertically as it is schematically, just barely reaching above its surroundings.
It can actually be difficult to get far enough away to appreciate its facade and profile. I had to cross to the other side of King Street just to get a good look.
From every angle, compactness, control and efficiency rule. But just as there was an optical illusion inside, wide sidewalks, a large (but underutilized) plaza, and a beautiful bayside promenade provide the exterior illusion of spaciousness. The average patron will probably not notice just how crammed into its site this ballpark is. It's every bit as impressive in this regard as Target Field -- though they didn't have to move any train tracks!
But here's my unexpected emotional reaction to these two parks: AT&T's retro facade, while superficially attractive, held no emotional content for me. I was not moved by a sense of nostalgia, maybe because the whole retro fashion has come and gone, or maybe because it doesn't connect directly with anything in Giants history, or maybe just because the ballpark of my youth didn't look like that at all.
The ballpark of my youth looked a whole lot more like the clunky Coliseum, surrounded by surface parking and retrofitted for football. The more I walked around the Oakland park, the more I was transported back in time, and it was sweet.
AT&T Park's facade tries just a little too hard to look vintage. It has a very slight Disney Main Street quality to it, and it ultimately sinks into the morass of retro ballparks built with consideration mostly for fashion. I liked it, don't get me wrong, but it didn't take me back anywhere. In fact, it looked a little bit dated.
That's the problem with imitating history. It's never as good as the original, and is pretty quickly outed as false in some way. (Prediction: Target Field's limestone facade will age much more gracefully.)
Next in part two: Diamonds and Disappearance
Comments
To utilized enhanced comment features, please enable cookies in your browser.
---
This page was last modified on July 29, 2011.
"You talk about the magic, the aura, but what really makes a stadium is the fans. Concrete doesn't talk back to you. Chairs don't talk back to you. It's the people who are there, day in, day out, that makes the place magic."
– Bernie Williams
Explore the Site
Here are 50 images chosen randomly from the 3046 found on this site. Click the image to be taken to the original post. A new list is created every 10 minutes.

I think AP is in there somewhere...






The back row of seats in straight-away center. Note that, beyond those seats, you can see the planters (for flowers) on the front of the Left Field Bleachers.(Batters Eye)


Reasonable (if not overly generous) leg room

Up inside the circulation building. (That's the LRT platform visible through the windows.)

A look at Gate 34.


The storage tunnel is barely visible at left behind that guy.

Midway Stadium (seen from our tailgating spot across the parking lot)


The Ron Coomer corner features a bar.
Here you can see the real beauty of the Seventh Street side, and get a solid sense of why the overall design really works. The building's purpose is clearly visible, there are numerous connections from inside to outside, scale is nicely mitigated, the stone is attractively used, materials are pleasantly mixed and truly complementary. It's just a winner in so many ways.
This is the revised version of the center field pavilion (without the restaurant). It looks like there are no seats, just some ledges for people to sit on. It reminds me of the seating on the "bridge" which sticks out of the new Guthrie Theater. Anything which lands in the trees will presumably be a home run, so the "411" sign is apparently just for fun.

Toronto


Print press box



Photo by Jeff Ewer

No admittance -- yet! Note that you can see the seating bolts which are in place already.
This mural is behind the staircase. The window looks onto the promenade, and the door goes to a kitchen.

Scoreboard in profile against the skyline

I do love the upper concourse. Feels like home already.

Rod Carew will greet you, but he's sorely in need of a home plate for reference. (Killebrew is too.)


Off-topic, but this gigantic, cool, retro sign is just across the street from S&CH. Why? I don't know. Might look nice on top of one of those municipal parking ramps...
Wow! Looking good.

A path for workers -- don't touch the plaza! -- in front of three giant Chia pets

Flagpole historian Ben McEvers at far right (click for the full photo set, graciously loaned to this site by Pat Backen)

This is a good overview of the spot where the Northstar (bottom) and LRT (top) will intersect.

This view looks up Fifth Street toward downtown and shows how the LRT tracks sort of snuggle up to the ballpark.



Special guests in the trees!

The Ballpark Wall! (really stunning)

Also warming things up are these planters.

They can put a camera just about anywhere. (Photo by Jeff Ewer)



Section 117, Row WC (applies to all the back rows under the Legends Club seating)

A mysterious smile from within a very deep planter!
This looks from the base of the stairs, behind the big pillars, toward the street.


WCCO-TV building
Glossary
BPM - Ballpark Magic
BRT - Bus Rapid Transit
DSP - Dave St. Peter
FSE - Full Season Equivalent
FYS - Fake Yankee Stadium (see also: NYS)
HERC - Hennepin Energy Resource Company (aka the Garbage Burner)
HPB - Home Plate Box
HRP - Home Run Porch
LC - Legends Club
LRT - Light Rail Transit
MBA - Minnesota Ballpark Authority (will own Target Field)
MOA - Mall of America
MSFC - Minnesota Sports Facilities Commission (owns the Metrodome)
NYS - New Yankee Stadium
SRO - Standing Room Only
STH - Season Ticket Holder
TCFBS - TCF Bank Stadium
TF - Target Field
Selected Bibliography - Analysis

Selected Bibliography - Surveys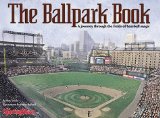 Not a "Third Edition" exactly,
but it replaced the above title
(2000)


Original edition (2000, round)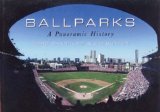 (2004, very large coffee table)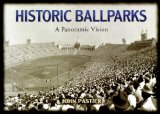 (2006, very large coffee table)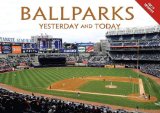 Combines the previous two titles
(2007, medium coffee table)

Selected Bibliography - Nostalgia



Book and six ballpark miniatures
(2004)