Bay Ball, Part 2
Of Diamonds and Disappearance
June 8, 2011 2:31 AM

COMMENT
There's some life in these Twins after all! When you gain five games in five days, it starts to look like nothing's impossible. And in baseball, as we know, anything is indeed possible until the final out.
Later this month, our boys will head back to the San Francisco Bay, and today we'll continue looking at what they (and their traveling fans) will find. Win Twins!
When the game begins, the best ballparks simply disappear.
OK, here's the original first sentence I wrote for this article:
For seeing a game, AT&T was clearly superior to the Coliseum, and not by a small amount.
It's the conventional wisdom, right? And it's just plain obvious, right?
But then I tried to put flesh out that statement, and dug back into my experiences for evidence to support the conclusion, and I ran into trouble.
You see, I remembered that founding principle of BallparkMagic:
The park must respect the game.
Once the game starts, the ballpark should disappear. It should be a non-factor to the game being played, and never a distraction.
Well, both of these ballparks actually do that quite nicely.
A good ballpark is friendly to the fans, never getting in the way of their enjoyment of the game.
Both of these ballparks also do that quite nicely.
Contrast them, for example, with the Metrodome, which did not disappear (roof, speakers, turf, folded-up football seats), and was relentlessly unfriendly to the fans (closed and cramped concourses, long rows, torturous seat angles, troughs).
And contrast them with Target Field, which gets the fan experience mostly right (concourses remain overly cramped, rest rooms poorly designed), but won't quite disappear (perceived reductions in offense) until the team gets over their fear of the place. (For the record, TF is almost exactly neutral in all measures so far in 2011. The Twins' offensive dip is not specific to TF.)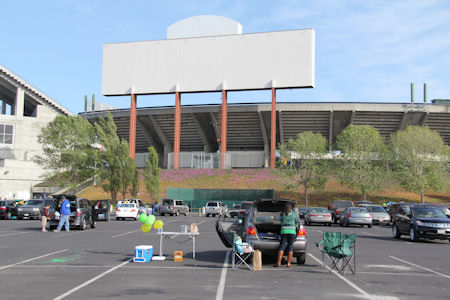 Diehard A's fan Tessie, setting up before the game
A great ballpark, in addition to these two fundamental principles, also provides a beautiful and unique setting in which to enjoy a beautiful sport.
Beauty is the ultimate subjective quality, but in the case of these two particular parks, one is decidedly more beautiful to all but the most diehard A's fans. (As Tessie put it to me while setting up her tailgating equipment, "We love this place because it's the home of the A's.") Let's face it, a ballpark by the San Francisco Bay is going to be nearly impossible to best.
I think that's where my gut reaction came from. But when you get right down to it, the Coliseum was a perfectly fine place to see a game, and it actually had some advantages in the above basic criteria, by virtue of not being crammed into its site. (Who would've thought that a compact ballpark might have some inherent downsides?)
Obviously, this is not a comprehensive list of criteria for evaluating a ballpark. But it does get at the essence from the perspective of a fan of the game. So let's say this: At a minimum, a good baseball experience can be had at either facility.
Now, let me fill in some of the blanks.
Distractions
There is distinct potential for distraction at AT&T Park. It comes in a variety of forms, but the foremost is always on display, acting like a beacon, or the Pied Piper, to every kid in the place: The Coca-Cola Fan Lot.
I did not fully realize until I got there that the signature focal point of AT&T Park actually contains the twisty slides, and that they anchor a very large play area which also features a miniature diamond and a few other baseball-themed distractions.
The place was a buzzing hive of activity, and it looked like everybody was having a lot of fun, but I have to say that it's really nothing special. Beyond the slides (which are just slides after all), the other attractions (Build-a-Bear, photo booth, pitch speed) are pretty ho-hum.
The mock diamond looks like a miniature of the ballpark, but I doubt that kids will be able to fully appreciate some of the detailing. Whoever designed and detailed it probably had at least as much fun as the kids who play there.
Long-time readers will know that I'm sort of neutral toward play areas in ballparks. On the one hand, I'm bringing my kids to a baseball game because I want them to experience a baseball game. Play areas are a dime a dozen, and I'm not interested in spending a lot of money on tickets and food only to do something we could do somewhere else for free. (Nor am I interested in giving away a few innings of my own baseball experience.)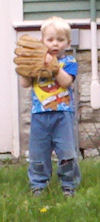 Truman looking in for the sign.
On the other hand, I know that kids have trouble staying engaged with the game until a certain age. Introducing a kid to baseball, one of the greatest things a grown-up can do, involves giving them some exposure to it, explaining a little bit here and there, but allowing that it will take some time to fully engage. It's important to get the three-year-old to a game (Truman will see his first before the season is out), but acknowledge that he can't sit through the whole thing. In that way, a play area distraction can be a good thing.
Ultimately, I'm completely content that Target Field does not include a play area (though I can't believe it will stay that way for very long). And I found that the play area in San Francisco was kind of a nuisance, especially to people sitting out in those gawd-awful backless bleachers in left field. Haven't they suffered enough?
And my impression was that it's there for the folks who didn't really come for a baseball experience, but rather some baseball entertainment. Just avoid it, don't sit near it, don't let your kids see it (good luck with that!), and it won't bother you.
In Oakland, there is also a "Fun Zone", but you probably won't be tempted to take your kids there during a game.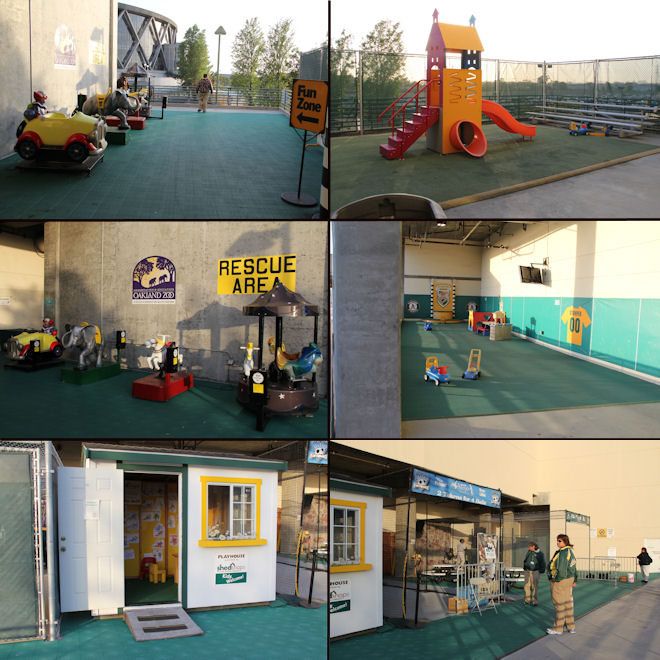 The Fun Zone/Rescue Area in Oakland during the second inning
It made me laugh -- not a single kid in sight -- but it may be the perfect ballpark play area. It provides a little fun for the very young, and would be a complete bore to any kid old enough to appreciate why you came to the ballpark in the first place. Plus, any sane adult will want to get the hell out of it and back to the game as fast as possible. (The lame, non-baseball-themed rides are 50 cents -- quarters only! -- and you have to buy tokens for the batting cage or pitch speed booth. Cheap bastards. But hey, they're really doing you a favor.)
The other primary distraction in San Francisco is the beauty of the view beyond the outfield wall. It would be easy to gape for a moment at the scenery and then realize you'd missed half an inning. I never saw any evidence of that actually happening to anyone else, though it sure happened to me a few times. (I wasn't actually there to watch the game anyway.) While I wouldn't describe the crowd as "hanging on every pitch," I would definitely call them "engaged and generally tracking with the game."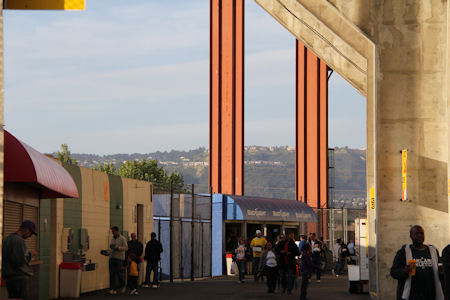 A lovely view, blocked
The view in Oakland, of course, is also quite lovely, and quite blocked by the gigantic football pavilion. That may account for one very noticeable difference between the parks: the Oakland crowd genuinely did hang on every pitch, even as the night got colder, and the home team got less and less likely to pull out a victory. The 12,000 fans on hand made enough noise for 40,000, and were all totally into a losing contest until the very last out.
It's another backward advantage of bad decision-making: the place is so ugly -- no, not ugly, but undistinguished -- that it really can't serve as a distraction. Again, if you're there, you're forced into watching the game.
Extrapolate the difference and you get one of the sad truths about modern professional baseball: There are plenty of people who come out to these new ballparks with only a passing interest in the product on the field. Where attendance gains have been made in the past decade, they've been at the expense of loyalty, and primarily by providing distractions rather than actually selling the game of baseball -- which was a successful strategy for almost a century. (I think Target Field actually avoided the worst of that, by the way.)
It has to be added to the list of demerits for the Commissioner, whose tenure, though flecked with dollar signs, may ultimately have diluted the game completely from source of passion into just another entertainment option. That can work for a while, and has, but it's shallow. Passion, when properly rewarded, lasts a whole lot longer. (Note to MLB/Fox executives: Passionate fans will watch a sport's championship series even if they don't care about the teams which are playing. Is that passionate audience for baseball growing or shrinking? Relying on the strategy of getting a big market team to the World Series every year for the sake of ratings will ultimately kill the sport.)
Give those folks in the backless bleachers by the play area in San Francisco some credit: They are there because they care about the game. I can't imagine any other reason why someone would sit there. You can't see the bay, and it's not even all that much cheaper, though at least the view for a diehard is still pretty sweet.
Fair Ball?
Another key factor in terms of disappearance is how the field plays. This is more subtle, of course, but thankfully can be measured in real statistics.
The two fields are very different, though I was surprised to find that they weren't as divergent statistically as you might think.
The quirks of the Giants' home are generally not excessive. The configuration of the right field wall, specifically the famous jog it takes in right-center, is curious because it looks pretty arbitrary.
The inclusion of gates on that wall, on the other hand, is definitely not arbitrary, and very welcome because of what it affords fans -- the very rare glimpse of real major league baseball for free.
One of my favorite places ever to watch a game was from behind the chain link left field fence back at the Met. The knothole area at AT&T duplicates this experience nicely -- and for anyone who happens by on the bayside promenade! (Well, it was a pretty busy place, so you can't just "happen by". But with a little patience, you can get a free treat.)
Foul territory is what stands out as a major difference between the two parks. Oakland is famous for having the largest in the majors. San Francisco is among the smallest, and configured very much like Target Field. This naturally pushes Oakland toward the pitchers and SF toward the hitters, but the effect isn't as great as you might think. Statistically, both parks rank consistently near the middle of the pack (i.e. neutral) in many measures.
Bay Area Park Factors
(Less than 1.0 favors pitchers , greater than 1.0 favors hitters , extremes are bolded)
San Francisco
Oakland
Runs
HR
H
2B
3B
BB
Runs
HR
H
2B
3B
BB
0.94
0.89
0.97
0.98
0.84
0.99
2010
0.96
0.70
0.92
0.90
1.47
0.99
1.05
0.97
1.01
1.02
1.11
0.86
2009
0.97
0.93
0.95
0.90
1.13
0.97
1.05
0.99
1.01
1.13
1.88
1.03
2008
0.92
0.99
0.96
0.95
0.54
0.97
0.99
0.81
1.11
1.06
1.36
0.92
2007
0.83
0.79
0.87
0.79
1.26
1.06
0.99
0.68
0.97
1.08
1.05
0.99
2006
0.92
0.85
0.98
1.07
0.93
0.90
For example, look at triples. In three of the past five years, the two parks were essentially tied. In the other two years, they were at opposite ends of the spectrum -- but flipped positions. Oakland was the extreme triples park in 2010, while it was AT&T in 2008.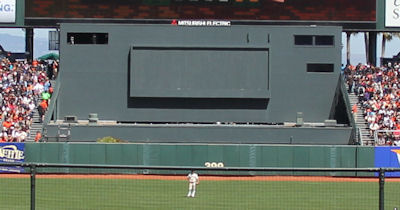 The SF batter's eye
The effect of the foul territory is probably most seen in the "hits" column, where AT&T is essentially neutral, and Oakland, while close to neutral, always leans a little toward the pitchers. But in terms of home runs, both parks lean toward the pitchers, despite very different outfield designs.
The biggest difference is seen in doubles, where AT&T slightly favors the hitters, and Oakland generously rewards the pitchers. That may also be due to hitters in SF getting one extra pitch every now and then because a foul ball made it into the stands. It may also have something to do with the configuration of the corners, ground rule doubles being potentially more likely in the claustrophobic corners of AT&T Park. (This is just a hunch. Unfortunately, I can't find a statistic to back this up.)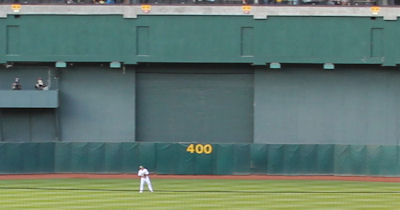 Oakland batter's eye
Twins fans have now become sensitized to the hitting backgrounds, and both of these parks feature uneven surfaces and distinct shadows, while still seeming relatively inoffensive. The major difference I can see between these and Target Field is that they're both green (TF is now jet black). I have to say that this is further evidence that the Twins have become overly sensitive to something which really shouldn't be an issue.
I'm not really an expert on park factors, and I seriously wonder about their usefulness in evaluating the "fairness" of ballparks. Theoretically they are independent of the actual personnel because they measure how the same players perform in different locations. But it can still come down to certain players being more comfortable in certain parks for reasons unknown -- including small sample size. (Remember Jacque Jones' mysterious ability to hit home runs at Kauffman?)
With the exception of Oakland's foul territory, and the arbitrary jog in SF, neither of these parks has excessive quirks. For that reason, I consider that they both pass the test of basically disappearing for the players once the game begins. (For reference, Fenway just cannot pass this test. Doesn't make it any less of a classic, of course.)
The Seated Fan
My short trip did not afford me the opportunity to measure a few things which I think go into determining the overall fan comfort level.
Specifically, I'd prefer to measure a few seat widths, experience legroom at various points, gauge the presence of in-seat vendors, row widths, seat angles, distance to rest rooms, lines at rest rooms and concessions, etc.
So I don't have much hard data with which to evaluate fan comfort, but I can make a few anecdotal observations.
First, the problems with distant seating in the concrete donuts are legion and well-documented. The best I can say about the Coliseum in this regard is that it wasn't too bad out there (not like my experiences at Busch II and Shea, which were both horrible), and the seats are actually pretty cheap.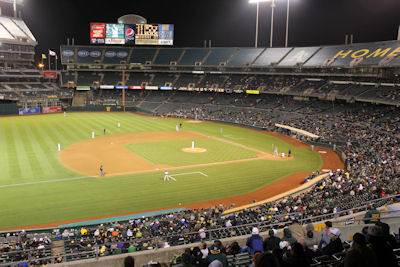 Where the circle reaches maximum distance from the action
With the worst of the worst upper deck seats covered by a permanent tarp, unless you're stuck out where the circle bows the farthest away from the field, you'll find that the sightlines are perfectly acceptable. All the seats do actually face the action (more or less), and I found lots to like in the lower deck seating for a surprisingly large area beyond the infield.
AT&T is all about intimacy, of course. Overall, the configuration of the lower deck of the main grandstand felt almost identical to Target Field. (Yes, in some ways we got a cookie-cutter ballpark, but at least it's the good kind.)
The upper deck is configured a bit differently, without the split at the upper concourse, and with some very crazy configurations of stairs. The views of the field, however, are also nearly identical to TF.
Where AT&T wanders from fan friendliness a bit is in its main concourse. For one thing, it's not entirely open to the action.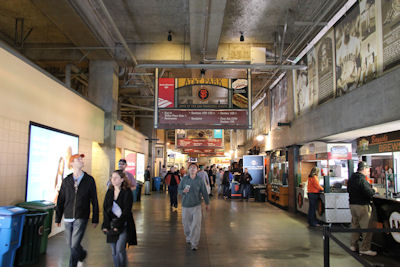 Main concourse, AT&T Park
Now, as we've learned at Target Field, the open concourse isn't all it's cracked up to be. It does not, for example, always afford a view of the game while getting a beverage. Nor does it make it possible to rush over when you hear the crowd roar and get immediately reconnected to what's going on.
But TF's fully-open concourse does reinforce the connection between a fan's presence and the action on the field. You can always at least see some grass, and it serves as a constant reminder that you're at a baseball game. This is welcome, and noticeably counteracts the notion of baseball as generic entertainment.
At AT&T, when you wander into the main concourse, you largely leave the baseball experience in progress and enter a sort of food-court-like experience. At the extreme ends, near the foul poles, sections which would otherwise be open to the action are packed with very large (and mostly opaque) portable concession stands. In one large segment behind home plate you are cut off from the action completely (with only the occasional TV screen to check up on things).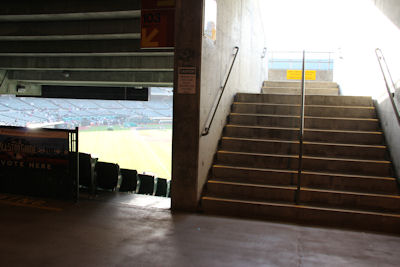 At the back of the lower deck, a short flight up to the middle deck
Additionally, the main concourse seems to wander a bit -- a little like someone's fantasy of San Francisco's streets. It's not that you'll get lost, but there are points where the game feels pretty far away.
On the good side, this means that the concourses were never overly busy. People seemed more likely to stay in their seats and there wasn't nearly as much of a rush to get to the concourse between innings.
Oakland's main concourse is something of a hybrid. It can best be described as partially open. At some sections you can see right out onto the field (often with "No Standing" painted on the floor). At others, a separator has been erected to provide a modest barrier.
One interesting feature is that the main concourse serves both the lower deck and the middle deck. In fact, it's just a few steps up to the first row of the middle deck. This is a function of the gates actually entering at about the halfway point of the stadium's total height (like the Metrodome). The field is actually well below the elevation of the parking lot in a mostly successful effort to deal with unpleasant wind currents.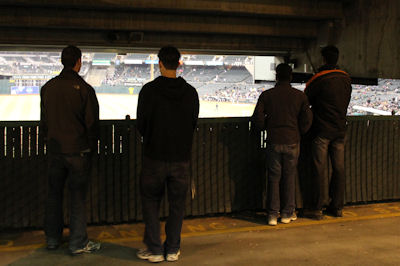 Ignoring the sign, and separated from the field by a snow fence.
The Coliseum has a bad reputation by virtue of being a relic from the superstadium past. But it's nowhere near as fan-unfriendly as the Metrodome.
As previously mentioned, the absolute worst seats are not needed and sit unused. Despite being unsightly, this is actually a pretty good decision. Both the lower and middle decks offer reasonable views of the field, and in no way sour the baseball experience.
The elephant in the Coliseum room is, of course, Mount Davis. It closes off the donut in most unfortunate fashion, its most regrettable feature being a blatant disrespect for the rest of the seating bowl. One can easily imagine the designer of that pavilion being told that one day the entire stadium would be rebuilt, so the existing deck heights could be safely ignored. How else could you explain the absurdly high altitude seating out there? (Here I'm reminded of Griffith Stadium, where decks were comically mismatched across expansion construction.)
I'll talk more about Mount Davis when I get to the details of the Coliseum. Much like the kid zone in San Francisco, it may be hard to ignore, but it will only distract you if you let it.
Finally, it should be noted that superstadiums, because of the steeper rake of the seating in the lower deck, often avoid some obstruction problems which can crop up in the newer, compact urban ballparks.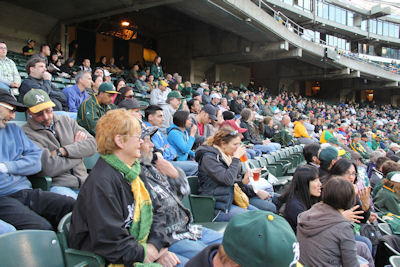 Even if these seats were full, no need to bob and weave.
Target Field, as an example, has some problems in this area. I've heard many reports of areas in the lower deck where bobbing around the head in front of you is an issue. When this happens, it's usually about the rake, though it can also be about the horizontal distance between rows. (I have wondered whether some compromises needed to be made in this area in order to fit enough rows into the lower bowl. But I can't prove it. There's a complicated formula for calculating all the sightline variables, but I won't burden you with it right now.)
As I say, I didn't have the opportunity to do detailed measurements, but the lower seating in San Francisco looked so much like Target Field that I would be surprised if there aren't similar areas of head interference.
By contrast, I was able to try out plenty of seats in Oakland and never found it to be an issue. There you drop a lot farther from the back of the lower deck to its first row, something I noticed as I descended from the main concourse to –- gasp! -– a horizontal circulation aisle (can you say "selicant", or should I say, "full size spare"?).
I wanted to just grab a spot to watch an inning or so, and didn't want to be in anyone's way. Luckily, with the park only about 1/3 full (if that), open seats were plentiful. But I hate sitting down directly in front of someone, primarily because I generally hate it when someone sits directly in front of me without considering whether they are in my way.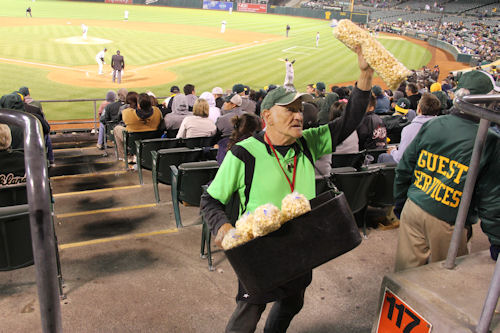 In-seat vendors love the horizontal circulation aisle. (And this guy was particularly charming, and a complete ham, too.)
I wound up finding a seat in front of a couple of guys talking about Jesse Crain (who was on in relief for the Sox, and managed to pick off an inherited runner on first). We struck up a brief conversation, and as I turned around, it was easily clear that I would not be in their way, nor even close. (In nearly-sold-out SF, such a test was not possible.)
This is not news, but there are a lot of different ways to configure seating, and Populous has settled on one way, while other architects have tried others. One lesson I take away from the Coliseum is that it got some things very right in its design, and some things very wrong. The rake of the seating in the lower bowl is really quite good.
So, while it may be economically obsolete, there may actually be things to learn from it in terms of fan comfort.
AT&T has no horizontal circulation in the lower deck, of course, except at the very back, and then only in spots. In contrast, and unlike TF, there is a circulation aisle in front of the various stairways which head up to the very top. It serves the same purpose as the open upper concourse does here, but is probably nominally more congested after games.
The upper concourse was also very quiet during the game, leading me to believe that there are sufficient in-seat vendors up there as well. This is certainly an annoyance at Target Field, where it still seems like the hot dog vendors don't like to climb circulation ramps. (Is that the heaviest tray to carry? Can't be heavier than beverages, can it?)
I did not notice any rest room lines at either ballpark. This may have been due to the small crowd in Oakland (though the men's room featured troughs, which do have some speed advantages -- despite their overall hygienic drawbacks).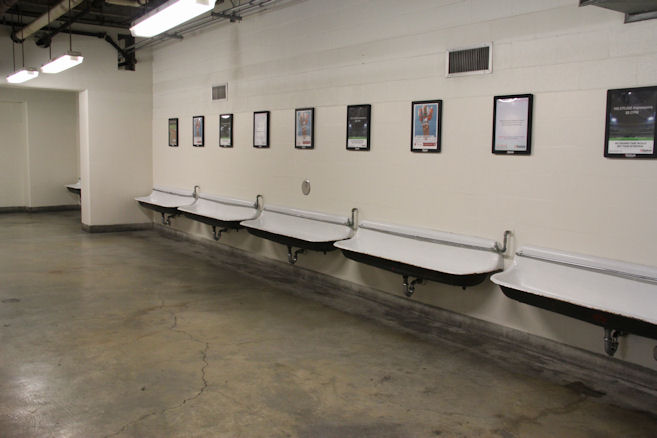 A splash from the past in Oakland
And finally, every seat I sat in -- both places -- was wide and comfortable. My survey wasn't very scientific, but randomness has its advantages, and will have to do here.
I'll discuss the club areas and suites for each park separately, and I don't count them very much toward overall fan comfort. When it comes down to it, these represent the real revenue aspect of ballpark design. If they're nice enough, there is big money to be made.
The short summary is that Oakland's stink, and AT&T's are nice. But neither park came anywhere close to the overall quality of the private amenities at Target Field. Not by a country mile.
When it comes right down to it, this is just about the only argument to be made for replacing the Coliseum. It's really not that bad a place to see a game for the average fan. But the revenue opportunities for the team are severely limited, and there isn't much sense of novelty. While it has obviously been well-cared-for over the years, it's a bit worn around the edges. AT&T is crisp and clean.
These are just perception things, of course, but in the stadium game, like everything else, perception is reality.
The liabilities of the compact footprint really do have an impact on overall fan comfort at Target Field (and likely AT&T Park as well), but it will take a while (perhaps a few losing seasons) before that seeps into the public consciousness. This phenomenon is definitely on display by the bay.
Beauty
I'm tempted here to summarize the perception differences between these parks by comparing them to women we've all known (but not married; ballpark comparisons couldn't do justice to my spouse, to whom I've been married for nine amazing years today).
If I were to do this -- and I'm not quite sure it will work, or that it's appropriate or politically correct -- AT&T Park would be that mysteriously beautiful woman who you hung out with for a while but never quite figured out. In fact, you wondered if she was for real. Was she really as beautiful as she seemed? Did it matter?
The Oakland Coliseum, on the other hand, might be that girl you knew for a long time but never saw as romance material -- until that one day when everything changed. You knew she was real, but familiarity (and maybe bad hair) had hidden her beauty.
OK, it's an imperfect analogy. The first woman would have to walk around all the time in a black and orange bikini, her skin perpetually glistening with ocean spray. And the second woman would be in a green one-piece suit, with a bright yellow swim cap. For the superficial, there is a starkness to the choice.
(Hmm. That's a better analogy already. But now I'm pretty sure I've crossed into politically incorrect territory. Hey, at least I'm not posting inappropriately personal pictures. Seriously, how do such idiots get elected to Congress? But I digress.)
One thing is for sure: These ballparks are not sisters. They're not cousins. They're total strangers, separated by generations, riding the same BART train but living in completely different worlds.
What I discovered, therefore, was a little bit unexpected. Each one is a treasure to someone and, if you look, you can see why.
Next in part three: The Photo Tour of AT&T Park
Comments
To utilized enhanced comment features, please enable cookies in your browser.
---
This page was last modified on June 8, 2011.