Being There
Opening Day 2013
April 3, 2013 2:50 AM

COMMENT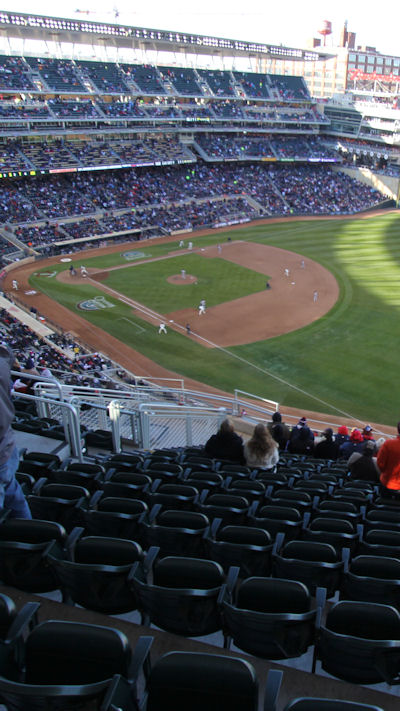 Bases loaded with Twins
Late Monday afternoon I found myself standing almost alone at the very top of Target Field, in the last row of section 305, cheering at the top of my refrigerated lungs for something -- anything -- good to happen with one out and the bases loaded with Twins. I don't have to tell you how that turned out.
Then I grabbed an elevator down to the main concourse, proceeded to and through the First Base Lounge, and stepped out again into the frigidity only to find -- you guessed it -- the bases loaded with Tigers. How quickly fortunes change.
Bewildered, I asked an usher what had happened. She rolled her eyes and spoke with great efficiency: "A hit. Two walks. One intentional."
But I have to say that keeping that game that close for that long is what I'll take away from yesterday afternoon. Well, that and a chill that was still emanating from somewhere deep within me nearly 24 hours, and a couple of very hot showers, later.
(That paragraph is dedicated to the college professor who tried to convince me that the word "that" could be forever stricken from my vocabulary -- that it served no useful purpose. Imagine that!)
In addition to seeing that our boys could hold their own against the odds-makers favorites, there were so many other things to see yesterday that it's nearly impossible to know where to begin. So I'm going to jump in with no real rhyme or reason (something various other authority figures have also tried to teach me to avoid).
What's Missing Here?
Perhaps the first thing I noticed was that the ballpark looked a little spare. Lots of carts that I'd come to expect in certain places were simply not to be found. Whether this represents a concession to the realities of early-April concessions or a new frugality remains to be seen. But frugality leapt to mind when the Hairy Star-Spangled Banner Dude lingered on the word "glare" and no glare appeared. (My camera was poised, this being the first time I actually remembered it was going to happen with enough time to frame a proper shot.) Maybe it was just technical difficulties. (Edit: Apparently, this was a one-time thing, intended not to spook the eagles who were participating in the ceremony.)

One elevator ride and a few steps later...
Spareness would become a theme as the innings passed and the crowd either dwindled or just moved indoors. As predicted, sunshine was at a premium. When I looked out at the park from behind the Skyline Deck in the 8th inning, the main grandstand (now fully in the shade) was very sparsely populated, while everything in the outfield was still relatively full.
For a time, I sat in the Home Run Terrace with my back against the wall and simply basked in the pleasant warmth of the sun. A slight breeze could still be felt, but it was probably the most comfortable seat I sat in all day. And it was considerably better than the standing room right above it, where my face was nice and toasty while my ears were lashed by a brutal wind from behind.
Target Field, if nothing else, exhibited a wide variety of personalities yesterday. But I stand by my original hunch that there was something for everyone. Some people huddled in blankets or wore the serious winter gear, while others stayed cozy by the fire. Some examples:
Slideshow
Image

1

of 9
For my part, I tried to get as wide a variety of experiences as possible. Ultimately, I spent about half the game outdoors, and the other half split between various indoor and otherwise climate-improved options (including, yes, the french fry lights, and at least one restroom that felt like a sauna). I can attest to the fact that, in the shade, the cold was brutal. In the upper decks, wind burn on the face was a real possibility. Unprotected ears anywhere (rare as they were) probably risked a touch of frostbite.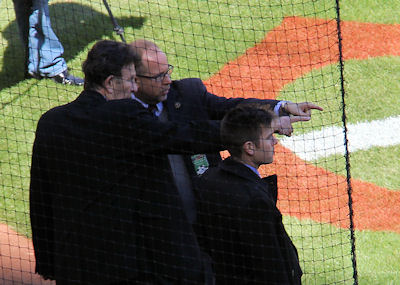 Special thanks to Kevin Smith and Chris Iles, seen here with Clyde Doeppner, for making my coverage of opening day possible.
And though there were a surprisingly large number of chairs filled in the early innings (officially, the game was a sell out), the population ultimately seemed to be even more nomadic than we've come to expect at TF. The bar area behind the Skyline Deck (the former Captain Morgan's) steadily grew in popularity throughout the game, unlike the Two Gingers Pubs which were packed from first pitch to last (with the temperature inside likely in the mid-80s because of all the body heat).
Plenty of people took the "shark" approach and simply never stopped moving. I saw two fellows in a brightly colored suits (not intended for outdoor winter wear, I should say), making brisk laps around the ballpark. They may have been fashion orphans, but their temperature management strategy appeared to be widely-shared.
Were You There?
As I saw such a large number of people experiencing the game from climate-controlled areas with no direct view of the field, I had something of an existential crisis. I mean, if something amazing happens out there, some sort of MLB history gets made, and you are watching it from inside a club on a flat panel screen -- the exact same way people at home would see it -- can you really claim later that you were "there" when it happened? Where do you have to be in relation to the action to really be able to claim you were "there"? What does it even mean to be "there" if you don't have to be there? Is just being nearby or in the same building enough?
Will we tell our grandchildren something like this: "Sonny, I was there the day Joe Mauer got his 2000th hit. I saw it right there on the screen while I was waiting in line for a Walk-a-Taco!"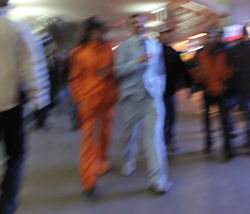 Sharks, I suppose
I'll never forget the day Prince Fielder hit an inside-the-park home run back at the Metrodome. (I know it seems implausible, but it actually happened.) Well, I was in the ballpark that day, but had run to the restroom when it happened. I was "there" but not there. Or was I?
It was that thought which propelled me out into the cold -- to see the game, through my own eyes instead of some camera's eye, and feel the same air that the players were feeling, and to somehow own the memory just a little more deeply (as much as I can, given the certainty that I'll someday misremember it even better than I actually remember it today -- if you didn't read my previous post, I realize that won't make much sense).
It's a subject worth considering, I think, and became the theme of my thinking while walking around on Opening Day 2013. (When you're on your own, in the cold, with only a camera and the occasional short conversation with a stranger, the mind can do weird things.)
But here's the upshot: By asking the question about what it meant to be there, I was somehow able to more fully do it. The cold just became an ingredient in the soup of being alive and doing something I love: watching baseball. Both the place and the game felt like home, and I was returning. Our long winter has the potential to turn into a long summer, but on opening day, especially when your team makes a game of what might have become a blowout, does it matter? Worrying about tomorrow is another way of not being there. It had to be let go.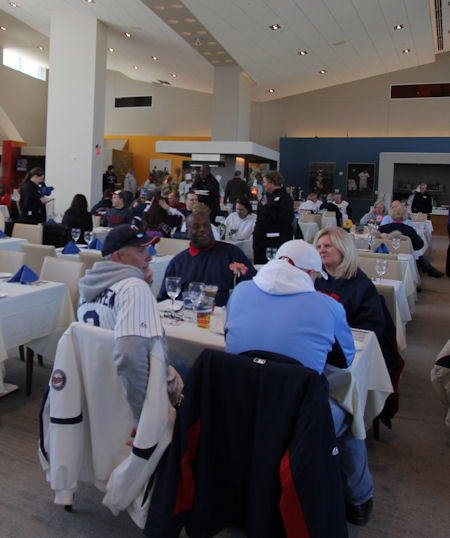 Al Newman, pre-game
By not being somewhere else, and not being nowhere, I (and all of us) could be there to revel once again in the renewal of this great cycle. The earth has reached that point in its orbit again, and I'll be damned if this isn't the perfect way for 40,000 bags of stardust to engage the mystery of their own incarnation. Even if they wouldn't call it that. Or give it a second thought. Or something like that. (Oh no, it's that again.)
Last night I squished a tiny moth that was fluttering around our bedroom. These things basically turn to dust when swatted and you can just blow away what's left of them. "They're just dust flying around," I said to Vic.
Then I caught myself. "Of course, I suppose the same is true for us. We're just dust walking around, right?" That was me at the game. Dust, walking around, smiling. Alive. There.
The Voices of Dust
As I wandered through the day, I caught some familiar faces: Al Newman and Frank Quilici (eating in the Metropolitan Club -- not together, though it makes me wonder what they might talk about), Bert Blyleven (opening Gate 3), Tony Oliva (of course; I shook his hand), various Pohlads, Dave St. Peter, Clyde Doeppner, and Kent Hrbek (enjoying a pre-game brew at an awesome tailgating party).
I also heard a couple of quotes which stuck with me:
"Solamente pizza aqui!" -- From an exasperated chef in the Carew lounge as he opened a heated drawer and unexpectedly found tortillas.
"We're still waiting for security in section 109 for a possible ejection." -- Overheard on a security guard's radio. (Indeed, by chance I was walking that direction and saw the dude get tossed. Somehow I had pictured Hairy SSB Dude, but it wasn't him.)
But the best quote of the day came from my seven-year-old, who caught me off guard just a few moments after I woke up: "Dad, who are the Twins playing today?"
I felt like saying, "Who cares? They're playing!" but replied instead, "It's Torii Hunter and the Tigers today."
My four-year-old jumped on the bandwagon with the enthusiasm I felt inside, "This is gonna be a great day!"
It sure was. And I was there.
Comments
To utilized enhanced comment features, please enable cookies in your browser.
Hide Facebook box
---
This page was last modified on April 5, 2013.
"You talk about the magic, the aura, but what really makes a stadium is the fans. Concrete doesn't talk back to you. Chairs don't talk back to you. It's the people who are there, day in, day out, that makes the place magic."
– Bernie Williams
Explore the Site
Here are 50 images chosen randomly from the 3042 found on this site. Click the image to be taken to the original post. A new list is created every 10 minutes.

This is the area above the pro shop, with some new support structure

This was actually taken from the top floor of the International Market Square.



Spring of 1982 (click to enlarge greatly -- can you pick out Kent Hrbek?)

This design has a rather generic quality to it, but they appear to have considered the B garage. Though it isn't part of the model, they've clearly left room for it.

Outside, lots of window space



What a great sight!
Looking down what was Third Avenue, and will be a freeway entrance ramp beneath the outfield stands.

Plaza seating installation

Future home of the Met Stadium flag pole

Here's the current overview from the south side of the B ramp (from which the banner at the top of this page was culled).

Walkway sneak peek




The renderings and concept model differ here. MOJO thinks this is the perfect place for a party deck. Dave St. Peter seemed to agree!

I noticed this detail while taking the previous picture. I figure that it must be the VIP entrance from the surface parking lot. I don't think there is any parking inside the ballpark, so this entrance will likely be for suite-dwellers and other VIPs, though I can't say for sure whether players will enter here.

Working on the main concourse right about directly behind the plate.
Puckett atrium menu part 2 (Those prices match elsewhere in the ballpark.)


Photo by Jeff Ewer

That's part of the wind veil, waiting in the B ramp for installation








A path for workers -- don't touch the plaza! -- in front of three giant Chia pets

Parking ramp knothole

Thanks for all the hard work out there, Cold Safety-Line Dudes. (I'm glad that my job does not require safety lines...)

The tracks on the right will be moved to the newly-cleared area on the left. The edge of the ballpark will be about where the rocks and dirt meet.

Roll-up metal doors visible at right.


The back row of seats in straight-away center. Note that, beyond those seats, you can see the planters (for flowers) on the front of the Left Field Bleachers.(Batters Eye)

Click to enlarge. (Photo by Tyler Wycoff)

This view, from the Minnekahda building (or possibly a predecessor), looks toward the right field corner. The City Market, at left, occupied the land where the B ramp and Target Plaza now stand (over I-394). And the Overlook now juts out just a little beyond where that driveway enters the railyard.

Walkway overview



Saturday afternoon, KMSP-HD 720P


Louver samples on display.
Glossary
BPM - Ballpark Magic
BRT - Bus Rapid Transit
DSP - Dave St. Peter
FSE - Full Season Equivalent
FYS - Fake Yankee Stadium (see also: NYS)
HERC - Hennepin Energy Resource Company (aka the Garbage Burner)
HPB - Home Plate Box
HRP - Home Run Porch
LC - Legends Club
LRT - Light Rail Transit
MBA - Minnesota Ballpark Authority (will own Target Field)
MOA - Mall of America
MSFC - Minnesota Sports Facilities Commission (owns the Metrodome)
NYS - New Yankee Stadium
SRO - Standing Room Only
STH - Season Ticket Holder
TCFBS - TCF Bank Stadium
TF - Target Field
Selected Bibliography - Analysis

Selected Bibliography - Surveys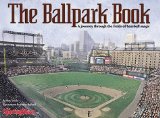 Not a "Third Edition" exactly,
but it replaced the above title
(2000)


Original edition (2000, round)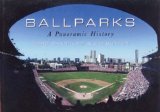 (2004, very large coffee table)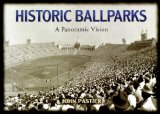 (2006, very large coffee table)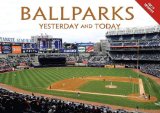 Combines the previous two titles
(2007, medium coffee table)

Selected Bibliography - Nostalgia



Book and six ballpark miniatures
(2004)