Ramping Up
August 21, 2007 11:53 PM

COMMENT
The ballpark site is positively pounding with activity. Cranes, trailers, and construction vehicles are everywhere, and pile-driving is well underway. Elsewhere, there has also been quite a bit of activity...
Valuation
It isn't over til it's over, but the first round goes to Baseball. $23.8 million is more than anyone originally thought, but it's almost exactly what is in the project budget already for land acquisition. That means that whatever issues may arise from the increased land cost have already been considered. If it sticks, this value will be barely a ripple on the finished product.
Of course, there are the appeals. And the lawyer's fees. And who knows what other minor expenses (court costs? parking? coffee and donuts?).
We should all take a moment's pleasure in the fact that, so far, Sanity has won out over Naked Greed. There may be lots of greed to go around in this project, but Land Partners II and Hines Interests really set a new low. It's refreshing to see a strategy so boldly mean-spirited fail.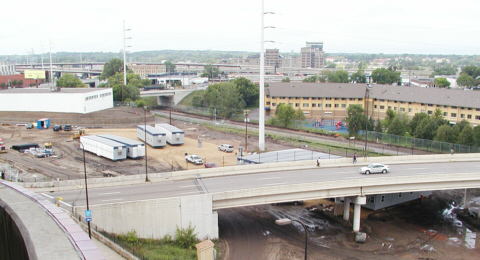 A trailer village has sprung up to the south.
Of course, it looks like Land Partners II did quite well for their investors. (Sound of cold wind blowing...)
Model
People keep telling me that the photos of the model-in-progress are still available on the Twins web site, but I can't find them. Supposedly you can load the ballpark renderings and then click on "View Other Galleries", but it doesn't work for me. (You may be interested to know that there are actually two home pages for the new ballpark. Click here, and then here. The second one looks very old.)
It doesn't really matter. Not much is given away in the pix, and the questions they raise will probably all be answered when the finished model is unveiled (presumably at the ground-breaking next week).
I wouldn't be a bit surprised if the color shown on the model is something approaching the final color of the seats. A neutral "ballpark green" would be the safest route to take. I do stick by my wish for something more imaginative (such as mixing shades of blues and greens like Met Stadium), but that's a pretty big long shot.
Much has been made of the overhang in right field. It seems like a good idea, really, as long as it doesn't get too exaggerated. To date, the design has been refreshingly free of gimmicks, and they really should work to keep it that way. If it sticks out too far, it's an artificial potential game-changer -- kinda like a speaker in fair territory. I hate those things. But a little bit of overhang, well that's not unwelcome. The ground rules there will be interesting.
Blueprints
Shane over at The Greet Machine provided me with a look at some gigantic blueprint files filled with arcane details that only an engineer could love. I've spent most of my time trying to figure out exactly what I'm looking at.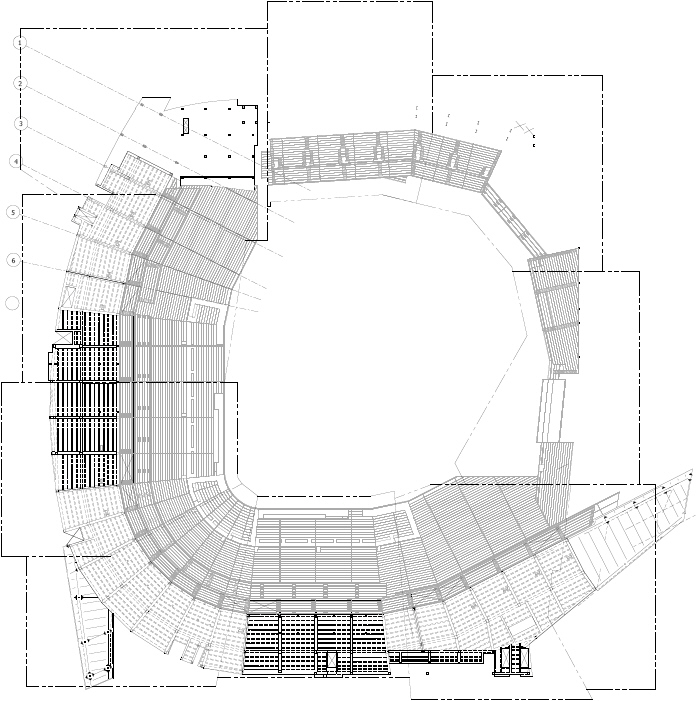 This is a background image extracted from one of the blueprint pages. It's essentially a schematic of the park (Terrace Level). In it you can see the shape of the various seating areas (to a certain extent).
It's clear, however, that a great deal of modification has taken place in the outfield seating since the first batch of concept drawings were released last spring. The restaurant which dominated the outfield is now gone, replaced mostly by seating.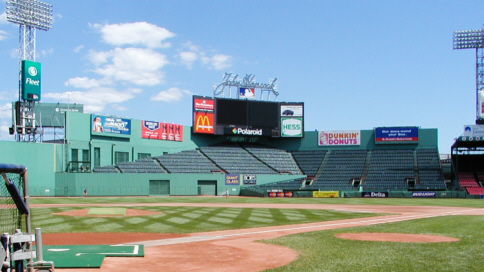 OK, it doesn't really look like that at all...
That includes a rather large, angled section in right-center which reminded me visually of the same area at Fenway. The pavilion is pictured in the model photos, but has a different shape in the blueprints. I'm trying to find a good version to post, but haven't quite got it yet.
Alas, it looks like the homage to Met Stadium out in left has disappeared. Too bad, but it may have not been intended that way in the first place. It looks like they eliminated the uppermost sections out there, and spread those seats around the outfield. It probably means better (i.e. more expensive) seating.
We can go on and on about good versus bad seating, and I'll be right there for the discussion. In the best of all possible worlds, every seat would be great and cheap. In the real world, the better the seat, the higher the ticket price. Without any bad seats, there won't be any cheap seats. Unless, that is, there is a fundamental change in the nature of business before opening day 2010.
Seven Notes From a Game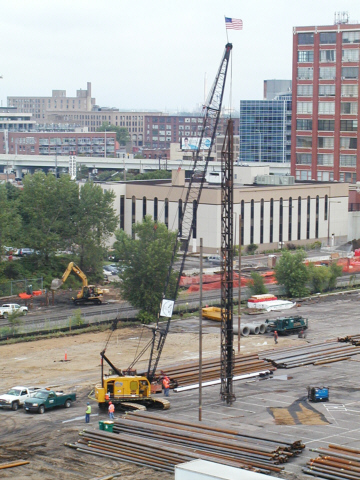 Pile driving in progress
I was lucky enough to score free, albeit last-minute, tickets to last Friday's game, and they ended up being in section 123 (one of the best sections in the Dome).
1) Baseball from here looks very different than it does out in the cheap seats -- something I'd forgotten since the good seats have been priced out of my range for a few years. I was struck by how much of it looks carefully choreographed and rehearsed, like improv theater.
Specifically, I noticed how Joe Mauer does the classic "catcher trot" back to the plate after talking to the pitcher, which was immediately preceded by the classic "umpire stalk" out to the mound, which followed the "manager plod" and the "shortstop stretch" and the pitcher's "nervous pacing."
Baseball is a great game, but it's also part dance.
2) Did you know that the Metrodome has two great, and very strong, wi-fi connections available? Bring your portable device (mine is a Nokia 770 Internet tablet) and you can have a box score always available.
3) Remember when Joe Nathan first appeared in a Twins uniform? He had a fluid confidence that seemed to walk ahead of him as he approached the mound, and seemed to be the source of each pitch.
Then he got all twitchy.
Well, I saw the Old Joe on the mound Friday night. In fact, there was something of a Zen quality to his demeanor, and it looked like he had a deep focus, despite the fact that it wasn't a save situation.
He looked like he could hear the sound of one hand clapping. Or maybe he just went fishing with Brad Radke. Either way, I like Zen Joe much better than, as Bat-Girl dubbed him, Twitchy McXanax.
4) During the 10th inning, I was pelted from above by a very cold wind. Then I noticed that all the banners down beyond the Twins bullpen were flapping wildly in a stiff breeze. I have no idea why, but I'm guessing they had to turn the air conditioning back on because the game was in extra innings.
But what does that do to the flight of the ball? Probably nothing, I suppose. It ultimately had no impact on the outcome of the game (you may remember that Nick Punto scored the winning run on a wild pitch). But it crossed my mind.
Discussions in progress on some very brown grass...
5) I took my radio and listened a little bit as the game wore on. Dan Gladden, who really has blossomed with confidence behind the mic in the last year or so, had a great quote: "Everybody knows, the Twins don't run on pitch-outs."
6) I got to the game too late to buy a Gameday program, so I was stuck with the $1 official scorecard. It's actually improved a great deal over the last couple of years, but it's still only eight pages, one of which is the cover and four of which are full page ads. There are some stats but no substantive articles, certainly no match for Gameday.
Look for the Gameday vendors outside the Metrodome, on all the most highly-traveled pedestrian routes. At $2, this independent program and scorecard remains the best deal at the ballpark. Don't miss it.
7) I bought a hot dog from my seat! You can't do that very often upstairs. It was, however, a bit of a let-down. The bun on those things is so freaking huge and hard that it's just about impossible to eat. You would think that food engineers would have perfected the humble hot dog bun by now...
Thanks to all the discussion contributors! It's much appreciated.
Comments
To utilized enhanced comment features, please enable cookies in your browser.
---
This page was last modified on January 21, 2010.
"You talk about the magic, the aura, but what really makes a stadium is the fans. Concrete doesn't talk back to you. Chairs don't talk back to you. It's the people who are there, day in, day out, that makes the place magic."
– Bernie Williams
Explore the Site
Here are 50 images chosen randomly from the 3045 found on this site. Click the image to be taken to the original post. A new list is created every 10 minutes.



I had to hold the camera as far over my head as I could to get this shot, in which the infield is finally visible. It's a spot made for your average Timberwolves player.

Original Concept - With a Retractable Roof
Imagine this!


JohnW provides this shot of a construction barricade on First Avenue

Don Swanson, left, in-coming commander of the Richfield American Legion, and Joe Kennedy, right, out-going commander, are pictured with the Legion's new flag pole, which once stood at old Metropolitan Stadium. (Click to enlarge.)


You can finally see how the plaza will meet the street on the north side of this emergency exit tower (which will be converted to a regular entrance/exit)

This is the left field pavilion in the original concept model. The restaurant pictured to its right has been moved, and the seating area has been extended at least one full section toward center.

(Click to enlarge.)



Above the Carew gate

Dan Kenney provided this alternate shot of a walkway behind the view level

The Polo Grounds (left) and Shibe Park (Connie Mack Stadium)

In March, we were still only imagining baseball through those windows.

On this day, George was handling fruits and veggies right inside gate 34.


Louver samples on display.

Viewed from up Sixth Street, the tip of the canopy looks like the claw of some gigantic crustacean!

Plaza seating installation


Integrating the administration building was really a great idea. Actually, there will be more things inside than just offices, but that will probably be some sweet space.

Note that, even though the scoreboard appears strategically placed, it's the outfield stands which block any potential view of the field from this roof.

The original Candlestick Park

The moat walkway viewed from across the park.

"I've never seen them do that before," said a Metropolitan Club waiter as I snapped this picture.

A few weeks ago there were sand volleyball courts here. When the park opens, this will be surface parking. Maybe one day there will be something more interesting built on top of that parking...

This looks south and shows the track configuration for Northstar. The platform shown is just a placeholder. To the best of my knowledge, concept drawings for this platform have not been released. Keep in mind, this is NOT part of the ballpark project. It is completely separate.

One of those funny little sections above the entrance stairs

No admittance -- yet! Note that you can see the seating bolts which are in place already.

The sign reads, "Mortenson Radio Channels".

Signature elements. (And they wonder why we think the real trees look so small...)


Looking up toward Sixth Street.





This is where the main ticket office will be.

Finally, a night game image -- complete with fireworks! (OK, it's either a construction photo which has been Photoshopped, or some lucky photographer spent the Fourth of July in the upper deck watching the fireworks over the river. Cool either way.)

Here's the entrance from the seating bowl. It's down the outer moat, just beyond the last of the Dugout Box sections.

A view into the Legend's Club

This view looks through the opening in the fence where the crosswalk will be.
Glossary
BPM - Ballpark Magic
BRT - Bus Rapid Transit
DSP - Dave St. Peter
FSE - Full Season Equivalent
FYS - Fake Yankee Stadium (see also: NYS)
HERC - Hennepin Energy Resource Company (aka the Garbage Burner)
HPB - Home Plate Box
HRP - Home Run Porch
LC - Legends Club
LRT - Light Rail Transit
MBA - Minnesota Ballpark Authority (will own Target Field)
MOA - Mall of America
MSFC - Minnesota Sports Facilities Commission (owns the Metrodome)
NYS - New Yankee Stadium
SRO - Standing Room Only
STH - Season Ticket Holder
TCFBS - TCF Bank Stadium
TF - Target Field
Selected Bibliography - Analysis

Selected Bibliography - Surveys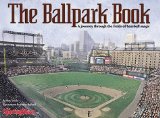 Not a "Third Edition" exactly,
but it replaced the above title
(2000)


Original edition (2000, round)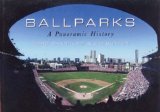 (2004, very large coffee table)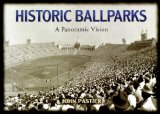 (2006, very large coffee table)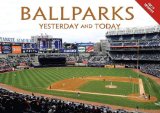 Combines the previous two titles
(2007, medium coffee table)

Selected Bibliography - Nostalgia



Book and six ballpark miniatures
(2004)