On CBP, Umping, and Gawking
October 23, 2009 81:58 PM

COMMENT
If you watched the NLCS, would you agree that, at least on TV, Citizens Bank Park looks positively gigantic?
It's just about impossible not to notice because it appears so square, and tall, and steep, and sprawling. The upper deck looks so high up, seems to have as many rows as the Metrodome, and wraps all the way around to right-center, at which point it merges into a complicated series of nested balconies. The bleachers in left-center seem to sprawl off into the distance. And every time that suspended camera moves across a crowd it just seems to go on forever.
I was surprised to discover that, at least capacity-wise, Citizens Bank Park is less than 10 percent larger, 43,600 versus 40,000-ish (no definitive capacity number has yet been announced for TF). But it looks -- again, at least on TV -- like it could hold 60,000.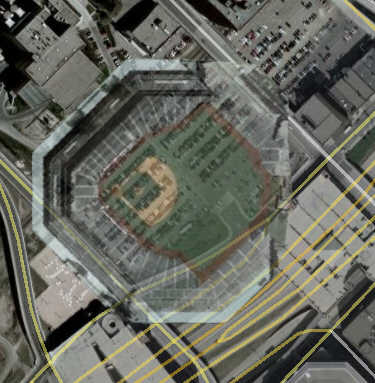 The seating bowl of Citizens Bank Park overlaid on the Target Field site
In fact, the more I watched, the more I began to wonder if the compact (I'm so tired of the words "cozy" and "intimate") feel of Target Field is just a happy delusion. Are our eyes being tricked by the language we've adopted to describe our new park? Could it be a classic case of "you see what you want to see"?
To find out, I returned to an old exercise I did long ago which happened not to include CBP. I was relieved to discover that you couldn't build anything like CBP on the TF site -- not even close (see image at right).
And that's just the seating bowl! It is surrounded by support buildings which add about 20% to the overall footprint. The site itself is over 2 1/2 times the TF site (907M square feet versus 346M square feet).
In terms of height, which was the first thing I noticed, I can't find any hard data. But my eyeballs tell me that the uppermost row of CBP may be up to two stories farther from the playing surface that the highest row at TF. And they are set much farther back from the field, meaning the overall distance to the action appears to be substantially greater.
Ah, I'm relieved. The compactness of TF appears to be real after all.
Umpires, Schmumpires
As you know, this post-season has been filled with more umpire gaffes than I can begin to list. (Really, I tried, and the list got too long to be practical to include here. You've seen them all.)
Before instant replay became part of the game, I was against it. Baseball is a human game, filled with human mistakes, and how managers manage umpires (and vice versa) is part of the game. Blow a call now, and you owe me a close one later. I want you to eject me to fire up my team. That sort of thing.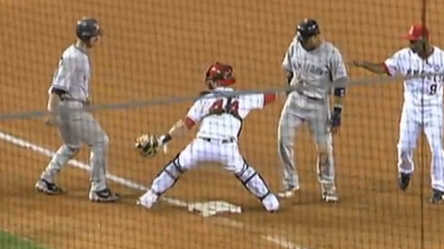 Um, I think that guy is out.
But now that instant replay is part of the game, it's time to get it right -- especially for the playoffs, but not only for the playoffs.
There is absolutely no reason why instant replay should be limited to home runs, other than the potential for it to slow down the game. In other words, MLB knows that it could help in many other situations, but they have chosen to place an arbitrary limit on its use for marketing purposes (slower games = potential loss of TV viewers -- though one could argue that Scott Kazmir is a human casual-fan-repellent in that regard).
And the mechanism for deciding what to review is completely screwed up. Frankly, I don't know how it works. It seems like the umps get together, ask each other who saw what, and then realize that nobody saw what they needed to see. That's a pretty embarrassing moment. For a major league umpire in the current environment, walking to the review booth is an admission that you failed at your job.
Not so with the NFL because each play is a chaotic battle where any player can be visible one moment and invisible the next. Bodies pile up, knees hit the ground, receivers turn away from where the ref is standing. There's no failure associated with missing something in football.
So we need to forget how the NFL does things. That model is wrong for MLB from the first moment.
What is right for MLB is already in plain view, though people seem not to see it.
Think about the check swing. The ump behind the plate makes an initial call. Down the line, another ump has observed the play and made a decision on how he might rule, but says nothing. The catcher gestures down to the other ump. The home plate guy decides whether to allow the appeal. If allowed, the other ump renders his opinion which is final.
Think about the appeal on a tag up. Long after the play is dead, the pitcher throws the ball to the base where he presumes a runner left early. The ump has already seen the play and formed his opinion on what happened. But he does not give his opinion until the appeal is officially made. Once appealed, he renders a decision which is final.
Each of these is beautiful because it preserves the pecking order perfectly and is utterly unobtrusive to the game. It's just a natural part of the rhythm of the game.
The right way to do instant replay draws on each of these. The biggest change it would require is an additional man on each umpiring team. While this is certainly not a small change, it is more than justified.
Here's how it would work:
The replay ump watches a monitor constantly, most likely in one of the camera wells or in another place adjacent to the field designated for this purpose. He sees replays of everything, much like the viewers at home. He is concentrating on the game constantly just like all the other umps, only by watching the camera coverage instead of the direct action. He has access to every camera angle (home, visitor, Fox, TBS, scoreboard, etc.), though he probably doesn't need all of them. One good angle is usually enough.
After a controversial play, if there's an argument, the manager has the right to ask for a review of the play (politely, of course). The umpire on the field decides whether to allow the appeal. If not allowed, there's no recourse. If allowed, the replay ump's decision is final.
That's it, end of story (well, almost). Some details:
There should be no arbitrary limit on how many times a manager could do that. Practically, they would not do it on every close call. They would do it on the same calls where now they come out of the dugout to argue.
Maybe they would come out more frequently at first, but umps can manage that just like they do other sorts of manager tantrums. If a manager does it too much, the request gets denied. Period. It would always be within an ump's right to say, "That was not close. I saw it. No review."
Realistically, however, I think umps would be happy to yield to that, thus saving time on tantrums. I think we would probably find that calls would get overturned rather infrequently, which in turn would discourage managers from overusing it. Having the back-up doesn't have to change the dynamic on the field one bit.
A key thing to remember here is that, unlike football, a review cannot stop a clock and is thus of little or no strategic advantage beyond getting a call right. The time-out-style advantage in football (where asking for a review has the added benefit of giving the team more time to figure out their next play) is enough to need that type of control mechanism. Remember, again, that baseball is not football.
(If you really feel like there has to be a limit on managers, make it at least a baseball-compatible method -- no flags or anything. Just give him three misses before he's out. That is, if he appeals and is right, it doesn't count against him. But the third time he wrongly appeals, he's ejected from the game. I don't think it's necessary, but football may have set the anchor on this one.)
Further, because the replay ump has already formed an opinion, he can just give a simple hand signal from right where he stands, just like on a check swing. There is no delay. Presumably, if a manager has come out to argue, the replay ump has used that extra time to watch extra angles if necessary and will be ready.
Now, I would take this one step further to avoid the obviously blown calls we've seen:
If the replay ump sees a potentially game-changing error (like the Mauer foul call or the non-double-play in Anaheim), he would have the responsibility to alert the crew chief immediately that the call was blown and needed to be fixed.
The mechanism for this would have to be worked out, but it could be as simple as a flashing light above his position to catch the other ump's attention (adding the crowd to the process, which could be fun, albeit looking a little like a price check at our favorite upscale discount retailer), or more unobtrusive, like a wireless connection to an earphone worn by the crew chief.
I'm sure somebody somewhere would object to the added expense of a fifth ump for each game, but that should be disregarded. To protect the integrity of the game, it's worth every penny.
And it does protect the integrity of the game by creating a tool for getting calls right, and removing any embarrassment for the umps on the field. Is a home plate ump embarrassed to ask for the first base ump's help on a check swing? Not in the least. The other ump is not an adversary, just a resource, and nobody has to admit that they screwed up, just decide whether the play was close enough to justify getting an outside opinion -- which is immediately available.
The integrity of the game is damaged much more by the blown calls than it would be by adding a sensible replay procedure. The ultimate results of the playoffs might not have been impacted by all these errors, but then again they very well might have been. That is simply unacceptable.
Now I can see that instant replay, done right, is essential to integrity of the game in our technological era.
Get to the Pix, Rix
I didn't plan to spend so much time rambling about other things tonight, but I do have more pictures, and a couple more details from my tour.
First, here are a couple of images forwarded to me from someone who got inside the Hrbek club today: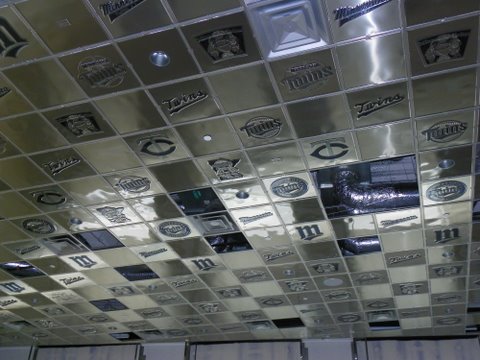 The ceiling in Hrbek's is covered with panels depicting Twins logos throughout the years.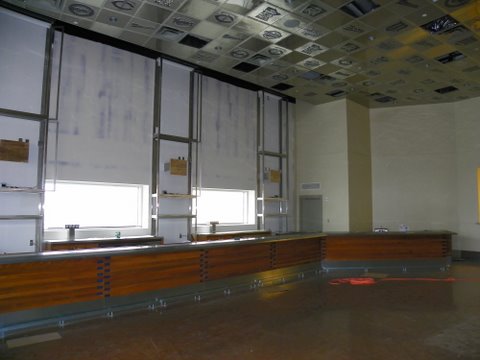 That is the bar in Hrbek's. This place will be very cool.
Did I tell you it is spectacular?
Next, here's the view of the bullpens from the little concourse notch. You will notice that there is -- gasp -- artificial turf there instead of real grass! (It's almost always in the shade, and hardly worth the effort to try and grow grass there.)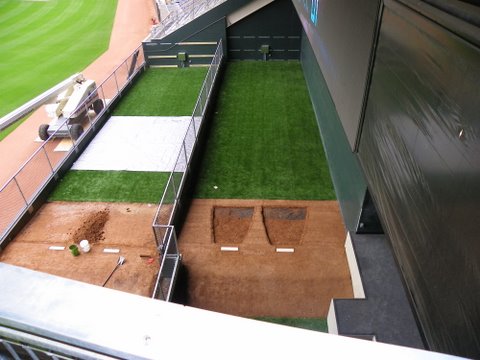 The Twins will likely be in the upper (right) bullpen
I found out that Larry DiVito is not just responsible for the playing surface. He's also the guy who will tend to all the foliage out on the plaza and even the flower beds which are above the outfield walls. These will be especially tricky because some of them get very little sunlight.
Here are a few more current shots of the plaza.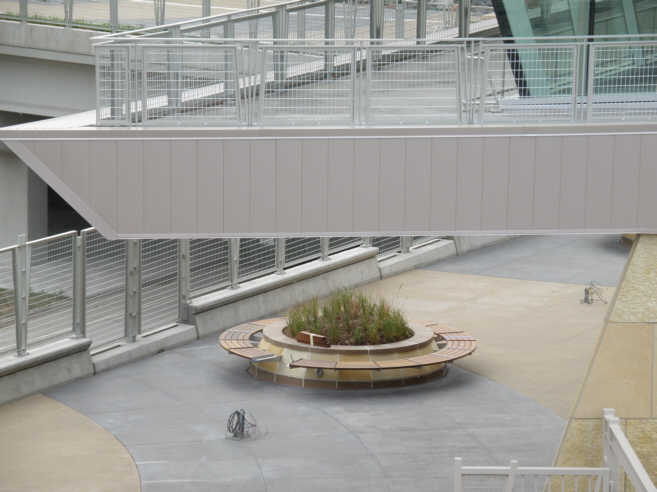 Seating mound (seen from the B ramp)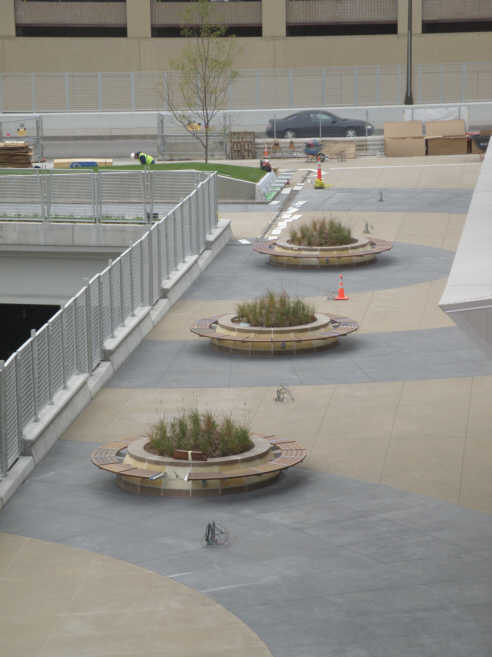 All three seating mounds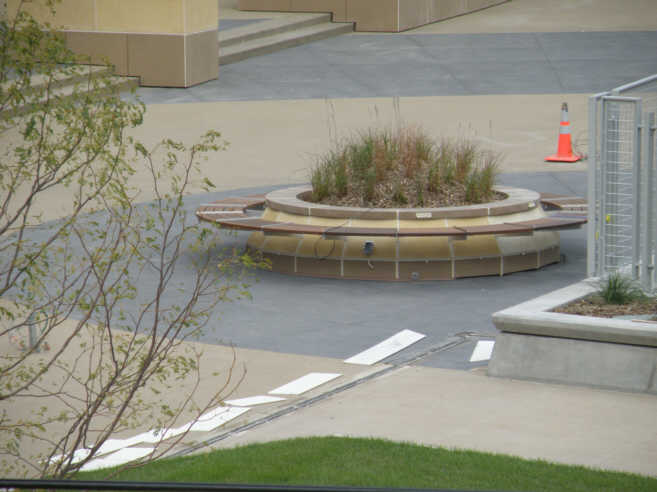 Mound from the other side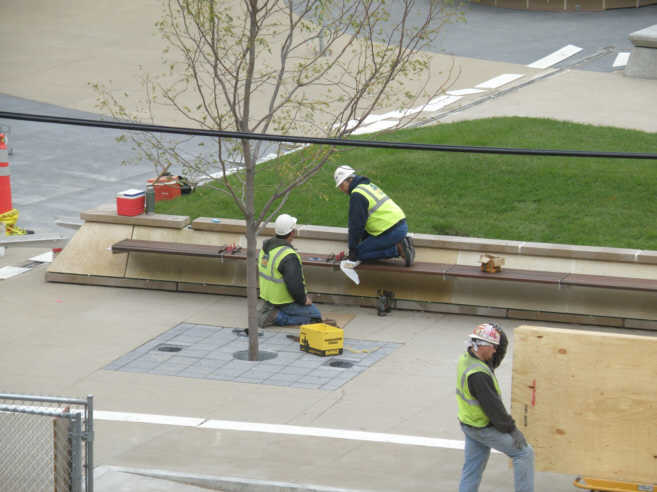 Plaza seating installation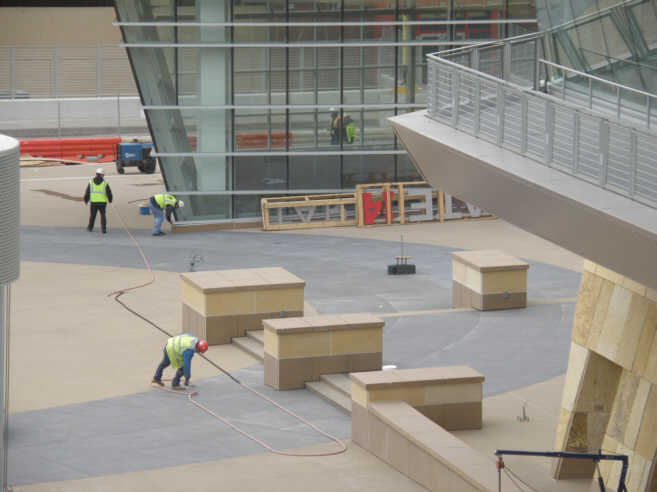 Detail enclosing the main ticket window area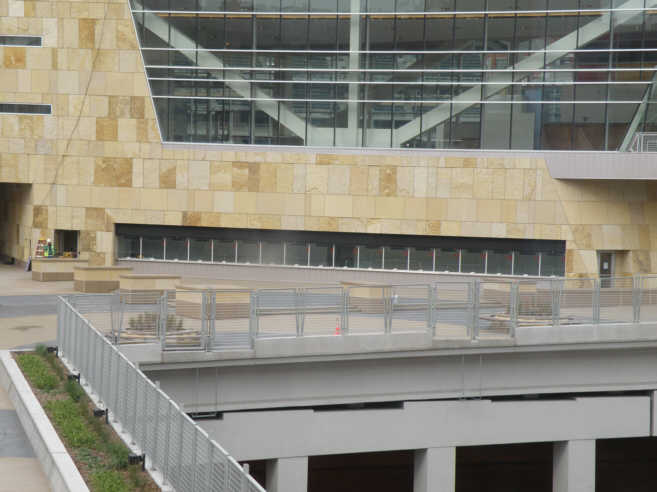 Main ticket window area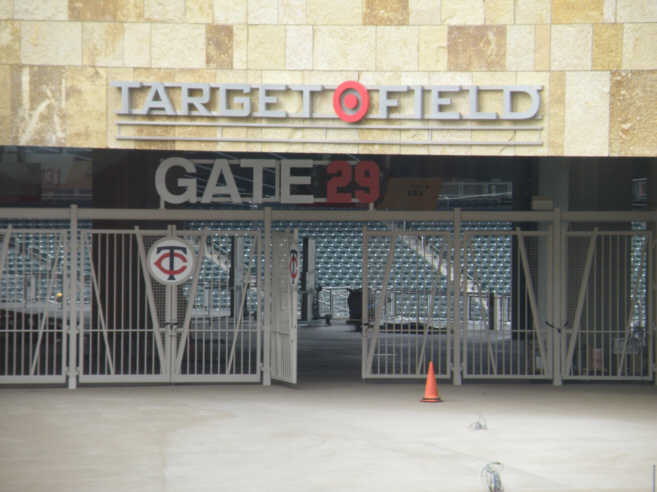 Plaza signage
Plaza overview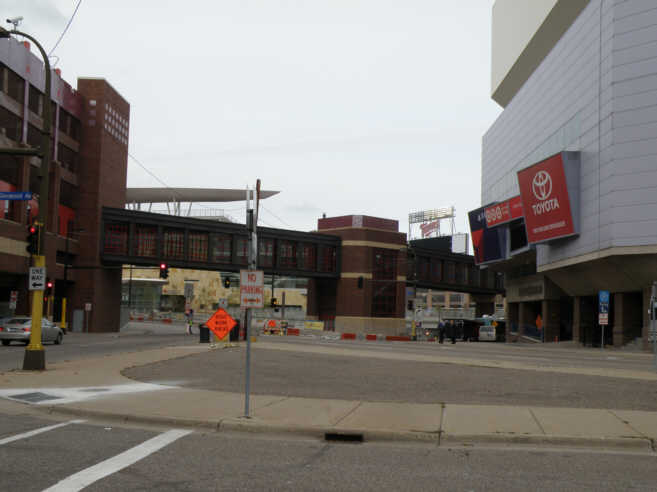 Wanda's view!
I took that last picture as sort of a "before" for the triangle area, which will become a sort of plaza extension. (I was standing right in front of The Seville Club, where I parked.)
Thanks for stopping by today. If you ever have pictures, info, questions, or other goodies for me, please forward them at any time to rick at this domain dot com (just turn that text into an email address that looks kind of like this: brick@ballperkmagik.com -- take that, damn spambots). As you probably know, I work on all this stuff in my spare time, but I do read every single comment and truly appreciate all the help readers have provided throughout this process.
I expect to have an official announcement soon about the 2010 Construction Calendar (yes, there will be one), as well as a souvenir photo book of the construction process (signed, numbered, collectible), and (hopefully) an intro to TF guide book for those coming from out of town. All will be available for Christmas!
Profits (if any) from these publications will be going toward the purchase of a Nikon D90 and lens for documenting the park opening next year. To that end, anybody selling one? Know of any good deals? Got a better camera idea? Interested in contributing to the purchase? -- I'm not above accepting donations! (Here's a PayPal link for anyone interested.)
(In case you ever wondered, the advertising on these pages basically covers the hosting costs. You don't get rich with that stuff unless you're Google... Hopefully, with enough other small revenue streams, I can dump it eventually. I didn't start this site to get rich, or even as a business venture. It's a labor of love for the game.)
As mentioned in yesterday's comments, the ticket trading club should launch officially right after the first of the year. Send me a message if you want to get in on the ground floor (recommended).
For those who are wondering, after Target Field opens, there will still be lots to talk about, see and share. In other words, I have no plans to shut down just because the park has opened! In fact, I've created a separate site you'll be able to access with your phone for sharing in-game pictures and comments (it will launch officially with the first TF shakedown event in March).
Let me leave you with a video submitted in the comments yesterday. It's of Met Stadium, used in an unexpected fashion.
Comments
To utilized enhanced comment features, please enable cookies in your browser.
---
This page was last modified on October 24, 2009.