Canopy Skeleton!
October 28, 2008 11:12 PM

COMMENT
Just in time for Halloween, a new skeleton has appeared down at the ballpark site:
Just seeing this puts a whole lot into perspective. In fact, it brings the main grandstand to its full height! (The scoreboard will actually be the tallest part of the park. More on that subject below.)
The conditions were just about perfect tonight when Noah and I arrived to get some fresh pictures. While we were there, the sun set and the sky turned the most amazing shade, azure and gold streaked with pink.
One spontaneous picture illustrates the severe need for changes to the pedestrian experience. As I tried to get his picture, Noah put his hands to his ears and instinctively turned away from the traffic -- which was flying by at about 45 MPH no more than a few feet off the end of his elbow:
As a parent, I constantly felt the need to tell him to walk as close to the fence as possible. I know that cars rarely jump the curb right there, but the combination of speed and a curve in the road makes me nervous.
And that's the whole point. Regardless of the actual amount of danger, the mere perception of danger is enough to transform the pedestrian experience pretty radically. To be comfortable, there needs to be some physical barrier between those on feet and those on wheels.
I know that the city of Minneapolis realizes this and is talking about whether they should devote funds for pedestrian upgrades, but in my view this is not optional. The warm ballpark space is chilled severely by the presence of a mini-freeway off its southern doorstep. If the Twins and/or Ballpark Authority aren't lobbying for major changes here, they should be.
There was something of a surprise at the Pro Shop. The grid for the windows has gone up, and it's clear that there will be no pedestrian entrance to the Pro Shop from the Seventh Street side:
Not only that, but there will be no entrances on any of the three sides which stick out from the main structure. Apparently, this will only be accessible from the main concourse.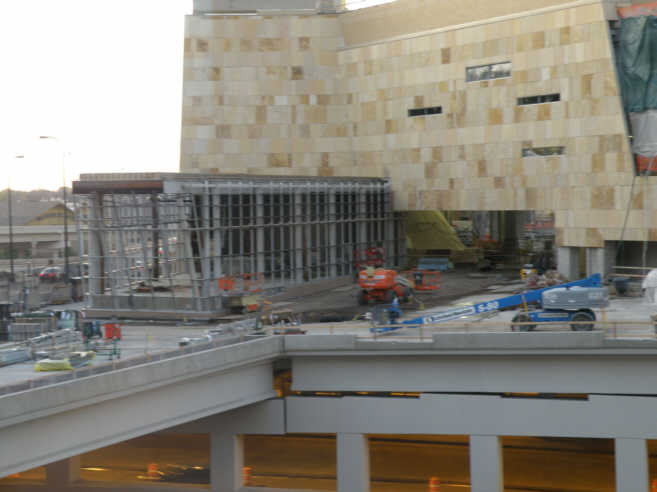 In addition to the Pro Shop facade, you can see more gravel being laid before the final plaza surface is poured.
It's a surprise because I just assumed that this store would serve as something of a welcoming point for fans -- an element which would draw people into the building. The large expanses of glass are great, but doors would be better. I guess I can understand that there might be security advantages to not having such entrances, but it's still a disappointing loss.
Around on the Fifth Street side, I got a few quick views into the bowels of the structure.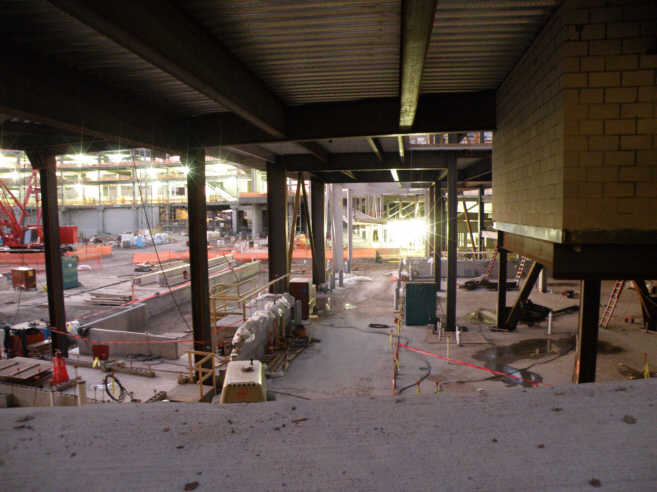 Yes, it's pretty tempting to just walk right in...
The steel has gone up very quickly over at Gate 6 "Oliva".
This will be a bar/restaurant.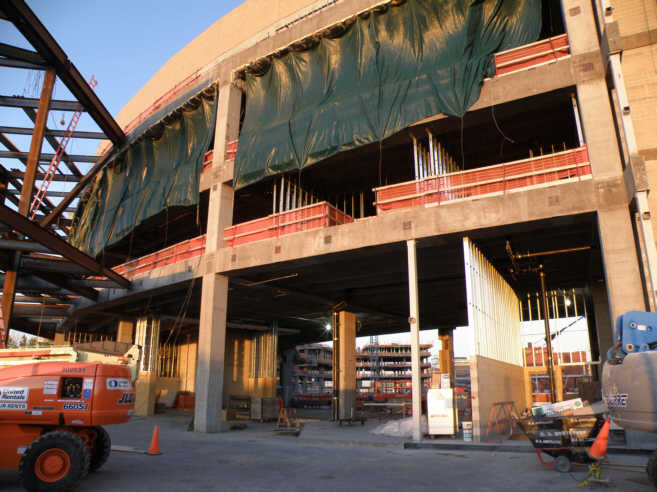 This is the actual entrance for Gate 6. Notice how close the seating will be. The back row of the lower deck will be mere inches beyond that inner support post.
And very nearby is a very impressive -- almost Metrodome-esque -- array of air conditioners.
A few more pix follow at the end of this entry.
Score. Bored.
There was a minor frenzy last week over the announcement of a few scoreboard specifics. The KSTP news coverage was typical, and typically vapid (partial transcript below):
Leah McLean: Today the team announced plans to put up the fourth largest scoreboard in major league at the Target Field.
I have to pause right there to note the awkwardness of the language. Is it "the Target Field" or just "Target Field"? Let's continue...
McLean: It'll be 57 feet tall, 101 feet wide. That is nine times bigger than the scoreboard at the Metrodome. It can run one big picture or it can be split up into eight sections for pictures, replays or animations.
Tony Mulder (Daktronics): It will actually be better than the displays that you can buy at, uh, y'know in the stores or the ones you watch on TV. So you're gonna get a much better fan experience.
McLean: The scoreboard will also allow fans to keep tabs on all other major league games and even fantasy stats.
Whoever wrote this copy isn't much of a baseball fan, and I'm forgiving Tony because he's probably a little bit nervous, but most of the content here is straight off the scoreboard fact sheet released by the team.
But let's boil it down. It will be bigger than the Metrodome, but smaller than three other scoreboards already out there in major league baseball. OK, size isn't the most important thing. It will, no doubt, be big enough.
The story doesn't mention that it will be HD (1080 lines of resolution), but that's understandable. Most people don't understand what HD really means anyway. It's a buzz word which does sounds cool, but when all is said and done, it just means the picture will be more crisp. Joe Nathan will look good, but I doubt you'll be able to pick out individual beard hairs from across the stadium. (Do I have to point out that within a couple of years there will be a new video standard that will make 1080 lines of resolution look positively 2005?)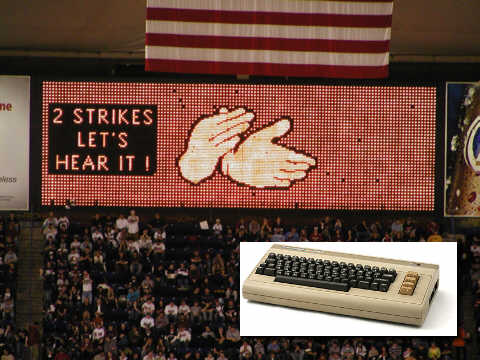 It will be more modern than this.
And can it be possible that we'll actually be able to keep tabs on all other major league games? Gee, whiz. What'll they think of next -- having lights so the team can play some base ball after dark?
Plus, how is it that this gigantic board can only be divided into eight sections? This has to be an arbitrary software limitation. If accurate, this seems a strange thing to publicize. I know that if I were buying a great big monitor, I'd expect to be able to put whatever the hell I wanted to on it, and split it in any damn way that I wanted to.
The fact sheet reveals a couple of additional interesting details, but the whole thing amounts to saying that they will be putting in a state-of-the-art scoreboard. What else would you expect? Pardon me for not getting up to dance. I am, as you can tell, generally undazzled by these types of specifications. They are usually out of date within about five minutes.
What would have dazzled me, in case you're wondering, would have been if the team announced that they'd signed a thirty-year deal for continual upgrades to the video board technology. I bet that a company like Daktronics might have jumped at such a thing, and it would have been a lot cheaper in the long run. (Plus there would be no chance that, 20 years from now, we'd still be suffering with the modern equivalent of the clapping hands graphic -- charming though it may be to some.)
An Obvious Question
Now, I don't consider myself to be a reporter, but I did ask the one obvious question which appears to have not been asked by anyone else who covered the story: What about the folks who can't see that great big HD scoreboard?
The left field stands turn their backs on it, and the 3D seat locator makes it pretty clear that plenty of people down the third base line will either not see it at all or only get a very skewed angle. My best guess is that about 20% of the total seating capacity will not be able to get anything from the big board.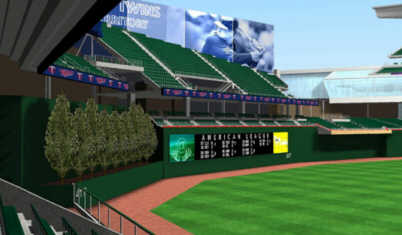 Lower deck view of the out-of-town scoreboard.
The answer I got from the team referenced the out-of-town scoreboard built into the right field wall as a replacement. As with all the rest, that will be an HD board capable of showing full-motion video. But its location makes it a little problematic for the folks in left field, especially the upper deck. It appears that, as it stands now, the left field stands may be video clip free. Some will probably consider this a benefit. Others may not be so charitable.
Long ago I suggested a second, matching scoreboard over the plaza entrance. That might intrude too much on the skyline view, but they could certainly put something up on top of the restaurant, or just replace part of the big banner behind the center field stands. That now looks like an upgrade which will only come somewhere down the road, if at all.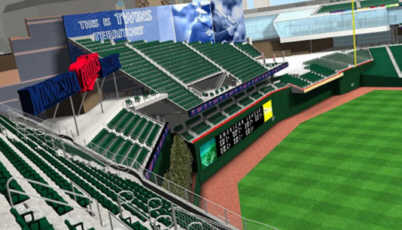 Upper deck view of the out-of-town scoreboard.
But I also wondered about the wisdom of building an HD video board into an outfield wall. Won't Michael Cuddyer crash into that thing someday? Video boards generally don't do well when crashed into. The team hasn't solved this one yet, but they're looking into it. (It made me wonder about MLB rules concerning outfield walls. Haven't had time to look into that yet.)
And just in case you're wondering, it looks like it will take six people to control all of those fancy video boards on game day.
Food and Beverage and More
The Downtown Journal is reporting that two restaurants have just opened in anticipation of the ballpark. One is just off the edge of the plaza, while the other is a bit of a walk up on Washington.
There's a big psychological distance to Washington Avenue which will have to be dealt with before it feels like an intimate part of the ballpark experience. But there are many possibilities as to how that may be done.
It has also been reported that the Twins braintrust is going to a Madonna concert to figure out if they want to host such performances. What can they learn from Madonna? I don't know...but who cares?
(As we all know, almost 25 years later she's still pretty much exactly as hot. Perhaps the scouts are simply seeking tips on extending player careers... You may not know this little tidbit, but Madonna was born in the same month as Julio Franco -- August 1958. Seriously. Look it up.)
More Pix
As I said at the top, it was a beautiful, crisp evening tonight. Would have been a perfect night in Minneapolis for outdoor World Series baseball.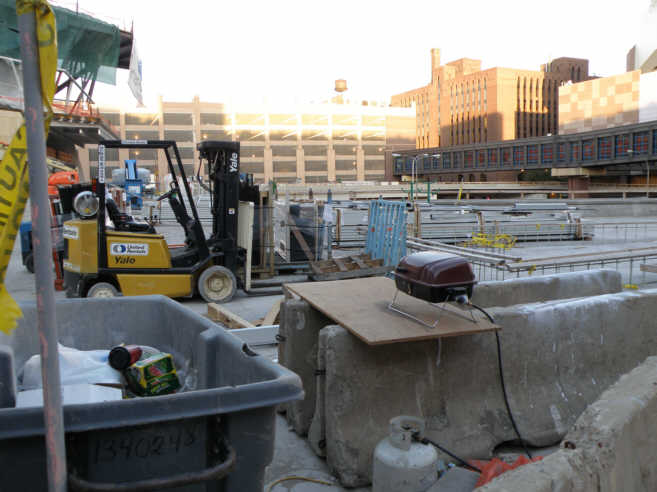 Do you think somebody's already cooking hot dogs out there?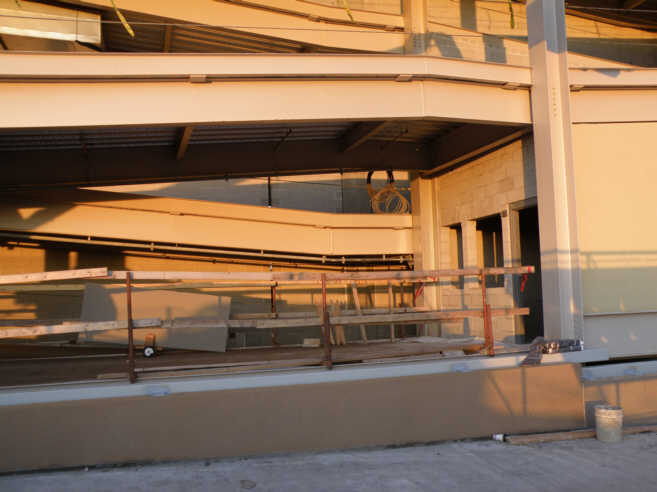 Here's a curious little room at the end of the circulation ramp. What could they be selling there?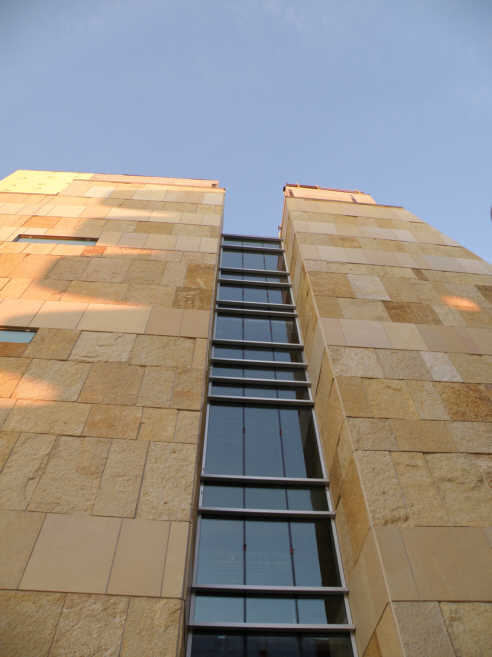 The windows have started going in.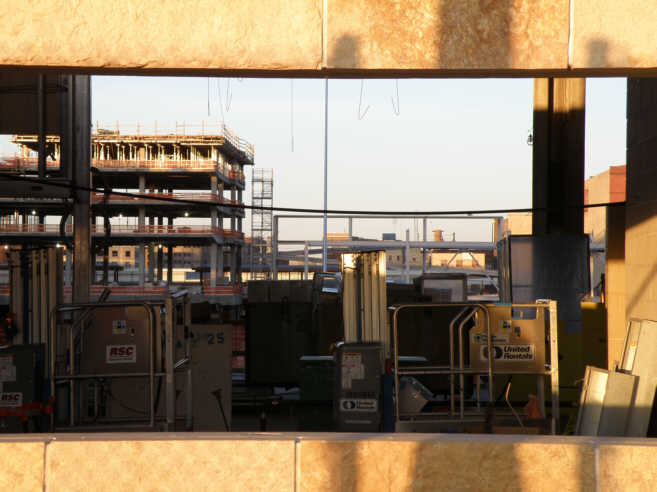 I don't think this will remain a knothole, but the view is pretty cool.
Comments
To utilized enhanced comment features, please enable cookies in your browser.
Hide Facebook box
---
This page was last modified on January 21, 2010.
"You talk about the magic, the aura, but what really makes a stadium is the fans. Concrete doesn't talk back to you. Chairs don't talk back to you. It's the people who are there, day in, day out, that makes the place magic."
– Bernie Williams
Explore the Site
Here are 50 images chosen randomly from the 3042 found on this site. Click the image to be taken to the original post. A new list is created every 10 minutes.

Lots of work has gone into detailing the fronts of these decks. That is a little thing, but a NICE little thing. (HRP View)

The green in question (click for very large version)

Citi Field as viewed from Shea.

Hey! That limestone looks familiar!

Yes, TC is smiling.

Click to enlarge.



Rod Carew will greet you, but he's sorely in need of a home plate for reference. (Killebrew is too.)

We bumped into Jerry Bell (at right)!


The renderings and concept model differ here. MOJO thinks this is the perfect place for a party deck. Dave St. Peter seemed to agree!

This view looks through the opening in the fence where the crosswalk will be.


The Puckett Atrium

Thanks for all the hard work out there, Cold Safety-Line Dudes. (I'm glad that my job does not require safety lines...)



These tracks actually travel beneath the admin building and come out on the other side


A collection of support pillars for the left field pavilion.

A Killebrew tribute covers part of the wall where the entry doors are located near the escalators.




I'll admit that this makes me nervous. It's pretty easy to step into the path of a train (which is true at various points along the line, but still...)

Ballark Authority members listen to the LEED introduction

Ballpark magic: Infield materializes (click to enlarge)


The plate marker is just to the left.

Party deck
Ballpark elevation viewed from Seventh Street. (Click to enlarge.)


Here's a correction: The LRT platform will actually be able to load outbound trains from both sides.

Packed SRO beneath the notch.

Sunday afternoon, WFTC-HD 720P

I'm not sure why there's a wreath on Gate 3. (I quickly checked the headlines for any dreaded Killebrew news. Whew.) It looks to be in celebration, maybe of the move.

From the roof of the B ramp, you can see just how futile it will be to get a glimpse of the action.



Break time


Looking up Seventh Street to the west

The glass area seen here is one of the warm-up areas.

Two concepts here remain in the final design. First is the oddly-shaped pavilion in center. Second is the section just above the right field fence. In the current design this section will hang over the field by a few feet. The original doesn't do that, but you can see that the concept goes way back in the planning.

Champion's Club moat (windows are found at the base of the limestone behind the seats -- not visible in this image)


Here's the current overview from the south side of the B ramp (from which the banner at the top of this page was culled).
Glossary
BPM - Ballpark Magic
BRT - Bus Rapid Transit
DSP - Dave St. Peter
FSE - Full Season Equivalent
FYS - Fake Yankee Stadium (see also: NYS)
HERC - Hennepin Energy Resource Company (aka the Garbage Burner)
HPB - Home Plate Box
HRP - Home Run Porch
LC - Legends Club
LRT - Light Rail Transit
MBA - Minnesota Ballpark Authority (will own Target Field)
MOA - Mall of America
MSFC - Minnesota Sports Facilities Commission (owns the Metrodome)
NYS - New Yankee Stadium
SRO - Standing Room Only
STH - Season Ticket Holder
TCFBS - TCF Bank Stadium
TF - Target Field
Selected Bibliography - Analysis

Selected Bibliography - Surveys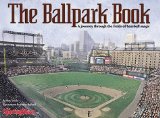 Not a "Third Edition" exactly,
but it replaced the above title
(2000)


Original edition (2000, round)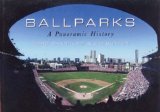 (2004, very large coffee table)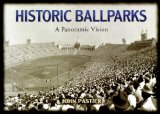 (2006, very large coffee table)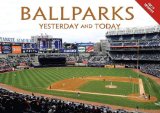 Combines the previous two titles
(2007, medium coffee table)

Selected Bibliography - Nostalgia



Book and six ballpark miniatures
(2004)