Commissioner for a Day
June 13, 2011 1:23 AM

COMMENT
Some people think that Bud Selig has a difficult job. He's got 30 bosses, multiple unions to deal with, and millions of critics.
Others think that Selig would have a difficult job -- if he did it. I read some recent tongue-in-cheek speculation that there's no reason Selig should retire. He might actually continue indefinitely as commissioner for decades, Weekend At Bernie's-style, with little change in the results.
There's no question that he's a magnet for blame, and hardly a popular personality. The most awkward moment in the recent Killebrew memorial at Target Field was when his name was announced, and the applause covered barely half of the long walk from his seat to the podium. (One also has to question his choice of the black trench coat which, while technically appropriate to the occasion, just reeks of evil.)
Alright, he does have a pretty thankless job. But it's hard to argue that his leadership has been founded on wisdom. It's not that he doesn't love the game -- clearly he does -- but he's a foot-dragger and cow-tow-er, and when decisions have finally been made, they are often somewhat short-sighted.
So imagine my shock when I read of some changes being considered which actually sounded, at least in part, like they might have the long-term health of the game at heart. At first, I thought it had to be parody.
Like you, I've thought about what I might do differently if I were to wake up one day and find myself Commissioner of Baseball. (The job may suck, but is there a cooler title anywhere?) Like you, I've thought from time to time, "Hey, I could do that!"
Still, what follows is not a plea for consideration for the position when he retires. It's a fantasy which answers the question, "What would I do if my name were called and I got to be Commissioner for a day?"
1. National League gets the DH
As a purist, I hate this one, but it's so obvious that I can't believe it hasn't happened yet.
Yes, pitchers should have to hit. It keeps them complete players, and makes them much more valuable on the roster.
Player training and conditioning is so much better now than it ever has been that I can't believe there isn't a way to include both disciplines. In fact, I'd go the other way too and say that every roster should have a few position players who can also pitch regularly. A seven-man bullpen could easily be a 10-man bullpen, and a five-man bench could become an eight-man bench. Managers would surely drool at the additional flexibility.
But the DH genie is out of the bottle. The position lengthens player careers, and helps with the delicate pitcher/hitter balance. (Did you know that pitchers win, on average, more than 7 of every 10 at bats? Strange but true.)
More to the point is that any roster built with a DH position is at an inherent competitive disadvantage when you take it away. While this is a common issue in inter-league play, I care most when it comes to the World Series. No team which has relied upon a DH for the entire season should have to give it up for three or four post-season games.
That's insane.
2. Eliminate all post-season rounds except the World Series
Generally, people consider the expansion of playoffs to be one of Selig's big successful contributions to the game. Indeed, part of the proposal linked above is to add two playoff spots and another round.
But let's face facts: The World Series is no longer a battle to determine the best team in baseball. It has become the final round of a tournament designed to determine which of the top eight regular-season teams is the hottest at the moment.
This very fact is what has led to a central premise of the Twins way. They openly admit that the team is built to win the division, and they'll take their chances in the playoffs. (The only difference between the Twins and the other 29 teams is that they admit this strategy and discuss it openly.)
While I'm sort of interested in watching a post-season tournament like that (if my team isn't out there), I'd care a lot more if it was just the two best teams in baseball out there, as determined by the results of a 162-game schedule, battling for the championship (even if my team wasn't out there).
Look at what might have been if the best team in each league had faced off immediately following the end of the regular season:
2010: Rays and Phillies (Actual: 2nd place Giants over 4th place Rangers)
2009: Yankees and Dodgers (Actual: Yankees over 2nd place Phillies)
2008: Angels and Cubs (Actual: 2nd place Phillies over 2nd place Rays)
2007: Indians and D'backs (Actual: 2nd place Red Sox over 2nd place Rockies)
2006: Yankees and Mets (Actual: 5th place Cards over 3rd place Tigers)
2005: White Sox and Cards (Actual: White Sox over 3rd place Astros)
2004: Yankees and Cards (Actual: 2nd place Red Sox over Cards)
2003: Yankees and Braves (Actual: 3rd place Marlins over Yankees)
2002: Yankees and Braves (Actual: 3rd place Angels over 4th place Giants)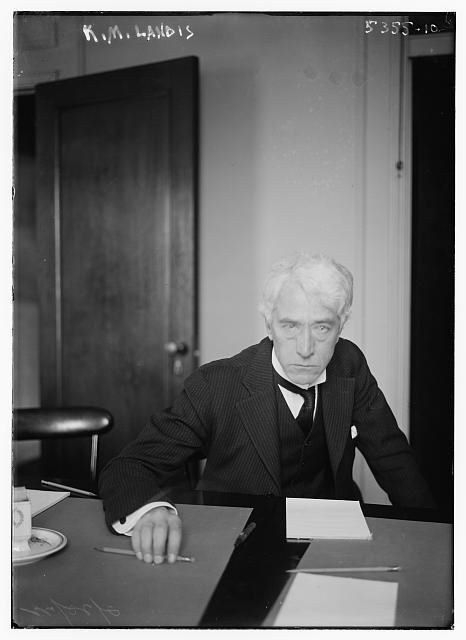 I would put on this face.
For the record, that's 18 teams which have gone to the World Series in the past nine years, and only four of them (22%) were the best team in their league.
Again, insane.
The common argument is that more playoff spots means more markets engaged in the postseason. But that ignores the power of a pennant race (which can engulf many more teams). That thinking also assumes a damaging sort of partisanship, where fans are assumed/ encouraged to ignore any team but their own.
Indeed, the real reason that big market teams secure bigger ratings in the World Series is because the whole marketing apparatus has alienated fans in the other markets. The media positively swoons over just a handful of teams, as if the others are destined for also-ran status. (I'm talking to you, Miller and Morgan. And you, Buck and McCarver. And you, FOX and ESPN knobs too numerous to list.)
It's the difference between caring about the game as National Pastime or caring about my team as entertainment. Say what you want, but I see no reason why the actual teams out there should make any difference in the ratings -- if the fans are truly fans of the game as a whole. It is now the way it is because that approach has been cultivated throughout the marketing of the game (and its financial structure -- more on that later), including the design of the postseason.
Oh, and home team advantage should be decided by record, plain and simple.
And on that score...
3. Realignment and schedule reform
Surprisingly, the elimination of divisions is currently on the table. I like this idea a lot because these mini-leagues that we have now really serve no purpose beyond diluting the goal.
We've all had to admit that we don't care that much about seeing another AL Central Division championship flag go up. Yes, it's something which can be celebrated, and it is an accomplishment in the current environment, but it's hollow and we all know it.
Also a surprise from current deliberations is the idea of moving the Astros to the AL. I think the reasoning (foster rivalry with the Rangers) is faulty, but opening up the subject is a hopeful sign.
They are apparently starting with the notion that unbalanced leagues are a bad thing, and I agree. It should be 15 teams per league, period.
That's a problem in the current environment because there would always have to be an inter-league series in progress somewhere. Without the DH in the NL, that really is a problem. But with the DH throughout the game, no problem at all. In fact, it's an opportunity of the highest order.
I mean, why cram all the inter-league play into a few short bursts? Why not stretch it out across the season where it can draw more attention?
Now, I'm not talking about the inter-league play we have today. I don't give a damn about seeing the Twins play the Giants, beyond its novelty. If we've learned anything about inter-league play, it's that the rivalries are the only series that anybody cares about -- and they care a lot. Cubs-Sox. Yankees-Mets. Dodgers-Angels. These games sell out in a heartbeat.
So my realignment would move three teams between leagues in order to create the closest thing to a natural geographic rival as possible for each team. It's Pittsburgh and the Diamondbacks to the AL, and Toronto to the NL. Then you have inter-league rivalries which look like this:
A's-Giants
Angels-Dodgers
D'backs-Padres
Indians-Reds
Mariners-Rockies
Orioles-Nationals
Pirates-Phillies
Rangers-Astros
Rays-Marlins
Red Sox-Braves
Royals-Cards
Twins-Brewers
Tigers-Blue Jays
White Sox-Cubs
Yankees-Mets
A couple of these are a little forced, I know, but it's never going to be perfect. (Red Sox-Braves is historical as neither has a good geographic rival. And most people don't realize that Detroit and Toronto are only about 200 miles apart, or 100 miles less than the distance between Minneapolis and Milwaukee.)
The key thing is to spread these 30 series out throughout the season so that one of them is being featured at all times. And play the two series in each rivalry as far apart in the schedule as possible. (I know that travel schedules are a consideration, but I don't care. These guys make a lot of money, and this would make them more. They should go wherever needed whenever needed.)
Next I would restore the fully-balanced schedule, again in an attempt to determine in the fairest possible manner which team is the best across a 162-game season. Those games would be split up this way:
- 11 games against each of the other 14 teams in the same league
- 8 games (two 4-game series) against the natural rival
My schedule reform would also include a principle about scheduling series against the same team as far apart time-wise as possible.
4. Officiating reform
This also seems like a no-brainer, and I've started to hear people like Mike Scioscia advocating for it: Adding a replay umpire to each crew. I've written about this before.
There would be no formal challenge process. Managers could request courtesy reviews, and umpires would decide whether to allow them. The ump in the booth could override an ump on the field.
It's really not that hard.
But I'd also advocate for automatic boundary equipment like that found in tennis. Did the ball go over the bag? Over the fence? Was that pitch over the plate? Let lasers do the heavy lifting here.
And finally, it's time to lift the moratorium on showing close calls on the scoreboard. Everything should be eligible, and everything interesting should be replayed. There's no good reason to do anything else.
5. All-Star reform
This one is going to sound pretty radical, but stay with me.
The current format does not work. Fan voting is a joke. The remainder of the process is fraught with flawed reasoning and practices. In short, there's a very real sense that the players just don't care about it like they used to. I have to bet that it's actually an annoyance for the managers -- all of them. At that point in the season, many players seem more to want a few days off.
So I say, scrap it. And scrap the home run derby too (which is the dumbest competition I think I've ever seen).
In its place, create a two-day tournament between four teams (total of three games).
Four managers and GMs are chosen (managers of the year? rotation? honorary? retired?) to manage a team named with some historical monicker no longer in use (Superbas? Knickerbockers? Senators? Mutuals?), and they then each draft a 25-man team from the entire roster of major league players -- either league.
It's kind of like a fantasy league played with real players. Every baseball fan would relate.
The draft itself would be a huge event. Who would get drafted first for each team? There would be tons of decisions to scrutinize and discuss.
Each of the three games would be a huge event, complete with unique (retro or not) uniforms.
There would be no requirement for selecting somebody from every team, but with 100 players being selected, odds are good that every city would be represented somehow. Obviously, there would have to be some limits on the number of players selected from each club (just to prevent shenanigans), and to allow clubs to protect certain players with a valid reason.
But the whole vibe would be different. There would be no formal meaning to the games. The World Series home field advantage would be decided by overall record -- the only logical way to do it.
Too crazy?
6. Media contract reform
Right now, as you probably know, each team negotiates its own media contracts. In the NFL, they negotiate together. The difference is gigantic.
It means that baseball is leaving literally billions on the table. They are living in a dark ages of media, despite the technological advances being developed in the Advanced Media group.
The most visible sign of this is blackouts, which we all hate and generally do not understand. They must end, and the Commish needs to be the one who goes to the teams, sets a firm sunset date for all new contracts, then demands that the teams finally put their heads together to get it right -- for the teams, for the players, and for the fans.
More...
I'm running out of steam here, so I can't get to things like competitive balance initiatives and expansion (New Jersey, Nashville, Portland, Las Vegas). Maybe another time.
I'm waking up from my dream now. I'm just a fan again.
Whew. That would be one busy day.
Comments
To utilized enhanced comment features, please enable cookies in your browser.
---
This page was last modified on June 13, 2011.