Concepts and Measurements
June 1, 2007 10:14 PM

COMMENT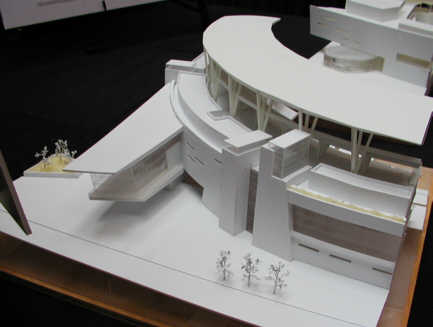 This is the entrance behind home plate (not visible in the renderings which have been released). It shows that the upper deck is set back from the facade -- a very good thing if it remains in the final design.
The new photos I took of the site today don't show very much. There has been some digging and some hauling. Test holes have been dug to check for high levels of mercury. The sand volleyball courts are gone (but their light poles remain). It looks like parking has now been banished all the way to Fifth Street.
The dirt phase is going to last a while. Sometime in August they are supposed to start driving piles. As those piles go in, we will start to see the shape of the park. But for most of the summer, we'll be looking at not much more than dirt.
Unless, that is, you head on up to the TCF atrium (located on Marquette Avenue between Eighth and Ninth). There you will find a display of some urban planning concepts, including the original concept model for the ballpark. I'm sure that the whole display is quite interesting, but I could only find a 15-minute parking meter and had to focus my attention solely on the ballpark displays.
(An aside: Parking meters in downtown Minneapolis are very maddening. Most have either a 15-minute limit or a two-hour limit, something I simply cannot comprehend. You can't do anything in 15 minutes, and if you're going to be somewhere for two hours, you should find a parking ramp. Parking meters are for short term parking and if I ran the city every single meter in downtown would have a 30-minute limit. No exceptions. Red bags over meters would be banished, as would curb-side commercial loading zones for any building which has its own loading dock -- as almost every major building does. OK, end of mini-rant.)
Photographs of this concept model have been seen before in the Star Tribune and right here. And it does not accurately represent the design as it stands now. But it gives the general idea, and seeing it does answer some questions. Here are some photos I took in my mad dash this afternoon.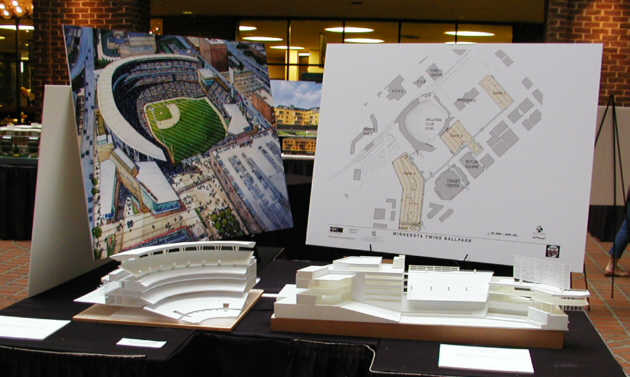 An overview of the model display.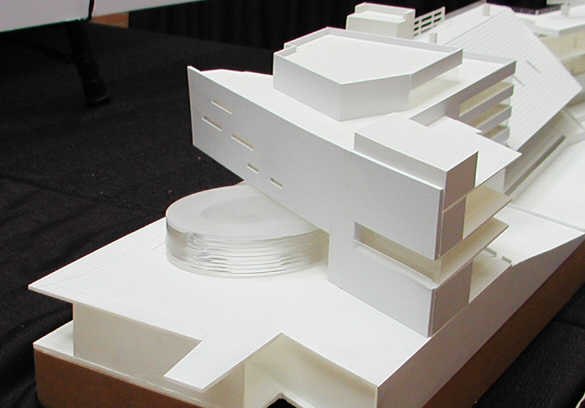 This shows the area where the Northstar platform connects with the ballpark (that translucent oval). Above that is the area which will house the Twins operations offices.
A glimpse of the rather plain west facade (the side which faces the HERC plant).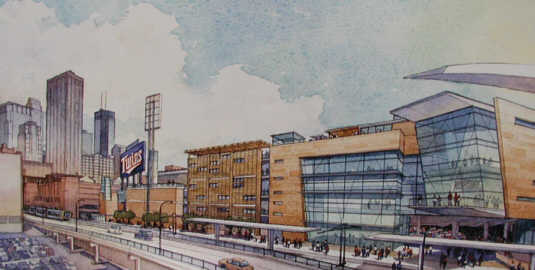 The heretofore unseen north facade (click to enlarge). Does it look like a ballpark? And what's with the bamboo?
Included in the display is one additional rendering of the park as viewed from the north across Fifth Street. The light rail station is visible, as is some additional detail for the facade. (I suspect that this drawing was withheld because it shows Fifth Street as a one-way, which it isn't now, and apparently will not be.)
But when I look at this new drawing, it still seems to be missing some sort of signature architectural element. Is it living in the past to think that ballparks need tall light towers? If not towers for lights, they at least need something which soars up into the sky for dramatic purposes. After all, we go there to watch things fly into the sky and come down again. This building is at least in part about the sky and needs something vertical to make the connection.
Others have encouraged me to give the canopy a chance, and I will. In fact, I think it's a very cool idea, and really looks great. But it's a horizontal barrier between the park and the sky, not a connection to it. I'm not suggesting that they change it, other than to add something tall. Really tall and distinctive. And dramatic. And it doesn't have to be functional.
The glass-enclosed lobby areas (I'm not sure what else to call them) sure do look dramatic. And I didn't fully understand that they are multi-story. The one in this image is three stories tall. They will be quite impressive. They also make a clever way of connecting the ballpark to its neighborhood. Let's hope there's something interesting out there to look at.
Which brings me to another piece of non-news which hit today: The Pohlads are interested in buying Ford Centre.
I can't say this is a surprise, nor do I feel like there's anything inappropriate about it. It's an amazing building inside (except the elevators can be maddeningly slow). It seems only natural that more office space will be needed, and that's the perfect place to put it.
My guess is that the upper floors may get glimpses of the field, but probably not the whole thing. Still, a party deck on top of the building would be very cool.
Picking on Nick
The green is a composite of the topmost seating areas in the new ballpark. The gray is a scale diagram of the Metrodome.
In the comments for my previous post, someone mentioned a recent column by Nick Coleman in the Strib. While I am not qualified to comment on Coleman's cleansing capabilities or overall freshness, it seemed important to check into one of his criticisms of the ballpark project. Namely, he wasn't sure that the cheap seats in the new park would be any better than the cheap seats in the Metrodome.
Well, I'm here to tell you that it looks like almost every seat will be better in the new park than in the Dome, though it's unlikely any seat will be as cheap as the worst seats in the Dome. Is the net an improvement? Probably, but we don't quite have enough information to know for sure.
To check this, I superimposed a scale drawing of the Metrodome over the scale drawings of the new park. Then, with the help of Google Earth, I did a little measuring. Unfortunately, I can't find the height measurements for the Dome (though I was able to estimate heights for the new park), so all of the measurements which follow are just horizontal distances.
In the Dome, the worst seat (somewhere in section 204 -- I'm pretty sure it's the seat I was in for the 2004 playoffs) is 566 feet from home plate. In the new park, the most distant seat in the upper deck in left field will be 447 feet from the plate -- an improvement of 119 feet. You may remember that, back at Met Stadium, Harmon Killebrew once hit a home run that went 530 feet. In the new park, that would easily clear the upper deck in left.
Behind the plate, at the Dome the last row is 204 feet from the plate, while the new park is 212 feet. That is an increase of a mere eight feet, though the vertical element is still to be calculated.
I guess my point is that it's clear that there probably won't be any really bad seats in the new park. In fact, it's hard to find any section that doesn't look like a great place from which to see a game. That's a testament to the size of the site, but also the creativity of the architectural team.
On this point, I think Coleman got it wrong.
For this little project and some of my other research, I've created a bunch of graphic overlays in Google Earth, mostly fitting the scale drawings onto the site. If I get time, I'll post all of these so you can do some checking for yourself.
Next
Another subject which has come up in the comments is about the quality of the ballpark location now that we've had a year to live with it. I've been working on a long post on this matter (hence a few days of silence), which I hope to post early next week.
Comments
To utilized enhanced comment features, please enable cookies in your browser.
Hide Facebook box
---
This page was last modified on January 21, 2010.
"You talk about the magic, the aura, but what really makes a stadium is the fans. Concrete doesn't talk back to you. Chairs don't talk back to you. It's the people who are there, day in, day out, that makes the place magic."
– Bernie Williams
Explore the Site
Here are 50 images chosen randomly from the 3037 found on this site. Click the image to be taken to the original post. A new list is created every 10 minutes.

Banners on the parking ramp are a great touch. They help manage scale and turn a lemon into lemonade. On my way there today I passed the WCCO building and remembered how the Twins schedule used to be painted in giant form on the side of that building (which is no longer visible). Wouldn't that be a great thing to resurrect on the side of that ramp? A giant Twins schedule. I always thought that was cool.


Click to enlarge greatly.

Work has begun on the plaza, and the activity has started to impact I-394 traffic.


Banners on the parking ramp are a great touch. They help manage scale and turn a lemon into lemonade. On my way there today I passed the WCCO building and remembered how the Twins schedule used to be painted in giant form on the side of that building (which is no longer visible). Wouldn't that be a great thing to resurrect on the side of that ramp? A giant Twins schedule. I always thought that was cool.


Three weeks ago this was a patch of scruffy trees. Now it's a patio. In case you were wondering, that's where I've been...

From the roof of the Minnekahda building (courtesy Bruce Lambrecht).

How many times did we water down our field as kids? More times than we played games, that's for sure!

This is the staircase (ramp?) leading up to the trapezoid. Nice flagpole too. You'll be able to find me and Ben McEvers at the base of that flagpole on opening day in 2010!

Chef stand and menu in the Carew atrium

Dugout Box and Champion's Club sections are sequestered by separate moats

These outfield stands will likely remain visible to passersby.

Work going on under the steel.

A sign that your mall is all but dead: roped off escalators. (This is at about 4:00 PM on a weekday.)



This is the upper deck in Anaheim


Washington

10 years ago, Bruce Lambrecht looked at this land and thought, "Why NOT a ballpark here?" It took a long time before anybody else saw the same potential.



Of the players up there, only Bert does not have a gate with his number (28) on it at Target Field. You know, there is that door underneath the skywalk on Seventh Street between gates 14 and 29...

This would be easy to miss, but I found it on a cart located directly behind the Batter's Eye seating on the upper concourse in center field.


Photo by Jeff Ewer (Click to enlarge.)

Big Dog

Club Level

What a great sight!


This design has a rather generic quality to it, but they appear to have considered the B garage. Though it isn't part of the model, they've clearly left room for it.


The main ticketing area beneath the restaurant.

This isn't a very good picture, but it is the current view of the inside of a suite.


Photo by Tom Sweeney, Star Tribune




A little ground's crew action in the first inning the other night.



"Original" or "Dinger" Dog


Click to enlarge

The view from our Loge Box
Glossary
BPM - Ballpark Magic
BRT - Bus Rapid Transit
DSP - Dave St. Peter
FSE - Full Season Equivalent
FYS - Fake Yankee Stadium (see also: NYS)
HERC - Hennepin Energy Resource Company (aka the Garbage Burner)
HPB - Home Plate Box
HRP - Home Run Porch
LC - Legends Club
LRT - Light Rail Transit
MBA - Minnesota Ballpark Authority (will own Target Field)
MOA - Mall of America
MSFC - Minnesota Sports Facilities Commission (owns the Metrodome)
NYS - New Yankee Stadium
SRO - Standing Room Only
STH - Season Ticket Holder
TCFBS - TCF Bank Stadium
TF - Target Field
Selected Bibliography - Analysis

Selected Bibliography - Surveys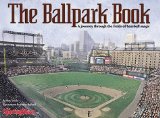 Not a "Third Edition" exactly,
but it replaced the above title
(2000)


Original edition (2000, round)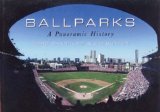 (2004, very large coffee table)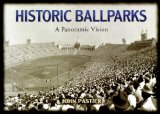 (2006, very large coffee table)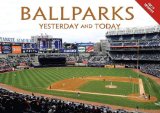 Combines the previous two titles
(2007, medium coffee table)

Selected Bibliography - Nostalgia



Book and six ballpark miniatures
(2004)