Stadium EndGame 2012
April 26, 2012 3:50 PM

COMMENT
In the end, the Vikings will have their stadium, and it will be right here in Minneapolis. Professional football (and its attendant revenues) will be preserved and enhanced. All will be well.
Vikings fans will need to repeat this little mantra over and over to themselves in the coming days (weeks, months), because it's not going to look like that. Darker days are likely ahead, and they may want to gnash their teeth. They may want to lash out. They may want to use profanity and threats.
But if you're tempted, don't do it. It won't help. Now is the time to grab a beer and find that TPT-MN channel on your radiant gameday TV (hint: it's not in your favorites list). Then get comfortable and prepare to watch everything unfold. It could be kind of wild.
It's not unlike other "reality" TV shows. The cast of characters is set, and the rough outline of what's supposed to happen has been given to all the participants, but the exact outcome is anybody's guess. Will there be arguments? Shouting? Tears? Fist fights? Will there be ruthless scheming and conniving? Back-stabbing? Breaking of promises? Will glasses of wine be tossed in people's faces? Cat fights? Dog fights? Drunkenness? Unfaithfulness? Promiscuity?
Rule nothing out.
But let's look at this show and see if we can't make a few reasonable predictions, or at least just some educated guesses.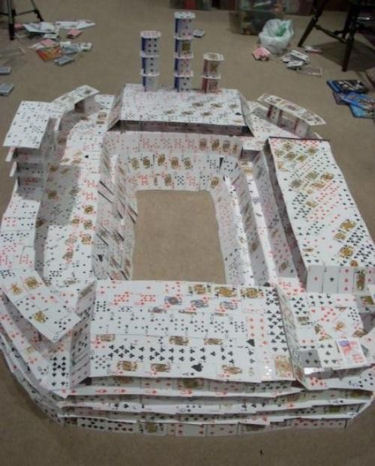 Visual depiction of current stadium legislation
"And, in the end..."
The way I see it, there are four possible outcomes to this drama:
1. The Legislature does not pass a bill.
2. The Legislature passes a bill, the Governor signs it, but Minneapolis does not approve it.
3. Everybody approves it, but there's a hitch (lawsuit, referendum, unexpected financial peril).
4. Everybody approves and a stadium gets built.
Let's take these one at a time.
"Oh, that magic feeling, nowhere to go..."
If you look at the current legislation in modular terms, it contains basically the following parts:
A. Significant expansion of gambling
B. Re-purposing of a very large municipal tax
C. Multiple levels of financial back-ups
D. A clear expectation of what the Vikings will contribute
E. The Metrodome site
F. A model for facility ownership
In addition, it may or may not contain any or all of the following:
G. A referendum requirement in Minneapolis
H. Renovation and refinancing for Target Center
I. Debt relief for the Xcel Energy Center
J. A "slush fund" for St. Paul to use as it sees fit (including, possibly, to build a new ballpark for the Saints)
K. Racino
Whew. That's a whole lot of controversy packed into one legislative document. On size alone, it's chances of passage are limited. But they are certainly greater than zero, and that's all that really counts.
When I look at these, I see constituencies lined up against A, B, C, E, G, H, I, J, and K. And these are not the kind of opponents who gather on the capitol steps and make noise (though there are some of those around). These are the kind of constituencies who cast votes inside. That's a very bad thing.
Only D, the Vikings' contribution, and F (ownership) look reasonably uncontroversial (though the latter should really be reconsidered given the existence of a functional ownership group in the Ballpark Authority). On the one hand, it means that the Vikings have truly come to the table on this (though at least some don't exactly see it that way). On the other hand, the bill could fail if any one of these opposing constituencies gets any traction.
The bill's chances would improve if the financial model could be made a little more certain and a little less controversial. There was an amendment offered yesterday to have the whole thing funded by a five-cent state-wide liquor tax. This is a very good idea which has zero chance of passage because a certain element chooses not to use all of the tools in the toolbox. ("You may build a stadium, but you're not allowed to use any hammers." -- Tea Party)
The financial model is probably set for this go-around. But each part has some big problems.
"I should have known better..."
The big sticking point will no doubt be the gambling. Big-time gambling. Really. Big. Time. This is very contentious, to say the least, and it's clear that the charitable gambling lobby has found a clever way to sneak in under the radar. Have you noticed that no one is talking about the gambling provisions right now? (Well, I did hear some rumblings this morning.)
In fact, the bill contains so many expansions of gambling and restructuring of tax obligations for the sponsoring entities that, were it brought in all on its own, this gambling expansion wouldn't stand even the tiniest chance of passage. But under the shadow of stadium politics? Well, that's a very cool place to be.
The question becomes whether anyone in the Legislature or public will decide to make a stink about this. If they do, the bill is doomed.
The Minneapolis "contribution" has been discussed many times, and it's the kind of thing that governments do all the time. You've got a tax, it's for a certain thing that has fallen to the back burner, and you need the money now for something else. I can easily see the Legislature saying, "We'll stay out of this. If Minneapolis wants to do this, it's their funeral."
But cooler heads would quickly realize that the Minneapolis tax would be shifted in a fairly unwise fashion. The Convention Center would be left financially vulnerable, becoming sort of an afterthought in Minneapolis hospitality. OK, I'm exaggerating a little, but not much. The truth is that, if these funds were shifted now, Convention Center funding would immediately become a front-burner issue and would probably have to be addressed immediately in the next session. That money will have to come from somewhere. The "Minneapolis plan", in addition to being slippery, really isn't a solution to anything.
It's been hard to track the back-up funding options, but I know that Hennepin County is no longer in that mix in at least one version of the bill (and apparently still remains in another). While taking that out would help things, the projections of gambling revenue are actually so shaky that you basically have to consider the back-up funding sources as if they were primary sources. These are not the kinds of things which should be rushed through, and I think their presence, though really essential, weighs down this whole bill.
But beyond that, if you need that many back-ups, there's a serious problem with your funding model, and everyone can smell it.
So, when I look at the overall financial model by itself, not considering any of the add-ons, I think it has no more than a 20% chance of passage.
"There's nothing for me here, so I will disappear..."
One of the add-ons actually increases the likelihood of passage, and that's the referendum.
The charter amendment, you may recall, was passed specifically to prevent what this bill is trying to do. Will a Legislature be in favor of so directly overriding the stated will of the people? I can't imagine it. (And before you get on your high horse, the exception given to Hennepin County in 2006 is a very different animal. I've written about this many times before, so I'm not going into it again here.)
So I think the referendum requirement will have to stay in the bill for it to get passed. But that's actually a good thing, from a legislator's point of view, because it gives some very useful political cover.
Knowing full well that a referendum could never pass, if that requirement stays in the bill, its chances of passage go way up, maybe even to 90%. The Legislature will look like it has tried to do something, and the theoretical political fallout could be mitigated. (Some will remember this scenario playing out in almost exactly the same fashion with the Twins stadium circa 1999.)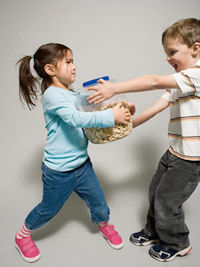 Not my actual kids!
But that's the only add-on which helps the bill's chances. All of the others weigh the bill down like a ballast tank full of zebra mussels. Racino (K) outright kills it. Helping Target Center (H) or Xcel (I) push its chances down to 5% or so. The Saints ballpark, which enjoys a certain amount of support, might not kill the bill, but if it were to remain while Target Center got cut, the Minneapolis legislators would not take very kindly. It could get pretty messy pretty quickly.
In this way, writing legislation appears very similar to mediating between my two sons on the subject of cookies. "He got more!" "No I didn't!" "Mine's cracked!" "But you got two cracked pieces and I only got one whole one!" These conversations usually end with me saying that, if they are going to argue about it, nobody gets any cookies. And that's what is likely to happen in this scenario as well. I think all of these things will get dumped.
When you consider all of the possible permutations, especially the referendum, I think the chances of a bill coming out of this session run around 50%. You may think that isn't saying much, but this is where it actually gets interesting.
And just so we don't have too many loose ends, you'll notice that while everybody outside of the legislators obsesses about where the stadium will be built, inside the process it bears hardly a footnote. If the financing model works, then a given site can overcome a lot of negatives.
"There beneath the blue suburban skies I sit, and meanwhile back..."
Were this plan to get through all of the hoops in St. Paul, it would need to be approved by either the Minneapolis City Council, or the general public (by way of referendum).
A so-called "test vote" earlier this week indicated that there is sufficient support on the council to pass it if it ever gets there. But test votes aren't worth much when you really have no idea what type of plan you'll be voting on.
If a referendum requirement remains in the bill, what the Council does is irrelevant. It basically has zero chance of surviving a referendum. That's the conventional wisdom, and I agree.
But if the referendum is voided by the bill, then pressure will be much higher on those swing votes on the council -- and it's already pretty high. The public will come out in force and, while they may not be able to stop it, I think that some of those votes are shaky enough -- especially if the Target Center refinance is not included -- that there is a better-than-reasonable chance that at least one of them will cave.
If the bill arrives at the Minneapolis City Council with no referendum and no Target Center refinance, then it's chances of passage are down around 5%. If it includes Target Center, it definitely goes up, maybe all the way to 60%. That's the point at which we have to consider the...let's call them "catches".
"I told you before, you can't do that..."
So let's just say, just for the sake of fantasy, that a bill could get passed by the Legislature, signed by the Governor, and approved by the Minneapolis City Council. Start the digging, right?
Not so fast, me bucko.
If there's a referendum, well, you can park the bulldozers and look for another gig.
Phooey.
If there's no referendum, and if there's even one lawyer in this town, you can bet that somebody will sue over the lack of a referendum.
Bother.
If there are bonds to be issued, there will be costs, and they'll be based on just how comfortable everyone is with the revenue streams provided to secure them.
Nerts.
And there are all those pesky back-up funding sources, each of which could trigger some sort of delay or road block.
Bummer.
I will admit that it is not unusual for stadium projects to face Herculean obstacles along the way. And plenty of stadiums have been built, so it's fair to say that almost any obstacle can be overcome.
The chance of a stadium getting built does not exactly drop to zero, but it would be time to start counting places to the right of the decimal point.
Just remember what I said at the very beginning. We'll be doing this all again very soon, and you'll probably be much happier next time.
"When I get to the bottom I go back to the top of the slide..."
Should you be mad at somebody?
My approach is to say that you should be glad that we didn't waste a whole cycle on Arden Hills. Getting that out of the way quickly saved a whole year.
Next, it appears that the Metrodome site was going to have to have its day, and might have worked if the financing model had been a bit more plausible. The important lesson for stadium watchers is that the money matters way more than the plot of land.
So I'm not sure who you'd be mad at there. Everybody was acting in good faith, if a little naively. Give the Legislature credit for tackling this when it appeared that no one really wanted to. Those who vote against this are not Vikings-haters, and often not even stadium-haters. Even stadium supporters in the Legislature recognize that this is a bad solution. That's very telling.
But this is really just how stadium politics work. The Twins tried some tactics which set them back years, and thankfully the Vikings appear to have avoided any such mistakes this time around. That leaves the issue still ripe and ready for people to hammer out a solution which will really work, and which can pass political muster.
That won't happen in this session. But, with apologies to my Beatlish heroes, here's a little song for you to croon through your tears...
When I find myself in times of trouble
Guv'ner Dayton comforts me,
"There will be a stadium
in '13."
Just listen for the sound of rumbling
Out in Hennepin County.
"There will be a stadium
in '13."
In '13, in '13, in '13, in '13.
Yeah, there will be a stadium in '13...
Comments
To utilized enhanced comment features, please enable cookies in your browser.
---
This page was last modified on April 27, 2012.