An Era That Won't End
(At least not til Tuesday)
October 5, 2009 2:42 AM

COMMENT
"Forever, and forever, farewell, Metrodome! If we do meet again, why, we shall smile; If not, why then this parting was well made." (Apologies to Bill S.)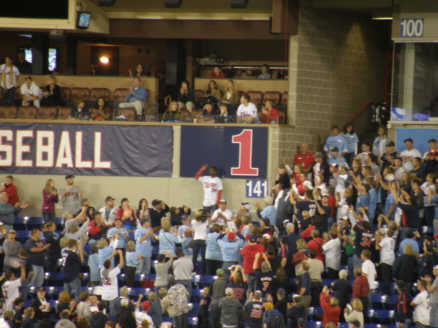 Kirby Jr. set to take down the last number
Eras are weird, right? I mean, how do you know when an era has really begun or truly ended? How do you know when you're in the middle of an era? Just what defines an "era" anyway?
I think there's a beginning, a middle, and an end. But in most cases you don't know that you're in any of those phases until you can look back, sigh and say, "That was a great era."
(There are exceptions, of course. To wit, facilities opening and closing.)
Today was supposed to be the end of an era. We got all misty-eyed (and misty-footed, more on that later) to the slow motion video clips on the incredibly tiny and distant Jumbo-ish-tron.
The field was loaded down with a Who's-Who collection of former and current Twins waving, bumping fists with one another, giving bear hugs, tipping their caps and acting like something was Happening. We even came away with commemorative certificates, for goodness sake.
But the era just refuses to end. It lives on, gloriously, for at least one more day. And now, when it does finally end, it will be without the benefit of a pre-planned ceremony. That seems fitting too.
Here's hoping it ends with a much more spontaneous pouring of champagne.
"How Can I Miss You If You Won't Go Away?"
The Vikings aren't sitting around waiting for eras to end. It actually sort of seems like they see the Twins as a nuisance right now.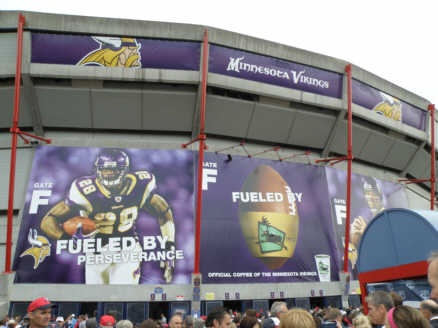 Time to paint those supports Vikings-purple.
They wasted no time in selling naming rights to the field and gates. They hung a bunch of banners, and stripped all sorts of Twins branding at the very first opportunity.
Everywhere I wandered today (and I did wander when the claustrophobia of my seat grew unbearable) you could see just how temporary everything has been. They've successfully disguised it for the better part of three decades, so it never occurred to me before today that every conversion of the field also requires a conversion of all the souvenir stands.
In other words, teams got to move into the place, but they never got to unpack their boxes. They have been forever shuffling their belongings out when one of their roommates needed the place to himself for a while.
Now, two of the roommates are gone, and the last one standing gets to put up whatever posters he wants (maybe even a stolen "Dead End" sign). And he is wasting no time. I even caught this sight on my way out:
That's a cart of Vikings banners awaiting installation as soon as the pesky Twins fans get the hell out.
In one sense it's just the official acknowledgment of something we've known for 28 years: the place was built for the Vikings. Everyone else has been an interloper of sorts. Revenue-generating interlopers, to be sure. But now there's no pretending anymore.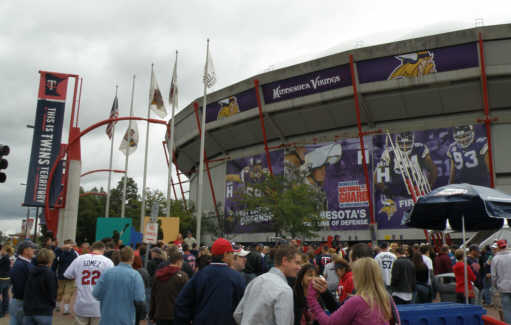 Uh oh. Schizophrenia.
As my train pulled up today, I have to admit that the Dome looked markedly improved with the addition of gigantic banners. I realized that part of its image problem all along has been the vast expanses of cement facade which gave no sign of who lived there.
Remember when they painted those outside supports red? It really did improve the look, but it missed the heart of the problem. Despite its function as a professional sports facility, it has always looked completely like a municipal building -- like maybe the place where they store the snow plows in the summer.
That became obvious with the addition this week of gigantic images of players. Suddenly it looks like a sports venue! It looks like a place where people can go to have fun and watch their favorite team. Imagine that!
Put up some big pictures of players and suddenly the place looks, well, way more exciting.
"I Don't Get Misty Over You"
Love the playoff atmosphere. Hate being crammed into the middle of one of those interminably long rows in a puddle of someone else's beverage, and without one of my own.
The Dome just keeps on giving.
Don't get me wrong -- I'm ecstatic that I was there. But playoff games at the Dome have always come with a price, and not always in dollars, I might add.
I looked in vain for a soft drink guy or a hot dog guy. I was hungry and thirsty and had money in my pocket. After five innings I couldn't wait any longer, so I made my way past a dozen kind folks and hit the concourse. (Is this what every Vikings game is like? Seriously, I don't know. I've never been to one.)
After securing a pizza slice and a spot at one of the drink rails, I watched the game on a monitor for a while (including most of that regrettable 6th inning; when I returned, my mom pointed to her scorecard and said, "You are NOT allowed to leave again."), and then decided to make one more swing around the lower concourse.
There were tons of folks, but I didn't have to wait in any long lines (a rarity). The atmosphere was truly electric, in a good way.
The sites were all so familiar, and I realized I might not enter the building ever again, but I felt not a single twinge of sadness. Contrary to what I said the other day, I think I've been able to separate the "what happened" from the "where it happened."
"Hush, hush. Keep it down now. Voices carry."
As I watched the clips and thought about all the familiar players who stepped out onto the field during the post-game ceremony, I realized that I've loved a lot of these teams, even some of the not-so-successful ones, while simultaneously disdaining the place where they played.
It was not Brad Radke's fault that he had to pitch so many games in such a lousy facility. But the Where does not diminish the What. In Radke's case specifically, we have to recognize a different type of era: The Lean Years, the Rebirth, the Tom Kelly Late Years, the Gardenhire Era.
They all overlap: the Kirby Puckett Era, the Kent Hrbek Era (which began out at the Met), the Terry Ryan Era, the Griffith Era, the Pohlad Era.
The Metrodome Era? Sure, OK. Facilities opening and closing make a pretty simple way to define an era, even if the people-related ones are more satisfying. (The Target Field Era? Let's get on with it!)
Seems we're always living the beginning, middle, and end of countless, arbitrary slices of time. Isn't this what people mean when they say that the game goes on?
One more time from the third base side.
And go on it will Tuesday night. It's an amazing turn of events. Once again, 162 games is just not enough. We need more. We crave more. GIVE US MORE!
Give us the Dome one more time! We can handle it. Let's send it out with the song of victory, or at least one helluva run at it.
Then, when the Metrodome does finally go into that dark night, quietly or otherwise (it grabbed a popup from Orlando Cabrera today, perhaps signaling its unwillingness to go without a few parting shots), we will be ready to give it the heartiest thanks we can muster. To paraphrase another famous poet, J. Peterman:
"Kudos, Metrodome, on a job... done."
Just a reminder: The lights at TF go on tomorrow morning!
Comments
To utilized enhanced comment features, please enable cookies in your browser.
---
This page was last modified on October 5, 2009.
"You talk about the magic, the aura, but what really makes a stadium is the fans. Concrete doesn't talk back to you. Chairs don't talk back to you. It's the people who are there, day in, day out, that makes the place magic."
– Bernie Williams
Explore the Site
Here are 50 images chosen randomly from the 3045 found on this site. Click the image to be taken to the original post. A new list is created every 10 minutes.

This is the Metropolitan Club as viewed from the future Ballpark Authority office space.

This view, through a B ramp window, won't last forever.

An early concept drawing for the site

This is as close as I could get to a pedestrian-eye view of Seventh Street (looking west away from downtown). It's inviting, not imposing, and remarkably dignified.

Nearby, workers are finishing a support column. The guy at the bottom is using some sort of personal dirt mover (inset). Very cool.

From the TV camera platform -- the view you'll see on TV

A little ground's crew action in the first inning the other night.

This isn't a very good picture, but it is the current view of the inside of a suite.

The heretofore unseen north facade (click to enlarge). Does it look like a ballpark? And what's with the bamboo?



The restaurant.
Wow! Looking good.




Photo by Jared Wieseler


Look at all that blank space. Canvas! (What should go on those walls? A giant schedule perhaps?)

The walkway under construction in the parking lot just outside the loading dock.

The first pitch.


Click to enlarge. (Photo by Jared Wieseler)


Legend's Club, Section E (Click to enlarge greatly.)

The Puckett Atrium

Overview of the storage tracks.

Our engineer.

The limestone theme is apparently carried to the area behind home plate. This will look great -- and distinctive -- on TV. But watch out for those foul balls!


First Avenue at left, bike parking area at lower right

I noticed this detail while taking the previous picture. I figure that it must be the VIP entrance from the surface parking lot. I don't think there is any parking inside the ballpark, so this entrance will likely be for suite-dwellers and other VIPs, though I can't say for sure whether players will enter here.



At the other end of the bridge, the configuration of the tracks has become clear.

Staircase view

The knothole (sans view of anything interesting)



Detail showing clubhouse and home dugout (click to see the entire drawing)

At Comerica Park, some aisles have railings and some do not.

8:12 PM It is now in the area where, if it gets down far enough, it will shine into the eyes of a right-handed hitter.


Here's the view from the main concourse out through Gate 3 "Killebrew".

The first passengers are about to arrive, but the switch is set for the wrong track (those guys walked all the way out to correct it)



A little higher angle shows how the two stations are close to one another but distinctly separate. The oval, glass-enclosed area is the entrance from the Northstar platform below into the ballpark. The LRT platform is comparable to the other stations along that route.
Glossary
BPM - Ballpark Magic
BRT - Bus Rapid Transit
DSP - Dave St. Peter
FSE - Full Season Equivalent
FYS - Fake Yankee Stadium (see also: NYS)
HERC - Hennepin Energy Resource Company (aka the Garbage Burner)
HPB - Home Plate Box
HRP - Home Run Porch
LC - Legends Club
LRT - Light Rail Transit
MBA - Minnesota Ballpark Authority (will own Target Field)
MOA - Mall of America
MSFC - Minnesota Sports Facilities Commission (owns the Metrodome)
NYS - New Yankee Stadium
SRO - Standing Room Only
STH - Season Ticket Holder
TCFBS - TCF Bank Stadium
TF - Target Field
Selected Bibliography - Analysis

Selected Bibliography - Surveys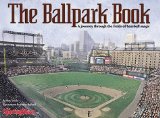 Not a "Third Edition" exactly,
but it replaced the above title
(2000)


Original edition (2000, round)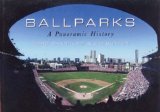 (2004, very large coffee table)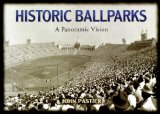 (2006, very large coffee table)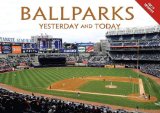 Combines the previous two titles
(2007, medium coffee table)

Selected Bibliography - Nostalgia



Book and six ballpark miniatures
(2004)