Great Days, Believe It
March 7, 2010 2:35 AM

COMMENT
These are great days to be a Twins fan. I'd tell you why, but I don't think I have to.
And these are great days to be a ballpark fan as well. Again, I don't have to tell you why, but somebody should really tell Reusse:
There is little connection between Met Stadium and Target Field other than the absence of a Teflon sky. There is no connection between the audience to be served -- the Met generation that was there to see if Harmon Killebrew could hang tough against Jim Bunning, and the Target Field generation there to hang with their buddies.
There was nothing to be taken from the Met, other than sun and grass and rain delays, for today's fans that demand food choices, plazas, wide corridors and party locations, enormous scoreboards for replays and other entertainment.
I read his piece and thought immediately that, for once, he's picked a truly indefensible position. Normally he comes up with something where there is the potential for a wider range of opinion (though he always seems to side with the crackpots, if you ask me). But in this case, even the half-informed, casual Twins fan two states away knows more about Target Field than the veteran sports writer who will be covering games (and paying for his formerly free hot dogs) there. And not by a small margin.
And just on the outside chance that he's not underinformed but merely has misinterpreted everything he's learned and seen, we can safely say that he's demonstrably wrong.
Look, I loved Met Stadium. But never did I harbor the delusional wish that the Twins would somehow rebuild it on the Rapid Park lot. Nor did I think for a minute that the Twins might decide to ditch all the modern revenue streams for a return of the chain link and rust decor we knew out in Bloomington.
But let's not get too deep into a then-versus-now debate. It's unwinnable by either side. Now is all we have, so let's look at it.
In fact, let's just get to a couple -- and only a couple -- of facts about Target Field that Reusse overlooks:
1. The Metropolitan Club, which, in addition to being named after the old stadium, is done up in the very colors that Reusse laments are not present in the new ballpark.
2. The gates, statues, and other highly visible amenities which carry forward the names and stories of the great players who inhabited that old rust heap.
3. The flag pole -- the actual flag pole -- from the old park literally connects the two.
You can't rebuild the past, Patrick. All you can do is make sure it gets remembered. The Twins have done an amazing job of bringing the franchise stories with them to the new place. Go ask a Mets fan if the same can be said of CitiField.
But let's consider the other hey-kids-get-outta-my-yard point on which Reusse hangs his little diatribe: that the fans just want to party, don't care about baseball, and demand certain amenities unrelated to the game or they won't show up.
Well, for starters, all of those niceties make money for the team, which means that they are about the game whether you like it or not. At Target Field, unlike the Metrodome, every sip of expensive beer that somebody knocks back, and every bite of walleye or cheese curd puts money into the team. Every club seat sold makes it possible to even consider offering a single, very special player an 8-year, $175 million contract. If it isn't about the game for the fan drinking that beer or eating that curd, it sure is for a lot of others.
I could go on and on about the history of advertising in stadiums, replays, elaborate scoreboards, promotions, etc. In each case, you'd find that Target Field contains either the state-of-the-art or an incremental advancement in some way on a long-standing aspect of the spectator experience. The Twins aren't doing anything revolutionary yet, but in some cases, they do plan to do things one better than any other club. They have been fabulously sensitive to the preferences of their baseball customers.
But that leads to the real argument with which to whack Reusse's point: Target Field is not like any other modern baseball facility. By virtue of it's location and design, it has the potential to actually refocus the fans on the game. People who thought they came to party, may just discover again the joy of baseball.
The Twins made a whole bunch of small decisions to make it that way, and at least two very large ones.
First, they swapped the club and suite levels from other designs. Where other new ballparks have put the suite level directly above the main concourse, the Twins opted to put the Legends Club there and push the suites up one more level. This has the effect of deemphasizing the "hospitality fans" in favor of the "game-conscious fans". This is not a small thing.
The second choice was to drop the batter's eye restaurant which has also become something of a mainstay (to the great detriment of the cheap seat fans, at least in the Bronx). Instead, the team put in more cheap seats. And more, and more (see image at right).
The net effect is that, instead of having the well-heeled eating meals and glancing at the game out there, you have folks who want to be there for the game and at least the possibility that they'll be able to afford a ticket. (Yes, the sightlines are an issue. But the Twins have wisely taken steps to temper expectations, and will have another chance to do so with the 2011 pricing structure.)
Target Field certainly has potential distractions, but as I've walked around the place, almost every nook and cranny is focused on the game. In some places, it feels like you can't look away. I've experienced that in exactly one other place: Yankee Stadium (the original/renovated one, of course).
This is not my final review of the new ballpark, of course. I haven't seen a game there yet. There will be lots more to say. There will be things to dislike, no doubt, and surprising things to like.
That's why it's hard to take it when someone -- who also hasn't seen a game there -- misses the heart of the matter.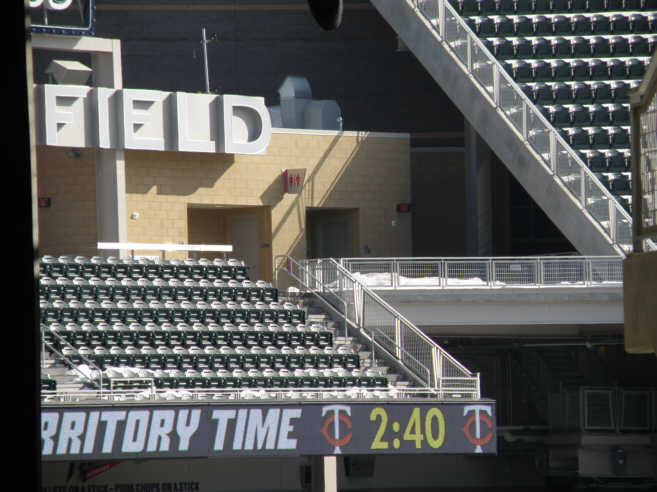 The outfield stands as viewed through the unnumbered gate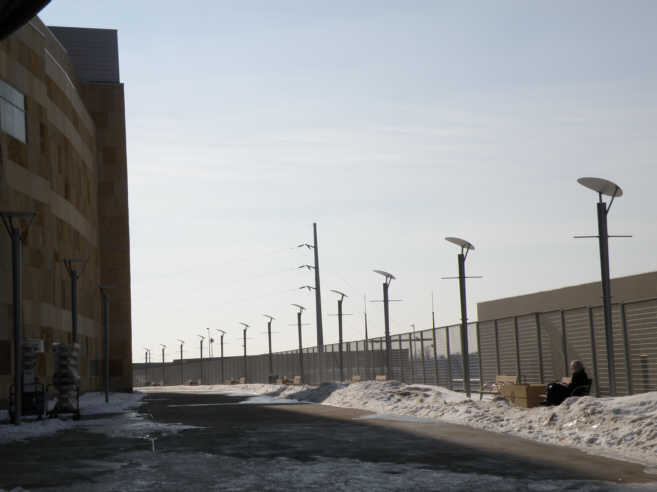 Waiting for a train. Reading on the promenade. How urbane.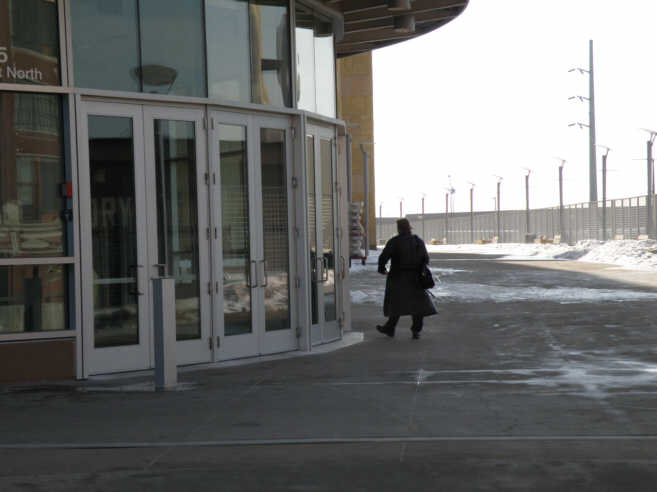 This may look like just some guy (perhaps a spy) headed for the train. But it's actually the Northstar engineer!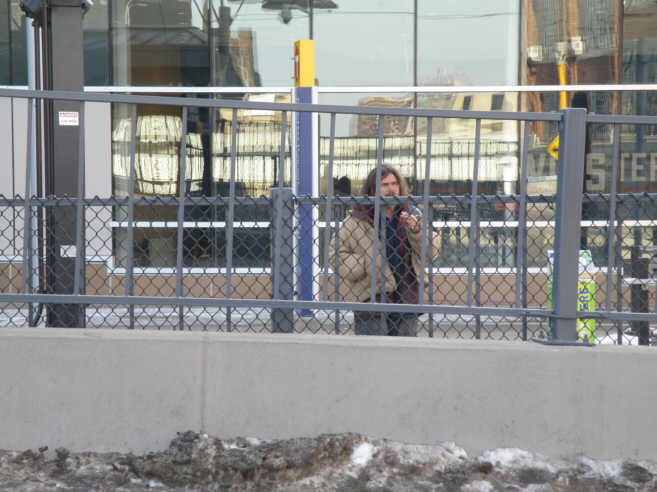 Now, THIS is just some guy who appears to be hanging out on the LRT tracks talking to himself.
Watch Your Step
In between those previous two photos I was nearly killed by a limo driver speeding up Fifth Street toward downtown at about 45 MPH.
All I did was cross the LRT tracks from the promenade and then step out to cross Fifth. I didn't see him coming. He didn't see me until the last moment. I quickly backed off. He sped away with a sniff in my direction.
But it was dangerously close.
I'm telling you this because, if you take a sidewalk tour -- and you should -- be careful at that spot. I know that upgrades are probably coming which will make it a lot safer (I first heard discussions about it a couple of years ago), but right now it requires paying attention.
When you think about it, it's an amazingly complicated crosswalk -- middle of the block, on a bridge, on a hill, next to train tracks and flashing lights, tons of pedestrian signs and cement barricades. In fact, I can't think of a more complicated crosswalk in downtown Minneapolis. (I'm sure there will be cops there before and after games, and Fifth may actually be closed to traffic during events, which is a fine solution too.)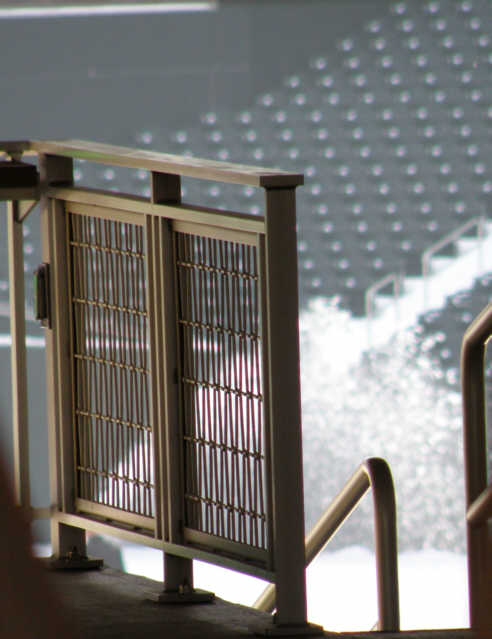 Snow-blowing the field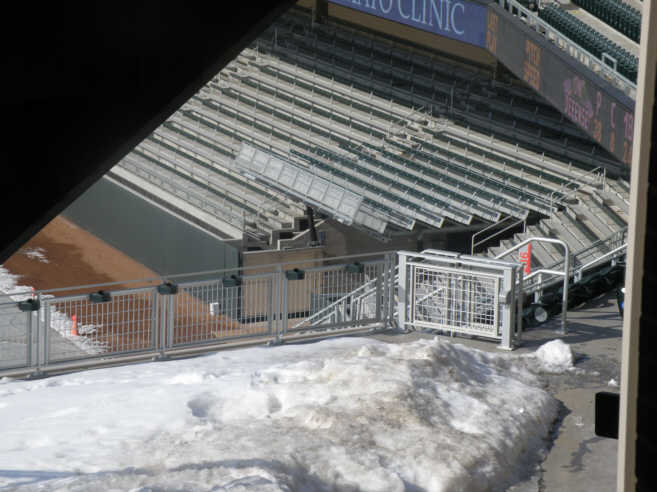 The service entrance area in left-center, now with bench seating
Distances
Faithful reader Jared wondered about the home run distances to some of Target Field's most conspicuous amenities. It seems a reasonable question because the place feels so compact that you kind of believe somebody could launch a pitch off the scoreboard.
Well, with the help of Greg over at HitTrackerOnline, he has determined that not as much is as reachable as you may at first think.
1. Puckett gate. The closest point of the Puckett gate is 459 feet horizontally and +30 feet up, by my reckoning. To get to that spot, you need a 480 foot homer or longer (and that's just to short-hop the gate, not clear it). In all of MLB that happens about 3 times a season, so don't expect a ball to fly the gate in your lifetime (in a game, at least - maybe in BP). A bounce over it is certainly possible for anything in that direction hit roughly 450 feet or so - definitely possible, but also not very likely, as only a little more than 2% of all homers are hit that far, and only 16% of all homers are hit in the right direction to bounce over the gate, giving each homer a 1 in 266 chance of "qualifying". So if Target Field sees 160 homers (about 2 per game, close to average), I figure there is a 45% chance of seeing one of those homers hit far enough to hop the fence. If no one gets in the way, that is!
2. The bronze glove. This seems to be about 490 horizontal feet from home plate, and around 35 feet above field level. This would require a blast of about 515 feet. Unless the Puckett Gate turns into a wind tunnel due to some quirk of the architecture, not going to happen any time soon.
3. The Budweiser roof deck. This looks to be about 85-90 feet above field level, and around 345 or so horizontally. This is possible, distance-wise, but very unlikely due to the scarcity of very high-arching balls hit down the lines. Since its opening, I don't recall anyone having hit one up on the top of the Western Metal Supply building in San Diego, which is a pretty similar spot to this. So, reachable, yes, likely, no.
4. The scoreboard in left field. The very bottom left corner of it is 435 feet from home plate and +110 feet, roughly. Hitting that would require a 530 foot homer. Although that will probably be commonplace in the various video games that "simulate" MLB, in real life there is no way. Too bad, that would be a sight to see!
5. The celebration sign. To reach the southern border of the state outline, which is about 450 feet and +80 feet, would require a 515-520 foot homer. On a warm day, with some wind helping, that is possible, but of course not at all likely.
6. The bottom right corner of the trapezoidal ad sign is more reasonable, but still very unlikely. I place it at just over 400 feet from home plate and +90 feet. A homer of about 460-465 feet hit in just the right direction could kiss the corner of this board. This implies, of course, that the upper deck in that area is definitely reachable, and should see some homers landing there this year, although not a lot of them, more like a handful at most.
7. Highway 394. No way, not even on a bounce. This is just too far away, and any enormous bomb hit in that direction would have to bounce at least three times to get there, at which point I can't see it getting over whatever railing/wall they have surrounding that opening. If someone ever tells you one made it, don't believe them.
Thanks, Jared!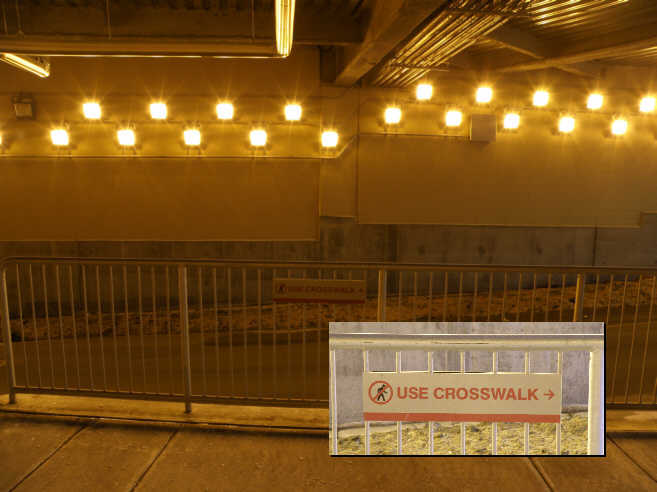 It looks like the Target-themed signage has spilled out to the surrounding area (this was taken from the entryway to the B ramp from Third -- the 394 entrance ramp tunnel)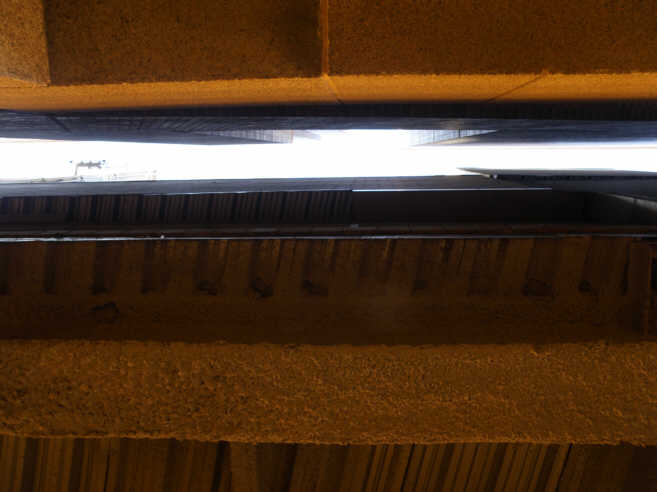 Also from the B ramp entrance off of Third, a look up at the tiny crack between ballpark and parking ramp
Radio, Radio
Part of getting in shape for a new season is making sure the car radio has the right station on the right button, and that I know where it is in a hurry.
So for a couple of days I've listened to the so-called "Sports Talk" station sort of by accident. What I heard was pretty depressing.
It was the Garage Logic show. One day they were talking about a proposed cell phone ban. The next it was frothy contempt for green technologies and some type of manure to which the host (Soucheray) vehemently objected.
God, I hate this type of radio. Hate it. Hate it. Hate it. Why would the Twins ever want to associate with it? (Oh, yeah. It's cheap.)
Here's the formula: You pick up a newspaper, look for some article you can have a wacko take on which somehow confirms your entire world view, then talk about it for as long as humanly possible. If it's still got even one tiny ounce of life, you bring it up again after the commercial or news break and go on and on.
Throw in a sidekick to give you an "I hear ya" every minute or so, and some calls from fellow cranks with similar world views (or differing world views which you can completely dismiss) and you think you've got Radio. Only it's not. It's Crap. And I don't care whether you share the opinion or not. The ideas aren't even half-baked, and the presentation is long on smirks and sighs and, I kid you not, fog horn sound effects.
But here's my real beef: None of it was sports! 30 minutes before the Twins preseason opener and they're talking about distracted drivers? Give me a break. If it's gonna be a sports talk station, and I tune in an hour before a game, I expect to hear, well, sports talk.
OK, it ain't always paradise, but it's still a helluva time to be a Twins fan.
To write this post, I've taken a break from getting TC Traders ready. Now, back to it. All I've got left are a few technical hurdles and we'll be ready to go. And I've got a great ticket opportunity in store for you all as a grand opening. Thanks for your patience, and stay tuned.
Also, I'd like to formally welcome Rapid Park as a charter advertiser. You all know that I'm committed to keeping advertising to a minimum, but this lot has great event rates, and could be much faster in and out than other options. You should check it out.
And if your organization wants to reach the most loyal Twins fans around, and provides a service we can use, I'd love to consider you as an advertiser. Drop me a line and I'll send you the info: rick at this domain.
Thanks for stopping by today!
Comments
To utilized enhanced comment features, please enable cookies in your browser.
---
This page was last modified on March 7, 2010.