Oh, the Ideas!
September 28, 2006 12:41 AM

COMMENT
Dave St. Peter really hopes you like the new Twins ballpark. He has said it to me and to anyone who will listen, and I believe him. Clearly, he has put fan comfort and enjoyment above a whole lot of other things in his ballpark dreaming. In this regard, he has his priorities straight. (For the record, St. Peter has been very kind to this web site, answering my questions quickly and in a very straight-forward fashion. My hunch is that he's also great to work for. And no, I'm not looking for a job.)
This puts the Twins in something of a special category when it comes to ballpark design. I suspect other teams have received suggestions from fans about their new ballparks, and some teams have probably even solicited them. But I know of no other case where such a concerted effort has been made to get the fans involved. It's become a mantra. And I'm convinced that, in taking this to heart, they have a chance of building a truly great baseball place.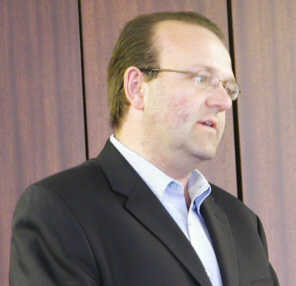 Twins president Dave St. Peter presents his list of fan suggestions to the Ballpark Authority
St. Peter is fond of saying that he fully expects there will be fans who walk into the new park and can point to something and truly say, "That was my idea." (For the record, I hope to point at the newly-restored Met Stadium flag pole!)
Back in August, the Twins released a compilation of some 2500 suggestions they had received directly from fans. These were all neatly entered into an Excel spreadsheet (downloadable here) and offered to the Ballpark Authority members in the interest of full disclosure and cooperation. At that point, the Twins had not yet formally asked to be allowed to design the park themselves. Since then, they have asked for and been officially granted this right.
That little change means that the design process is no longer really public at all. The Twins have been interviewing architects and engineering firms, and will be selecting one -- can you guess which one? -- in private. Then all of the design work will happen outside of the public eye, and a design will simply be presented to the Authority (and the public).
The only reason I don't like this is that I can't follow it. All of the brainstorming and other creativity will go on behind closed doors. Great ideas may fall victim to group-think or "we don't do things that way." There is the very real risk that a private process could devolve into a "make it like Camden Yards" approach. That would be bad.
Everybody Has An Idea
I hope the architects and engineers will read the suggestions, because they are pretty entertaining. We fans are very passionate about what we think makes for a great baseball place. St. Peter has started highlighting one idea per blog entry, but there are many more which are worthy of being heard -- if only to understand more about how the fans think about a new ballpark. Plenty of the ideas have not been heard anywhere else.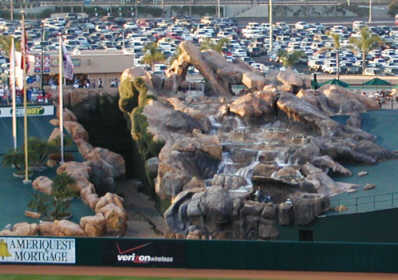 I saw it at another park...
The ideas seem to fall into vague categories. First, there are the requests for things which are pretty much given, such as wider seats and aisles, more restrooms, historical references (statues and museums), seats which face the infield, etc. Second, there are requests for things which are not really up for discussion, such as the name (lots of calls for honoring Kirby), the location, and the roof (or lack thereof). Third are the suggestions for adding local flavor, from pine trees, lakes or waterfalls in the outfield, to a wide variety of food requests. Fourth is a long list of Things I Saw At Another Park which they think should be copied here, from fountains to ferris wheels to fireworks.
There are also lots of contradictory suggestions. For every fan who hates the baggie, there's another who wants to keep it. For every fan who wants a hitters park, there's another who wants a pitchers park. For every fan who wants a manual scoreboard, there's another who wants everything state-of-the-art. For every fan who wants the bullpens in foul territory there's another who insists they be beyond the outfield walls (one fan simply pleaded earnestly to make sure there are bullpens in the new park). For everyone who wants a classic brick facade, there's someone who wants something more modern and unique. For everyone who wants amusement park rides, there's someone who hates the idea.
The milk carton also turns out to be highly controversial. Some fans love it and want it made bigger and placed even more prominently. Others just wish it would go away forever. (I think I'm with the latter group.)
Roof Redux
One area in which there is virtually universal agreement in these suggestions is the roof. People from out-state are still lobbying furiously for a roof -- retractable or not. Surprisingly, many point to Milwaukee as the model to follow, despite the fact that Miller Park's roof may be the single ugliest, most expensive and most obnoxious feature of any park built in recent memory. And it leaks.
I remain staunchly anti-roof, and I believe there are some very good reasons to avoid building one (and not a single compelling reason to spend the extra time and money). But it's clear that this could be a real public relations issue for the team. They are going to have to make sure that the word gets out about just how few rainouts there were back at the Met.
I'm also surprised to read so many negative comments about wheelchair seating at the Metrodome. I honestly had no idea it was as bad as described. But fixing this really must be on the list of "givens."
Suggestion Box Sampling
Then there are the unique, offbeat and creative. I haven't had time to read the entire list, but here are some which jumped out at me:
"Finish the inside walls of each dugout with Knotted Pine. It will provide a subtle Northern Minnesota look when TV cameras pan inside the dugouts to view the players & coaches."
"...a large neon version of the classic 'two guys' logo would be spectacular in center field. Whenever the Twins hit a home run, the two guys would shake hands across the river."
"Post team photos of every Twins team in history in the concourse."
"Maybe a Red (outfield) wall."
"i think it would be great to have some type of tower that an eagle or hawk lived in at the ballpark"
"Put Buttons On Seats, that represent different foods or drinks. then the vendors will have a computer thing and it shows them what seat pressed the button and then will deliver the food or drink."
"Have a river rock backstop, similar to the brick backstops at Wrigley and in Pittsburgh. It will make for interesting bounces on wild pitches/passed balls."
"Put a Paul Bunyan statue somewhere that blows either a load or else steam out of its nose everytime a twin gets both hit by a pitch and a homerun in the same game."
"An aquarium with native MN fish in it built into one of the outfield walls."
"Most importantly a more relaxed beach ball policy."
"A couple rows of corn should grow within view behind the outfield."
"Have coin operated heated seats."
"So many people seem worried about 'rain outs' since the new stadium will not have a roof. Work out a deal with Mall of America or a Water Park, Valley Fair, the MN Zoo, some downtown theaters, movie theaters, or restaurants, etc. so that when a rain out occurs a Twins Ticket will be accepted as admission or as a coupon to use at their venues."
"Please, no murals of famous Minnesotans etched in laser-cut brick relief."
"In the right center field wall I think you should add a dugout, which would be enclosed but also stay padded for players safety. You would be at about knee level while watching the game. Sort of like a sky box, but underground. Seating about 20-30 fans."
"For a Minnesota theme, how about a section of the outfield with a cabin, with ... a large deck where selected patrons could sit and watch the game from the outfield cabin deck."
There's a sample of some fine (if occasionally odd) Minnesota creativity. I'll post more as I have time to continue reading the list.
Comments
To utilized enhanced comment features, please enable cookies in your browser.
---
This page was last modified on January 21, 2010.
"You talk about the magic, the aura, but what really makes a stadium is the fans. Concrete doesn't talk back to you. Chairs don't talk back to you. It's the people who are there, day in, day out, that makes the place magic."
– Bernie Williams
Explore the Site
Here are 50 images chosen randomly from the 3045 found on this site. Click the image to be taken to the original post. A new list is created every 10 minutes.

(Click to enlarge.)

Hot dawgs! Getcher hot dawgs!

Photo by Tyler Wycoff

Free views!

Yankee Stadium

The Puckett Atrium

Look beyond the gigantic hand (a hounds tooth jacket? really?) and you'll get a glimpse of the main grandstand configuration. The two (or is it three?) levels of suites are visible, as is the design of the so-called "split upper deck," and the extensive use of limestone for decorative accents. Let's hope these little touches don't get cut as costs increase, because they make a nice tie-in from the outside of the park to the inside. Of most interest to me is the way that the very best seats are physically separated from all the rest of the seats by that limestone. There will be virtually no way to sneak into these seats. On one level, that's a somewhat sad design feature...

Banners on the parking ramp are a great touch. They help manage scale and turn a lemon into lemonade. On my way there today I passed the WCCO building and remembered how the Twins schedule used to be painted in giant form on the side of that building (which is no longer visible). Wouldn't that be a great thing to resurrect on the side of that ramp? A giant Twins schedule. I always thought that was cool.

This area will supposedly show the Twins chronology. Will it stretch back to 1901?




The Northstar station at night
You can't get there from here.



Friendly faces greet you right inside the door of the Legends Club.

Camera mounts

The New as viewed from The Old.

Clyde Doeppner proudly displays colored bricks he scavenged from the Met during its demolition. These are the colors in question!

Staging for the next section (Home Plate Box)


From behind the wind veil

The wooden louvers are in on Fifth Street

B ramp improvements are finally becoming usable. The doors lead to the plaza beneath the skyway steps.



Two train stations

Let's be honest and say that this promenade, which will face the HERC plant, won't be the most exciting part of the streetscape. It has to be provided for circulation reasons, but there won't be much to see unless vendors and other attractions take root here.

Click to enlarge. (Photo by Jared Wieseler)

Life in the shadows

This opportunity is half a block up Third Avenue and thousands of people walk right by before and after games.

Now, THIS is just some guy who appears to be hanging out on the LRT tracks talking to himself.




The back row of seats in straight-away center. Note that, beyond those seats, you can see the planters (for flowers) on the front of the Left Field Bleachers.(Batters Eye)
A slightly different elevation drawing, again viewed from Fifth Street, with some labels. (Click to enlarge.)

LRT throngs after the game

I never think of Ron Jackson at all.

Working on the connecting LRT tracks (this view looks up Fifth Street toward downtown.)

No offense, TC, but you're pointing exactly the wrong direction if you want people to use the ramp opening to your right...


Signature elements. (And they wonder why we think the real trees look so small...)

Flagpole historian Ben McEvers at far right (click for the full photo set, graciously loaned to this site by Pat Backen)


Glossary
BPM - Ballpark Magic
BRT - Bus Rapid Transit
DSP - Dave St. Peter
FSE - Full Season Equivalent
FYS - Fake Yankee Stadium (see also: NYS)
HERC - Hennepin Energy Resource Company (aka the Garbage Burner)
HPB - Home Plate Box
HRP - Home Run Porch
LC - Legends Club
LRT - Light Rail Transit
MBA - Minnesota Ballpark Authority (will own Target Field)
MOA - Mall of America
MSFC - Minnesota Sports Facilities Commission (owns the Metrodome)
NYS - New Yankee Stadium
SRO - Standing Room Only
STH - Season Ticket Holder
TCFBS - TCF Bank Stadium
TF - Target Field
Selected Bibliography - Analysis

Selected Bibliography - Surveys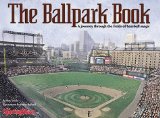 Not a "Third Edition" exactly,
but it replaced the above title
(2000)


Original edition (2000, round)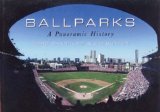 (2004, very large coffee table)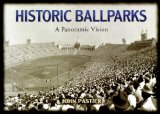 (2006, very large coffee table)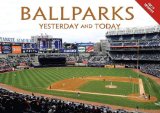 Combines the previous two titles
(2007, medium coffee table)

Selected Bibliography - Nostalgia



Book and six ballpark miniatures
(2004)