Instant Karma
April 13, 2010 1:39 AM

COMMENT
How often does it happen that you spend a few decades dreaming about something, and have it turn out better than you ever really imagined possible? There's my day in a nutshell.
It was all pretty overwhelming, and frankly, I'm too tired right now (a giddy, happy, overwhelmed sort of tired) to do very much with the media I collected today. But here are a few juicy nuggets and a couple of real quick ones before I totally doze off.
After fighting for a good spot at the flagpole, then getting elbowed around a bit, pushed back by cops and security people, finding myself suddenly in a very bad spot, getting impatient and abandoning my placement efforts, I stumbled into a great spot and got very lucky, as you'll see.
It was a surprisingly emotional moment, having the flag lowered to half staff in honor of Minnesota family who have fallen so recently. Fitting and proper.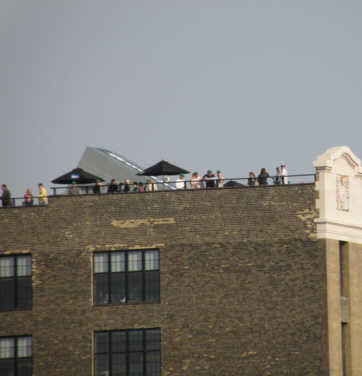 Free views!
Some Firsts
1. First Caught Stealing - Marco Scutaro, right after getting the first hit in the first at-bat. Really.
2. First Broken Belt - Nick Punto, while successfully stealing second.
3. First Creeping Shade - 4:11 PM I'm sitting in the sun, 4:12 PM I'm sitting in the shade (section S, row 4).
4. First Impossible Shot - Mike Cameron somehow hits a ball between the foul pole and the limestone wall (see photo for an idea of just how tough this is), leading to...
5. First Reviewed Play - Yes, it was foul.
And think about this: Over at the Dome, Kubel's shot would have been every bit as much a homer, but it would have careened around like a pinball inside folded up football seats instead of landing in some kid's glove.
Oh, Target Field, you already know how to exorcise ghosts!
Instant karma, baby.
Talk
Jared: Awesome call on the weather:
This is turning out to be a very tough day to forecast, even for the best mets...the models aren't in agreement...I haven't seen confidence this low so close to the 0 hour. That tells you how tough this one is.
You basically said what every meteorologist is afraid to say: We don't know what it's going to be like. You did not bend to the pressure for something definitive. Sometimes the models will let you be pretty specific, sometimes they will not. Kudos for not falling into that trap. You have passed the test, Grasshopper, and are now the official BallparkMagic meteorologist. (Send me a message!)
Josh: Line of the day goes to your 2-year-old son who, upon getting his first glimpse of TC, burst into tears and said, "No bear get me!"
Jax: Yes, I think from your photos that you were right above me. Threaded forums, eh? When I wake up in a couple of weeks I'll put that in the hopper. (I already spend 28 hours a day on this site, what's another 1 or 2?)
Ben: Didn't spot the bottom half. Looked for you at the top half. We need to find another time.
OG Jeff: Awesome party. A North Loop Festival every opening day? Think about it.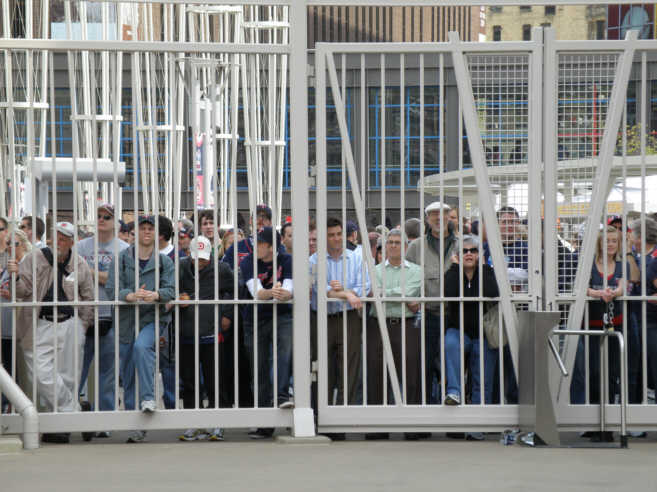 Someone please get those poor people a drink of water. (Gate 34, after the game had started)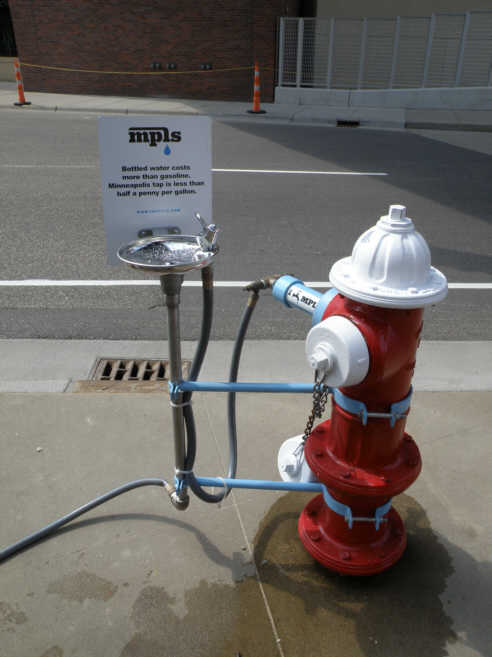 Oh, nevermind.
Kirby Statue
I was behind the Puckett statue when it was unveiled. So when I came around to the front to get a photo, a little electric shock of, I don't know, fear I think it was, shot up my spine. It didn't look like Kirby. It didn't look human. It looked mad as hell and like it was about to eat something.
Then I remembered that I've always thought that about the photos of him rounding the bases after that iconic home run. He looks angry, even though we all know that he was just about as pumped up as he would ever get.
Here are the images:
And here's the statue:
I think it's fair to say that the sculptor captured what can be seen in the image.
But did he capture the man? The cold documentation isn't enough. Artistic license allows a sculptor to get beyond the photographic record and shade it the way it needs to be shaded. The very fact that we're talking about this means that something was missed, at least for some of us.
When I think of Kirby, I think of his smile. And believe it or not, when I remember that home run in my mind, he's smiling, not scowling, all the way around the bases. I know it didn't happen that way, but I remember it that way because that's who he was.
But because the statue is accurate, I guess I can live with it. But when I think of that statue, I'll probably think of a little more smile in its eyes.
A quick follow-up on yesterday's post, from the AP coverage of the game:
This is the fifth time the Red Sox have been the visiting team for the first official game at a new ballpark, though the first since 1923. Boston also helped open Oriole Park (Baltimore, 1901), Shibe Park (Philadelphia, 1909), Griffith Stadium (Washington, 1911) and Yankee Stadium (New York, 1923). The Red Sox lost all five.
Great to share this day with you all.
Yeah, we all shine on.
Comments
To utilized enhanced comment features, please enable cookies in your browser.