Seeing Our Shadow
February 3, 2009 1:41 AM

COMMENT
Here are some more snaps from my sunshine walking tour:
The circulation ramp on the north now has its louver framing.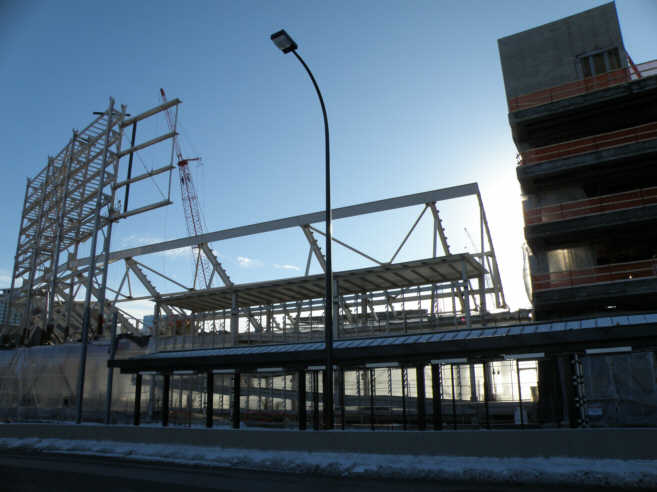 The outfield stands taking shape.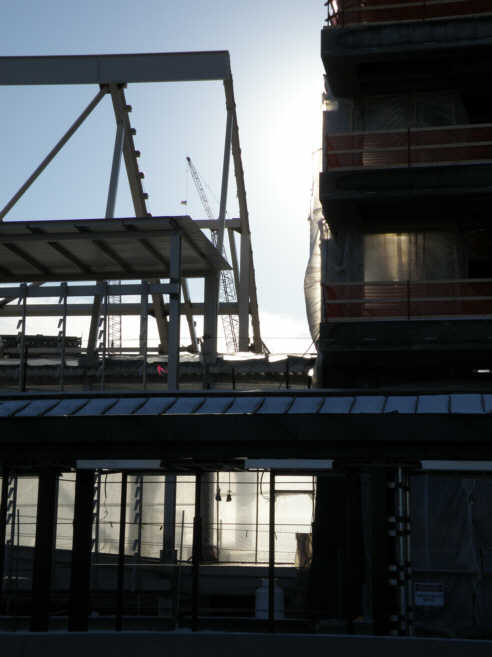 This is the last hope for so-called knot-hole views. I'm skeptical.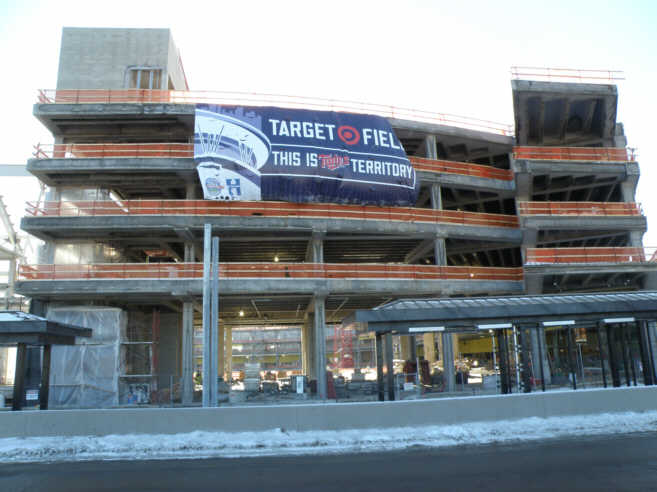 The creative design of the admin building stands in stark contrast to the horribly pedestrian appearance of the LRT platform. This design looks like it came out of a public transportation manual.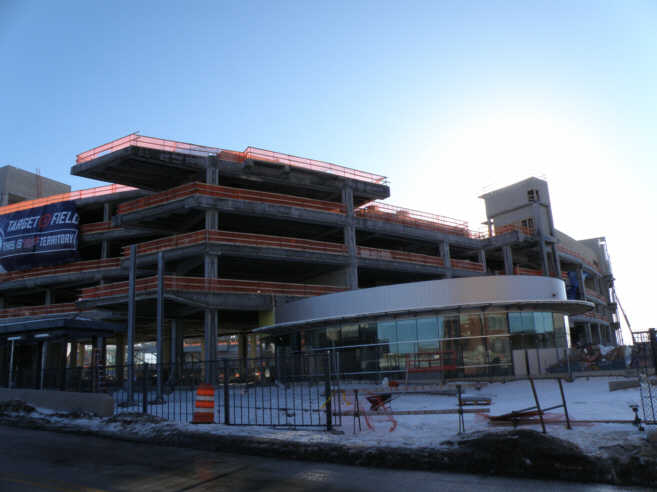 A little more imaginative is the circulation building for Northstar.
Limestone will cover this pretty soon, but for now you can see where the escalator is.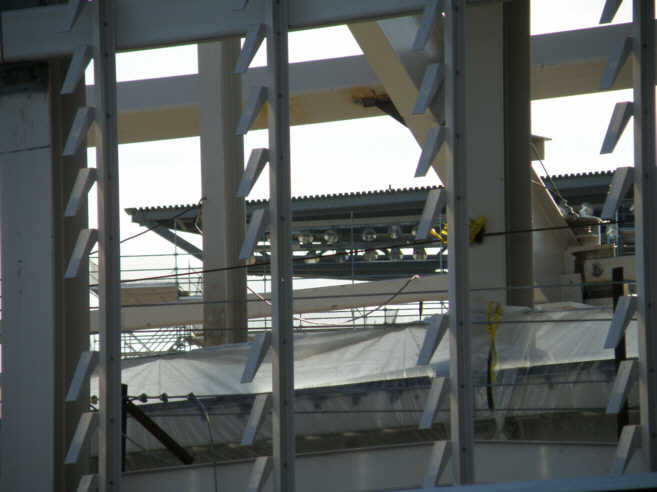 The canopy as viewed through the outfield stands. The lighting approach, despite what you may have heard, is actually very traditional.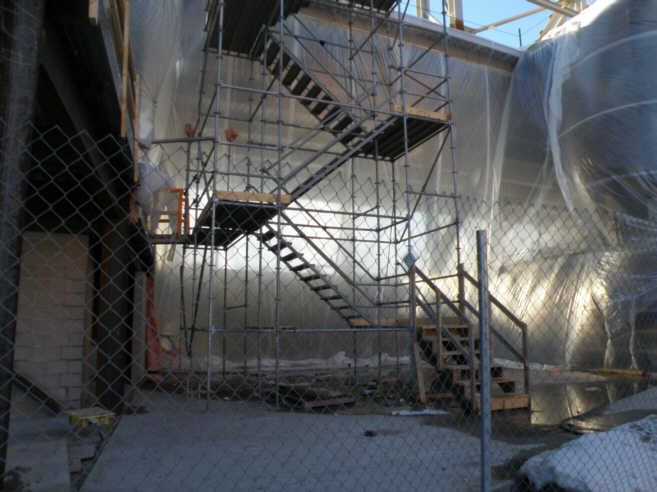 This is the Carew gate covered in plastic.
This view, through a B ramp window, won't last forever.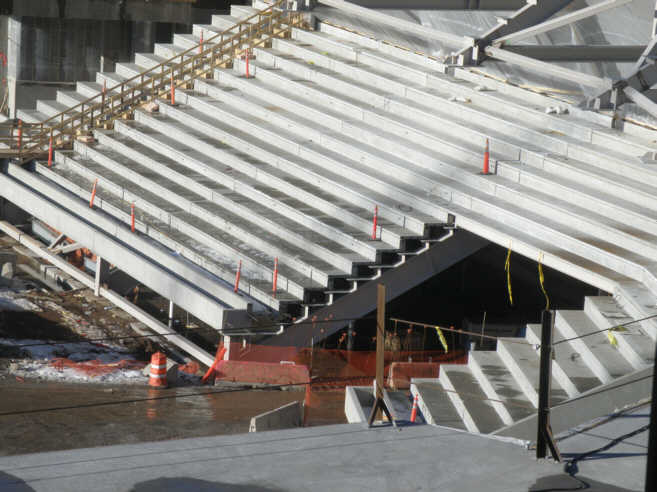 There's the opening through which the groundskeeping equipment will emerge (and disappear).
Also viewed from the B ramp, that's the upper deck in left field.
Tomorrow, the conclusion.
Naming Trouble
Here's an article which is troubling on many levels.
In short, some members of congress want to punish Citi Group for accepting bail-out money by forcing them to remove their name from the new Mets ballpark.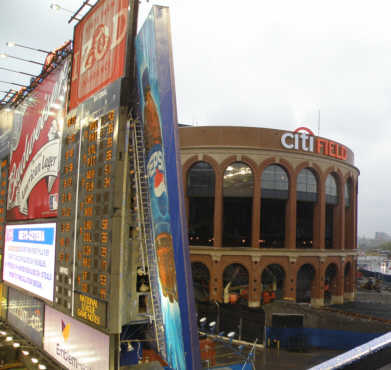 Citi Field as viewed from Shea.
I think that's a little bit crazy, but then I think the whole bail-out nonsense is pretty crazy too.
But the article made me wonder if Target Field's name would ever come into such jeopardy. Then, at almost the same instant that article appeared, Target announced their intention to eliminate 1000 jobs. That can't make them feel good over at 34 Kirby Puckett Place (or the top of the Multifoods Tower either).
These naming deals, though they represent an advertising expense, are some seriously expensive advertising. Wouldn't a big company like Target have to at least consider -- among many other things -- cutting back on their superfluous advertising (assuming that naming rights deals fit into that category)?
It's probably not an issue right now, but if the economy tanks further, and Wal-Mart continues to suck up more and more of those household goods buyers, it might look different pretty quickly.
Fuming About Fumes
No doubt you have heard that Hennepin County wants to spend some money to fix up the garage doors at the HERC plant. It's an effort to rid the promenade of even the tiniest bit of stink.
You can't argue with stink-removal. But the look of that place is way more offensive than the odor. What has gone under-reported is that a substantial part of the package being sought is for landscaping. Yes, they will be reconfiguring the entrance doors to get the trucks inside the building a bit farther away from the walkway, but they will also be building an earthen berm with trees and bushes to essentially hide that place away from stadium-goers. (I'm not sure what to think about "garbage perfume".)
The HERC is an ugly stepchild in so many ways. In the best case, it would just go away. Since we can't have that, the changes currently on the table are the next best thing.
But the discussion gives everyone the chance to whine and cry once again about the "heavy burden" to taxpayers that the ballpark supposedly represents. While, in Washington these days, such burdens go by the name of "stimulus." More on that in a minute.
Meanwhile, another project has made its way onto the radar. It looks like the money is finalized for some of the streetscape and skyway work. That's good news.
Dare I Mention...?
Yesterday I made a quick mention of the Vikes and it's all anyone wanted to talk about. This is a baseball site, so I thought long and hard before bringing the subject up again today, but it does seem worth discussing. Seems like we baseball fans, who got what we want, should probably help out the poor football fans, who it looks like may not.
Truth is, I don't really have a dog in the Vikings stadium fight. I'd hate to see them leave, but right now it seems inevitable to me. I'm a baseball fan, but my off-season Sundays would lose some of their shape without a football team here to follow. (Perhaps some of you have stronger feelings...)
Today, however, I realized that what the Vikings really need, but do not have, is a Shane. Even in a bad economic climate, there's a good case to be made that it's much cheaper to build a new stadium now than it will be to acquire a new franchise AND build a new stadium later. You can even file it under the aforementioned category of "stimulus".
As has been pointed out in many places recently, whenever the government spends money, it spends money. That means that they give it to someone else who will, in turn, give it to someone else. (One exception: If you give it to big banks, they will just stick it in the vault. They are far too disciplined to go around either spending or -- gasp -- loaning it to people.)
So, if you figure that the state would pay, say, half of the billion dollars toward a Vikings stadium, they would be giving that to design and construction firms who would pay it to their employees who would spend it at Target who would give it to their suppliers who would pay their employees, and so on and so on. How much of that half a billion would be paid back as taxes somewhere along the way? A fair amount.
No amount of spending can really create permanent jobs. There is no such thing. Any spending creates a short-term boost (though some boosts certainly last longer than others). If we're serious about jump-starting the economy, building a stadium is as good a public works project as anything else -- quite literally. It can represent up to four years worth of boosting. That's gotta be worth something to an economy.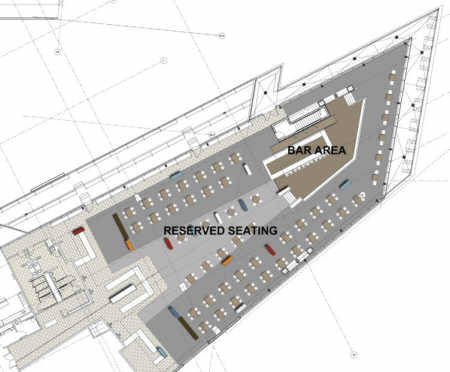 Here's a quick look into the layout of the Metropolitan Club.
(Warning: Begin rant.) I've said before that I don't like to stray too far into politics on this site, but it has to be said that the Pawlenty administration seems to be going out of its way to do the shortest-sighted things possible (accounting tricks, cutting aid to cities and closing arts-related agencies are all at the top of that Stupid list). Meanwhile, despite their large numbers, the DFLers seem flummoxed and frozen by the governor's dopey intransigence. They are at least as much to blame for the level of inaction we're witnessing.
Were there even a semblance of vision anywhere at the capitol they would already be surgically raising and lowering taxes (on a temporary basis and with the tacit permission of those affected), increasing spending to sectors with the most immediate economic impact (stadiums included there), supporting cities' efforts to right their own budgets by either freezing aid where it is or restoring some of that which has been lost in the past six years, and accepting that running a deficit budget (when done carefully and with vision) can actually be a successful short-term solution.
If there were any true leaders there, they would have realized by now that any business which decides where to locate based strictly on a state's tax climate is not one that you want to host. The companies you want to attract will understand that good education, and care for those on the margins, are worth a corresponding increase in the tax rate. It leads to a climate in which they can be successful for a very long time. You want businesses that are looking for that. Put bluntly, Pawlentyville looks a lot like Pottersville. It's a sad place where people sit on their money and everything fades to black-and-white. (End rant.)
Back to my earlier point. If the Vikings had a Shane, that person would be figuring out who exactly among the legislators is beating the stimulus drum the loudest. Then the Vikings would take that info and get those people together into a core of support and gradually build around it. That's pretty much what happened with the Twins deal.
It's not impossible, but it will probably take someone unexpected to do the very tedious leg work.
I guess that's my way of saying thanks, Shane.
Back In the Ground
While I was away, I heard that La Velle E. Neal mentioned this site on KFAN one morning. So, welcome to everyone who either heard that show or came through the link on his blogroll.
I sent him a calendar for his trouble. You can still get yours -- they're going out at cost right now, so don't expect the price to go any lower. And I'm certainly willing to talk interesting trades...
You may have noticed that I've been sprucing up the site a bit. Check out the image links in the right column. There's lots of info on this site (already well over 1000 images) that might be interesting and relevant long after the original posting. It's my hope that you'll find something to explore there.
The images are selected randomly with every page load. So if you don't see something interesting right away, just hit your refresh button.
I've also heard your pleas to make the comments easier to navigate. That's next on my list.
See you tomorrow!
Comments
To utilized enhanced comment features, please enable cookies in your browser.
---
This page was last modified on January 21, 2010.
"You talk about the magic, the aura, but what really makes a stadium is the fans. Concrete doesn't talk back to you. Chairs don't talk back to you. It's the people who are there, day in, day out, that makes the place magic."
– Bernie Williams
Explore the Site
Here are 50 images chosen randomly from the 3046 found on this site. Click the image to be taken to the original post. A new list is created every 10 minutes.



Home Run Porch Terrace (bottom) and View (top) as seen from the top of the B ramp

The Puckett Atrium


I know you've seen these, but is there a better finishing touch anywhere else in baseball? I know not one.

The canopy as viewed through the outfield stands. The lighting approach, despite what you may have heard, is actually very traditional.





2007, Noah's first game (Torii's last)

I don't think this will remain a knothole, but the view is pretty cool.

Detail enclosing the main ticket window area

Outside the Metropolitan Club, photos of all the other major league ballparks

You are forgiven for wondering whether architect Tom Oslund is, in fact, a visitor from the future.

Where you are, and where you can go.

Discussions in progress on some very brown grass...




Bag checking at Ball Park Lanes was incredibly simple, as was the pick up later. The line was short and fast-moving.
Signage for the concession stand which is available from the plaza (plaques are up on the fencing)

An overview of the model display.


Looking from the doorway to the south, across Seventh Street

The lone light standard and one of those "entry beacons."


The green in question (click for very large version)

This is a good overview of the spot where the Northstar (bottom) and LRT (top) will intersect.

Town Ball Tavern balcony
Moonyball



Love the red flowers -- just like the original concept drawings. That NEVER happens.



Preparations underway (Field View)

This would have been the HERC side, though it's unclear just how far over the plant the retracted roof would have gone. My fear was always that they would have to shorten the track and more of the roof would have stayed over the ballpark. The only good retractable roof is one which disappears when not in use. I don't think they could have realistically created such a thing.


The process of building the canopy is really amazing to watch.

That is the gun-metal gray wall of The Stadium just beyond the elevated tracks.

Click to enlarge.

The view from section 210



Dancing for the cameras


A view of construction from the B ramp. This looks toward Seventh Street, over what will be Gate 34 (the main entrance).
Glossary
BPM - Ballpark Magic
BRT - Bus Rapid Transit
DSP - Dave St. Peter
FSE - Full Season Equivalent
FYS - Fake Yankee Stadium (see also: NYS)
HERC - Hennepin Energy Resource Company (aka the Garbage Burner)
HPB - Home Plate Box
HRP - Home Run Porch
LC - Legends Club
LRT - Light Rail Transit
MBA - Minnesota Ballpark Authority (will own Target Field)
MOA - Mall of America
MSFC - Minnesota Sports Facilities Commission (owns the Metrodome)
NYS - New Yankee Stadium
SRO - Standing Room Only
STH - Season Ticket Holder
TCFBS - TCF Bank Stadium
TF - Target Field
Selected Bibliography - Analysis

Selected Bibliography - Surveys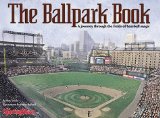 Not a "Third Edition" exactly,
but it replaced the above title
(2000)


Original edition (2000, round)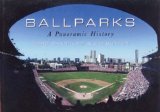 (2004, very large coffee table)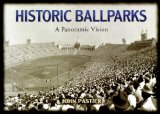 (2006, very large coffee table)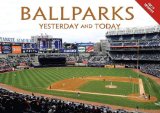 Combines the previous two titles
(2007, medium coffee table)

Selected Bibliography - Nostalgia



Book and six ballpark miniatures
(2004)