Sunny Tour Finale
February 4, 2009 2:11 AM

COMMENT
Now for a look at some of the stadia. As has been previously noted, it sure goes in quickly!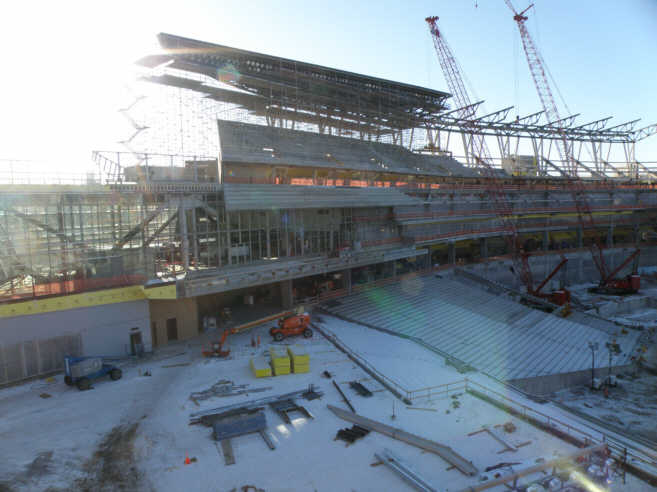 Here's the current overview from the south side of the B ramp (from which the banner at the top of this page was culled).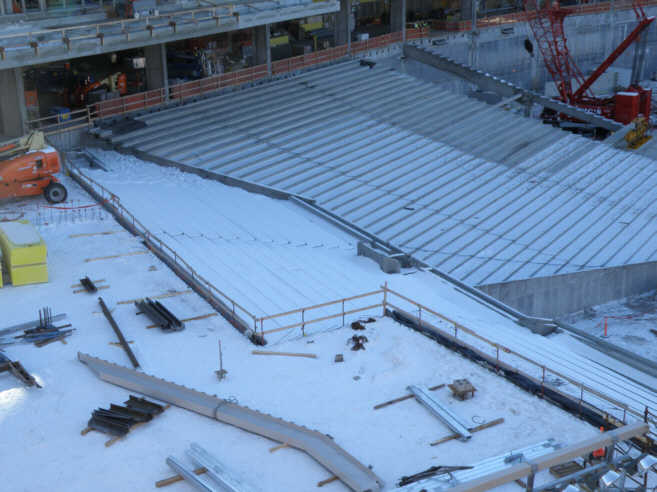 The right field overhang is in place, and the first base stands are starting to go in.
Here's a rack of lights being prepared for lifting into the canopy.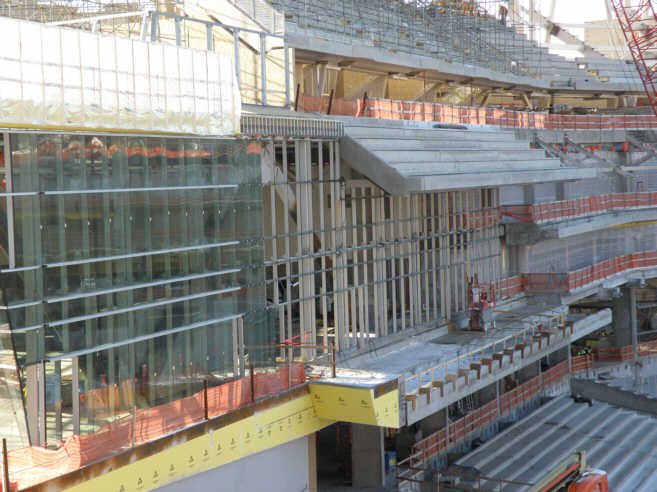 This is the outside portion of the Metropolitan Club.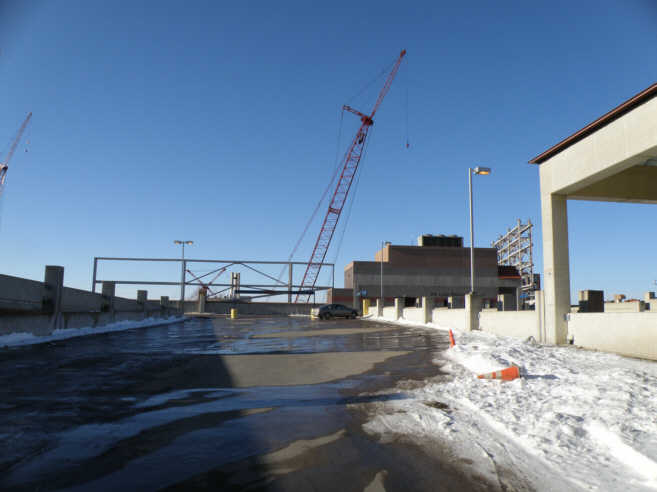 From the roof of the B ramp, you can see just how futile it will be to get a glimpse of the action.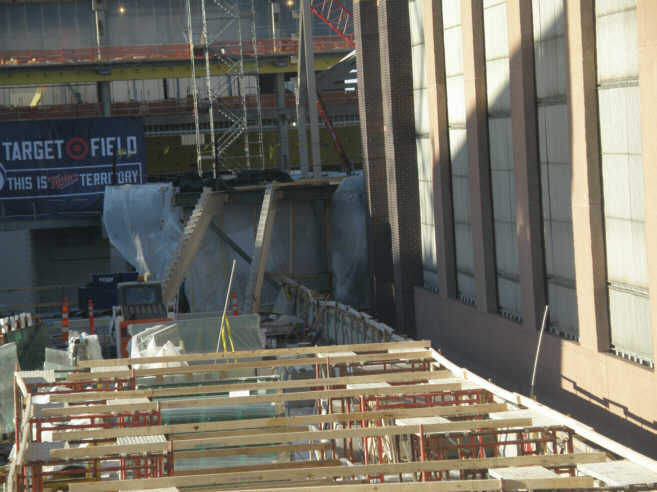 These stairs will go up to the centerfield pavilion.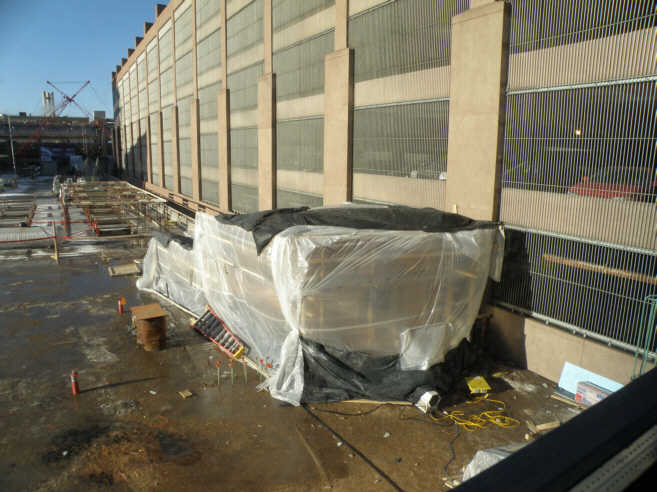 These stairs will meet the skyway.
Here's another view up Sixth Street toward where the plaza will meet First Avenue (it will hug Target Center all the way).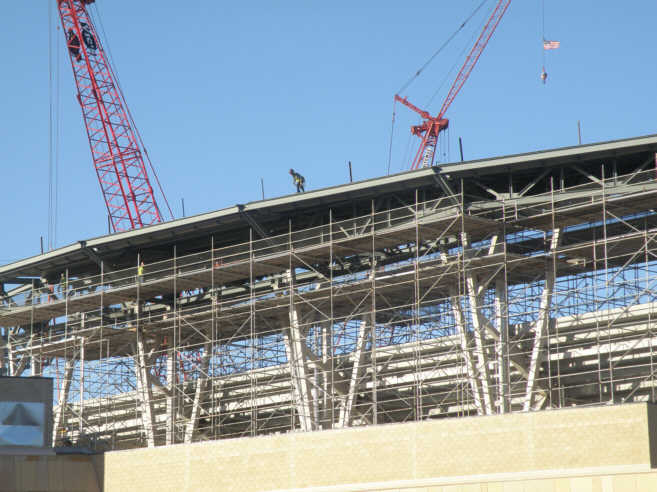 Building the canopy is a spectacular sight.
I realized something while watching the stadia go in. Though you might not think of it, when sitting in the lower seating bowl, you will actually be sitting on the roof of a building! Underneath you will be the clubhouse and a whole bunch of support activities.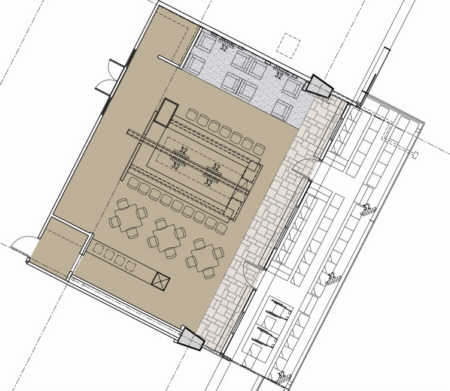 This was billed as a diagram of a super-suite. I'm not quite sure just where this (or these) will be located.
Stadiums really are weird buildings.
TwinsFest Review
Though I didn't get there, I know that many of you did.
Were you disappointed that you would not get a free Upper Club ticket to a game? Well, get used to that feeling.
As the days of a new ballpark slide closer, the team will be honing their ability to wring the most cash out of the fans. Just because they have a whole bunch of new revenue streams coming online does not mean that they shouldn't "optimize" the existing ones.
With season ticket sales through the roof (pardon the expression), it's easy to see why some of the nice perks of following a mid-market team will be slipping away. It's entirely possible that the cheap-seat folks will soon be the no-seat folks.
I don't want to harsh your ballpark buzz too much, but I'm just saying...
Moose's Review
Buried in the comments the other day was a terrific collection of info from Moose, who made the acquaintance of one Kevin Smith:
Special thanks need to go out to Kevin Smith, the Twins Executive Director of Public Affairs, and Al Schoch, Sports Director of the Minnesota News Network for their help today in answering so many questions of mine today and showing me around.
Here's what I got answered for you guys today:
1) The canopy will be made of metal. Not aluminum, but some sort of steel/metal product, and certainly not fabric. The only answer I got on color is the generic "champagne" that has been discussed before. Even Kevin Smith didn't seem to know exactly what color that was...
2) The main grandstand supports (lower level) will not be installed until the crawler cranes are completely done with their work. The ballparks size really has limited the work (even more than perhaps was initially thought), and the main bowl will be one of the last things constructed.
3) The Target Plaza renderings leaked on the net were "first drafts," and the final design won't be revealed for at least a month. When I asked why they wouldn't be available for Twins Fest, Kevin Smith said that he had pushed for that, but that the Twins are working, in some cases with a multi-million dollar corporation (Target), and a State agency (Ballpark Authority), and that doesn't always get things done on time.
4) Speaking of "leaked" renderings, the "shaking hands" logo in CF is in the plans, but it may not be in centerfield. They want to make it animatronic, so that the twins shake hands after home-runs, but things are in the early stages right now.
5) Back to renderings, and seeing new ones (especially the interiors). You can expect to see some new stuff at Twins Fest, but interior renderings are a ways off. They have some drawings in the club sales brochures, but they are more artist-conceptions than official renderings.
6) The NorthStar Rail line is set to open later in 2009 (no specific date was given). If that part of the ballpark is ready by then, it will be used as a train station before the official opening of the rest of the park. If not, a temporary station will be constructed. The light rail station will likely not be in operation until the park opens in the spring of 2010.
7) Don't expect every seat in Target Field to be entirely green. I'm not sure if this is supposed to be public knowledge, but Kevin Smith never told me it was a secret, so, here you go - the club seats (the excelsior level between the upper and lower level) will have green padded seat bottoms, but wooden backs. Every other seat in the main bowl will be entirely green. Also, the pavilion seats (right-center field in front of the B parking garage) will have the green seat bottoms (with no padding), but also wooden seat backs. They had examples of the club versions at the Marketing office in the multi-Foods building, and they looked sharp. You can see (and sit in) seat examples at Twins Fest.
That's about it. Hope I answered a few questions for you guys! It was a great day for me. I also got a chance to walk around (but not in) TCF Bank Stadium, and that place looks amazing too. This state is getting two phenomenal facilities in the next year and a half...
...
I forgot to mention - they have the pieces of the old Lakers floor, and haven't decided if they will be used in the Town Ball Tavern or not (as Kevin Smith noted, you never know, it may be more appropriate that the Timberwolves have them). Another concern is wear on the floors. I suggested that they put them on the ceiling, rather than on the floor, so that folks could see them, but they would not be destroyed be people walking on them. If that happens, I've got my contribution to Target Field design...
Also, the area in CF above the batters eye is still a work in progress (where the "Minnesota Twins Ballpark" sign is on the model, and where the shaking hands logo shows up in those renderings leaked last week). That may become a kids area, but again, it's a work in progress now, and no final design has been worked out (this is why those interior renderings may be a ways off - they still don't know what some areas will look like - and frankly, they've got time to figure some of it out. They're not too worried).
...
Kevin Smith personally physically placed both web-cams in their places, and seems to be the guy who would move it in the future (which makes sense for a Public Affairs guy over the team President)...
...
The seatbacks are a light maple stain. They had a couple in the Marketing office (examples with the padding, so club seats), and Kevin said he had to take them to Twins Fest. Check them out there. Like I said, I think they looked sharp, and should make the seating bowl look quite unique with mostly green seats, and the wooden ones contrasting in the club level.
Great questions, great answers. Thanks, Moose!
Jeff Reports
My mom handed me a column from Minneapolis-St. Paul Magazine's publisher, Deborah Hopp. I was surprised at the interesting tidbits she was able to report about the ballpark. I'd link to it, but it doesn't appear to be on their web site.
Before I could write a summary, however, Jeff posted one in the comments that you may have missed. A few of these things everybody who visits here regularly already knows. And a couple of these are already known to those who purchased a construction calendar, but the list is definitely worth a look.
I just read an article about Target Field in MSP Magazine, Top Doctors 2009 Edition. Most of it contained information we already know. Here are a couple interesting points:
- They plan on using Fir trees from Hinckley to line center field.
- Foul territory is narrower than at any ballparks, besides Wrigley
- $8 million Target contribution to the plaza upgrade
- The Old Met Flag Pole will be located at the end of the new plaza extension connecting to First Avenue by Target Center
- The rooftop bar in left field will be a mix between Stella's and Brit's. The rooftop bar will hang over the left field line
- The lighting in the canopy will make a major architectural statement...at night it will look like it's floating over the field
- There will be twenty rows of radiant heat
- Glass enclosure lounge for all ticket holders to escape the outside elements...there was no mention of where this lounge will be located
Thanks, Jeff.
Let me add a couple of things, also from the article:
- The official estimate is that 65% of the fans will enter the ballpark through the plaza.
- Dave St. Peter is predicting that the Metropolitan Club will be a hot spot for weddings in 2010.
Comment Management
You may have noticed the new comment link at the top of this article. I've set it up so that the site will remember when you last visited, and the comment link will take you right to any new comments which you have not yet read. The new ones will also be highlighted to make them easy to spot.
This is the first of several enhancements I have planned for the comments. I hope it saves you from some tedious scrolling. Enjoy!
Comments
To utilized enhanced comment features, please enable cookies in your browser.
---
This page was last modified on January 21, 2010.
"You talk about the magic, the aura, but what really makes a stadium is the fans. Concrete doesn't talk back to you. Chairs don't talk back to you. It's the people who are there, day in, day out, that makes the place magic."
– Bernie Williams
Explore the Site
Here are 50 images chosen randomly from the 3042 found on this site. Click the image to be taken to the original post. A new list is created every 10 minutes.


This area will supposedly show the Twins chronology. Will it stretch back to 1901?

Looking across the top of the B parking ramp. Notice that signage will block any attempts at seeing the game from up there. Also take note of the glassed in area which is part club and part office space for the Ballpark Authority.

Flagpole historian Ben McEvers at far right (click for the full photo set, graciously loaned to this site by Pat Backen)

(Click to enlarge greatly)


Just up the foul line, it looks like the base of the wall in foul territory on the right side.

This is the upper deck in Anaheim

Gate 6 Oliva, with the 573 Club looming large over it (I wonder how Tony feels about that)

Delmon Young getting warmed up

Larry DiVito, mowing

This is as close as I could get to a pedestrian-eye view of Seventh Street (looking west away from downtown). It's inviting, not imposing, and remarkably dignified.

A little ground's crew action in the first inning the other night.


Here we are waiting for the first train to arrive at the station (Nov 14).

If you are into shade, there are lots of opportunities. This is from the last row in section 108 -- scoreboard not blocked in the least.

Wrigley Field. Paradise? Not from these seats.

This area will supposedly show the Twins chronology. Will it stretch back to 1901?

Some details are visible here, like the back of an escalator.

Home Run Porch Terrace (bottom) and View (top) as seen from the top of the B ramp

This will be a great neighborhood. Note that the covering is being built for the emergency access. Also, note the streamers above, which appear to be monitoring air flow.




The scoreboard terminates the view on Fifth Street as seen from Hennepin

Those two empty seats in the front row are where we started the game.

TCF Bank Stadium. Not for baseball, but still pretty cool to watch being built.
Wow! Looking good.
Items promoting the Twins 2014 All-Star Game bid. I got to bring one of these buckets home, and Noah got his first-ever taste of Cracker Jacks.


A sampling of seats at Fenway Park

A few details worth noticing (Kauffmann Stadium, New Comiskey, Comerica Park, Source: LP)

Now, THIS is just some guy who appears to be hanging out on the LRT tracks talking to himself.

Banners on the parking ramp are a great touch. They help manage scale and turn a lemon into lemonade. On my way there today I passed the WCCO building and remembered how the Twins schedule used to be painted in giant form on the side of that building (which is no longer visible). Wouldn't that be a great thing to resurrect on the side of that ramp? A giant Twins schedule. I always thought that was cool.

Gate 3 "Killebrew"

Not my actual kids!




The glare problem.

Freight trains run in very close proximity (Jerry Bell was standing at my left elbow when I took this picture)


Champion's Club details (click to enlarge)


At Comerica Park, some aisles have railings and some do not.



Bird's-eye view of the trees
Glossary
BPM - Ballpark Magic
BRT - Bus Rapid Transit
DSP - Dave St. Peter
FSE - Full Season Equivalent
FYS - Fake Yankee Stadium (see also: NYS)
HERC - Hennepin Energy Resource Company (aka the Garbage Burner)
HPB - Home Plate Box
HRP - Home Run Porch
LC - Legends Club
LRT - Light Rail Transit
MBA - Minnesota Ballpark Authority (will own Target Field)
MOA - Mall of America
MSFC - Minnesota Sports Facilities Commission (owns the Metrodome)
NYS - New Yankee Stadium
SRO - Standing Room Only
STH - Season Ticket Holder
TCFBS - TCF Bank Stadium
TF - Target Field
Selected Bibliography - Analysis

Selected Bibliography - Surveys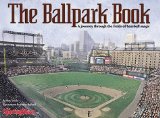 Not a "Third Edition" exactly,
but it replaced the above title
(2000)


Original edition (2000, round)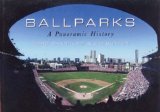 (2004, very large coffee table)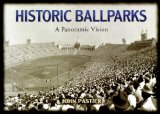 (2006, very large coffee table)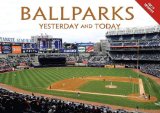 Combines the previous two titles
(2007, medium coffee table)

Selected Bibliography - Nostalgia



Book and six ballpark miniatures
(2004)