Leaves of Grass
August 29, 2009 3:18 AM

COMMENT
Something about this week has kept good old Walt Whitman in the front of my consciousness.
For the uninitiated, Whitman wrote (and re-wrote) "Leaves of Grass" around the time of the Civil War, and all but invented truly American poetry.
Beyond writing a book whose title perfectly sums up this week's activity down in the rail yard, Whitman was well known as an early baseball fan, and he spoke about it in prose and poetry on various occasions.
In our sun-down perambulations, of late, through the outer parts of Brooklyn, we have observed several parties of youngsters playing "base", a certain game of ball...Let us go forth awhile, and get better air in our lungs. Let us leave our close rooms...the game of ball is glorious. -- Walt Whitman, 1846
It's impossible to sum up what Whitman's poetry has to say about the American character, and equally impossible to know how he would have reacted to a Fourth Estate which has little interest in going beyond the press release, or a TV news culture which has the attention span of a gnat.
After recording as many of the local news shows as I could this evening, I expected to start this article with a few clips from the coverage of today's completion of the grass install. Oh, if only there had been any worthy coverage.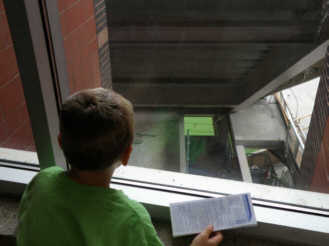 Yep, that's real grass down there, son.
What short stories I did find in the early evening programs dutifully quoted from the press release (again), slapped together some footage of sod rolls and bulldozers, and surrounded it with toothy grins. Of all that I saw, only KARE11's Jensen Twins did anything remotely creative, or gave the story more than a passing mention. By 10:00 PM, the whole thing was all but forgotten. That's a shame.
(As an aside, I would embed the video here but the damn KARE11 web site force-feeds commercials that you can't even mute. I'm protesting.)
The Jensens also got the most interesting quote that I heard from Larry DiVito (who is clearly uncomfortable with all the attention): "To grow grass in this climate is not the challenge it was 30 years ago, and we're pretty comfortable with the heating system we're installing, the type of grass we're installing and that we're gonna be successful up here."
The first statement is pretty remarkable, essentially dismissing (with justification) all of the concerns people might have about climate-related turf issues based on their memories of what outdoor baseball used to be like around these parts. Lord knows there were plenty of issues back at the Met.
The climate hasn't changed, but the average fan may not realize that field technology has changed substantially. It's really nothing short of a miracle, when you think about it.
Coverage was a little better earlier in the week, though all the stations pretty much looked the same. KSTP has some pretty cool pre-grass helicopter shots.
(The interviewer) said: "Baseball is the hurrah game of the republic!"
He (Whitman) was hilarious: "That's beautiful: the hurrah game! well — it's our game: that's the chief fact in connection with it: America's game: has the snap, go fling, of the American atmosphere — belongs as much to our institutions, fits into them as significantly, as our constitutions, laws: is just as important in the sum total of our historic life." -- 1889
In words, as usual, MinnPost outdoes everybody else in a terrific behind-the-scenes post by Alison Stoven O'Connor. That's far and away the most interesting and informative article I read this week.
The Strib used much cheaper tactics and tried to rile up some animosity from local sod growers. Pitiful. Of course, they also covered the Guv's inevitable -- and inevitably lame -- response.
And people wonder why that paper is dying. It's not the good people working in the trenches. It's the management and editorial staff who encourage this type of garbage in the hopes that they can stir up a profitable rhubarb. The Twins have good reasons for selecting the vendor they did, and they are right up front about it. In baseball, every tiny advantage counts. And I think you can reasonably say that the right grass is more than a "tiny" advantage.
In fact, MPR gets some good quotes about how the team may manipulate grass length. It's an old story, but there's something there that is worth knowing. It's one of the ways they will be able to revel in the fact that it isn't artificial turf!
"I believe a leaf of grass is no less than the journey-work of the stars." -- Walt Whitman
It's now well past midnight, and the 24-hour news cycle has left the grass story to fade from public consciousness. But I'm just getting started.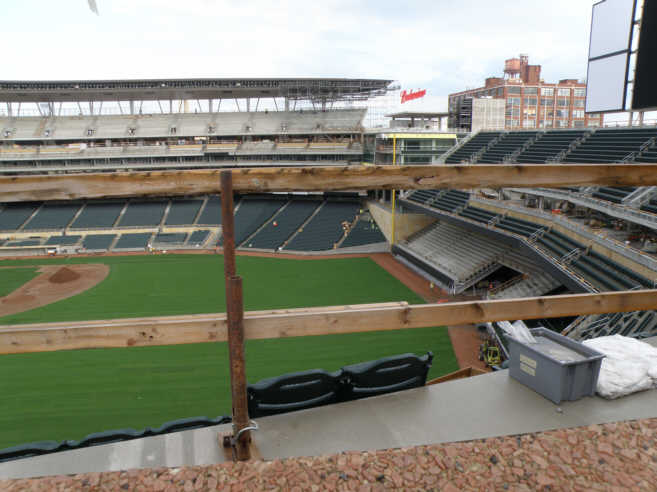 Another over-my-head shot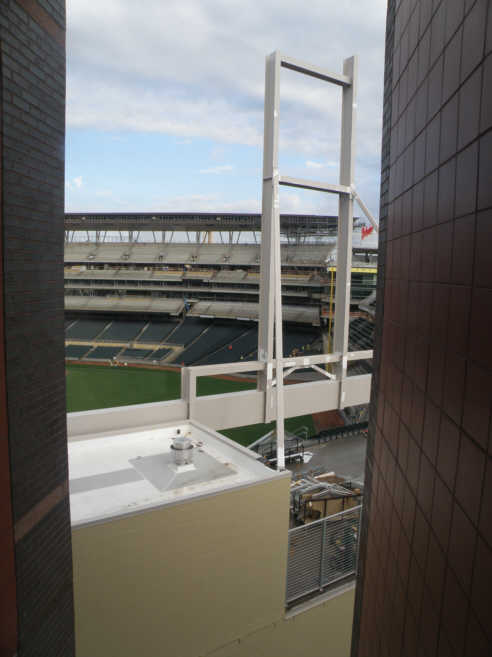 Parking ramp knothole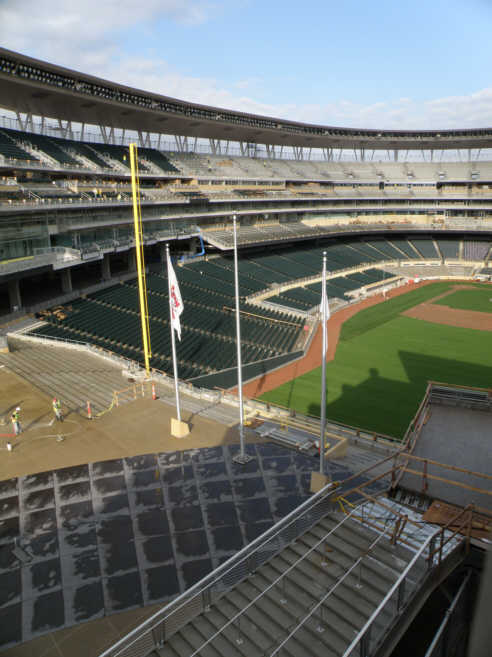 B ramp glimpse
Another B ramp glimpse (don't loiter here!)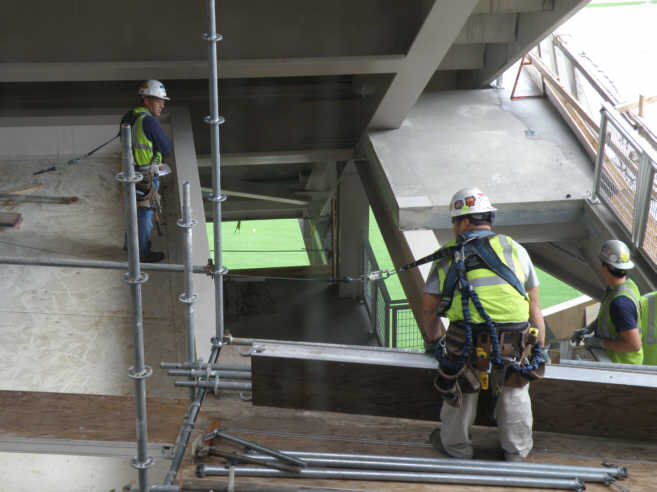 Workers against green
I don't think it's coincidence that it is not possible to see even a single blade of playing field grass from the skyway. (This is not a lament, just an observation.)
Here's the best shot I got, a variation on the one I posted earlier, taken with the camera held over my head, while trying to stay moving lest I be hustled away by parking ramp security ("No Loitering" signs are everywhere):
Because I couldn't be around for the actual sod laying, here are a couple of galleries worth checking out:
Twins Official Gallery 1
Twins Official Gallery 2
Ballpark Authority Sod Gallery
And don't miss this summary of the timeline for completion.
There's also a lot of grass and other greenery to be seen out on the plaza.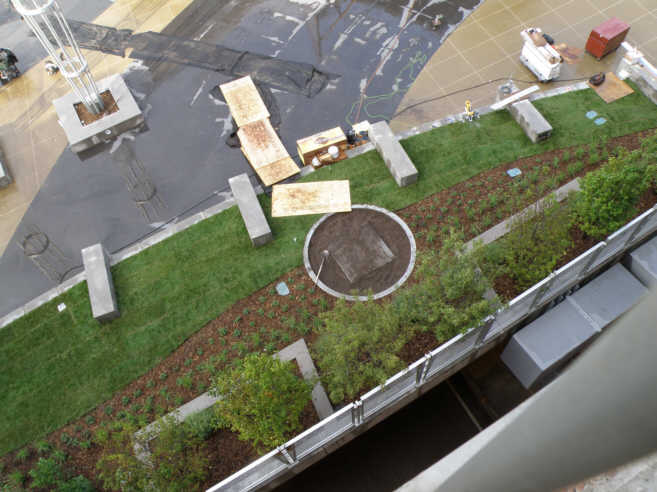 The big glove will go on that circle. Note the gap between the plaza and the ramp. That's 394 you can see through there.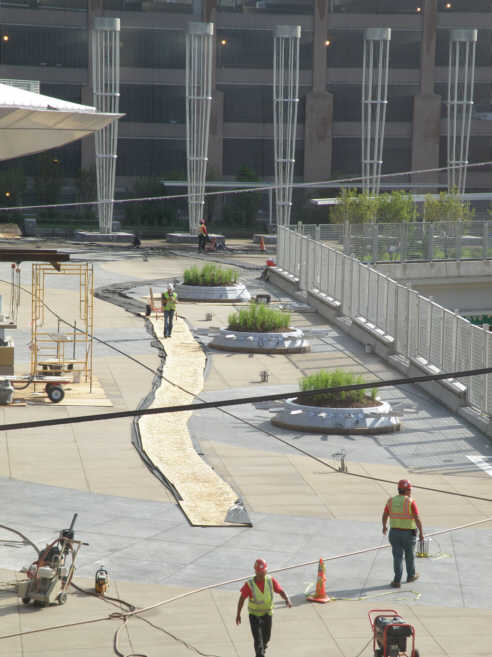 A path for workers -- don't touch the plaza! -- in front of three giant Chia pets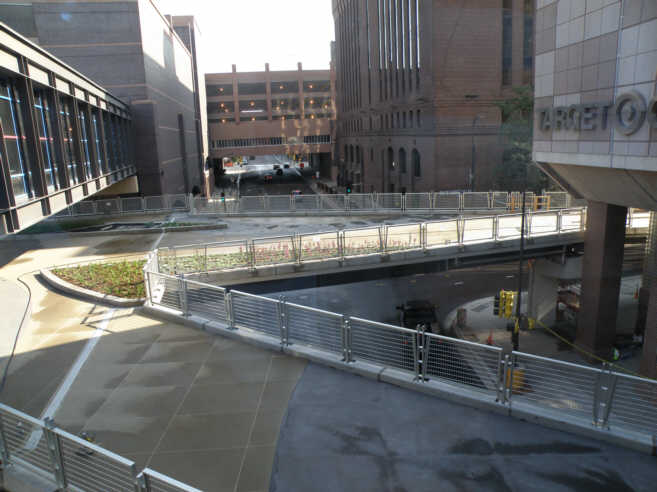 Purple flowers above Second Avenue
Some infrastructure stuff: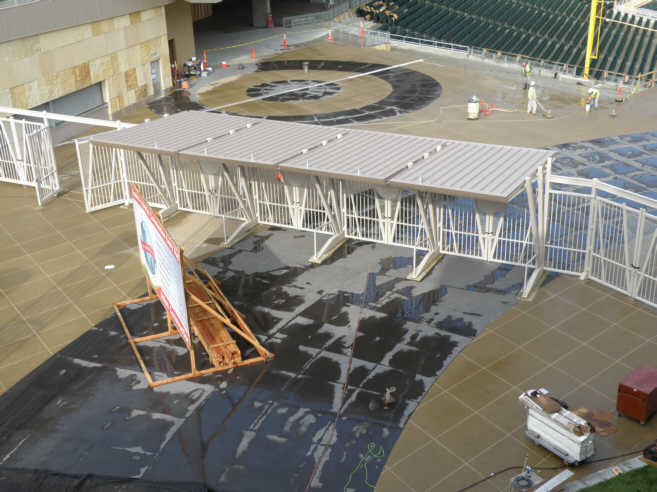 Gate 34 Puckett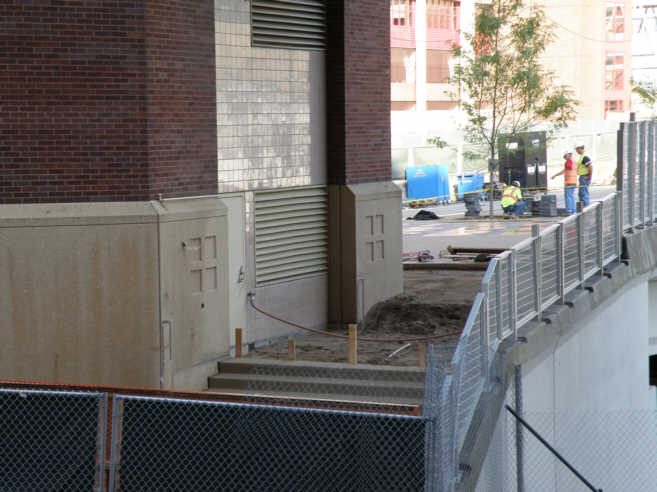 You can finally see how the plaza will meet the street on the north side of this emergency exit tower (which will be converted to a regular entrance/exit)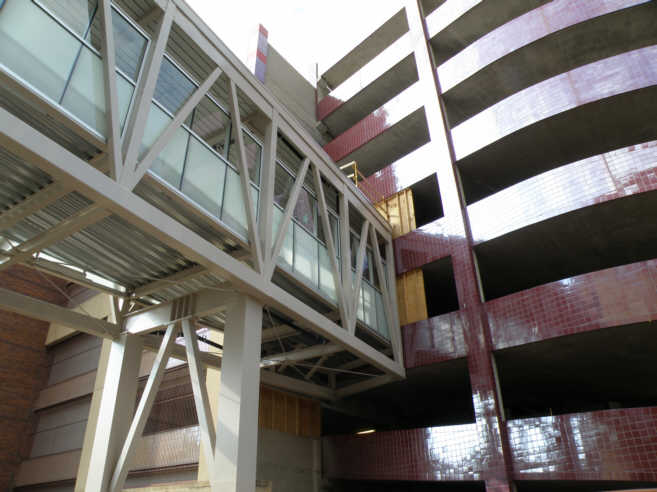 I realized I've never shown how the walkway over Seventh Street meets the A ramp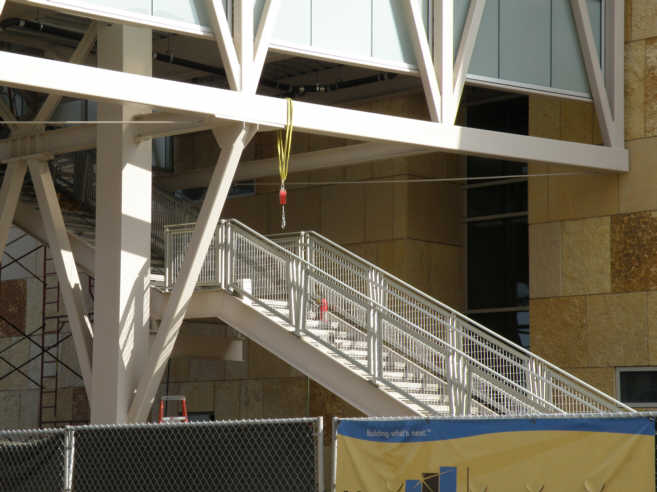 Stairs down to Seventh Street now have the start of railings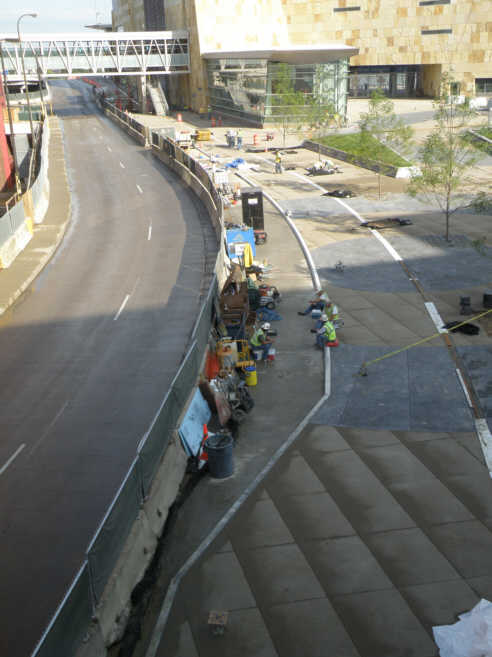 The parking bay structure is now clearly visible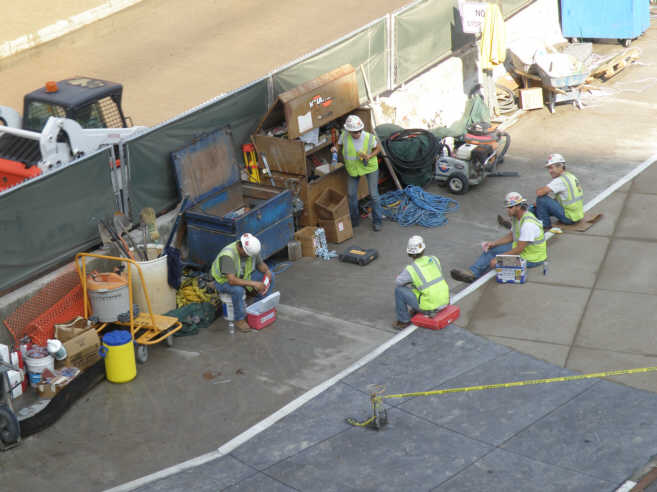 Break time
Louvres (oddly without any random gaps like the Fifth Street facade):
Seats: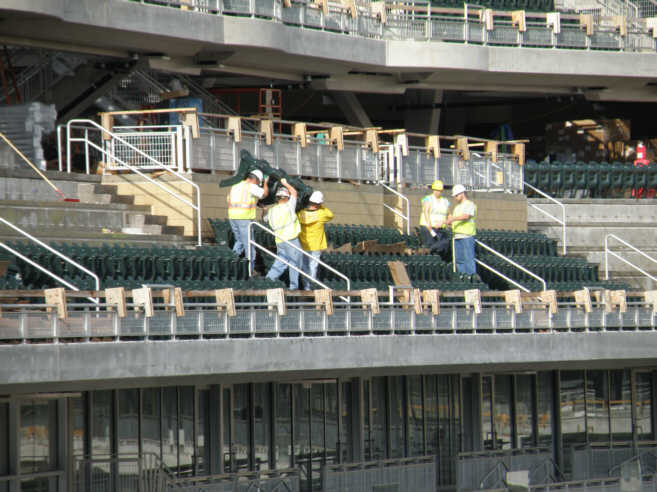 Notice the temporary railing extensions
And a little bit of sky, just for fun:
There you have it, the sum total of my hour-long walking tour.
On a day when I got some discouraging news about my own artistic aspirations, and was again frustrated in my attempts to help the Twins tell the story of Target Field, let's give Uncle Walt a shot at providing some context:
It is a beautiful truth that all men contain something of the artist in them.
And perhaps it is the case that the greatest artists live and die, the world and themselves alike ignorant what they possess.
Who would not mourn that an ample palace, of surpassingly graceful architecture, fill'd with luxuries, and embellish'd with fine pictures and sculpture, should stand cold and still and vacant, and never be known or enjoy'd by its owner?
Would such a fact as this cause your sadness? Then be sad. For there is a palace, to which the courts of the most sumptuous kings are but a frivolous patch, and, though it is always waiting for them, not one of its owners ever enters there with any genuine sense of its grandeur and glory.
I think of few heroic actions, which cannot be traced to the artistical impulse. He who does great deeds, does them from his innate sensitiveness to moral beauty.
Whitman sure covered a lot of territory. He had a keen sense for beauty, history, art, humanity. These are all things which need be present in architecture (and business, and life) for it to soar and capture the imagination of those with whom it comes in contact.
As such, while grass has certainly humanized this ballpark to a degree, it's only a small milestone. Whitman would be the first to say that a place isn't a place without people.
Can you wait?
Thanks for stopping by today, and for keeping things going in my absence. Next, I'll return to TCF Bank Stadium for a bit. There's lots more to see there, and it's quite relevant to what's going on here. Until then...
Comments
To utilized enhanced comment features, please enable cookies in your browser.
Hide Facebook box
---
This page was last modified on August 29, 2009.
"You talk about the magic, the aura, but what really makes a stadium is the fans. Concrete doesn't talk back to you. Chairs don't talk back to you. It's the people who are there, day in, day out, that makes the place magic."
– Bernie Williams
Explore the Site
Here are 50 images chosen randomly from the 3019 found on this site. Click the image to be taken to the original post. A new list is created every 10 minutes.


A mass of rebar and complicated cable runs ready for a pour.




These tracks actually travel beneath the admin building and come out on the other side

Bird's-eye view of the trees



A path for workers -- don't touch the plaza! -- in front of three giant Chia pets

Here is where the signature art (original Twins logo) will be placed.

Bronze glove delivered (awaiting installation) with Met flag pole horizontal behind the gate




Look beyond the gigantic hand (a hounds tooth jacket? really?) and you'll get a glimpse of the main grandstand configuration. The two (or is it three?) levels of suites are visible, as is the design of the so-called "split upper deck," and the extensive use of limestone for decorative accents. Let's hope these little touches don't get cut as costs increase, because they make a nice tie-in from the outside of the park to the inside. Of most interest to me is the way that the very best seats are physically separated from all the rest of the seats by that limestone. There will be virtually no way to sneak into these seats. On one level, that's a somewhat sad design feature...


Click to enlarge.


Town Ball Tavern balcony


From behind the wind veil



Lots of self-portraits were taken here after the final out.

A slightly different elevation drawing, again viewed from Fifth Street, with some labels. (Click to enlarge.)

Arizona

Who Owns What (Click for larger version. Source: Ballpark Authority)

The pink thing is a mascot. (Actually, with a damn fine mascot actor underneath.)

Not sure what those supports are for -- probably stadia.

The reverse angle shows that the signage will only partially obscure views from the top of the ramp. The wall is pretty high up there, so you'll need something to stand on, but it appears that this is one of the so-called "knotholes".

Frost on the pumpkins, snow on the plaza

Time to paint those supports Vikings-purple.


A view straight on of the Pro Shop area and ticket windows (just barely visible). The piers you see beneath the plaza are already almost completed (see final photo).

The New as viewed from The Old.


Steps, skyway, and plaza intersect.

I think AP is in there somewhere...

A scene repeated about a million times each game


A spot that's always full!


Here's the entrance from the seating bowl. It's down the outer moat, just beyond the last of the Dugout Box sections.

The restaurant.


Did I mention that the cheerleaders looked pretty sharp?

Look at all that blank space. Canvas! (What should go on those walls? A giant schedule perhaps?)
/a>

Inexplicable bright yellow baseball amid the trees.

From the best seat in the house (Section 8, Row A), the right field corner is blocked. (No one may care. Fine with me. People should know.)
Glossary
BPM - Ballpark Magic
BRT - Bus Rapid Transit
DSP - Dave St. Peter
FSE - Full Season Equivalent
FYS - Fake Yankee Stadium (see also: NYS)
HERC - Hennepin Energy Resource Company (aka the Garbage Burner)
HPB - Home Plate Box
HRP - Home Run Porch
LC - Legends Club
LRT - Light Rail Transit
MBA - Minnesota Ballpark Authority (will own Target Field)
MOA - Mall of America
MSFC - Minnesota Sports Facilities Commission (owns the Metrodome)
NYS - New Yankee Stadium
SRO - Standing Room Only
STH - Season Ticket Holder
TCFBS - TCF Bank Stadium
TF - Target Field
Selected Bibliography - Analysis

Selected Bibliography - Surveys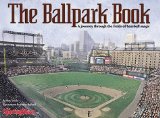 Not a "Third Edition" exactly,
but it replaced the above title
(2000)


Original edition (2000, round)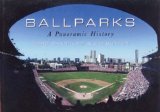 (2004, very large coffee table)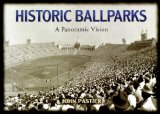 (2006, very large coffee table)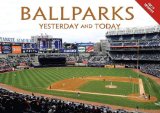 Combines the previous two titles
(2007, medium coffee table)

Selected Bibliography - Nostalgia



Book and six ballpark miniatures
(2004)