Nine For Nine
Working My Way Around Target Field
June 17, 2011 2:46 AM

COMMENT
Let's go! Batter up!
We're taking the afternoon off!
Spectacularly beautiful.
Those are the only words which can describe the weather, as well as the time I had, out at Target Field today. These are the types of days you dream about when you're shoveling snow, or sitting in a meeting, or doing just about anything which isn't out at the ballpark.
I stepped out my back door, took one look at the blue sky dotted with fluffy clouds, and started singing to no one in particular:
It's a beautiful day for a ball game, for a ball game today...
My goal for today: See each inning from a different vantage point. With nine innings, I could see nine sections.
There are way more than nine sections, of course (152 to be exact), and more than nine ticketing levels (I count 23), so I had to pick a representative sampling that would let me do some comparing and contrasting. I decided to work my way around from right to left, ending out in right-center.
But I didn't want to get too lost in observation and note-taking, so I also resolved to watch the game closely and keep score. It wound up being the first game I scored completely (without cheating by looking on my phone for something I missed) since Target Field opened.
It was an awesome experience, and I'll give you the end of the story first. Though the views varied widely, each section had advantages and disadvantages, sometimes correlated with pricing, sometimes not. Target Field is a great place to have a baseball party, but a darn good place to see a game too.
My opinion of what I experienced may not match yours or anyone else's, but that's the great thing about having 40,000 seats. There's something for everyone.
And on this day, that something also included blue sky, sunshine, the perfect temperature, and a terrific Twins win.
1st Inning - Field View 301, Row 2 ($14)
Blackburn and Buerhle each sent the hitters down 1-2-3. Twins 0, White Sox 0
I decided to start out as far from the action as you can get in the main grandstand. At the first pitch, the section was sparsely populated, but it would eventually be full -- just like every place else.
It feels distant, without a doubt, but it recalled very closely the view I eventually got used to over at the Metrodome. Indeed, when the two seating charts are superimposed, this section matches almost identically to the old Family Section.
It's not a bad thing. You're at the game and you still have some cash for food. Just don't expect to be much of an armchair umpire out there. Between the angle and the distance, the strike zone is pure guesswork. The main scoreboard, on the other hand, was perfectly positioned for viewing from here.
As I removed my cap for the Star-Spangled Banner, the gentleman behind me leaned forward and asked if I went to many games. Tough question to answer because I know lots of people who go to many more games than I do. But I also knew from the conversation I'd overheard, that I go to a whole lot more than they do.
It was a bus tour group from Watertown, South Dakota in for two games. (They expressed great relief that they hadn't been scheduled to see Tuesday's rainout.) In addition to baseball, they had gambled and stayed at Mystic Lake, and visited the Mall of America.
They were playing a little bit of trivia: Who is the only current MLB manager born in South Dakota? Who hit the first regular season home run at Target Field?
And they were talking about the big thrill of the trip: meeting organist Sue Nelson. Every time she played, they perked up, and expressed delight that they'd been able to get a picture with her which could grace the front page of the home town newspaper.
The two guys I chatted with were totally charming, and absolutely tickled to be at the game. If you've never lived outside the Twin Cities, it may be hard to understand what that's like. But I have, and I do.
2nd Inning - Right Field Bleachers 141, Row 10 ($21)
Nishi made the first of two amazing stops which unfortunately couldn't be turned into outs. The White Sox couldn't capitalize on two hits and a Blackburn throwing error, but Michael Cuddyer put the Twins on the board. Twins 1, White Sox 0
As I made my way down, tons of people were streaming in gates 29 and 34 and up the escalators. What are you people doing? I thought. You've already missed an inning!
I was moving against the current, and though I had originally planned a different move, I found myself only able to get to the bleachers. The last row was empty, and I sat down in the last seat, as far in from the foul pole as the bleachers go.
It wasn't unbearable, but it would turn out to be the worst seat (and most overpriced) that I sat in all day. In addition to the discomfort of the bleacher seating, the sightlines were lousy and the aisle traffic was horrendous. This turns out to be due to two unrelated factors. First, the aisle which goes to section 141 also is pretty convenient for people sitting on the outside edge of 101. Rather than making everybody in their row stand, they can just hop a short fence. Makes sense -- and traffic.
Second, the signage is pretty bad. The sign above the aisle actually says "141 | 140" and a lot of people came down the aisle thinking they were in section 140.
That aisle only goes to section 141. The aisle to section 140 is about 30 feet to the right. Bad signage.
As I settled in, a woman appeared at my elbow, holding the ticket to the seat I was in, so I slid down. As I did, I caught the back of my leg on the sharp corner of the bleacher and created a nice scratch. I don't like seats that bite me.
I asked my new seatmate if she had family or friends coming who would fill up the row. She explained that she'd gotten the ticket at work, and thought she might see some coworkers there, but did not.
Turns out that Wells Fargo had purchased the seats and sold them to employees at the STH cost of $17. Then they said to the folks who bought the tickets: We're taking the afternoon off! Pretty generous, if you ask me. Would your employer do that?
She also told me a story about a friend who worked for Target and had recently celebrated her 30th service anniversary with the company. In lieu of a party, she had opted to see a Twins game, and her boss sprung for seats in the Champions Club. Once again, pretty generous. Would your employer do that?
Ultimately, I felt rather isolated from the action in this seat. I was at the game, but also held at arm's length. Not particularly pleasant. Maybe it would have been more pleasant if my employer had given me the afternoon off to be there (and sung a few bars of that song).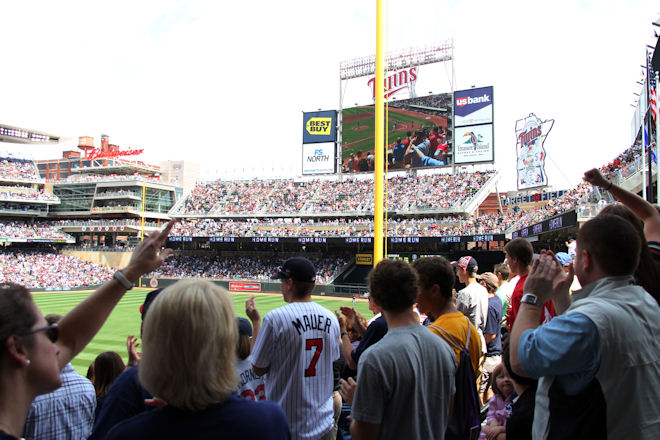 Cuddyer's shot to the bullpen would be the difference in the game.
3rd Inning - Field Box 103, Row 17 ($36)
Blackburn again sent the Sox down in order, and the Twins were unable to make anything out of a hit batsman and a walk. Buerhle got three flyouts to center in a row. Twins 1, White Sox 0
My new seat was almost on a straight line running from my previous seat toward home plate. But that's about all it had in common with it.
I was now a whole lot closer, and the action started to seem much more immediate. Plays at first base were a joy to watch. And being down closer to the field level lets you appreciate so much more the skill needed to field even that routine grounder to second.
For the first time of the day, I felt sunshine on the back of my neck (the previous two seats had been in the shade), got a glimpse of right field (invisible from the previous two seats), and heard the rhythmic patter of in-seat vendors -- and lots of them. At least five beer guys (dispensing four beers for $29, yikes!) came and went during that inning, as well as a noisy hot dog guy, a more sedate popcorn girl, and a couple others that I managed to block out.
Since I was on the outside of the section, this didn't really bother me because it was all happening behind my back. Had I been on the other end of the row, with the marketplace between me and the game, it would have made me crazy, likely spoiling the experience. My rule for the lower deck: always sit on the outside of a section.
To check a batting average, I sought out the main scoreboard, and discovered it to be a very large head swivel and tilt away. That's hardly a comfortable move. I could tell that, unless I really needed to know something, I wouldn't be looking up there very often. (Score one for the cheap seats.)
The guy I sat down next to had a light blue, mid-70s Killebrew jersey on, though he looked way too young to have been a fan back in those days. He said he'd purchased it "about a month ago" for $40 (which included shipping) on some Japanese web site. It looked good, but just had to be a knock-off, complete with convincing reproductions of the Majestic logo. But he gets props for buying it as a tribute.
Know your heroes, people.
The quality of this seat matched its price quite nicely. Being down low, while intimate to infield plays, has the disadvantage of not being able to get the overview of the field. (Score another for the cheap seats.) Personally, I would miss that, but could see how these would be just great for many people.
4th Inning - Home Plate Box 116, Row 23 ($53+)
Each team had a single, of which nothing came. Nishi started a double-play. And Cuddyer avoided running into one by turning around and racing back to first after Hughes struck out.
Twins 1, White Sox 0
It was time to try out a couple of heavy hitter sections. Getting there was tough and time-consuming because the main concourse remained completely frantic with people. Why don't you people go sit down?!?
I sat down next to Harrison from Oshkosh, who was finishing up a plate of loaded nachos. He and some friends had come in just for the series, staying at the W Hotel, and one of the girlfriends was still at least an inning away from the ballpark, so he was happy to share her seat with me for an inning.
He said they had tickets to all of the games in the series, and were disappointed to have been rained out on Tuesday. I asked if he thought they could road trip again for the make-up game, and it clearly had not crossed his mind. I had planted a seed...
A Brewers fan, he said that he wondered why there was no roof here (he also said he was a fan of Safeco), but admitted that he'd not seen a ballpark nicer than TF. (He also chafed visibly at the thought of Prince Fielder as a Cub. "What the Brewers need to do is win the World Series this year so he'll want to sign with them." Not a bad plan, I suppose.)
The seats were under the Legends Club overhang, so we were several rows into the shade, a welcome development. Despite the cover, the main scoreboard was still fully visible, and only an easy eye movement away.
We were also behind the netting, which I always find to be distracting. But not nearly as distracting as the giant head which was right in front of me. That guy was a little tall, but not that much. Concern about who is sitting in front of you is warranted in these parts. Sightlines, I gotta say, were marginal at best. It may get better as you get lower, but I don't think that's a guarantee. It's a subject for further research.
From what I could see, the immediacy of the fielding plays was more muted, but the batter's task now became the primary focus. When you see the pitches coming from this angle, you understand just a little bit more why someone might swing at something that started on one trajectory, then took a nasty turn. You can also see how judging pitch speed is tremendously difficult.
You also get a deep sense of the distance from the plate to the fences. They look almost impossibly far away. Who would think they could hit a ball that far?
I didn't ask what the guys had paid for the tickets (what with it being a variable pricing section, there's no way for me to know without asking, though with Stubhub, that's true throughout the park). Some will believe that these seats justify a higher price, but I would agree only to a certain extent. Even the STH price of $53 seems like too much for the back of this section. Maybe that would be OK for the front, but these seats were just OK.
Frankly, if I'm going to sit right behind home plate, I'd rather be either in the Champions Club, where the hitter's game really fills your eyes, or up higher, where a general overview is possible. To each his own, I guess.
5th Inning - Dugout Box 15, Row 8 ($82)
Again, each team has a hit, but nothing comes of it. Blackburn and Buerhle are dueling, both on cruise control. Twins 1, White Sox 0
Across the moat, it's a different world. Worth the price? Maybe.
This is the section just beyond the end of the Visitor's dugout, and it was relatively sparsely-populated. In fact, it was kind of like the crowd density back in 301. With the rest of the ballpark now almost completely full, it took me a while to figure out where everyone went.
The most notable feature here is the very high danger level. You're not behind netting, and the hitter seems to be pretty close. I didn't have my glove, but certainly wished I had. For the most part, people seemed pretty unaware of the potential doom. The guy behind me brought his glove, but it was sitting on the ground next to my feet.
Here you get to observe closely the life of a third base coach. It's a lot of clapping, roaming, talking to umps, and tapping various portions of your anatomy. With a runner on third, I'm sure it's quite exciting. (Contrast this with the first base coach's life, which appears to be mostly whispering and batting helmet management.)
Also, you can get a glimpse of why it's called the "hot corner". The third baseman's job appears even harder than the second baseman's, as the "routine" grounders are fewer and farther between. Everything seems to be faster, harder. This isn't news, of course, but it's quite something to watch, and these seats are a great place to do it.
Don't plan on doing much scoreboard-watching from here, however. It's way, way up there, and hard to see clearly -- kind of like looking at your LCD TV from the side. Also, you will be forgiven if the seat angle reminds you of the Metrodome just a little. These seats are not articulated toward home plate. They essentially face straight forward, more or less toward center field.
I have come to believe that Populous uses a formula something like this: If some portion of the infield is within 15 degrees of straight forward, there is no need to articulate either the section or the seats. Just a hunch. The crick in your neck, on the other hand, could be very real.
As something of an offset, for the first (and only) time of the day, I sat on a cushioned seat. This may be the big advantage down there. They certainly are comfortable.
I sat down in an empty row, and before the inning was up, some of the occupants returned. They weren't in a very good mood -- certainly no mood to talk to some stranger. I didn't even try.
But they were loaded down with food and drink, including a cheese dog which almost immediately spread its payload all over this guy's pants. That's when I noticed that people were returning all around me, and they all had food.
And it was then that I realized why the place was so empty: There were hardly any in-seat vendors, and it's a very long walk to the main concourse to get a snack. And even though there's a very handy concession stand nearby in the Third Base Lounge, apparently not everybody in these seats is aware of it. Or maybe they think it's exclusive somehow.
I overheard one conversation in which an usher was enlightening a fan about it, actually trying to convince him to go down there and check it out!
Apparently, the family in this row had trudged all the way up to the main concourse, fought the crowds, stood in the long lines, and then made their way slowly back down. With the way these guys were pitching, I bet that trip took at least two innings.
Know your ballpark, people.
6th Inning - Left Field Bleachers 129 ($23)
The Sox strand Alexei Ramirez at third, and the Twins go quietly. Twins 1, White Sox 0
Now to the outfield, where value is always a prerequisite, and the immediacy of the game has diminished substantially. Prices have also gone down. But enough?
Once again, getting here was very time-consuming due to the crowds. The gate 6 corner is usually among the less-traveled during the game, but it contains a little choke point as you come around the pro shop. Even with the seating bowl appearing essentially full, there were all these people filling up that path. The attendance came in just under 40K. The place wasn't sold out. So where do these people belong?
Once I found a bleacher seat, I noticed immediately that things are more leisurely out here. Lots of people are eating ice cream or nachos. I'm back to bleacher seats, but these don't bite me. There's room to stretch out (though, as commenter Chad points out, stretching may lead to kicking of the person in front of you, or being kicked yourself from behind).
It's actually a very cozy atmosphere, and you do really feel like you should be ready to catch a home run ball. Here your glove is more a source of potential souvenir than an implement of self-defense. Sightlines are excellent.
You may think you've traveled back in time. Go with it.
In terms of the game, you are now living the life of a left fielder. For each pitch, he has to get himself set and focused, then relax and shake it off when the ball goes somewhere else. He'll repeat this process 100 times or more per game. Juan Pierre would get three chances to touch the ball in this game; Jason Repko, one.
I remember playing in the outfield. Existential questions flit through your mind. If I weren't here, would anybody notice? If I slipped into this scoreboard for a moment, would the world come to an end? You actually come to believe that, since the chances of needing to do anything are so slim, you can probably just enjoy the sky and clouds and grass until you hear the crack of the bat. (Snoopy and Lucy come to mind here.)
So, you gotta admire the professionals. It might look easy at first, but when you really watch, it's a mental game of staying ready for the physical game.
I think a lot of people would find this section to be a pretty good balance between price and location. But the family in front of me had a different opinion:
"These seats...not so much."
7th Inning - Home Run Porch Terrace 233 ($24)
Offense has dwindled to almost nothing. Each half-inning featured a walk. And Nishi did the turn on a double-play. Get right back on the horse, eh? Twins 1, White Sox 0
Up and out, and it feels like it.
All around the ballpark, the Terrace level is made up of small sections which hang off the front of the upper concourse. In the outfield, these are actually a full level lower than in the main grandstand, the height of which must accommodate the Legends Club. In other words, out here, you're sitting at the same height relative to the field as the Legends Club. (If you think of Target Field as a six-story building, which it is, the upper concourse of the main grandstand is on the fifth floor, while in the outfield it's the third floor.)
But while the height may be the same, the distance is much greater. And being so distant, and nicely shielded from the fracas in progress on the concourse behind you, these little sections are actually very quiet. There's something about the configuration, maybe it's the brick wall at the back, or just the presence of only five rows, but every conversation can be heard.
Just behind me, a girl sat on the steps in the aisle (sleeping usher, I think) and carried on a whispered conversation with a guy sitting in his seat at the end of the row. Seriously, she was whispering. (I wasn't trying to hear her, and could not, but I couldn't help noticing how weird that was in a building filled with 40,000 people.)
But the acoustics also made it possible to really appreciate the roar of the crowd coming from the main grandstand. TV and radio just can't accurately capture that sound. It's part whoosh of air, part white water rapids, part freight train, part wild animal stampede, and part tornado. Even when nothing much is happening, the murmur of the crowd on the other side of the field is crystal clear, and it sounds a little like an engine idling quietly, or maybe a gentle rainfall.
Because this section faces the sun, the seat back was pleasantly warm when I sat down. The sun had been dancing with the clouds all day, but the warm seat reminded me that, were it not for those clouds, these seats would be cooking. That's why these seats are among the first to empty out on hot days.
The 7th inning stretch came, and out in this region was accompanied by much photography at the railing. Moments later I heard a hot dog guy enter the section. "Hot dogs! Hey, what inning is it? Bottom of the 7th? Oh! LAST CALL for hotdogs!"
The view of the game from up here is nice, but there is no semblance of immediacy. You're in a cheap seat, and it feels like it. It's one notch from watching on TV (for some, that's a notch down, by the way.) But for those who just want to be in the ballpark, it'll do. ($5 cheaper and I might change my tune.)
One last thing. I came to realize that you lose a lot of stats out here since you can't see a whole bunch of ribbon boards or the out-of-town scoreboard. Obviously, you also can't see the main scoreboard. The new auxiliary scoreboard is a godsend for these seats (though I think they're still figuring out how to best use it).
And that brings me to a pet peeve I was reminded of while sitting here: I still have no idea where to look in this ballpark for scoring decisions. Maybe they could electrify that Thome home run sign and light the H for a hit and the E for an error. Something. Anything. Please!
8th Inning - Home Run Porch View 333 ($21)
Blackburn gives up a couple of hits, one of which involved another amazing stop by Nishi. With Buerhle done, Jesse Crain's errant pick-off attempt moves Nishi to second. But that would be it. Twins 1, White Sox 0
Much as I didn't want to, I continued my climb toward the sky, this time settling into the front row of one of those little eight-seat sections above the stairwells. A grandfather with three grandkids sat in the row behind me.
On my way up, I thought I might get a burger (having not eaten a thing all day). But the line was extraordinarily long, a mystery explained when I found my new seat.
The grandfather explained that he'd purchased the tickets, and on Tuesdays and Thursdays they come with a coupon for a hot dog and soda. Aha!
Now, I thought immediately that these seats are pretty lousy, but I'd been on a wild ride for the seven previous innings, so it may have clouded my judgement. I decided to ask directly for a review from those who had been sitting here for the whole afternoon.
It was a dumb question, I know, because everyone says the same thing about tickets they've paid good money for. "They're pretty good -- for the money." Not overly enthusiastic, but a reasonable reaction. The food was also mentioned as a mitigating factor.
But a few moments later, when not responding to a direct question posed by a stranger, I heard the truth come out.
"Boy, I can't pick the ball up off the bat at all," said the grandfather to his grandson, who readily agreed.
One positive was that the little sections of eight seats turned out to be OK for traffic flow. There was more traffic, of course, because you're surrounded by aisle on three sides, but it wasn't an impediment to seeing anything, and was easily ignored.
These outfield View sections are sold a lot to groups, and they really fit that purpose beautifully. If you really want to be at the game, go for it. But if you have a choice between this and anything in the main grandstand View sections, take the latter. You'll probably be happier.
9th Inning - SRO behind Pavilion 133 ($26-ish standing, $25 for a seat)
Matt Capps can't get the 1-2-3, but he gets the save. Twins 1, White Sox 0
My plan was to finish the game in a Pavilion seat, but it was not to be. The section was still pretty full, and there's not much to it -- only five rows. So, with tons of people standing quietly behind the seats (many featuring oddly blank stares), and ushers able to see everything, empty seats remain empty. This is the only area of the ballpark where I found this to be the case (and the only area I've ever found an usher who was routinely, shall we say, less-than-smiley).
So I did the only thing I could and pulled up behind a couple of tall guys to watch the top of the ninth.
The view is typical outfield, and as tight with the action as seats so high off the ground can be. Given that there is a roof above your head, it's a very different experience from sitting in the Overlook (which I've done on several occasions), though the view is comparable. The shade, on a day like today, was welcome. At $25, these seats are priced just about right.
Deep in my heart, I hope someday they move the fences in by about five feet in right center, and replace these seats with a sort of Green Monster Seat equivalent. Imagine a section tiered down (similar to the Bud Deck), much closer to the action, with high-top tables. Good for the offense, if nothing else.
After sitting for the previous eight innings, I was ready to stand, but the drop in immediacy is off the charts. The SRO option is truly just for the person who wants a foot in the door for the event. The hope is, I guess, that once the novelty of the ballpark wears off a bit, they won't be able to sell as many of these. Ultimately, all the milling about by the seatless is pretty annoying, and kind of depressing.
With less SRO being sold, the park could return to the way it was originally intended to work, i.e. people with seats can stretch their legs a bit and still see the game. That's just not possible in the current environment.
Of course, as we've learned, days of uncomfortable temperatures also push people from seats to standing areas. The open design does have its downsides.
But as SRO spots go, this was actually among the least crowded that I saw. I had two tall guys in front of me, but could see pretty well between them, enough at least for half an inning.
Thankfully, the top of the 9th was just about as fast as everything which had gone before. Total time of game: 2:09!
Twins win! Spectacularly beautiful.
Comments
To utilized enhanced comment features, please enable cookies in your browser.
---
This page was last modified on June 20, 2011.