A No Photo, Web Only Tour
May 23, 2009 3:41 AM

COMMENT
The offer came as something of a surprise on Monday. Dan Kenney, Executive Director of the Ballpark Authority, contacted me to say that he would be taking a few other web guys on a tour of the ballpark, and he asked if I would like to join them. One condition: no photos.
Well, despite that obvious impairment, how could I say no? And that's how I got the pleasure of spending 90 minutes ogling what's new over at the ballpark with some kindred spirits whose work I've greatly enjoyed, but whom I had never met: Shane, Freealonzo, CheeseHeadCraig, JeffT and Ryan (late of Twins Chatter). (Sorry guys, but my somewhat stupid new phone -- LG Voyager -- let me down, and our group picture wasn't there when I went to download it. But hey, this was a no-photo-tour anyway, right?)
I learned a few things, and there were some great moments. Be sure to read their entries (linked above) for additional details. Since I can't show you what I saw, I'm going to have to focus on what I learned.
ATM Ticket Machines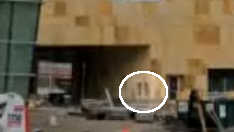 ATM-style ticket machines will be here
At the corner of the entrance through Gate 3/Killebrew there will be two ATM ticket machines (see photo). You just swipe your card, select your seats, and the tickets print right out.
As long as there are no annoying "service charges" for this privilege, this is the ticket purchase method of the future. (I'd love to say that the web will remain a strong medium for ticket sales, but the fees are outrageous, and the "convenience" -- for which you pay a fee -- just isn't that great. I haven't purchased tickets on the web for a couple of years for this reason. I do walk-up now, usually in the afternoon before the game, and it is plenty convenient.)
Concourse Ceilings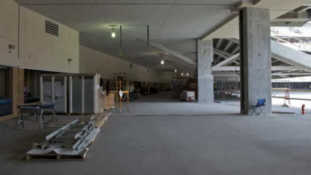 Concourse ceilings (from the Ballpark Authority's May update)
This has been mentioned before, but it's a little hard to imagine. Normal ballpark concourses, such as the Metrodome, have unfinished ceilings. You look up and see all of the pipes and cables and the underside of the stadia above. Target Field's main concourse, by contrast, has a finished ceiling. It covers all of the hoo-hah, and really classes up the concourse.
Until I walked it, I did not understand how different this is, and what a positive impact it has on the overall feel of the concourse. (Enough of the structure is still visible to prevent it from becoming some sort of stale office corridor.)
Pro Shop Named
The pro shop on Seventh Street (accessible from the plaza) will be called "Twins City".
Plaza Eats
A concession stand has been added to the plaza, located just to the right of the main ticket windows. This area actually has windows both outside and inside the gates. (Oo, a picture would sure be nice here.)
Louvers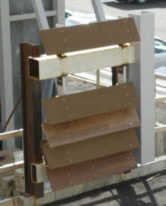 Louver samples on display.
The wooden louvers, which will adorn the outside of the circulation ramps on both the Seventh and Fifth Street facades, have not arrived yet. According to Kenney, they are "on a boat somewhere" right now, coming from somewhere in the rain forest of South America. In addition to being unique to MLB ballpark facades, they earn points toward LEED certification (the "green" standard for buildings), which Dan is confident that Target Field will receive.
Party Deck
The rooftop party deck above the administration building will have a capacity of 150-300 people. It's hard to see how that will work without some stands up there, but it will be a great view.
In yesterday's comments, if I read it correctly, Elston Gunn reported that Dave St. Peter told him that this rooftop deck will be open to all fans. That seems a little unlikely, because I had heard at one point that it would be rentable.
Kenney told me that the fire pits are still in the plans for the deck!
Met Colors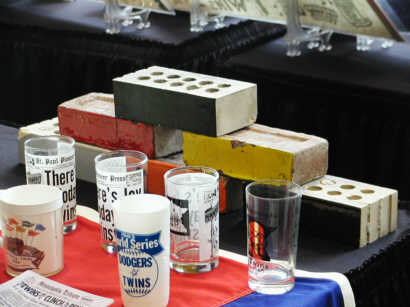 Clyde Doeppner proudly displays colored bricks he scavenged from the Met during its demolition. These are the colors in question!
The Metropolitan Club is being configured as a tribute to Met Stadium. One way this will be done is by using the same colors which were on the exterior panels at the Met. You may remember these as fairly bright, not necessarily attractive, but decidedly distinctive colors.
The colors will actually be carried to other places in the ballpark. But in a test run, somehow a bathroom got colored purple and gold (both Met Stadium colors!). The actual mixing and matching is apparently still being worked out.
All season ticket holders will be able to access the Metropolitan Club, and it will be available for rental for weddings and corporate events.
Atriums
Just like the entrance gates, various spaces inside the ballpark are dedicated to Twins legends. Two such spaces are the Puckett Atrium and the Carew Atrium. These spaces are a little hard to describe, and a photo or two would do wonders (without spoiling anybody's "ah-ha moments").
Each will be adorned with a large, artistic representation of its namesake. Each will have free food available. Each is accessible to both the suite level and the Legend's Club level.
The Carew Atrium is larger than the Puckett Atrium, but whereas Puckett looks out onto Seventh Street (with a great view of the Basilica dome), Carew looks out onto the HERC. The view is expansive and impressive, but it is of a garbage burner. Funds to camouflage the HERC a bit have been approved, but one can't help but fantasize about a HERC-less future when looking through these windows.
573 Details
As most of you know, the 573 Club is named after the number of career homers hit by Harmon Killebrew.
Well, apparently the team has acquired the bat that the Killer used to hit number 573 (at Met Stadium on September 18, 1975, but unfortunately while wearing a Kansas City uniform) and will display that bat prominently in this club.
They also have decided that the bar will be made of a gigantic piece of uncut ash -- a nod to the process of how a bat is made.
This is another part of the park which will be available for event rental.
LRT Schedule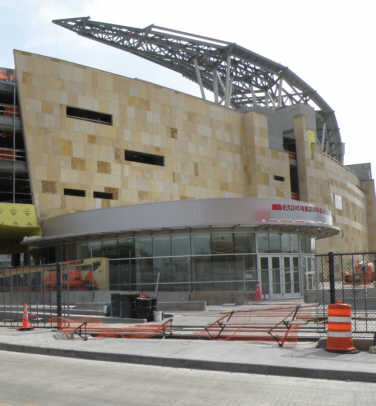 This view looks through the opening in the fence where the crosswalk will be.
The extension to the Hiawatha light rail line is scheduled to open in November of this year. Prior to that, there will be a few months of testing, and the overhead wires used for that are scheduled to go live in June. This means that all of the work on the Fifth Street facade has to be complete by that time to avoid any potential of getting zapped by the extremely high voltage line.
You may remember that, prior to the opening of the Hiawatha line, reports circulated that should a person accidentally complete the circuit by touching the overhead wire and the ground simultaneously, they would be instantly reduced to a stain of smoking goo on the ground. (Confidential to T-Wolves players: Duck.)
Dan also mentioned that the city has budgeted money to beef up the crosswalk which will be installed where fans can cross Fifth from Ford Centre. Just like the Metrodome, it will be impossible to cross the street anywhere but at the ends of the LRT platform, but the city is investing to make sure those crossings are spacious and well-appointed.
Noise
This one gets a little more subjective, but we spent some time walking around the plaza, including a trip up to the edge which will soon be attached to the walkway being built along Target Center. From there, it became quite difficult to hear each other and converse due to the traffic noise from below.
I wrote a long time ago that traffic noise was one of my early concerns. Then, after walking the plaza last fall, I dismissed it as an unwarranted concern. But I am now reinstating it.
Let's face it, the plaza is actually a bridge over a freeway. Cars and trucks make noise, and the more there are, the more noise. I'm not willing to say that this will definitely be a problem, but I am willing to keep my ears open.
Climate Control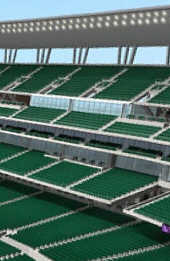 The glass area seen here is one of the warm-up areas.
You might not have noticed this on the model or the interactive seating locator, but if you look closely you will see several enclosed areas built at the split in the upper deck seating. These will be climate-controlled areas, open to all fans at any time, which will allow you to keep watching the game without being distracted by the elements.
I doubt that there is sufficient capacity to hold an entire crowd of 40,000, but this is not like the lifeboats on a ship. These are just for convenience, and they represent a most sensible solution to the problem of rain delays and cold games (at least for the fans).
View Level
I've been caught speculating about this before (tsk tsk), but I confirmed on this tour that the field is not visible from the View Level concourse. This was the reason given originally for adopting the split upper deck style. But once you step away from the very front edge, such as back to one of the concession stands, the field disappears.
The split does offer the ability to race up to the edge and look down when you sense that something interesting is happening, and that makes it certainly an improvement on the Metrodome. It does also lend a sense of openness and spaciousness to the upper concourse. But to suggest that you will always be able to see the game as you stroll the upper concourse is not accurate.
Stand-Up
On the main concourse level of the admin building there will be a gift shop. Its windows face out toward the action, and the team has decided to make this a standing room area where any fan can hang out and watch the game.
It's not only another climate-controlled area, but it's a real gesture of fan-friendliness.
Drilling
Drilling of the holes for seat installation has begun. The first seat is still probably a few weeks away.
Measure twice, drill once, people.
Two Minor Details
We got a look into the future Ballpark Authority offices, which are essentially the last suite down the first base line, right where the suite level connects to the Metropolitan Club. These offices are now very close to complete, and will share a restroom with the suites down at that end.
This is because the suites themselves do not have restrooms inside them. They are all located across the hallway. Dan said that the Twins' research indicated this was what women patrons preferred. Who knew?
Finally, at one point on the tour, Dan said that somewhere in the ballpark there will be fireplaces!
Great Moments
There were at least three great moments worth recounting.
* * *
After entering through a loading dock door and winding our way through a nondescript service corridor, we suddenly took a hard right through the frame of a future double-door and entered a large room that was directly beneath the newly-installed stadia. Daylight shone through a row of thin, horizontal windows at the top of the front wall, and we moved toward the light. The room was littered with the implements of construction, and we dutifully stepped over and around them.
When we emerged into the afternoon, we were standing where the front row of seats will be directly behind home plate.
The view was truly stunning.
We all looked and looked for a long moment.
A corner has been turned, and it suddenly doesn't look as much like a construction site as a ballpark. Even with plenty yet to be finished, the outline of the whole thing was there, and for the first time you can get a palpable sense of what it will be like to experience a game here.
From where we stood, looking toward the outfield stands, I was struck by how sparse it looked out there. The bulk of the ballpark was behind and above us. It's a testament to a design which places the vast majority of seats in foul territory.
Turning around and looking up, the main grandstand does loom sort of like a set of giant shoulders. Above it the canopy really does appear to float, and it looks to be a spectacular signature element -- and it looks much different from this vantage point than anything you can see on the exterior (oh, a picture right here would have been so great).
* * *
We happened to be touring on a freakishly hot and windy May day. It was the kind of day when a popup, going straight up, would likely have landed in the upper deck out in left for a gift homer. This was most evident when we reached the View Level (after climbing a long way up those circulation ramps).
As the seven of us stepped to the edge, coming to stand essentially where the accessible seating will be up there, we all instinctively reached for our hard hats. Without that security, the wind certainly could have deposited any one of them out on what's left of the parking lot asphalt.
But the howling wind also had a dampening affect on the conversation, and the parade of questions and commentary which we'd been engaged in to that point tapered off.
We all stood silent at the edge of the View Level, and looked down in a sort of semi-disbelief. Even from up there, in what will be the (relatively) cheap seats, the view was astonishing.
We stood there for a long time. And I think it's fair to say that no one wanted to be the first to move. We could have stayed an even longer time.
Someone suggested squatting until opening day.
* * *
The Town Ball Tavern is the area which juts out on the Fifth Street side, just above the Northstar circulation building (seen in the new banner at the top of the page). There will be a balcony there overlooking both the LRT station and the Northstar station. We got to stand just inside where they are currently framing up the windows.
From that vantage point, it seemed to me like railroad tracks were coming and going from every direction. It seemed like the crossroads of Minnesota, especially when you consider that additional LRT lines, commuter lines, and even high-speed rail lines will likely converge here in the coming years.
The ballpark made that possible, and its designers have tried to integrate the trains into its very bones (mostly successfully). If there ever was a doubt that this building is an important civic amenity, it can be erased by this view. (This would be a good place for a photo of that scene.)
I know there are people who think trains are a waste of money. I know there are people who think the ballpark was a waste of money. I know there are people who will never see the hopeful future represented by the view from that balcony.
But the hope is there, plain as the sunny day. That was way cool.
* * *
At one point, standing on the stadia just below the main concourse, Shane said, "Is it killing you that you can't take pictures?"
Yes, it was, mostly because I can't show all you guys -- who are into this kind of stuff and represent the source of great word-of-mouth advertising that a project like this needs -- what I saw. As you can tell from my inserted laments, nothing I wish I could have shown would have spoiled anything. It just would have made the story easier to tell, more vivid, more memorable. Isn't PR all about creating memorable images?
(Sometimes I wonder why the hell I'm doing all this free PR for the Twins. Right this minute I can't come up with an answer to that question.)
I told Shane that I was sketching furiously in my mind:
Thanks, Dan, for setting this up! It was great to meet everybody, and it was an afternoon I will always remember.
Comments
To utilized enhanced comment features, please enable cookies in your browser.
---
This page was last modified on January 25, 2010.