Now, Where Were We? Oh Yes: Baseball
May 30, 2012 4:27 PM

COMMENT
With one distraction now wiped away, let's return to a much more favored distraction:
Yes, last night the Twins put together a winning streak (two games) by way of a walk-off Josh Willingham 3-run homer. Not many people were left in the railyard to see it, but for those who stayed it was more than worth the wait.
Denard Span hits in the 9th inning at a nearly-empty Target Field
After three-and-a-half hours of full counts (generally followed by walks), runners abandoned in scoring position, slow trips to the mound by catchers, small-ball nightmares, and progressively numbing extremities (mine), I found myself involuntarily yelling "Throw strikes!" at poor homegrown hero Glen Perkins.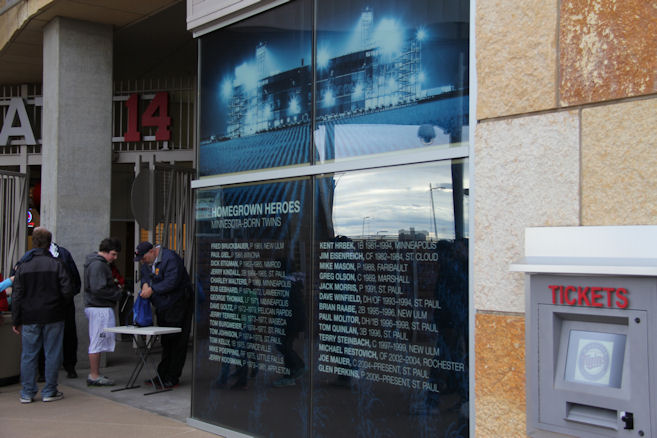 Who knows how long the kid will pitch for the team, but Cole De Vries will be on this list forever.
At the time, while I was watching him throw 25 pitches and walk three batters, I did not realize that Perkins has pitched in four of the last five games. He looked a little gassed, but I thought it had more to do with the excruciatingly slow pace of the game. A pitcher's duel is defined as watching two fine pitchers keep the other team off the scoreboard. This game certainly wasn't that. It was more like dueling Barney Fifes -- each team racing to get the bullet out of their pocket and loaded into the gun so they can shoot their own foot.
So, truth be told, by the time Perkins entered, I was gassed.
And cold. A brisk 62-degree start to the game had declined to 55 degrees by the time Perkins entered. I wasn't exactly under-dressed (sweatshirt and jeans), but did wish I'd brought some gloves, and wondered how an overcast 62 degrees could seem so much colder on May 29 than it did back on April 15 (same conditions, different experience, different outcome). Maybe it's true that our blood runs thinner during baseball season. Maybe there's a correlation with the team's record. Maybe we're still in the process of getting ourselves back into the proper shape for outdoor baseball. Who knows?
My dad professed again his love for the 70-degree, windless Metrodome, a rather common thing to hear up in the View Level, especially during windy games. I continue to wonder just how long the Ballpark Authority will leave us to suffer the wind tunnel that is the upper concourse before they install some sort of shielding above the concession stands. Couldn't that be done easily with colorful vented tarps of some sort? (Might help the hitters, too.)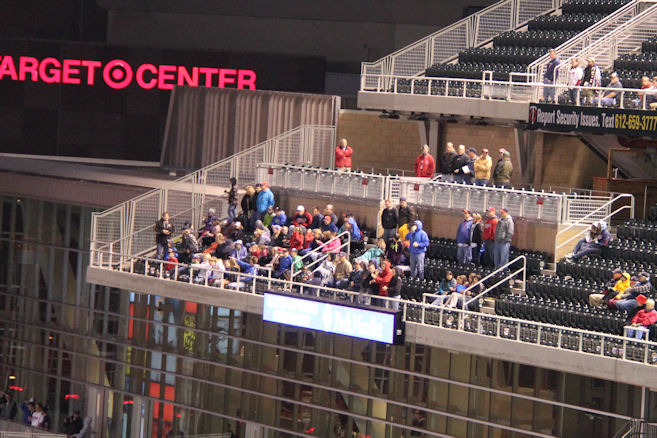 A few diehards bundled up and stayed
Though when I think about it, I guess it's not a big deal for me. I can make it from my seat to the bathroom and back rather quickly. But at the base of our section staircase is a Turkey-to-Go stand with the saddest looking staff. No matter who is there on any given day (spring and fall), they look like they would be more comfortable in a snowmobile suit with a little TC stitched on the front of its face mask. I wouldn't do that job even for Joe Mauer money (though I'd certainly be willing to go 0-for-5 for that kind of money any day -- and I'd even throw in a few fielder's choice grounders for free).
It was a great moment when, somewhere behind me, the sun dipped below the cloud cover and shone brightly off one of the skyscrapers for a few minutes, providing some welcome heat!
Hard to believe, but the glare was actually warm, and it gave me an idea for the ultimate french fry light for the entire upper deck -- though it might interfere with being able to actually see the field. (By the way, other than in the event suites, the french fry lights were off last night, despite all the shivering.)
Last night represented my first return to Target Field in six weeks, having missed two games due to the most unpleasant head cold I've ever had. (I know, I know. "It's going around.") One of the byproducts was that I completely lost my senses of smell and taste (plus most of my hearing) for about a month.
Maybe that's why, as I walked the main concourse before the game, all I seemed to be able to notice was what I could smell. There were so many different and fleeting aromas that I couldn't help but start writing them down on my scorecard (there's a first time for everything).
Obviously, various types of ballpark food were at the top of my list (most notably popcorn, beer, and mini-donuts). But I realized that I didn't smell nearly as much garlic as on my last trip, and a whole lot more ketchup. I also got strong regular whiffs of jalapeno's, whatever fuels the grills, and salsa. Beyond food, I could smell bubble gum, hairspray, rain (a few drops fell about an hour before game time), baby wipes, various perfumes/colognes/deodorants in varying strengths, stale cigarette smoke in clothing, matches (not sure why that would be, unless it was sulfur being used for another purpose), and even just general must.
But at a point, while riding the escalator up, I picked up the most distinctive smell of all. It's a melding of many indistinct things, the combination of which I've smelled now many times -- but only here. I've been to plenty of other ballparks and never smelled anything quite like it. Thus it must be described only as Target Field Stew. Its components are actually a little hard to extract. It's certainly one part beer, and one part french fries, and one part the Asian Wok, but there's also a little new car mixed in, and something indescribable, like maybe ink, fresh paint, escalator grease, or maybe caulk. Mix in a little bit of sauerkraut and fried food and you've got it.
That may sound like an unpleasant combination, but I gotta admit that it's become part of TF's identity to me, and I welcome it every time -- whatever it is.
Late in the game a haze began to enter the ballpark from the plaza (or was it from beneath the stands?), and when it finally got to us, it was quite the mystery. Fireworks? We hadn't seen any. Exhaust fumes? No, at least not diesel. It smelled vaguely like a lawn mower gone bad, but we never found out what it was.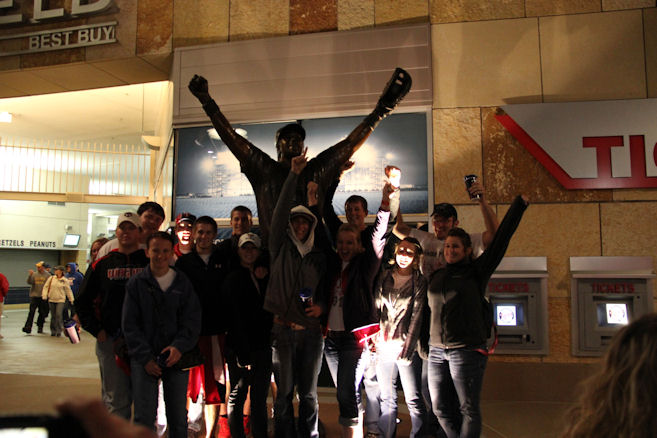 After the game, picture time
One thing that I now realize I have never smelled at TF, no matter how close I've gotten to the field (or even when I've been on it), is freshly-mowed grass. I'm not sure why that would be. I've commented before that they keep it cut so short that it's a wonder it can survive at all. Maybe that means they cut off too little with each mowing to release the smell, or maybe just that they cut it long before anybody gets there, and the smell just wafts away.
Since I approached the park from a new direction with this game (parking at the Farmer's Market annex for a little pre-game tailgating), I noticed for the first time that new reservoirs of grass have been created adjacent to the VIP and employee parking lot. It also looks like they've already been extensively tapped.
Just beyond this was another area of grass which looked newly-sodded but was not enclosed by a fence. It was especially lush, making me think that they may be planting Kentucky bluegrass wherever they can find an open spot just in case they need more patching than the official areas can provide. I do not envy Larry DiVito his job. (I might take that job for Mauer pay, but only because I could probably retire on the amount collected before the grass died.)
Early in the evening, the clouds looked like a distant, painted diorama. They never threatened rain, but had a character which made me appreciate again the wonders of outdoor baseball.
Late in the game my dad asked me if I wanted his scarf, but I had no trouble turning it down. I wanted a roofless stadium, I told him, and I can make it work.
One section over I caught a glimpse of a friend who I know is as anti-outdoor baseball as they come. She had bundled up in winter garb, and I'm sure had a few things to say to the people around her about her disdain for the weather. But just like back at the Dome (where she led the LaTroy Hawkins Fan Club for many years), she was cheering with all her might, and leading a new song that goes something like this: "Denard! Denard! Denard-Denard-Denard! Denard!" (She's a singer in one of my choirs, but I take no responsibility for the musicianship on display. We never have to project quite that much.)
We all live and adapt.
We talked about the weather a lot up there last night, what with being Minnesotan and all. And we groused about the team and the overall quality of play on the field. I'd bet that each of us silently had thoughts about leaving early at various points in the game. It certainly did not look like a contest that would end happily for the home-town nine, and there was a distinct sense that enduring the elements would not pay off.
Of course, at the ballpark, if the product on the field is disappointing or something else is bothering you, there's always something interesting to eat. And though I've set a goal for myself to try a new food item with each game, I couldn't make it happen last night. All I could bring myself to buy was a boat of cold, wadded, unpleasant cheese curds. And not only did I have to pay $5.25 for them, I also had to explain my scorecard to a concession stand worker with no clue what it was all about. ("What did you write down? What does E-1 mean? I don't get all those numbers like 2-6 and 7-8." Seriously.)
But the reason I didn't buy anything more was mostly because my mom had stocked her bag with treats and brought a new one out every couple of innings. Tootsie Rolls. Hershey bars. And at one point we all split a Salted Nut Roll.
So here's the thing about baseball even on a chilly and windy night in the upper deck when the team sucks: Your dad may offer you his scarf. Your mom may hand you a piece of a Salted Nut Roll. And somebody may hit a game-winning homer on the final pitch.
Ain't life grand?
Comments
To utilized enhanced comment features, please enable cookies in your browser.
---
This page was last modified on May 31, 2012.
"You talk about the magic, the aura, but what really makes a stadium is the fans. Concrete doesn't talk back to you. Chairs don't talk back to you. It's the people who are there, day in, day out, that makes the place magic."
– Bernie Williams
Explore the Site
Here are 50 images chosen randomly from the 3045 found on this site. Click the image to be taken to the original post. A new list is created every 10 minutes.






Loading docks to the right, VIP entrances to the left.


At lower left are the seats I'm not going to use any time soon.

Ballpark elevation diagram, viewed from Fifth Street. (Click to enlarge.)

The transit corner entrance (Photo by Tom Sweeney, Star Tribune)





This view looks up Fifth Street toward downtown and shows how the LRT tracks sort of snuggle up to the ballpark.


Photo by Tyler Wycoff


The limestone theme is apparently carried to the area behind home plate. This will look great -- and distinctive -- on TV. But watch out for those foul balls!


The flowers don't have quite the fullness depicted in the original sketches (where they were positively overflowing), but they are quite lovely -- a great, subtle touch. And that's probably a very challenging place to grow anything.

I was surprised at how close those upper deck seats seem. From the plaza, you feel like you can reach out and touch them. It really adds to the impression of overall compactness.

Clyde Doepner's Met Stadium Memorabilia (Source: LP)

This view, also from the same warehouse roof, shows the newly-rebuilt viaduct on North Seventh Street.

This is a slightly blurry view of the pavilion in center. It has a quirky shape, but one which is completely consistent with the overall ballpark design. Nice work there. You can also get a glimpse of the greenery which will rise above the fences.



Viewed from the sidewalk on Seventh Street. No skyway infringement needed.

That's some scary-ass scaffolding, if you ask me.


Stairs down to the sidewalk from the skywalk over Seventh


Legend's Club, Section E (Click to enlarge greatly.)

Quote wall

Two train stations


Actual LRT tracks are now in the street, and buses now pass over them before entering the transit hub.


Yes, son, Memorial Stadium used to be right there, just beyond those gates.


TCF Bank Stadium (click to enlarge)

The sculpture on which millions of kids will one day pose.



Section 101, Row 34

I took this picture from the Overlook at great personal risk, because everything Thome was hitting was landing out that direction.
Glossary
BPM - Ballpark Magic
BRT - Bus Rapid Transit
DSP - Dave St. Peter
FSE - Full Season Equivalent
FYS - Fake Yankee Stadium (see also: NYS)
HERC - Hennepin Energy Resource Company (aka the Garbage Burner)
HPB - Home Plate Box
HRP - Home Run Porch
LC - Legends Club
LRT - Light Rail Transit
MBA - Minnesota Ballpark Authority (will own Target Field)
MOA - Mall of America
MSFC - Minnesota Sports Facilities Commission (owns the Metrodome)
NYS - New Yankee Stadium
SRO - Standing Room Only
STH - Season Ticket Holder
TCFBS - TCF Bank Stadium
TF - Target Field
Selected Bibliography - Analysis

Selected Bibliography - Surveys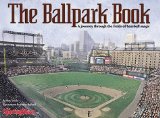 Not a "Third Edition" exactly,
but it replaced the above title
(2000)


Original edition (2000, round)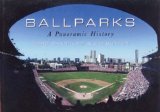 (2004, very large coffee table)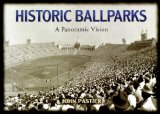 (2006, very large coffee table)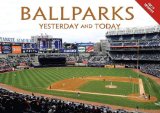 Combines the previous two titles
(2007, medium coffee table)

Selected Bibliography - Nostalgia



Book and six ballpark miniatures
(2004)