Places: Third Base Lounge
August 20, 2010 11:08 PM

COMMENT
The verdict on the First Base Lounge was swift. You were underwhelmed, to put it mildly. My hunch is that you'll feel pretty much the same about its brother across the diamond.
If anything, it's even less elaborate, partly because it's not a mirror image, and doesn't have the benefit of the long walkway entrance. Also, I guess there aren't as many third baseman to be memorialized (I counted only three; at the end of this post you can see a comprehensive list).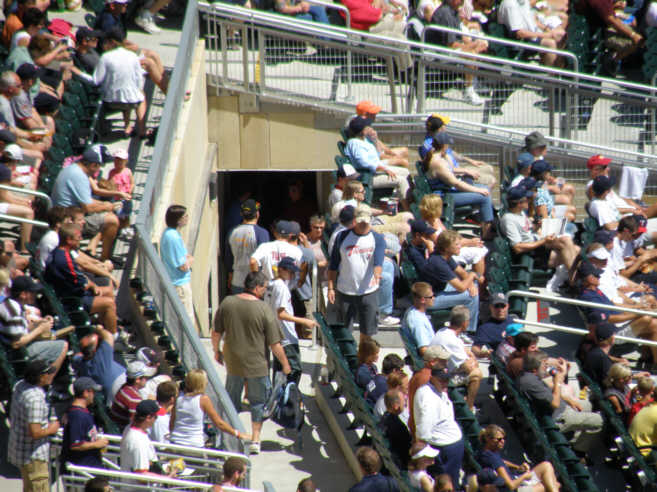 Here's the entrance from the seating bowl.
The moat walkway viewed from across the park.
Stepping through the bowl entrance door, you have to turn left immediately into a long hallway which connects to the service corridor. It's not much to see.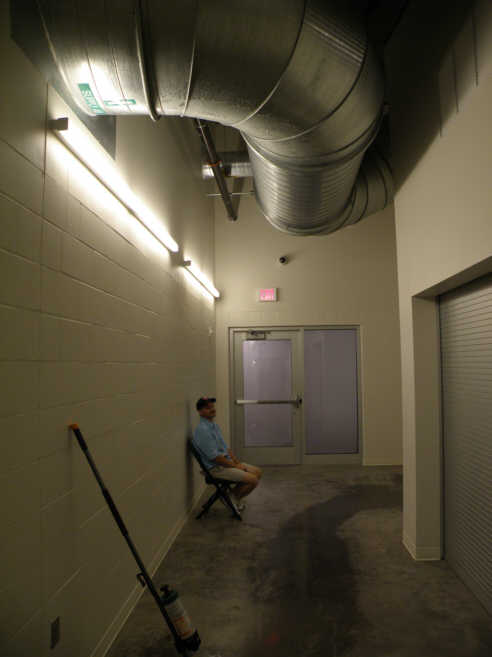 Air conditioning condensation on the floor.
In fact, that poor guy had been stationed there just to make sure people did not slip on the wet floor, which was covered with condensation from the air conditioning duct-work running directly above. He was pretty cheery, and very helpful, but it didn't look like a very fun job -- especially when there's a major league baseball game going on about 50 feet away and you can neither see nor hear it.
This reminds me of two short stories from the past couple of weeks. First was a conversation with an elevator operator at TF who said that the radio feed had just started being piped into his elevator car. He was grateful, but admitted that with people coming and going all the time, it was hard to track much of the game.
The other was a conversation with a security guard who was pretty confident he'd been hired because he was not much of a baseball fan. His sense was that his bosses wanted people who wouldn't be distracted by either the game or their surroundings. Makes perfect sense, and it didn't take too much additional conversation to confirm that he was pretty disinterested in the whole thing.
Back to business. The lounge hallway has a door to the left (not seen) which leads to a room for pregame ceremony participants, and a double door to the right into the lounge. There are also two big roll-up metal doors (more visible below) which separate the hallway from the lounge. My hunch (unconfirmed) is that these can go up during a rain delay to make better use of the space.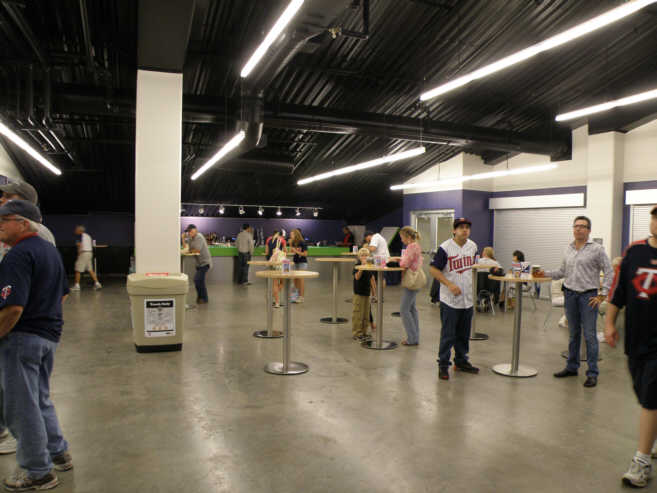 Roll-up metal doors visible at right.
As was pointed out in yesterday's comments, the primary purpose of these lounges is to save a bunch of long walks up to the main concourse, and provide some respite from the elements. And they serve that purpose very well.
Except during a rain delay (when they're packed to the gills), they are generally sparsely-populated, meaning lines to food and restrooms are not an issue.
I will admit that when I walked into the first base lounge in March, I thought that it wasn't finished yet. So I was a little surprised when these never changed after that point.
Most glaring to me was the bare cement floor, which is in stark contrast to almost every other part of the park. And the ceiling, though finished, tends to make it feel more cavernous than you might want. There is clearly room for improvement in the ambiance. A different floor/lighting/ceiling combo would make these a little more inviting.
Also, unlike many other such areas, there is no memorabilia on display. That would also serve to warm them up a bit.
But I didn't see anybody complaining.
As on the other side, the view of the game from the little walkway is terrific.
Again, for fun, here's the comprehensive list of players who have ever started a game for the Twins at third base (with number of starts and era) through the '09 season.
Gary Gaetti (1286, 1981-1990)
Rich Rollins (742, 1961-1968)
Corey Koskie (737, 1998-2004)
Harmon Killebrew (473, 1961-1971)
Mike Cubbage (378, 1976-1980)
John Castino (372, 1979-1984)
Eric Soderholm (357, 1971-1975)
Scott Leius (357, 1991-1995)
Steve Braun (258, 1971-1976)
Ron Coomer (254, 1995-2000)
Mike Pagliarulo (209, 1991-1993)
Nick Punto (197, 2005-2009)
Cesar Tovar (148, 1965-1971)
Michael Cuddyer (137, 2002-2005)
Jerry Terrell (116, 1973-1977)
Dave Hollins (115, 1996)
Brent Gates (107, 1998-1999)
Brian Buscher (106, 2007-2009)
Al Newman (90, 1987-1991)
Joe Crede (84, 2009)
Bill Tuttle (84, 1961)
Jeff Reboulet (75, 1992-1996)
Dave McKay (71, 1975-1976)
Larry Wolfe (67, 1977-1978)
Rick Renick (65, 1969-1972)
Luis Rodriguez (64, 2005-2007)
Brendan Harris (62, 2008-2009)
Todd Walker (58, 1996-1997)
Terry Jorgensen (52, 1989-1993)
Mike Lamb (51, 2008)
Tony Batista (50, 2006)
Denny Hocking (48, 1997-2003)
Terry Tiffee (37, 2004-2006)
Chip Hale (34, 1989-1994)
Scott Stahoviak (32, 1993-1995)
Frank Quilici (31, 1968-1969)
Reno Bertoia (31, 1961)
Roy Smalley (30, 1985-1987)
Matt Tolbert (29, 2008-2009)
Ron Clark (29, 1967-1969)
George Banks (23, 1962-1963)
Jason Maxwell (22, 2000-2001)
Graig Nettles (20, 1968-1969)
Danny Thompson (19, 1971-1975)
Chris Gomez (15, 2003)
Juan Castro (13, 2005)
Dan Monzon (12, 1972-1973)
Jeff Cirillo (12, 2007)
Frank Kostro (12, 1964-1965)
Casey Blake (10, 2000-2002)
Jon Shave (10, 1998)
Glenn Williams (9, 2005)
Johnny Goryl (9, 1963-1964)
Joe Nossek (8, 1965)
Ron Washington (8, 1984-1986)
Tommy Watkins (8, 2007)
Matt Macri (8, 2008)
Jay Canizaro (7, 2002)
Ted Lepcio (7, 1961)
Mickey Hatcher (7, 1981-1983)
Vic Power (5, 1963)
Jay Ward (4, 1963)
Ron Jackson (4, 1979-1981)
Bob Randall (3, 1980)
Vic Rodriguez (2, 1989)
Pete Mackanin (2, 1980-1981)
Luis Gomez (2, 1977)
Steve Lombardozzi (2, 1988)
Billy Gardner (2, 1961)
Rod Carew (2, 1971)
Brian Raabe (2, 1995-1996)
Augie Ojeda (2, 2004)
Tom Quinlan (1, 1996)
Bernie Allen (1, 1965)
George Thomas (1, 1971)
Howie Clark (1, 2008)
Donnie Hill (1, 1992)
Danny Walton (1, 1973)
Alex Prieto (1, 2004)
Jose Valdivielso (1, 1961)
Luis Quinones (1, 1992)
(It was a fun little project to write the program which extracted that info. Any other positions you'd like to see?)
Barring the completion of something more consequential (unlikely because I'm going to the game tomorrow afternoon -- section 237, row 1), tomorrow night we'll look at the Legend's Club, which may take more than one post.
Comments
To utilized enhanced comment features, please enable cookies in your browser.
Hide Facebook box
---
This page was last modified on August 20, 2010.
"You talk about the magic, the aura, but what really makes a stadium is the fans. Concrete doesn't talk back to you. Chairs don't talk back to you. It's the people who are there, day in, day out, that makes the place magic."
– Bernie Williams
Explore the Site
Here are 50 images chosen randomly from the 3033 found on this site. Click the image to be taken to the original post. A new list is created every 10 minutes.

Look beyond the gigantic hand (a hounds tooth jacket? really?) and you'll get a glimpse of the main grandstand configuration. The two (or is it three?) levels of suites are visible, as is the design of the so-called "split upper deck," and the extensive use of limestone for decorative accents. Let's hope these little touches don't get cut as costs increase, because they make a nice tie-in from the outside of the park to the inside. Of most interest to me is the way that the very best seats are physically separated from all the rest of the seats by that limestone. There will be virtually no way to sneak into these seats. On one level, that's a somewhat sad design feature...





The knothole (sans view of anything interesting)
A slightly different elevation drawing, again viewed from Fifth Street, with some labels. (Click to enlarge.)


Philly

The tracks on the right will be moved to the newly-cleared area on the left. The edge of the ballpark will be about where the rocks and dirt meet.

Sometime in the late 1980s: B ramp is under construction. Not yet built: Target Center, I-394 and the A ramp.


The Polo Grounds (left) and Shibe Park (Connie Mack Stadium)

Flowers and Hall-of-Fame plaques. Very nice.

1885 Sanborn Map Image (Source: Sanborn Map Collection, Minneapolis Public Library, Copyright © 2001 by The Sanborn Map Company, Sanborn Library, LLC)
This is where you will put out your butts -- I mean enjoy some pretty flowers.

One of the many supports being built over the tracks.



Note that the sign in the background will NOT be changed because "Twins Way" doesn't extend this far north.

For executive entertaining


A desolate Marquette Ave

Doors directly to the concourse, and a view of the stands beyond

This is the entrance behind home plate (not visible in the renderings which have been released). It shows that the upper deck is set back from the facade -- a very good thing if it remains in the final design.



I never think of Rod Carew as a first baseman. But he was.

Lonely vendor...


The base of the old Met Stadium flagpole. (The plaque refers to the "Flame of Freedom" and not the origin of the pole.)
What are they hanging over there?

I didn't check the menu too closely, but it looks like all the standard fare is available, and not much of the non-standard stuff.

The reverse angle shows that the signage will only partially obscure views from the top of the ramp. The wall is pretty high up there, so you'll need something to stand on, but it appears that this is one of the so-called "knotholes".


Click to see the whole, beautiful image. (Photo by Tyler Wycoff)

Dan Mehls, Mortenson Construction

This design has a rather generic quality to it, but they appear to have considered the B garage. Though it isn't part of the model, they've clearly left room for it.

Reverse view, now looking down Sixth toward the park. The Met Stadium flag pole will be right there!

Note reflected sunset (7:30 PM). Could be a worry...

From behind the wind veil


Bike parking available along Second Avenue

That's my mom. She scored the whole game on her Gameday program (bought for just $1 on the opening night special -- thanks guys!)


Panels arriving on flatbed trailers in front of the Twins' dugout.
Glossary
BPM - Ballpark Magic
BRT - Bus Rapid Transit
DSP - Dave St. Peter
FSE - Full Season Equivalent
FYS - Fake Yankee Stadium (see also: NYS)
HERC - Hennepin Energy Resource Company (aka the Garbage Burner)
HPB - Home Plate Box
HRP - Home Run Porch
LC - Legends Club
LRT - Light Rail Transit
MBA - Minnesota Ballpark Authority (will own Target Field)
MOA - Mall of America
MSFC - Minnesota Sports Facilities Commission (owns the Metrodome)
NYS - New Yankee Stadium
SRO - Standing Room Only
STH - Season Ticket Holder
TCFBS - TCF Bank Stadium
TF - Target Field
Selected Bibliography - Analysis

Selected Bibliography - Surveys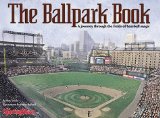 Not a "Third Edition" exactly,
but it replaced the above title
(2000)


Original edition (2000, round)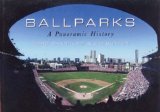 (2004, very large coffee table)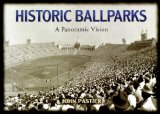 (2006, very large coffee table)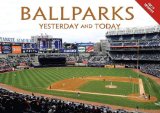 Combines the previous two titles
(2007, medium coffee table)

Selected Bibliography - Nostalgia



Book and six ballpark miniatures
(2004)