Of Topiaries, Hops and Wind Veils
February 12, 2009 2:27 AM

COMMENT
Regular readers here know that, technically, this is all old news. In fact, the most striking thing about today's unveiling of the final Target Plaza design is how similar it is to the bootleg images I discovered a few months ago.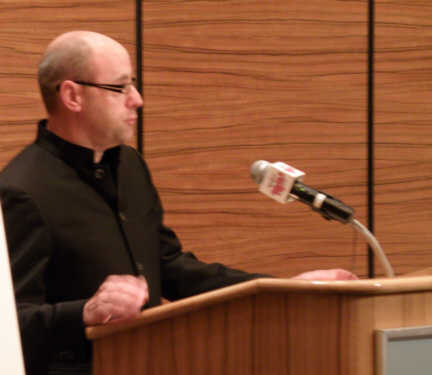 You are forgiven for wondering whether architect Tom Oslund is, in fact, a visitor from the future.
By now, the big ideas are all well known:
1. Topiaries (tall metal planters), shaped vaguely like the barrels of bats, will have vines planted within them.
2. Some of these vines will likely be hops.
3. A gigantic sculpture, known as a "wind veil", will cover the B ramp wall.
4. Lots of seating has been added.
5. Canopies will provide some shade for the plaza seating areas.
6. There will be a bronze sculpture of a baseball glove, designed to be climbed upon by kids and highly photographed by parents.
7. Various other planters, at least some shaped vaguely like pitchers mounds, will replace the rather cold bins of the original design.
8. A "player and fan appreciation wall" will feature the name of every single Twins player in history, as well as space for fans to buy their way onto it (much like similar "buy a brick" promotions at other new stadiums).
9. LED lights will permeate everything, allowing various lighting conditions and features.
10. The plaza will connect to First Avenue along the edge of Target Center along Sixth Street.
11. The ubiquitous Target logo will be found mainly in the pavement.
Not mentioned, but still verified as true, is that the original Met Stadium flag pole will be placed at the entry to the walkway at the corner of First Avenue and Sixth Street.
There's no question that this design improves on the one originally unveiled with the ballpark design (and model). In fact, there's really a whole lot to like about these ideas. As a gateway to the ballpark, I think it's clearly a winner.
Less clear is how it will work on days when nothing is happening at the ballpark. In fact, calling this "green space" is wishful thinking, at best.
There is some grass, but it covers maybe 5% of the plaza area. Most of the surface will still be concrete, pavers or a similar surface. My hunch is that not many people will trudge down there on their lunch hour to sit around the topiaries.
If part of the appeal is supposed to be off-day use, then comparisons to Peavey Plaza (and other such open spaces in downtown Minneapolis) are inevitable. In that regard, this is a non-starter. By simple virtue of its location, it has none of the casual appeal of Peavey. And without a water element, it's just hard to imagine it as a destination all on its own.
There is the possibility that the wind veil will draw the curious. At the press conference, Jerry Bell's excitement was evident, and it sure does look cool. Here's a video sample from another installation:
Despite the coolness factor, I can't help but notice that it doesn't exactly conceal the building on which it is mounted, but just sort of adds visual interest. Personally, I don't have anything against big banners as a solution, but this is definitely much more sophisticated.
It's fair to say that the design has a distinct sophistication about it. It is classy, tending just a little bit toward uppity -- without actually getting there. It's certainly another reason why Target Field will stand out among other ballparks of its era.
I want to spend the next few days looking at its various elements.
Media Kerfluffle
Being a bit new to this, I'm finding myself fascinated by the way the media interacts with stories like this, and the people behind them. For example, here's one take that contains this editorial observation:
Unfortunately, Bell marred the proceedings with an off-the-cuff snotty comment to reporter Randy Furst of the Star Tribune that reinforced the club's off-putting smugness about the ballpark project.
In their initial presentations Wednesday, neither the Twins nor Target announced what the Plaza design will cost, or whether public money was being tapped. Target, remember, never revealed what it paid for the ballpark naming rights, an odd bit of secrecy for a public project of this magnitude. And last month, Target laid off 600 employees in the Twin Cities while reducing its work force by 9 percent. Furst asked how the companies could justify spending on frills at a time of economic crisis. Only then did Bell step in to estimate the design pricetag.
When Furst asked a follow-up later, Bell rebuked him for continuing to ask about costs and added, "Not every company is bankrupt," a shot at the Star Tribune's well-publicized financial woes. Many people cringed. Someone with a quick wit might have suggested the Twins spend less money on vines and veils and more on a third baseman, but that's for another story.
You can read Furst's story about the unveiling for yourself and see if you detect anything snarky. I did not.
But there's no denying that his question had a cutting quality to it. I didn't get the exact wording, but let me paraphrase it as I understood it: How can you justify spending so much money on this type of BS when people are losing their jobs everywhere?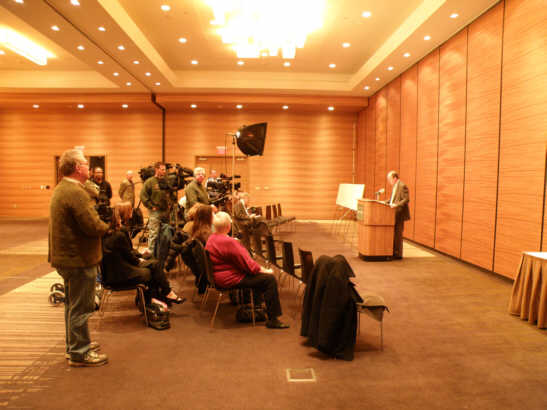 To the left, out of view, was a row of guys in very nice suits. Most I did not recognize.
As the MinnPost entry implies, Furst is probably among those whose jobs are in jeopardy right about now.
But it's essentially the same as asking Hennepin County why they are helping build this thing in the first place. Or asking Target why they are paying to put their name on it while laying off hundreds of employees. The world just doesn't work in the way that the question implies. More plainly, the question has an axe to grind right in the middle of it.
Bell's response, however, equally misses the point (his own, and the one the reporter was trying to make). If you're gonna build a ballpark, you want it to be as great as possible. If you're gonna build a civic amenity, you want it to enhance the city as much as possible. (I would have also accepted a mention of spending as stimulus. It would have at least made for a better joke.)
Exchanges like that rarely get reported. In fact, the MinnPost article is the only one I found which mentioned it. The rest of the media pretty much took the press release, added a few generic video clips, and called it a day.
Regrettably, I did not get Randy's question on video. But I did get Bell's comeback, which is found at the end of this clip, in which Dave St. Peter discusses the player/fan appreciation wall:
Bell actually got a pretty big laugh, but that was mostly from the guys in nice suits standing behind the reporters.
Here are a couple more clips which will give you a feel for the flavor of the event. This is architect Tom Oslund reading from the press release:
Here's Oslund unveiling the design with somewhat less enthusiasm than you might expect from the guy who created it:
While acknowledging that Oslund has done a pretty great job on this design, he didn't appear to be much of a baseball or Twins fan. At one point in that video he says that there could be a light show when somebody hits a home run -- but only for "the home team" of course. It made me wonder if he would be able to put a name to any one of those "home team" hitters...
Off-Putting Smugness?
Pat Borzi and Steve Berg make a comment within a comment when describing the Twins as smug about their new ballpark.
Why they would be smug is easy to understand. Everything is progressing smoothly, they're getting pretty much exactly what they want at every turn, and the reviews from every corner are pretty good. Modesty and humility don't exactly ooze out of half-billion dollar construction projects (or professional sports, for that matter). Phony humility would probably be worse anyway.
But I will admit that, while I was listening to today's talk about a front door for the fans, while standing there in the ballroom of one of the fanciest hotels in town, I began to wonder just how many "common fans" will be heading out to this ballpark. Could the smugness Borzi and Berg detect be actually due to a "we've hit the jackpot" air which has begun to hover over this project?
Has this project started to slip from a ballpark of the common fan to a ballpark of the wealthy (fan or no)? Will I take my kids there or be taken there by somebody trying to sell me office supplies?
I guess I'm not even sure this would be a bad thing, except for the reality that some of us here might be ultimately excluded.
It's not a conclusion I've reached, but a question I've begun to ponder more and more.
Tomorrow, we'll get at some more of the plaza details.
Comments
To utilized enhanced comment features, please enable cookies in your browser.
---
This page was last modified on January 21, 2010.
"You talk about the magic, the aura, but what really makes a stadium is the fans. Concrete doesn't talk back to you. Chairs don't talk back to you. It's the people who are there, day in, day out, that makes the place magic."
– Bernie Williams
Explore the Site
Here are 50 images chosen randomly from the 3046 found on this site. Click the image to be taken to the original post. A new list is created every 10 minutes.

The finished product. Note that, at the very bottom of this image, you can just barely see the tops of the windows which look into the Champion's Club. (Home Plate Box)
Train. (What is it about baseball and trains?)

Work has begun on the plaza, and the activity has started to impact I-394 traffic.



Looking back toward downtown from the end of the balcony

What can you see from up there? Some say not much.


In March, we were still only imagining baseball through those windows.

Most of the main concourse is filled with construction materials...


Limestone still dominates the Seventh Street walkway from a pedestrian point of view. But brick take over as you move upward -- a concession to cost, no doubt.


That is the gun-metal gray wall of The Stadium just beyond the elevated tracks.

Some brick work out in the centerfield pavilion.



Not much facade left to be finished at this point.

Just to the right, more ticket machines. These things are everywhere.

Dancing for the cameras

A detail from the above image shows that the section signage is now in place


I think that's a pig up there on that vane!

Steel meets concrete, with the last rays of sun visible through the suite and concourse openings at left.

Love the red flowers -- just like the original concept drawings. That NEVER happens.

I have no idea what this is or does, but as gear goes, it's totally boss, man. (Attached to a railing just off of the Trap)

This is the view from the Seventh Street circulation ramp. It will eventually be covered by the wood louvers.

Steel going up fast.

The french fry lights were on!

Terrace Level


Also warming things up are these planters.



A little higher angle shows how the two stations are close to one another but distinctly separate. The oval, glass-enclosed area is the entrance from the Northstar platform below into the ballpark. The LRT platform is comparable to the other stations along that route.


Artist at (very painstaking) work



Two plazas in Spain. (Brad and I were pretending to steal coins from the fountain. We were all just so darn funny back in high school, eh?)

It's a great view of the action, though standing here is somewhat discouraged.

The flowers don't have quite the fullness depicted in the original sketches (where they were positively overflowing), but they are quite lovely -- a great, subtle touch. And that's probably a very challenging place to grow anything.

Supports for the little sections in the outfield.

You write the caption...

...but you can get a feel for what it will be like.
A slightly different elevation drawing, again viewed from Fifth Street, with some labels. (Click to enlarge.)

For $19.95 you can load up your plate (one trip only)

Flagpole historian Ben McEvers at far right (click for the full photo set, graciously loaned to this site by Pat Backen)
Glossary
BPM - Ballpark Magic
BRT - Bus Rapid Transit
DSP - Dave St. Peter
FSE - Full Season Equivalent
FYS - Fake Yankee Stadium (see also: NYS)
HERC - Hennepin Energy Resource Company (aka the Garbage Burner)
HPB - Home Plate Box
HRP - Home Run Porch
LC - Legends Club
LRT - Light Rail Transit
MBA - Minnesota Ballpark Authority (will own Target Field)
MOA - Mall of America
MSFC - Minnesota Sports Facilities Commission (owns the Metrodome)
NYS - New Yankee Stadium
SRO - Standing Room Only
STH - Season Ticket Holder
TCFBS - TCF Bank Stadium
TF - Target Field
Selected Bibliography - Analysis

Selected Bibliography - Surveys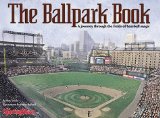 Not a "Third Edition" exactly,
but it replaced the above title
(2000)


Original edition (2000, round)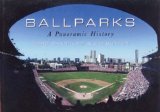 (2004, very large coffee table)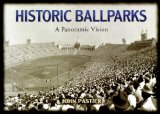 (2006, very large coffee table)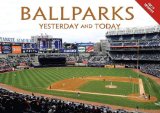 Combines the previous two titles
(2007, medium coffee table)

Selected Bibliography - Nostalgia



Book and six ballpark miniatures
(2004)