Plunked
May 13, 2009 2:27 AM

COMMENT
So, what do you do when you've been plunked by the opposing pitcher? You dust yourself off and take your base, that's what.
It's not a perfect analogy because I've never seen this site's relationship with the team as somehow adversarial. We're not competing for fans or runs or, well, anything. I guess we don't have to work together, but that doesn't prevent us from working separately toward the same goal.
Thanks for all the kind words of support. I have absolutely no intention of closing up shop here. My goals remain, and there's still lots to talk about, with or without the team's blessing (which I hoped I could get but can live without).
Grass, My Ass
All the hullabaloo caused by the grass story is actually kind of hilarious. In case you haven't seen it, stop reading and watch it now. Then be sure to read the text version, which contains this nugget:
Target Field is set to have a retractable roof and will have heat cables to potentially melt snow making drainage essential.
That is one tortured sentence which just so happens to contain a laughable inaccuracy.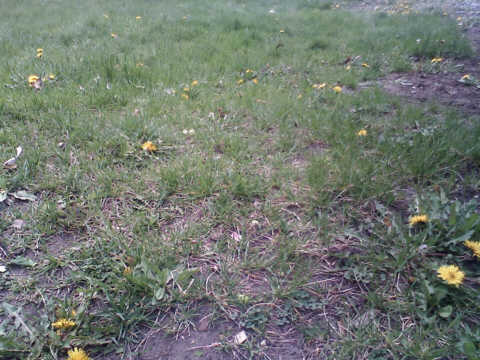 The Target Field grass, it turns out, will be green. (This is a photo representing the concept of grass only. The actual Target Field grass apparently will not contain dirt patches, weeds, or dandelions. Imagine that -- if you can!)
So the big "exclusive" story is:
A) watching grass grow, and
B) discussing the non-existent retractable roof.
And KARE11 didn't even run it! Good work, mass media. (We can all look forward to next week's exclusive on paint drying.)
That the Twins wouldn't allow a ballpark fan to come along for a picture or two is:
A) insane, and
B) a favor to the fan.
(Perhaps the adjacent photo of my ugly grass will be viewed by more fans than those brief TV stories. And though it comes with dandelions, even they know that Target Field will not have a roof.)
Media Missive
Over the past couple of days I've thought a lot about the role of blogging on the crowded media landscape. It's not a new subject, and greater thinkers than I have tackled it. But there's something uniquely valuable about a voice which is not beholden to its subject, and is not limited by the need to be flatly objective.
In the "good old days" of journalism, say 30 years ago or so and before, objectivity was hardly a watchword. Reporters were not expected to parrot both sides of an issue if one side was clearly wrong. If one side called the sky blue and the other side called it red, the reporter was beholden to look out a window and discern which was accurate.
And they were not allowed to be satisfied with taking press releases at face value. They were charged with verifying claims, and checking facts. This responsibility seems to have been abdicated somewhere along the way.
To be sure, some issues aren't that cut and dry. But think how Woodward and Bernstein might have been handicapped if there was a requirement that they quote press releases from both parties in each story. (Actually, you don't have to imagine it. Just read Bob Woodward's first couple of books on the Bush presidency. He felt the need to be "fair" in order to retain access to his subject, and was spun inside out just like the rest of us. His later books on the administration essentially admit that.)
I've been struck during the ballpark's construction at how the TV stations and big newspapers seem to practice what can only be called "press release journalism" -- at least when it comes to this story. It's true that their audiences may not be as fanatical about the subject as we are, but there are interesting stories to be told beyond what the team places before the media.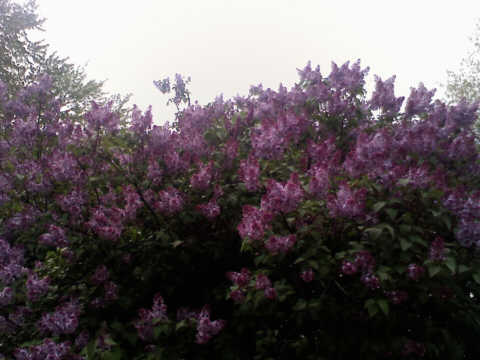 For those not wishing to suffer through my media rant, please enjoy this picture of my lilacs in full bloom.
While the story about the grass is potentially interesting, the Denver story captures exactly none of it. If there was an interview with Larry DiVito (whose name was misspelled in the web article, by the way), none of it was used. And there is much to say beyond "heat cables" about a drainage and snow-melting system which will be quite elaborate, and have some challenges unique to Minnesota.
One might also have asked what winter is likely to do to the grass, whether frozen ground makes it more difficult to care for, or if some special steps are needed to either prevent the ground from freezing or at least protect the grass if it does freeze.
Then one might have asked about reviving it in the spring, the schedule for cutting, patching, fertilizing, watering (just how much water will they use, and what's the sprinkler system going to be like?) and the process for training groundskeepers on how to make those nifty designs with the mowers. One might even have inquired about divets, tarps, and whether the shadow of the grandstand could impact the growth of some portion of the field.
How long do they leave it when mowing? Is it different lengths in different parts of the park? Are there MLB rules about such things?
Someone might have asked the grower about his source of seed. Is it a special blend? How much soil goes with the grass to Minnesota and how does he replenish it for the next crop? What types of problems do they typically encounter, and how does weather there affect the finished product? And do they offer some sort of warranty?
Seriously, I'd love to talk to these guys and run 10 days worth of stories about the f@@king grass. But a TV reporter would just have to ask one or two of those questions to get something beyond the press release. From what I can tell, no one did.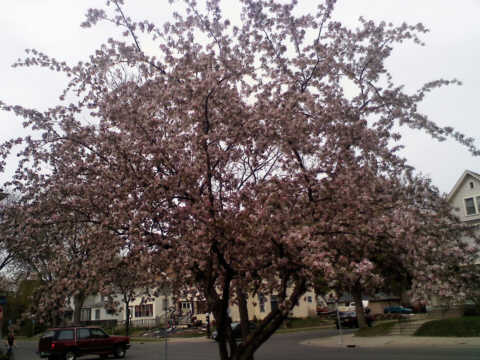 Since pictures of the ballpark are forbidden, perhaps you'll enjoy this shot of the lovely apple tree in my front yard.
Is this a question of resources? Laziness? Sloppiness? Lack of preparation? Deadlines? Or is it a matter of needing not to bite the hand that feeds you? If the big company tells you what to say, are you beholden to just shut up and say it?
I've never felt that way with the Twins. They seem to love such questions, and as I said the other day, they've answered just about any question I've ever asked.
But perhaps there's some sort of cultural thing that you learn and abide by if you're a paid reporter. You learn the rules of the game and how not to piss people off. You get just enough information to do (and keep) your job.
And on the other side of the equation, is it really that easy for a big corporation (or, say, a government) to manipulate the media to get what they want?
I don't know this. It's just speculation. But I guess that speculation is part of what bloggers do.
Web Shots
It's impossible to address all of the great subjects suggested by the more than 120 comments to my previous article. But I want to touch quickly on one that I saw come up a few times: the Twins' web coverage of their own ballpark.
I do visit their site periodically just to see what might be there, but I always feel like I've seen it all somewhere else first (and I don't mean here, necessarily). In some ways, it feels like they have yet to really harness their own a-ha moments.
Their news archive contains whole months without updates, as does Dave St. Peters' blog. This isn't necessarily bad (I'm sure Dave's a pretty busy guy), but it probably represents some missed opportunities.
What's more, the new ballpark portion of their site is maddeningly confusing to navigate. If you poke around, there is some astonishing stuff to be found, like this:
To find this useful nugget (how many people are projected to enter through each gate), you have to click on "Target Field Seat Selection" (a link which is in the body of the page, toward the bottom, but not duplicated on the navigation menu at the top left), and then find a tiny link which says only "click here". Then you'll find a wealth of information about restricted views and the seat selection process.
It must be acknowledged that the Twins are handicapped (like all of the other MLB teams) with a web design which looks like it was birthed kicking and screaming from the MLB web site mother ship. Without knowing what their content management tools look like (I must now enter again the realm of speculation), they seem to be saddled with limitations on where they can put things, how certain elements (like slideshows and lists of articles) are generated, and how the site can be structured. Whatever the cause, the web developers appear to be hampered in creating a clean presentation of information.
But it doesn't excuse the long periods without updates. I think it's a great idea for the team president to write about the ballpark (or even other subjects) every once in a while, but there should probably be a blog written by someone in PR that publishes a couple of times a week -- especially as opening day grows closer and closer. I think it's possible to come up with 150 interesting subjects and have somebody from within the organization write about one of them every couple of days.
They may think of their web audience as secondary to their TV and radio audiences (which it certainly may be, at least in raw numbers), but like so many other large companies, they are missing opportunities with their most die-hard fans by not harnessing the power of the web.
Up Next
Though this is an awkward time to do it, I've been working for many months on a series of articles addressing the vulnerabilities that the Twins, the Ballpark Authority, Hennepin County, and the city of Minneapolis have yet to face in order to ensure the success of Target Field.
In each case, the subject matter is a source of strength for the project while also representing a potential problem. I'll be polishing and publishing this series of articles in the coming days as something of a third anniversary celebration for this web site (yes, I started it that night in May of 2006 when the legislation authorizing the park was signed).
Thanks again for stopping by today, for telling your friends about this site, and for the amazing support. Stay tuned!
Comments
To utilized enhanced comment features, please enable cookies in your browser.
---
This page was last modified on January 16, 2010.
"You talk about the magic, the aura, but what really makes a stadium is the fans. Concrete doesn't talk back to you. Chairs don't talk back to you. It's the people who are there, day in, day out, that makes the place magic."
– Bernie Williams
Explore the Site
Here are 50 images chosen randomly from the 3046 found on this site. Click the image to be taken to the original post. A new list is created every 10 minutes.

Here's the entrance from the seating bowl.

573 Club

Plaza seating installation

TCF Bank Stadium (click to enlarge)
The completed promenade

You'll be able to park here for a quick stop at the Pro Shop or ticket window.

Standing, standing, standing.

This is the actual entrance for Gate 6. Notice how close the seating will be. The back row of the lower deck will be mere inches beyond that inner support post.

Here are some less intrusive things things you can actually get at the ballpark.

This looks south and shows the track configuration for Northstar. The platform shown is just a placeholder. To the best of my knowledge, concept drawings for this platform have not been released. Keep in mind, this is NOT part of the ballpark project. It is completely separate.

Solution for a hot night, just inside Gate 34 (that's a cool mist, by the way, not hot steam, which would be kind of cruel)




His body language might as well be the box score.

That's part of the wind veil, waiting in the B ramp for installation

The view from the Penn Ave entrance to 394 (and all the way into town! Click to enlarge)

The view from section 210



Viewed from an A ramp elevator lobby.

Bench seating? (Click to see hi-res version.)



Photo by Jared Wieseler

July 7, 1966 (Click to see the entire scorecard with ads)

The east wall of the building looks like it will be the first part completed. These are probably supports for the plaza, and they hug the very edge of the site.



Clemson Memorial Stadium




Lots of self-portraits were taken here after the final out.


First, an overview. The base of the plaza here will meet the base of Sixth Street at Second Avenue.



Outside the Metropolitan Club, photos of all the other major league ballparks

Press box, hallway to the print room

From the ground beneath the troubled skyway.
The alumni band sounded great.

Approach in the A ramp to the skywalk over Seventh
New Year's Eve, 2008

These stairs will meet the skyway.

This is the LRT bridge under construction as viewed from the east looking west. The ballpark facade would be at the left in this photo.

Glossary
BPM - Ballpark Magic
BRT - Bus Rapid Transit
DSP - Dave St. Peter
FSE - Full Season Equivalent
FYS - Fake Yankee Stadium (see also: NYS)
HERC - Hennepin Energy Resource Company (aka the Garbage Burner)
HPB - Home Plate Box
HRP - Home Run Porch
LC - Legends Club
LRT - Light Rail Transit
MBA - Minnesota Ballpark Authority (will own Target Field)
MOA - Mall of America
MSFC - Minnesota Sports Facilities Commission (owns the Metrodome)
NYS - New Yankee Stadium
SRO - Standing Room Only
STH - Season Ticket Holder
TCFBS - TCF Bank Stadium
TF - Target Field
Selected Bibliography - Analysis

Selected Bibliography - Surveys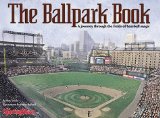 Not a "Third Edition" exactly,
but it replaced the above title
(2000)


Original edition (2000, round)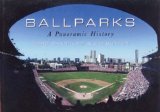 (2004, very large coffee table)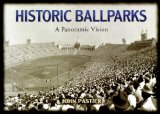 (2006, very large coffee table)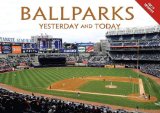 Combines the previous two titles
(2007, medium coffee table)

Selected Bibliography - Nostalgia



Book and six ballpark miniatures
(2004)