Twins in '12 and RT's Whiff
January 24, 2012 1:43 PM

COMMENT
With the Winter Caravan underway, there's hope that baseball will arrive again on schedule this year. That's a relief. Seems like it's been a while since we've talked about baseball around here. So, here goes.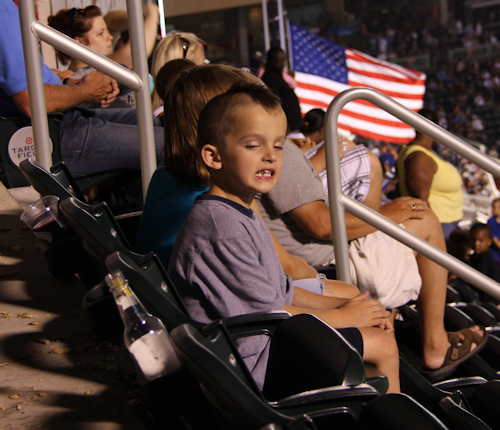 Who do you expect the 2012 Twins to be?
Michael Cuddyer. Jason Kubel. Joe Nathan. (I need a new favorite Twin.)
Jamey Carroll. Ryan Doumit. Josh Willingham. Joel Zumaya. (OK, but I'm not seeing a new favorite there.)
Concussions? "Progress." (A rather disquieting word to hear in that context.)
Bi-lateral legs? Apparently no longer weak. (Except for the new fiancee, of course.)
Offense? Basically flat. Defense? Basically flat. Pitching? Totally flat.
To wonder how the team might do this year, it's reasonable to wonder how they might have done last year without all the injuries, and use that to project a bit.
They ended 2011 about 150 points in winning percentage below expectations (conventional wisdom having them at about 87 wins, or .539, before last season started), notoriously coming away with only 63 wins.
But they weren't really a .389 team for the whole season. They were a .321 team for the first two months, a .611 team for the middle two, and a .241 team for the last two. (Yes, those middle two months were that good. I'm as surprised as you).
The rough start, though it was probably an anomaly, certainly doomed their season, but there was still hope at the All-Star break. The team actually peaked at .474, a scant five games under .500, on July 20, but they won only five of their next 17 games, culminating with a sweep at the hands of the White Sox in early August. It became obvious during those 17 games that this team would not be creating any miracles, and with that knowledge, the bottom dropped out.
July 22 - The Twins at their 2011 plateau
So, who were they really? Basically, they clawed their way to .460 on July 8, were at .461 at the All-Star break, and still in that region when that dropoff began (last above .450 on August 6). It appears in their record to be a solid plateau. So I think it's fair to say that's the team they really were without the big guns -- and still with some hope fueling them.
So starting with that, and seeing that the overall talent level is pretty even, what might be different this year?
First, I'm inclined to give them back 25 percentage points because injuries, though inevitable, are highly unlikely to be as bad as last year. That gets them to .486, which will have to represent the low end of their 2012 potential.
Next, we have to consider that Morneau is an unknown (so no guaranteed wins added back), Span is an unknown (so no guaranteed wins added back), and Mauer, though he will be back, sounds like he'll be out from behind the plate a fair amount to protect his knees.
I don't have to tell you this, but having Mauer behind the plate adds a level of confidence all around which translates directly into more wins. The pitchers pitch better, the fielders field better -- even the rooters in the stands root better. So the best-case scenario for the team concerning Mauer is that he catches 120 games and hits at a career pace. That could easily add back 50 points in winning percentage. But he's unlikely to get anywhere near that best case, mostly because the management will probably be overly cautious, so I'm cutting his addition back to 35 points.
That brings us to .521 (about 84-78) as the upper limit without a fully-recovered Morneau and Span. If there is a sudden synergy of recuperation (not out of the question), the upper limit might stretch a bit, but we can't really count on that.
Split the difference between that high and that low and you get an actual projection of .504 (roughly 82-80).
I know that it's a completely un-sabermetric approach, but that's all I've got. It simply leads me to think that humble expectations are the best strategy out at the Railyard this summer. (You'll still see me out there cheering, of course.)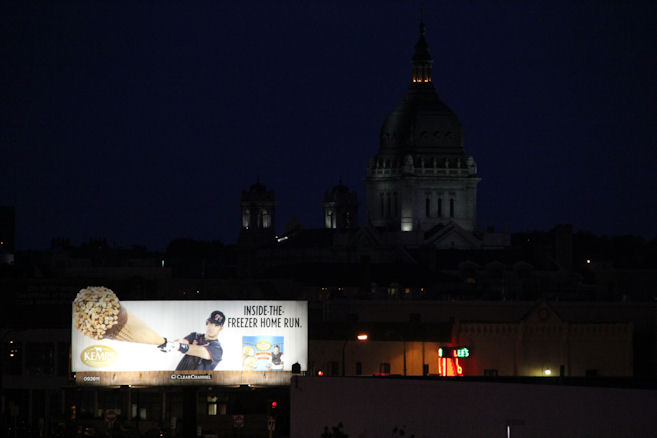 Tear down Lee's for a football stadium? Sacrilege!
Football Fumes
The crystal ball is much clearer for the Vikings. And by that, I do not mean to say that they will suck next year, though it does seem pretty obvious. Nor do I mean that they'll be playing in the Metrodome, also a certainty.
I mean that the more things change in the stadium saga, the more they stay the same. (By the way, if you visit this site only when new articles are posted, you're missing 90% of the fun. The 1300+ comments on my previous post have covered quite a wide range of topics, many with great passion. And the main post somehow managed to stay relevant the whole time, despite about a dozen attempts on my part to come up with something more timely.)
Nothing has been solved, of course, and in some real respects the process has regressed. This is normal, but cries out for some scrutiny. Personally, I think the writing is on the wall for how the whole thing will end, but some people still think that the Vikings have more than one option.
Take, for example, the mayor of Minneapolis.
The Delusional Raymond Thomas?
Now, I like Mayor Rybak. He's been a pretty good mayor, a distinct improvement over his predecessor, and a steady hand on the wheel while navigating some rough financial seas. He has good energy, good (if sometimes a little goofy) ideas, and tends to avoid the dogma-filled shallowness which befalls many politicians these days. I especially like that when someone in the media asks him a question, he actually answers it. (More on that below.)
It's true that my property taxes have gone up about 60% since he took office, but I don't blame him for that. In fact, I think he's a primary reason they haven't gone up further. After the decade we've been through (with scathing LGA cuts from a singularly hostile administration in St. Paul), I'm convinced that things would be much worse for the city with a less skilled mayor. If anything, his skills may be somewhat wasted in a position with so little real authority. I think he might actually make a good Governor someday.
But everybody has blind spots, and every word he utters about the Vikings seems to expose more of his. He is, I think, the last person in town who does not recognize that the Metrodome site ("Downtown East" or "Industry Square" if you prefer) has been a failure since day one and would be no less a failure with a new stadium built in the same place.
Been there. Done that.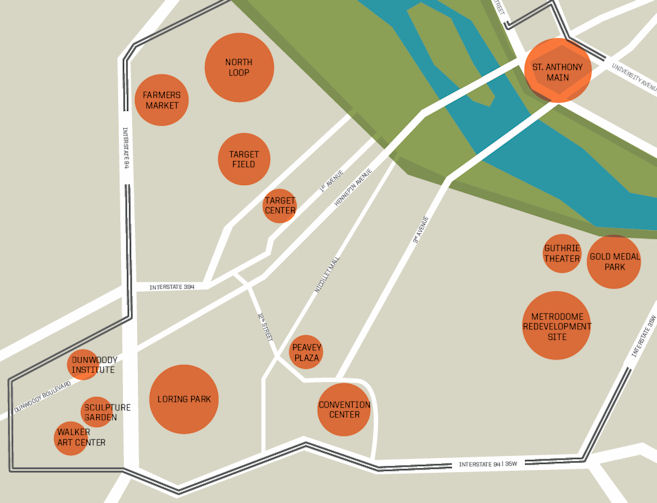 From the Downtown Council's 2025 Plan, a Metrodome "Revelopment" and a strong indication of where they think a new Vikings stadium should go.
The Vikings hate the Dome and its location, as well they should. And the neighborhood surrounding it (with the notable exceptions of the Star Tribune and Hubert's) wishes it weren't there. The infrastructure connections are incomplete and archaic, and it wouldn't actually save that much money or be that much faster to build on. When even the Downtown Council officially acknowledges this in vision documents, it's really time to let it go:
"...establish a major new residential district on and around the Metrodome site... The Metrodome site itself could become a small lake, surrounded by a leafy urban village of new homes, shops and ball fields that in essence, could link the campus to Downtown... Build a new Vikings stadium Downtown near Target Field and the primary transportation hub."
Lemon Tree, Very Pretty
Rybak also has come up with a financing option that sort of kind of sounds reasonable, but is just about as unlikely as the one up in Ramsey. There's no shortage of reasons, either.
For one thing, it's back-loaded (money only much later), meaning either the State's or the Vikings' contribution would have to be highly front-loaded (lots of money right now). That's just not going to happen.
It also requires vacating the charter amendment preventing the city from spending more than $10 million on a sports facility without a referendum. Not impossible, speaking legislatively, but it would face some very serious opposition from the same people who got that requirement passed in the first place.
It's one thing to simply bypass a creaky old default referendum requirement (i.e. Hennepin County for Target Field), but it's something quite different to bypass a referendum requirement which was actually created to prevent just what it would be bypassed for. Directly thwarting the will of the people isn't going to make anyone in St. Paul very popular. It would, in fact, make a whole lot of people with good lawyers hopping mad. Again, it's almost impossible to imagine this actually happening.
In addition, placing the stadium financing burden solely on the people of Minneapolis really isn't a good idea anyway. The base is too small, and too poor. Comparing this idea to the Target Field solution, the same problem comes up as did with Ramsey: The Hennepin County base is considerably larger and more affluent than the city of Minneapolis. (But, speaking of finding the right base, I'll go back to the best funding idea I've heard yet, which came from the other Twin Cities mayor, Chris Coleman: a teensie-weensy, teeny, tiny liquor tax throughout the state. Unfortunately, that's as unlikely as it is brilliant.)
Next, Rybak's plan robs Peter to pay Paul. The Convention Center is not going to simply go away when its bonds are retired. Repurposing this money now leaves a yawning chasm later which would have to be filled. It's hard to imagine either the City Council or the Legislature going for that.
And finally, while robbing Peter and paying Paul, the plan attempts to pay Mary as well. Tying funds for a shiny new stadium to renovation of a creaky old one (Target Center) creates a real mess, and ties the fate of something which is much-desired to something which is much-derided. Maybe people should want that (the Mayor says it will lower my aforementioned property taxes, but I'm skeptical), but the reality is that no one does.
Politically, it's also just plain dumb. I know that the numbers look smart on paper (if you believe them and can get past all the other hurdles I've just outlined), but it's a little like finding a pair of dirty old Timberwolves sweatsocks stuffed into the sleeve of a brand new Vikings sweatshirt. I mean, ewwww.
The fruit of this poor lemon is impossible to eat.
Ahh, Reasons
But I learned something last week that helped me understand Rybak's seemingly delusional bid -- which I hereby resolve to consider more political and perhaps wishful than delusional. Here's a clip of the mayor speaking to Tom Pelissero on 1500 ESPN last Tuesday (full show available here by selecting January 17):
Let me pull out the salient quotes:
Hennepin County was in negotiations with the Vikings for many, many months -- quietly, but doing it.
This is, believe it or not, something of a bombshell revelation. At the time, the media reported that the Vikings had spoken to Hennepin County as a potential partner, but the implication was that it was preliminary and casual. There is a very big difference between casual conversations and "many, many months" of quiet negotiations.
He goes on to say that everybody wanted the county to be the local partner, confirming what has long been suspected: When the Governor said, "Go find a site and a local partner," he really meant, "Go talk to Mike Opat."
The day (Hennepin) county pulled out -- and they pulled out very abruptly -- but the day they pulled out, we then came in with our Plan B.
The talks between Hennepin and the Vikings not only didn't end with a deal, but didn't end cordially. If I had to guess, based on what happened next, and this is pure speculation, the turn of events could most easily be explained by the Vikings dropping the AH plan onto Mike Opat's desk and saying, "Match this or we're going to the suburbs."
Whether it was that or something less dramatic we may never know. But the points to take away are that A) the Vikings knew Hennepin County was the most likely partner, and B) they didn't like either what they heard or the position this inevitability put them in.
But this was not something that was sprung on the Vikings. The Vikings had been in discussions with the Sports Facilities Commission for many months.
So, these quiet negotiations were not just with Hennepin.
Smartly, the Vikings were trying to create a bidding war of some sort. They were talking to everybody, quietly, testing waters, looking for the biggest sucke-- I mean best partner, and then trying to leverage it against the other players. This is illuminating, if not exactly shocking.
No surprise then that AH became the plan to beat. The Ramsey folks essentially gave the Vikings everything they could ever have hoped for. If you're the Wilfs at that point, you realize that if you somehow got the Ramsey plan passed it would be your absolute dream come true. And either way, it still could make for some pretty good leverage.
Only, it didn't. It was too delusional for words. (Well, almost. I've personally written about 7,500 words on the subject in the past three months.)
What's really interesting, then, is what Rybak did as Arden Hills rose and fell.
When the Vikings then said, this was in the spring, that they wanted to go to Arden Hills, we said, "We will stand back and give Arden Hills the ability, and Ramsey County the ability to move forward."
And I credit the people from Ramsey County for leading. And so, grudgingly, we stood back as there was a proposal to use tax dollars to move a business out of our city because we wanted to solve this friggin' thing that's gone on so long. And we did that.
When it became clear this fall that Ramsey County did not have the votes to get through the Legislature, and when we were asked by the Governor to come forward, we stepped forward.
I probably don't need to connect the dots, but here they are: Somebody whispered into Rybak's ear and said, "Be patient. Arden Hills will flame out. You'll get your turn." Whoever did that whispering probably also knew that the city of Minneapolis didn't stand a chance either, but that letting them take a turn would benefit the process in the long run (if only to get the Metrodome site vetted and rejected).
So sure enough, Rybak's moment came and he seized it. It looks a little like he gave a weak swing at a 90 MPH fast ball, but he gets credit for stepping into the box in the first place. He has much to gain by being a player, if even just for a short time, and almost nothing to lose.
In short, we've been watching a series of at bats, arranged as carefully as if Gardy were filling out a line up card. Put more plainly, it's political theater.
And everybody else, well almost everybody else, stepped off the stage so Rybak could have his moment.
A Streaker (Naked Greed)
Here's the problem: The Metrodome plan is only a tiny shade more plausible than Arden Hills. As such, it did not present the kind of leverage the Vikings need to get a better deal from Hennepin.
Enter Linden Avenue -- or what I will from now on refer to as the Basilica Site (BS for short).
You may remember that, for the longest time, no one knew just who brought this idea forward or why. But word around town is that the powers behind the Block E casino project were also behind the mysterious appearance of this potential stadium site. If true, it would sure make a lot of sense. But you need one more piece to make it fit together.
We've now seen it reported several times that Hennepin wants the Farmers Market site. This means that there is already a link between Hennepin financing and the FM land. You don't get the financing unless you take the site, and you don't get the site unless you take the financing. (This also explains why Rybak might have been unable to attach his financing plan to the FM site.)
But the Block E guys want their casino approved, and one way to make that considerably more likely is to become part of the financing for a Vikings stadium. But they're shut out with the FM site because of the existing link with Hennepin. They needed another site.
But that other site also became immediately attractive to the Vikings (who may or may not have any connection to the Block E guys) because it actually appeared to provide the necessary leverage with Hennepin. It does so by being more plausible than either the Metrodome or Arden Hills, while still farther from the existing infrastructure, and easier to build exclusive parking around. (I love those blissfully parking ramp-free renderings; hi-larious.)
Given the instant and completely predictable opposition from the Basilica community, it's unclear whether the Vikings actually thought they might be able to build a stadium there, or whether they just joined the rouse as a negotiating tactic. For their part, the Block E casino guys were probably just rolling the dice, realizing that you can still win even with the odds against you.
Either way, it doesn't matter. Mary Jo is formidable (and should be satisfied earlier rather than later), but having a guy in a clerical collar hold a press conference on the steps of a beautiful and beloved 100-year-old building to denounce your business strategy and vow to fight you with all of God's will (and lawyers) is a really, really bad thing. Forget the BS. It's total BS.
In short, swing and a miss! Strike three. So, we're back to the top of the order.
Loose Ends
You may be wondering whether Shakopee is really a player here or not.
In truth, I think they have a great site, and a nice potential synergy of entertainment options. Unlike AH, the Shakopee location is actually in the middle of somewhere.
Unfortunately, it appears that they are tying their bid to the racino idea, which makes it totally DOA. If they could team up with an existing casino, or find some other funding method, I think they could become serious contenders here. But as it is, not so much.
And while I was writing this post, Mark Dayton sent a letter to the Vikings saying that the Metrodome site is the only option for the 2012 session.
This doesn't actually change anything. A bad option is really no option. The Vikings won't go for it, and neither will the Legislature or the city of Minneapolis. Consensus is steadily building around the only really viable location.
In that regard and others, the landscape bears some distinct similarities to that in 2006, when TF was approved after the Hennepin County option sort of appeared out of nowhere and took the world by storm. (It was even an election year. Go figure.)
Should all the stars align, there is certainly a slight chance that Hennepin might reenter the fray this year, but it certainly wouldn't happen at the beginning of the session. And they won't enter at all unless there is a better-than-decent chance of getting their existing sales tax amended to include the Vikes.
Frankly, given all this TP nonsense, that doesn't seem very likely. More likely is that the Vikes will have to wait till next year, when the political landscape will most certainly have changed.
There could be a whole lot of "waiting till next year" going on around these parts in 2012...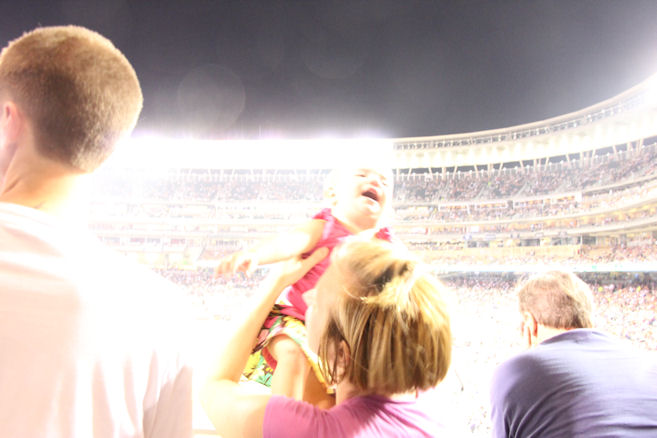 Don't worry. Everything will be alright.
Comments
To utilized enhanced comment features, please enable cookies in your browser.
---
This page was last modified on January 24, 2012.