Best Ballpark Ever?
It's Time to Take Stock
October 25, 2010 12:51 PM

COMMENT
A few months ago, in something of a surprise, ESPN Magazine ranked Target Field as number one in fan experience across all the major league sporting venues in North America. That's a rather stupefying honor for a facility which had hosted a mere 36 games when the article was published -- and presumably far less when the research was done.
And while it's a badge to be worn proudly, it does highlight the difficulties with such rankings. For one thing, they are highly subjective, despite "scoring" systems which try to provide more measurable, and theoretically objective, criteria (i.e. +2 points for good hot dogs, -3 points for long restroom lines, etc.). Secondly, they are obviously subject to heavy influence by dubious factors such as novelty and giddiness.
Yes, Target Field is novel, and it makes all us ballpark geeks a little bit giddy (especially in Twins Territory), but can it really be declared "coolest of them all" only a few scant weeks after being finished?
Maybe. Read on.
None of us are immune to this type of excitement, of course. It's especially hard to be objective when you've been watching baseball inside a glorified fun jump for three decades.
It means that a lot of the breathless reviews of Target Field that we've seen since April 12 (or before) must be set aside. You really can't tell anything for sure until time has had a chance to scuff the place up a little bit. That's the primary reason I've held off on trying to write any sort of review until now. I wanted to let my natural giddiness settle down a little bit, while also learning a little about what it will be like to live with this park for a long time.
Observation + Instinct
But I do remember at least one moment last spring when I was willing to declare TF the best ballpark in the majors.
At one of the open houses in March, I struck up a conversation with a couple of very skeptical guys that I ran across while they were taking photos of each other in a particularly cramped seat down the first base line. They seemed eager to find flaws, and were all too happy to tell me about another bad seat they had discovered where you couldn't even see home plate (section S, last row).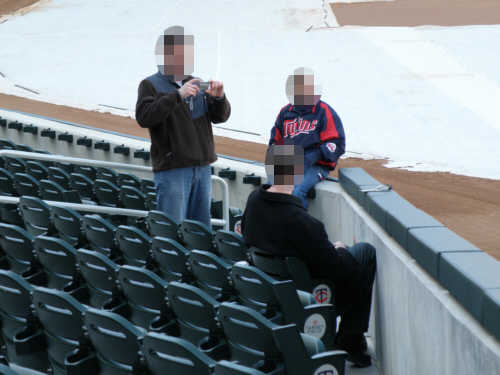 Open house skeptics
As the conversation continued, I filled in a few blanks for them and, sensing that I might have the answer, one of the guys finally asked if I knew which was the best ballpark in the major leagues. (How and why these skeptics were at this event remains a mystery to this day.)
Without hesitating, and with an air of certainty that surprised even me, I replied, "This one."
"Are you saying that because you know, or are you just a homer?" he asked with an accusatory glance.
Fair question, and comparable in tone to the one I'm inclined to raise about the ESPN Mag ranking. In fact, I don't think anyone actually knows in any real sense which ballpark is the "best" because there really is no such thing. It's like asking, "Who makes the best fish-n-chips in Minneapolis?" It's merely a starting point for discussion, not a quest for the actual answer (though if you have an opinion on that particular subject, I'm definitely interested).
When it comes right down to it, I think there is an argument to be made for TF as the best of the best, at least for the current moment. My argument, which I do not think matches ESPN's, goes like this:
One thing which is obvious to even the casual observer is that Target Field represents the state of the art for baseball stadium design in pretty much every way. Every modern advancement has been employed, a century of experience has been distilled and refined, and certain aspects of the project (notably, the size of the site) forced a level of creativity unseen in any other recent project of this scale (outside of South African soccer venues, that is). The architects and the team set expectations high, then they exceeded them.
They didn't get everything right, of course, but, even if they had, such achievements are usually bested pretty quickly. Target Field may be great, but it's not the best that will ever be (and couldn't touch the classic ballparks of yore, now gone). If it's the best at all, it could only be the best for the moment, to be surpassed someday, likely sooner rather than later.
But in this moment, at the end of its first highly successful season, with accolades pouring in from every corner, and detractors still looking for traction on anything other than nitpicking criticisms, I think it's quite reasonable for someone to claim that Target Field may be the best ballpark in the majors.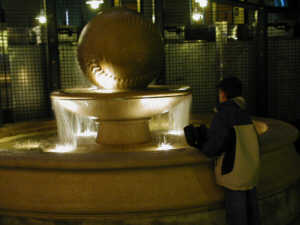 Name that ballpark
Surprisingly, not every ballpark which is built can even claim to be the best for its own moment. Four facilities opened between the class of 2004 (Citizens Bank Park and Petco) and Target Field. All of those four (Busch III, Nationals Park, Fake Yankee Stadium, and Citi Field) had serious detractors among fans and ballpark geeks alike. None had even a reasonable claim on being the best ballpark in existence on their respective opening days (outside of their own fan base, of course).
And if you dig a little bit into those ESPN rankings, you'll find an overall "stadium greatness" ranking which suggests that none of the 12 stadiums built between 1999's Safeco and TF were able to lay a claim on the title of "best". (I would argue with that, if only to acknowledge the classic trio of Pac Bell, Comerica and PNC.)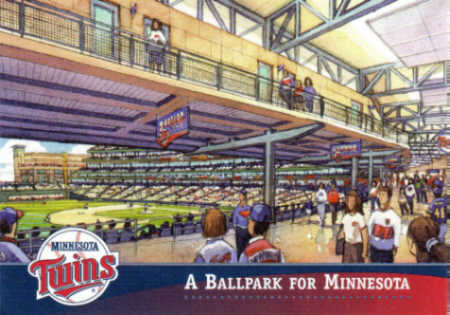 A very early vision for TF's main concourse
So that's how I answered the "homer" question. Sure, I'm a homer, but I'm also a ballpark geek. I hope I can filter out some of my giddiness and do some objective observation and thinking, which is what I'm about to try and do. And even once I do, I'm not going to offer any sort of overall ranking for the park among the current or former major league parks. Rankings aren't generally worth the bits it takes to store them.
Instead, I want to take a broad look at the ballpark, see what works, and get a handle around the (admittedly few) things that don't.
End of an Era?
Before we get to that, I want to take a moment to talk about context and history.
The simplified timeline at left shows that it's rather easy to split the history of baseball stadium design into three broad eras (four if you add a "Pre-Classic Era" for the earliest parks, which were all built hastily out of wood and usually burned down).
Both Met Stadium and the Metrodome appear in the second era, in which conventional wisdom led pretty much everyone to either design or retrofit their facilities for use by multiple sports. The economical reasoning is easy to understand, though it's difficult to figure out why they were still building these in 1990 when the limitations had become widely known as early as 1962. Dollars are that powerful, I guess.
But for this discussion, I want to focus on an alternate designation which often gets applied to this era: the "cookie cutter" generation.
Let's face it, from 1962 to 1991 creativity took a back seat to engineering and economics. No less than 14 stadiums were stamped from the "concrete donut" mold, and telling some of these apart in old photographs can be a fun game. Their donut-ness was bad for the fans, but it was the lack of overall imagination which nearly killed the romance of place which had been so associated with baseball.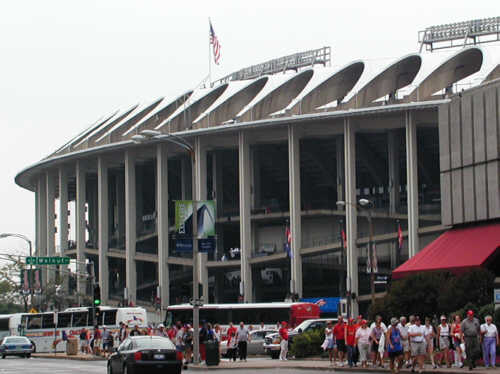 Missing: imagination.
If baseball is all about home, then the confines in which the game is played actually matter, and this concept was nearly lost as ballpark design devolved into an exercise in civic manipulation. (An argument can be made that this is what you deserve if you bludgeon governmental entities into financing your facilities.)
Despite not being a donut, the Metrodome is sort of the poster child for the problem. It was and is an efficient building. It actually worked both logistically and financially for the government which built it. It accomplished everything it set out to accomplish, but made a grave error in not seeking to accomplish anything other than enclosure and facilitation. Put more plainly, it just didn't set out to accomplish any of the right things, and was built with essentially no imagination. This is the story of all the multi-purpose cookie cutters.
By the time ground was broken on the south side of Chicago in 1989, things had been learned by everyone involved. New Comiskey would ultimately get only half of the equation right (being baseball-only), and it would take Camden Yards to bring imagination back to ballpark design. Suddenly, romance for the game was again part of the architecture, and a sense of the importance of place was fused with the importance of time (in the form of nostalgia).
CBP: retro in facade only
Not surprisingly, once the rest of baseball saw these ideas realized, a mad scramble was on. Every team wanted their own version of Camden Yards. The techniques of bludgeoning governments had been finely honed, and adding some level of design control was a natural next step.
But not every team had as much imagination as Baltimore. In fact, most teams went to the same architectural firm (HOK/Populous) and said in essence, "We want one of those."
Nostalgia then blossomed into its own design trend -- which we now call "retro" -- and took over the whole ballpark game. "Imagination" sort of ceased to be truly imaginative as engineers simply applied the new algorithms (brick, steel, arches, asymmetry, quirkiness) to each new geographic location.
To many, this was a wonderful occurrence. Indeed, it's a vast improvement over the previous generation of facilities.
But after a decade or so, some of the hollowness of the retro movement began to show. Despite looking (in passing) like the classic ballparks, they bore none of the integrated elements which had made those earlier parks truly classic. They were often set apart from their cities rather than integrated into them, and the separation of classes (which has been a part of ballpark design since the first fence went up in Brooklyn) went from incidental to brutal. In short, the new stadiums were retro in facade only.
Beyond that, while these new retro ballparks may not exactly look alike, they do sort of smell alike. The seating bowls bear striking resemblances to one another, and even when the details differ, many dimensions appear stamped from the same mold. Telling some of these apart in photographs can be a fun game.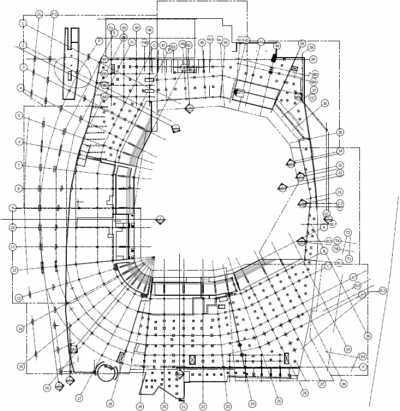 TF: template-based?
It's almost as if a catalog of potential amenities was assembled, and clubs building new parks could just flip through the pages, fill out a form, indicate their own colors and the names of their own stars, make a few tweaks and be done. From the outside, building a ballpark began to look a little like eating at Old Country Buffet.
And over time it became clear that the engineers at HOK, who suddenly became apparently the only ballpark designers in the world (see the chart), have a distinctive way of solving problems. The quality of the finished product became more a function of how imaginative each team was able to be, and how much they were willing to require the architects to stretch to accomplish their ideas. In several cases, the imagination side of that equation just wasn't that good.
When the latest era is viewed in macro, it becomes tempting to call this batch of ballparks the "new cookie cutters", but that isn't quite fair. It's more like each project started from a common template, and the divergences are what pass for individuality.
It's an open question as to how history will view this era, which appears to be drawing to a close (four of the past seven ballparks have non-retro facades). But this is the landscape in which Target Field was designed and built. As such, one task in any review is to discern which of the "template traps" the designers fell into, and which were avoided.
In looking at that question, we can also try to figure out whether TF represents the end of one area, the beginning of another, or something else altogether.
Ah, Where to Begin...?
I think I started writing this review of Target Field about the time that the original designs were released and the model made public. But now that I'm trying to put it together, it's been tough to figure out just how to arrange everything.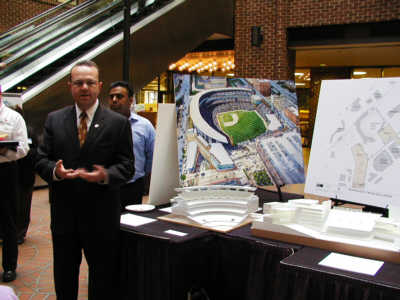 Dave St. Peter introducing the first physical models of the ballpark in June 2007
So I've decided to return to an article I wrote back in 2003 for a predecessor web site, and republished here just a few weeks after the bill which would create Target Field was signed. In that article I tried to document what makes a great baseball place.
For those who have been following this site for any amount of time, you know that the ideas there actually represent the heart of what I think is important in a ballpark, and I've clung to them pretty closely throughout the past four years.
So, in broad categories, I'll look at Target Field now to see how it meets these criteria:
1. Respect for the game
2. Respect for the fans
3. Respect for the community
4. Respect for the franchise
5. Unique identity
These are the elements which I still believe go into the making of a great baseball place, and they are roughly in order of importance.
At the risk of giving away the ending, let me start right off by saying that I think Target Field is a beautiful baseball place.
Quick Plugs
Before I forget, if you haven't already done so, head on over to TwinsCentric.com to pick up a copy of the 2009-10 TwinsCentric Offseason Handbook. It's just been released, and I got my copy by email this morning and have started reading. It's just an awesome publication, and a reminder that this is a great time to be a Twins fan.
Also, be sure to check where you stand on the 2010 Playoff Challenge. It's fascinating just how wrong we can all be! Only two people got even one of the World Series teams correct. Next year we'll work out some sort of consolation round which will allow people to earn points by making secondary predictions.
Finally, as I publish my big review of the ballpark over the next few days, please use the comment section here to make your suggestions on what needs to happen with the ballpark during the offseason. The Twins brain trust will be meeting later this week, and your ideas might just find their way right to the people who can do something about them.
And thanks again for including this site in your first season experience of Target Field.
Next up: Respecting the Game
Comments
To utilized enhanced comment features, please enable cookies in your browser.
---
This page was last modified on October 25, 2010.