Round Up
June 16, 2010 1:00 PM

COMMENT
There's no over-arching theme these days, just a bunch of collected tidbits.
You may have noticed by now that I take the marathon approach when it comes to many ballpark issues. The stories we will follow develop slowly and play out over the course of a season or seasons. I'm not much for "scoops" or "hot topics". I'm much more interested in deep understanding.
That said, some of these are the talk right now. So, here goes. (Special thanks for the photos provided by our DP on June 8, Jeff Ewer.)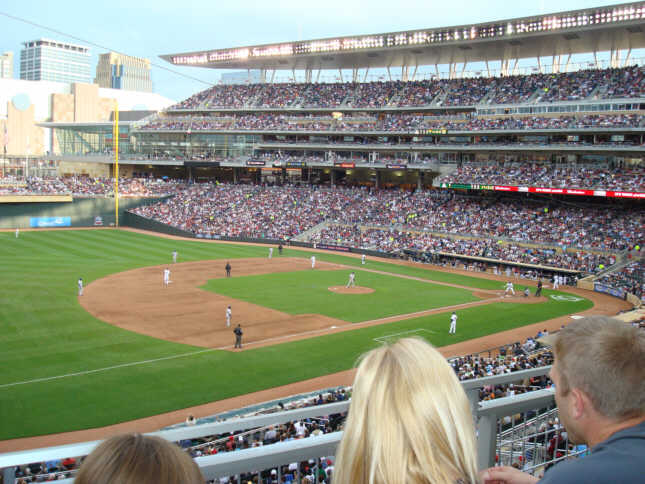 Photo by Jeff Ewer
WC Redux
Here are two comments from Dave that seemed quite reasonable:
Concerning the WC rows ...
I am a wheelchair user living with Spinal Muscular Atrophy. Yes there have been games this year where I could not get accessible seating. WC users will typically have able bodied companions with them, so it's not uncommon to see non WC users in the WC row. However, the games I have gone to there are very few if any wheelchair users actually in the WC row. One or two per section, that's a lot of companions, lol.
It's pretty obvious the Twins make no effort to ensure at least one person actually requires WC seating per order. The games I have purchased WC seating for there was no effort made to do so, not even a friendly reminder of whom the seats are intended for. Other ballparks, like Wrigley, will give you a stern warning that you better need the seats.
Couple things the Twins could do:
1) There needs to be two levels of accessible seating, barrier free WC level and a limited mobility level.
2) Advanced purchased WC seating must be picked up at will call. Someone in your party "MUST" be using a wheeled mobility device of some sort to receive the tickets.
3) Day of game purchases made after the gates have opened have no restrictions. All tickets, including accessible seating, are first come first serve at that time.
...
I agree there is nothing wrong with opening sales to WC seating to the general public once the non WC seating (including standing room only) is sold out.
Only disagree with selling a fan WC seating when there is a non WC option still available.
These seem like generally sensible suggestions. The over-arching question is whether people who need this type of seating are getting a fair shot at acquiring it. My impression is that they must be or we'd be hearing a whole lot more about this -- especially given the clear priority the Twins placed on accommodating fans with special needs.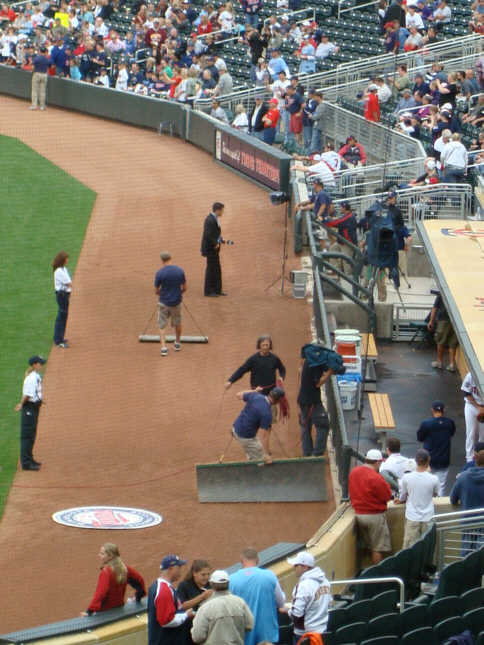 A flurry of action in front of the dugout before the game (Photo by Jeff Ewer)
I know some folks who do require WC seats, though not because of using wheeled devices. Mainly, these are people with knee or hip issues who simply cannot fit comfortably into even the most generously wide seats or aisles. So the criteria of requiring mobility devices may not quite work.
There are obviously some criteria in place for getting a handicapped sticker for your car. That's a good place to start for this type of seating. It could be as simple as allowing folks with handicapped stickers to have priority in buying these seats. (Do those stickers have serial numbers?)
The ultimate solution may be to simply sell these tickets by a separate method -- up to a point. Fans can register in advance (or at the time of first purchase), provide proof of the need, and be given a unique promo code or something which tells the system (or rep) that they are entitled to the seats.
Right now, as has been pointed out, sometimes you get WC seats when you select "Best Available" on the Twins ticket site. If that happens, the implication is that the seats have been cleared for sale to anyone. So it would be hard to blame someone who did not need them but bought them anyway under those circumstances. Same goes for Stubhub and the like.
The team obviously has a responsibility to manage how these seats flow into the pool of generally available seats. But as I have said before, if the people who do need them can get them, it's not really an issue if the rest are sold to those who don't.
It would be a truly kind gesture to hold all of these seats out of the general pool until game day, but I think that's unlikely given the extreme demand these days.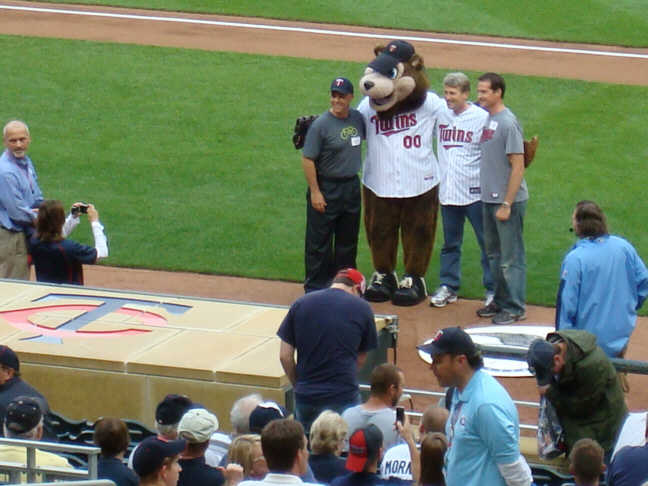 TC meets the Mayor (Photo by Jeff Ewer)
Triangle Redux
I commented in the last post that the triangle improvements at Seventh Street and Second Avenue were a little disappointing. I did not know that the city actually designed and paid for those upgrades, meaning they have no real reason to tie them to Target Field specifically -- considering that their own facility is actually closer.
Clearly, it's an improvement over what was there, but the design seems to miss an opportunity to bring TF around the corner a bit, or at least create a greater visual connection between TF and Target Center (a la the railings on the Sixth Street plaza extension).
I always imagined a big electronic sign on the triangle, like the one at the Metrodome, that could be used for all sorts of things. Now that I've seen what they've done, I actually imagine some art there -- like maybe a statue of George Mikan -- though that could detract from one goal of the design, which is to lead pedestrians to safe routes in a sea of fast-moving traffic.
It begs the question of whether enough traffic-calming measures have been taken along that treacherous stretch of Seventh.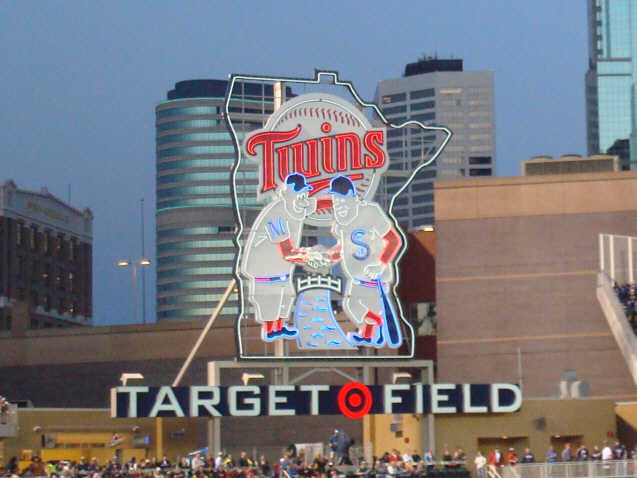 Photo by Jeff Ewer
Celebrate, Already
The celebration sign is a beautiful and distinctive piece of Target Field. But I have yet to actually see the hands shaking. I mean, I know that they're doing it, but I can't see it. Tonight I saw a clip on the news, and even there, in close-up, it was hard to make out. (The same clip showed fans in the overlook literally diving into the flowers to get a home run ball. There's a problem most gardeners don't have.)
And I know that the sign does a bunch of other stuff when various things happen (like strikeouts, runs scored, etc.) but it doesn't quite seem to have the impact that we all anticipated.
I mention it partly because the players have now been quoted as complaining that there's a glare coming off of that sign which needs to be mitigated.
If you look closely at Jeff's picture above, you can see that it's about dusk -- so the sky isn't quite as dark as it will get -- but the lights of the stadium are already on. And I think that those lights wash out the "neon" (which I believe is actually LED) and render the effect considerably less powerful than it might be.
It's almost as if the sign needs some sort shade from the stadium lights, something which might also mitigate sun glare at the same time. (Mesh doesn't quite sound like the answer.)
Again, it's a beautiful amenity, but it needs some sort of tweak to get to its full potential.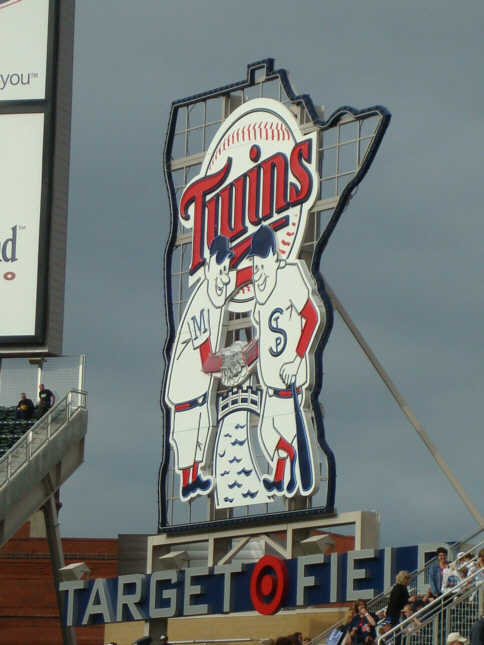 Photo by Jeff Ewer
BPM Night, Redux
I was presented with a wonderful offer from a faithful reader who has spare tickets in his group package for July 16 against the White Sox. The seats are in section 316. Come join us! (I did a new T-shirt design just for the occasion as well.)
BallparkMagic Night #2 at Target Field: July 16, 7:10 PM
This time it's primo seats in the View Level directly behind home plate (section 316). I'll be there with Noah (who will be turning 5 years old!) and a gang put together by Mike M. 20 tickets are available now, with potentially more to come, and they are being sold here exclusively at face value with no fees! It's my way of saying thanks for making this site your source of TF news.
Only
$24
per ticket! (limit of 2 per person)
By the way, it's possible that there will be more tickets available. So if it's sold out here, send me an email and I'll keep a waiting list.
One more ticket-related note: If you're looking for something tonight or tomorrow, demand is high and supply is dwindling (even TC Traders is tapped out). But a friend of this site runs www.BetterBoxOffice.com and still has lots of good seats. Be sure to mention BallparkMagic for the best deal.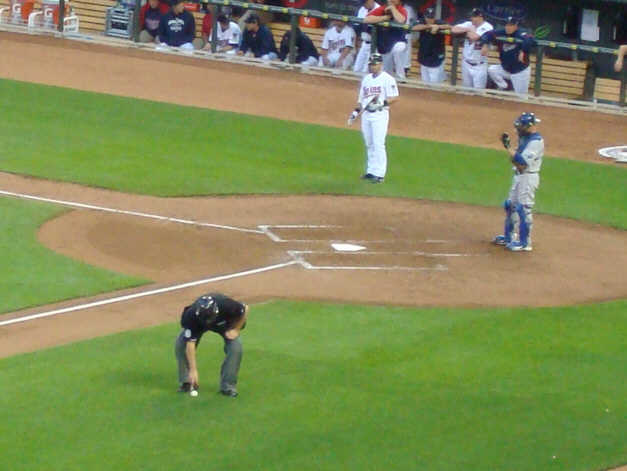 Write your own caption. (Photo by Jeff Ewer)
Animation
By now you've seen the "Race to Target Field" promo a few times up on the big board. Well, here is a very cool link to the storyboards for that video, along with the finished product (I won't spoil the surprise on who wins).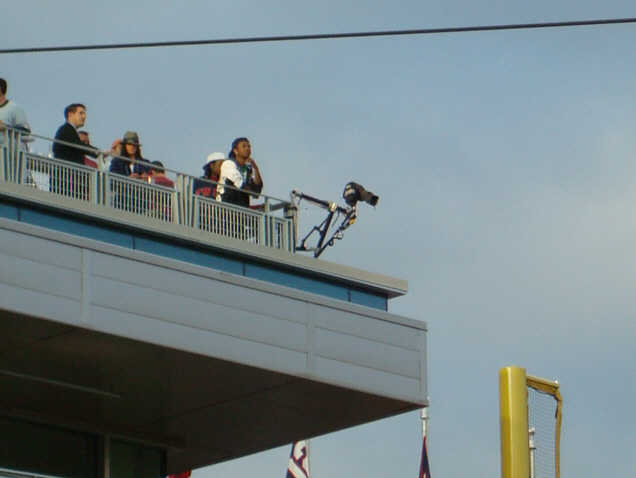 They can put a camera just about anywhere. (Photo by Jeff Ewer)
Leftovers
I started this post thinking I had nothing much to talk about. But now I'm out of time, and I have a bunch of subjects to go. So here they are, rapid fire style:
Radio -- The contract is up. There are three possible stations for next year. My preference: 8-3-0 with an FM stereo simulcast somewhere!
Interleague Play -- Why the hell are we playing the Rockies? Let the cross-town rivalries continue, but otherwise, this turkey needs to be canned. And this whole DH nonsense has really gone on long enough. Either everybody or nobody (and I know that "nobody" isn't really an option -- which means "everybody" is what we really need).
Soccer -- I need to figure out why I can't stand this game. I'm not just disinterested, I hate it.
Overhang Extension? -- One sure way to make the park more hitter-friendly would be to extend that overlook in both directions.
Live Look-Ins -- One minute I'm listening to the radio with the Gameday screen on the computer, and the next minute I'm actually watching the game on my computer. Note to MLB: I would give you money to let me continue watching the whole game on my computer. (If you think that a blackout will force me to get FSN, you're wrong. It won't -- at least not until the day I can pay for FSN and only FSN. You're leaving money on the table...)
Terrace Disparities -- Have you ever noticed that the Home Run Porch "Terrace" is a whole lot closer to the field than the either the Field or Home Plate "Terrace" levels? (Pointed out to me long ago by minn55441 and I keep forgetting to mention it.)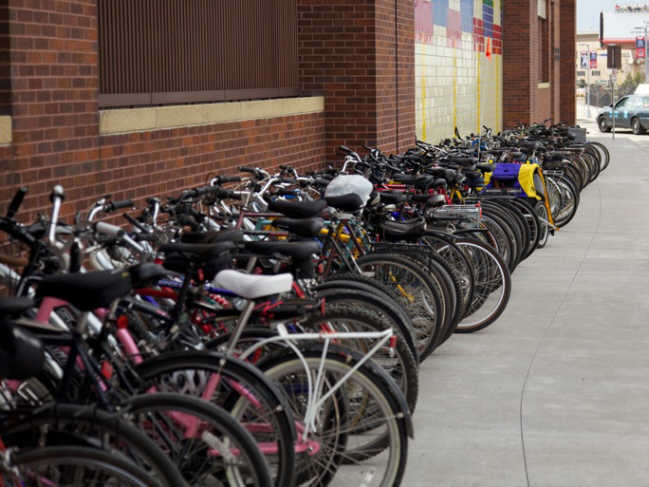 OK, people are definitely riding their bikes to games! (Photo by Tim Davis, courtesy MBA)
And finally, I just wanted to note that I've been in email hell for a while, so if you've written and not heard back, please try again. I think I've got it finally solved. Some messages have been delayed, others just never showed up at all. Turns out, there are bugs -- imagine that! This is what you get when you trust developers and upgrade your email client without asking any questions. (Thunderbird 3)
Tonight looks like a great night for outdoor baseball. Enjoy it!
Comments
To utilized enhanced comment features, please enable cookies in your browser.
---
This page was last modified on June 16, 2010.
"You talk about the magic, the aura, but what really makes a stadium is the fans. Concrete doesn't talk back to you. Chairs don't talk back to you. It's the people who are there, day in, day out, that makes the place magic."
– Bernie Williams
Explore the Site
Here are 50 images chosen randomly from the 3045 found on this site. Click the image to be taken to the original post. A new list is created every 10 minutes.

A walkway begins to form (this is as close as you can get right now)

This concourse, the uppermost, was built on top of the now-hidden old concourse during the 70s renovation.

Pile driving in progress

Mussina's first pitch. (Playing 3rd: Not A-Rod)

The Puckett atrium fireplace is just barely visible at the far left.



Go get 'em, boys!

Topped off.
Looking up toward Seventh Street.

Roped off for the LRT crowd

Emergency access viewed in context

Very interesting detail starting to appear here.



Condiments! (complete with faux limestone on the cart -- nice touch)


A detail from the above image shows that the section signage is now in place

This looks from the base of the stairs, behind the big pillars, toward the street.

2007, Noah's first game (Torii's last)

Intersection overview

Forbes Field

(Click to enlarge.)

These images are found at the top of the staircase, which leads to the Suite Level.

The Legends Club retail store is just visible at the right of this picture.

Wind veil install from across Seventh

An escalator was going in the day I was there.


Selling exactly what they say they're selling.

This is why I get it, even if I don't like it.

Noah is checking out the ample leg room and truly exemplary sight lines.

A peak inside what will become the main concourse.

Indications that club seating (the wider spaced areas above each dugout) will be a major presence in the lower deck

Special guests in the trees!

This is very early in the day.


Working on the connecting LRT tracks (this view looks up Fifth Street toward downtown.)


Staircase entrance. You cannot miss them.

At one point, we thought these windows might represent one of the so-called knotholes. But nope. Nothing to see here. (Nearest I can tell, there will be no view of the playing field whatsoever from the Seventh Street sidewalk.)

This opportunity is half a block up Third Avenue and thousands of people walk right by before and after games.
Skyline to the left of me, jokers to the right, here I am, stuck in the outfield with you... (click to enlarge)

They help create a psychological safe area along the plaza edge, and help you forget that cars are zipping by directly beneath you.

The canopy as viewed through the outfield stands. The lighting approach, despite what you may have heard, is actually very traditional.

Photo by Tyler Wycoff


Glossary
BPM - Ballpark Magic
BRT - Bus Rapid Transit
DSP - Dave St. Peter
FSE - Full Season Equivalent
FYS - Fake Yankee Stadium (see also: NYS)
HERC - Hennepin Energy Resource Company (aka the Garbage Burner)
HPB - Home Plate Box
HRP - Home Run Porch
LC - Legends Club
LRT - Light Rail Transit
MBA - Minnesota Ballpark Authority (will own Target Field)
MOA - Mall of America
MSFC - Minnesota Sports Facilities Commission (owns the Metrodome)
NYS - New Yankee Stadium
SRO - Standing Room Only
STH - Season Ticket Holder
TCFBS - TCF Bank Stadium
TF - Target Field
Selected Bibliography - Analysis

Selected Bibliography - Surveys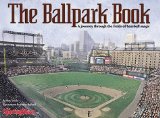 Not a "Third Edition" exactly,
but it replaced the above title
(2000)


Original edition (2000, round)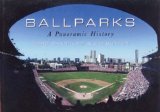 (2004, very large coffee table)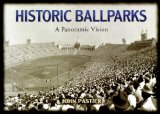 (2006, very large coffee table)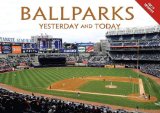 Combines the previous two titles
(2007, medium coffee table)

Selected Bibliography - Nostalgia



Book and six ballpark miniatures
(2004)