And we'll see you at Target Field!
(Cue the Gray Months)
October 14, 2009 12:39 AM

COMMENT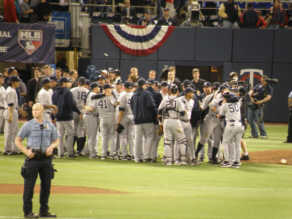 Final Metrodome baseball sight
As if on cue, the Minnesota sky opened up after the final game, unleashing the one enemy that no baseball team can ever defeat: winter. It feels like another unbeatable enemy left town about the same time on a plane bound for the next round of the playoffs. Yikes.
Who is really surprised that the best team in baseball beat the 11th best team? Ten times in a row is a little much. Nine out of eleven playoff games in this decade is stretching the bounds of credibility. Forget the Senators, we're in Generals territory here.
But you gotta have heart, and I refuse to get too down on the '09 Twins. For most of the season I felt like I didn't really know who they were. It was hard to get caught up in the Third Base Maelstrom, or the Outfield Lazy Susan, or the Black Hole at the Bottom of the Order. After a while you start to get numb to the Whack-a-Punto shtick (which base will he pop up playing next?). It felt, for most of 2009, like this team wasn't going anywhere.
Then, with little warning, they actually did go somewhere. They made it necessary to add another flag pole to that collection above the left field stands out at Target Field. They won a division!
Oh, a flag pole will be so much more...dignified
It's best not to scrutinize too closely which division they won. But there are only six, and they won one of them. That's really staggering.
Once again, Gardy led a ragtag band into battle and managed to channel Henry V all the way to their Agincourt at the Metrodome last Tuesday night. The Tigers tried to run out the clock, forgetting that there is no clock.
One can't help but wonder just how many tiebreakers a team has to play in before they'll recognize the need to win every possible game throughout the year. I can think of many, many nights this summer when victory seemed in the bag for the Twins until some reliever allowed the opposition to chew a hole right through that bag.
I think it's possible that the 2009 Twins were actually better than their record shows. They had specific, fatal weaknesses. They had bad luck. They had genuine blunders. They had good, old-fashioned epic collapses (though this is one race the Tigers would ultimately win).
They sometimes looked like they were so excited to be playing the game that they couldn't remember how to play the game. At other times, they looked like they'd rather be somewhere -- anywhere -- else.
They also had Joe Mauer, whose campaign was one for the ages. There's no doubt that history will remember Joe's incredible season in song and story and countless biographical documentaries. The appreciation of it will deepen and broaden until we all talk about it and then silently shake our heads. We'll probably even tell our grandchildren, "I saw him play, Timmy."
That's still a little hard to imagine right now, so soon after it's done. Even knowing what was happening, as we all did, it was hard to deeply appreciate. It becomes routine to see Joe come up and get a hit. But you also see him strike out, and ground into double-plays. History won't remember those -- it shouldn't.
Unfortunately, history will remember the Metrodome. In fact, as I feared, that old craphole did get the last laugh on us all by distracting Nicky, costing us a run, and possibly the game. In case you haven't heard the story, he heard the crowd roar, assumed that the ball had gotten through the infield, and thought he was clear for home. Technically, it's not the Dome's fault, though the roar would not have been so convincing in any other ballpark.
OK, I can say it one final time: Damn you, Metrodome!
It was my good fortune to see the game from the Golden Seat where Kirby's game 6 homer landed in 1991. As my friend pointed out, I got to be the last to see a major league baseball game from that hallowed spot. Special thanks to my host on that one.
I hope the Twins grab that thing and find a place of honor for it over at TF.
Speaking of grabbing things:
The Twins have said that they won't be moving the plate or pitching rubber to Target Field, but I hope they find a place of honor for them in a museum or exhibit somewhere. You may hate the house, but there are still marks on the wall where you measured your kids' heights each year.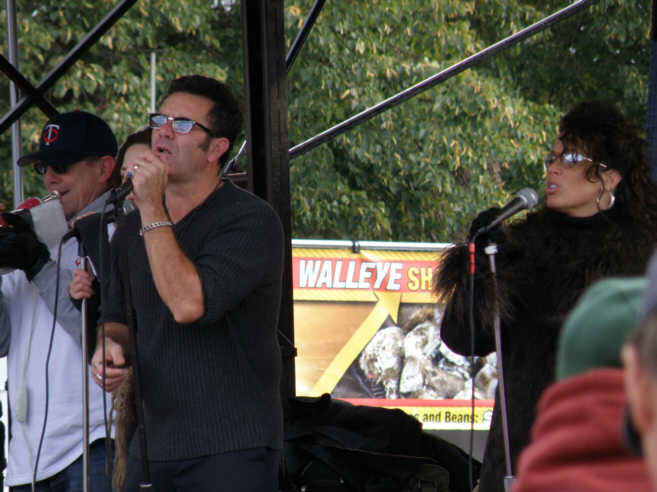 The season was perfectly bookended by Mick Sterling on the plaza
Wave-ing Bye-bye
Until now I've resisted trying to sum up the Metrodome era in any shorthand way. It's too complex, too full of contradictions.
But on Sunday night, one legacy stood out.
It was the top of the 8th inning, with the score still 2-1. Playoff baseball, played beautifully. Both teams were still in it, and the managers were just starting to get into the zen dance of substitutions. It was exactly the point where my scorecard starts to become a really beautiful mess.
It was an exciting moment, an anything-can-happen-here-on-any-pitch type of moment. And what is the crowd doing?
The f**cking wave.
Somewhere, some drunken idiot (if it was you, consider yourself a drunken idiot) stood up in front of some damn section of sheep (if you were in it, consider yourself a sheep) and started shouting and waving his (it's always a guy) arms one way or the other. Then he shouted, "1! 2! 3!"
The crowd, who only moments before had been watching exciting October baseball, decided it was more interesting to encourage the fried loser and started jumping out of their seats and waving their arms, only to hoot at the next section for not picking it up.
But, as always happens, eventually the wasted moron gets the next section over to look up from the game, see everybody jumping and waving their idiotic arms, and decide it's more fun to join in the jumping and waving than watch two of the best professional baseball teams in the world battle to the finish of a very close elimination game.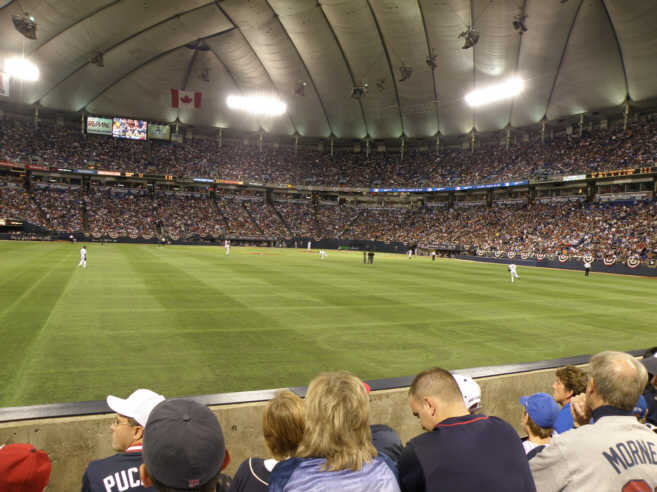 Dome, what have you taken from us?
I don't hate the wave. Really I don't. My kid (age 4) loves it. We do it together.
But save it for the blowouts, the meaningless games, the who-cares-who's-pitching-or-even-playing games after your team has been eliminated.
What has the Dome done to us in 28 years? Apparently it has made us into a bunch of jumpers and wavers even when there is real baseball being played right beneath our noses. It may very well have turned us from the reasonably knowledgeable fans of the Met Stadium days into morons chanting "Yankees suck" and "Ster-oids" over and over. (I heard exactly one clever heckle: "Hey Johnny! Nice episode of Cribs.")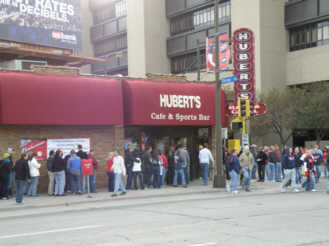 Hubert's remains the only sports bar within site of the Dome after 28 years of its existence. It's a cautionary tale.
This may sound curmudgeonly, but baseball is a beautiful game at any level. It's most beautiful when played at the highest level -- especially when it's just the final eight teams left standing. And, as the TwinsGeek says in his tag line, "the more you know about it, the more beautiful it is."
When you watch closely, you are rewarded. You will likely see the other team do something that you wish your own had done. You will see your team make subtle moves that are surprisingly effective. You will see things that you've never seen before, even if you're watching your 500th game. You may even find yourself applauding a monster, game-changing homer hit by an overpaid, steroid-tainted, tabloid poster boy on the other team.
Has the Metrodome sucked that appreciation of the game out of the fan base? It has at least watered it down. (I'll admit that I also fear that as the tickets get more expensive, it will continue to disappear from the stands at games.)
Wave-Proof?
I'm not sure if Target Field is wave-proof. Seems like no stadium really is anymore. Like pee in a pool, the wave is pretty hard to get rid of. And I suppose there will always be idiotic, uninformed (or downright classless) heckling and chanting. (Why would anybody in Minnesota boo A. J. Pierzynski? He didn't want to get traded. And trading him led to the promotion of Mauer and acquisition of Nathan and Liriano. And he's a pretty charismatic gamer with a World Series ring. Why would any baseball fan boo him? Just because he used to be a Twin but isn't anymore? Is that what it has come to?)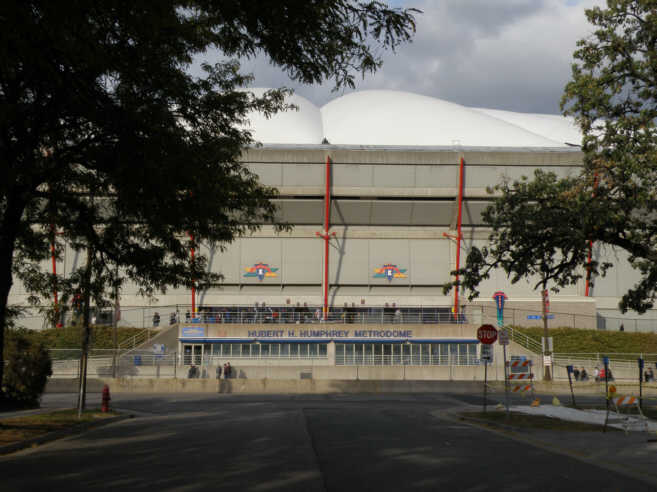 This is NOT Twins Territory anymore
But the Metrodome, by virtue of being nothing like a baseball place at all, has made things worse. It has actively encouraged fans to come to a game but not watch it. And it has encouraged the purists to stay away. It has invited in those who would not come for a game unless the conditions are always perfect.
So the most beautiful thing about this moment? That's all about to change dramatically. From what I've seen, Target Field has the potential to breathe all of that life back into the fan base -- primarily because it is so focused on the game itself. Distractions, in the design at least, are kept to a bare minimum. You will want to sit on the edge of your seat and watch baseball.
Beyond that, let's say that the Twins can sign a few key free agents and lock up Mauer for life. You put those things together with a new ballpark and people will be clamoring to care about the team even when it's falling down on the road somewhere.
It's hard to overestimate the effect of the facility on the team. It's really at the core of a club's identity and, as we've learned, it affects finances and the level of play even decades after the deals are struck.
So we're saying goodbye to a place that was never meant for baseball, a place that fought with the team, stole balls and bases out of the air, and turned over too much cash to a rival sport. (I think it stole some of my hearing as well.)
And we're saying hello to a facility that, for the first time in franchise history, is worthy of the team which will play there. Let's hope it inspires a whole new generation of Joe Mauers.
Epilogue '09
Last Tuesday night, we let Noah stay up much later than his normal bed time. Actually, I was the only parent home at the time, and I made the executive decision that watching the game was more important for everybody (i.e. me) than reading stories and going to bed on schedule.
But, as the innings dragged on, he got more and more tired. He was a trooper and kept asking, "What's the score now?" after each and every pitch. (It's funny because he doesn't yet get how the scoring lingo works. When I say, "The Twins are leading 2 to 1," he says, "Who has 2?" It's actually a very reasonable question.)
Finally, with Vic home from her meetings, it was time for him to get to bed. This was about 10 minutes before Gomez came across with the winning run.
Since I knew they were still reading books when the game ended, I popped my head into the room, as excited as a little kid, whispering as loudly as I could, "Twins win! Twins win! Twins win!"
Vic and Noah looked up from the book and she said, "What happened?"
It's impossible to recreate my exact quote, but it went something like this: "Gomez got a hit and then got to second by Cuddyer did something and then walk Delmon got on but Gomez fast and then hit run scored dive Twins win!"
We got Noah back to the TV and he sat in my lap to watch the celebration.
Forget the Metrodome. When I think of 2009, I will think of those exhilarating final weeks when all the pieces came together and this team did something that no one expected from them just a few weeks before.
By the end of the season, it was clear that they knew who they were, and had finally found a way around all of those holes in the roster (some of which had been deftly filled at mid-season). They deserved the division win and they got it by playing their tails off.
They would go on to give the Yankees a tougher run for their money than anyone expected. That they lost is not what matters. What matters is that they were there, and they played hard.
Most of all, though, I will remember our whispered shouts (our 1-year-old was, after all, asleep down the hall) as Vic and Noah and I celebrated that amazing tie-breaking win and division championship.
Thanks, boys. It was a great year, and we'll see you at Target Field!
Comments
To utilized enhanced comment features, please enable cookies in your browser.
---
This page was last modified on October 14, 2009.