Settling Down
May 11, 2010 2:46 PM

COMMENT
Ah, things have finally started to settle down a bit. As a certified ballpark geek, it's just overwhelming when each day produces 100 new articles to scan and you don't want to miss anything interesting. In truth, however, interesting things could only be found once in about every 200 articles. Such is the nature of the echo chamber which is much of the media these days.
View from the Overlook
It seems like every blogger in Twins Territory has written about his or her first experience at Target Field. Most of the descriptions come down to, "Here's what we ate, and here's where we sat, but we didn't sit very much." I find the first part interesting mostly because the food is something that can be changed a lot easier than, say, seat widths which will likely be there forever.
Not that I'm looking for things to pick on (I've found some seat-width choke points, but mostly they are great), but I am trying to get a handle on overall fan comfort, and food, to my mind, has little to do with it.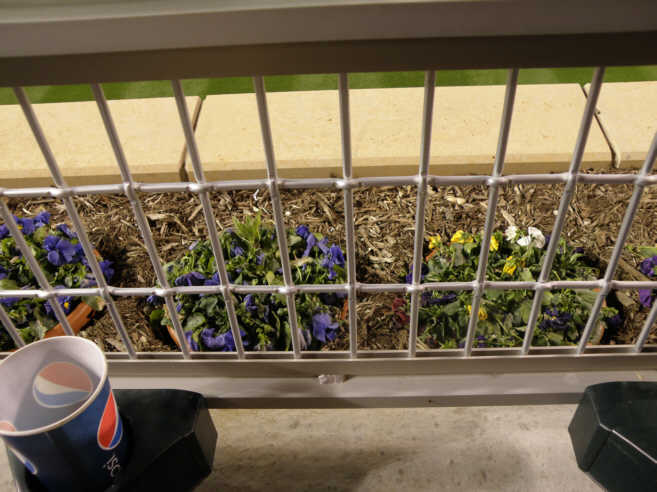 Flowers. Real flowers.
La Velle inadvertently started a round of ballpark ranking, and that led me to think about ranking criteria. Truth is, I can't come up with anything simple. For one thing, food is out because it can change too quickly and vary too much from one stand to another.
For example, I had some delightfully fresh cheese curds out at the State Fair booth behind the left field stands, and I had a super rubbery batch from a stand on the upper concourse off of first base. How much do you want to bet that I could have experienced exactly the opposite difference an inning later in each case?
Don't get me wrong. I'm definitely interested in comparing the food between ballparks. But it doesn't rise to the level of being definitive.
Believe it or not, I'm still not ready to write a definitive review of TF. I have to admit that I'm still so blown away by just being able to stroll open concourses that I can't really be objective at all about some of the things which I think will come to matter later -- when the team isn't quite this good.
Best ballpark amenities ever? Exciting baseball and winning.
No Troughs, But...
Here's a subject which is going to require serious attention in the offseason: Restroom placement and configuration.
Those of us who attended BallparkMagic Night (which was a total blast, by the way) learned a little something about hopping up and down on one leg, and it was just the result of low capacity and poor design -- and I don't mean of our anatomy.
When you look at a map of TF, you'll see that rest rooms are concentrated along the main concourse, leaving the outfield stands somewhat barren. (The map scanned at right, which is being handed out to almost everybody who enters TF, actually contains some big inaccuracies, but it appears accurate as far as the outfield is concerned.)
Before you say, "Ha ha, you men have to stand in line now," let's just say that it need not be that way. You don't need to rob Peter to pay Pauline, as it were. What we have here is some really bad design that was being covered up by the constant use of the "fixture count" in all the press.
Remember those charts of how many fixtures there were compared to the Metrodome? Looked great, right?
Well, it turns out that it matters where all those fixtures are located, how evenly they are distributed according to where the people are, and how the rooms in which they are housed have been configured. Who would've thought?
In the current design, each of those two outfield rest rooms has to accommodate a whole lot of bladders, and they are woefully beneath the necessary capacity, despite the fact that at times they're OK. (The upper concourse is not a problem, by the way. If you've got the time, take an escalator to pee.)
On top of that, the men's room between gates 29 and 34 is incredibly small, and poorly designed.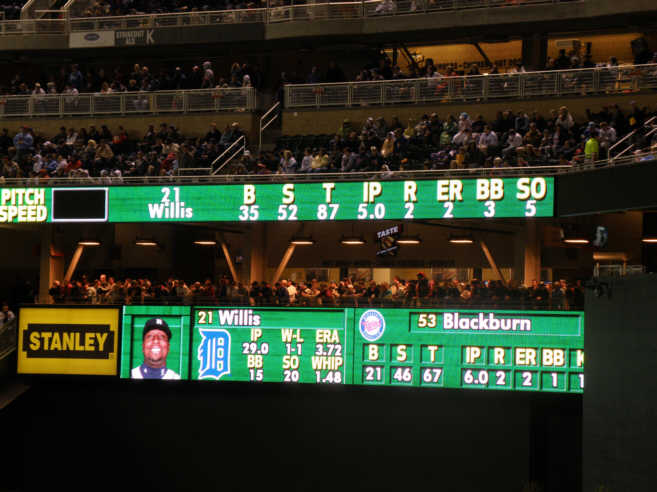 The french fry lights were on!
For some unknown reason, there's only one entrance, which also serves as the exit, and the sinks are on one side of the door while the paper towels are on the other side. That means you need one "excuse me" to get through the line between the urinal and the sink, another to get from the sink to the paper towels, and an unprecedented third "excuse me" to squeeze past the incoming line to get out of the place!
Here's one of those moments when I made an assumption which turned out to be totally incorrect. I assumed that bathroom design for large facilities had been solved long ago. In fact, if you simply replaced the Metrodome troughs with urinals, you'd have the perfect design: Enter from one side, do your business and clean up in the middle, and exit the other way.
Why wouldn't such a design have just been carried over?
So there is an opportunity for reconfiguration, which will solve half of the problem. But the other half is capacity, and they're really going to need to add some behind the outfield seating, which could be tough, but hardly impossible.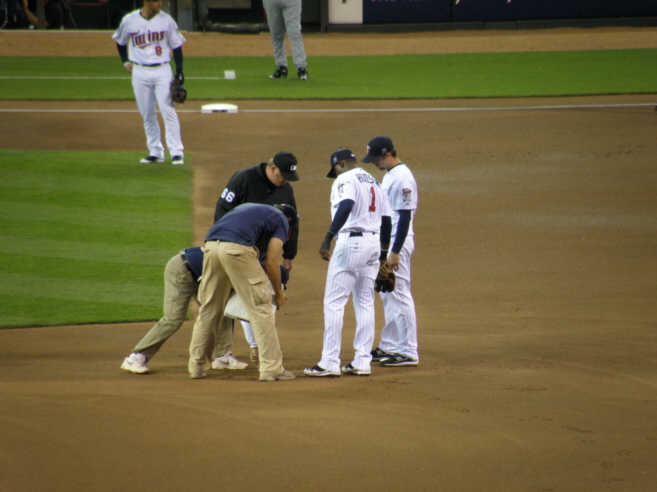 A little ground's crew action in the first inning the other night.
The silver lining to this story is that there's a cart right outside that bathroom which sells the most delicious deep chocolate cupcake for $4.50. I couldn't resist, and it's the best food I've had yet at Target Field.
Yeah, I guess maybe it is all about the food after all...
Sound On Sound
I don't want to belabor this too much, but we found another dead zone for the sound out on the Overlook. The PA announcer sounded muffled under the best of circumstances, and was generally inaudible if there was any other noise going on -- such as a crowd cheering.
Simply turning up the volume won't solve it. They need more speakers, placed strategically to cover those areas not currently being served.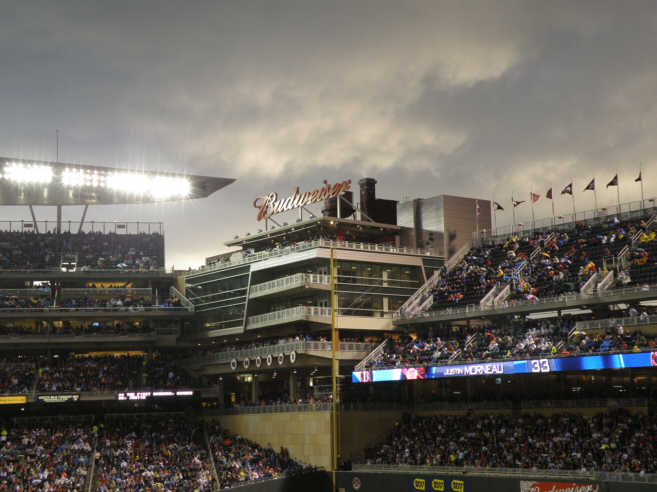 After the rain. (We were in the wrong spot to see the rainbow...)
The sound design is certainly quite complex, but they have a ways to go to get it up to an acceptable level. Frankly, I think the PA announcer should be audible anywhere open to the field (including all concourses), and the radio feed should he heard anywhere which is not open to the field (rest rooms, clubs, elevators, escalators, gate areas, plaza, maybe even the parking ramps). Inside the suites, you should have your choice of PA, radio, TV, or nothing.
Again, I assumed that this was the sort of thing which had been solved for all ballparks long ago. Not so.
Fanning the Fans
You know, I'm cynical enough to think that using a taser on a fan in Philadelphia is meant to send a message to fans everywhere: run on the field and you may get tased.
Never mind the obvious class action lawsuit just waiting to happen against tasers. We've all seen the various videos, and it appears that tasers do one of two things: either they drop the perp in a heartbeat (occasionally stopping said heart in the process), or they cause the dude to completely freak out (causing his heart to race to the point where it sometimes just gives out).
With all due respect to law enforcement, using a taser is tantamount to electrocution (I know, it's the amps not the volts, but still), and the anecdotal evidence is that their use is just as likely to make a situation worse as it is to make it better.
They are also extremely dangerous. In Philly, the idiot (who was completely at fault, don't get me wrong) could not walk for a few hours after the incident. His body -- and brain -- will likely suffer ill effects for the rest of his life (similar to a lightning strike). That's a constitutional challenge just waiting to happen.
If you saw that video, you know that they weren't exactly dealing with Adrian Peterson out there. If a half a dozen security guys can't bring in one drunken idiot without a taser, then you need some new security guys. I heard somewhere that security guys at TF don't carry tasers, but they have "other means" at their disposal for dealing with unruly fans.
I'm rooting for nets -- like the gorillas used on Charlton Heston in Planet of the Apes.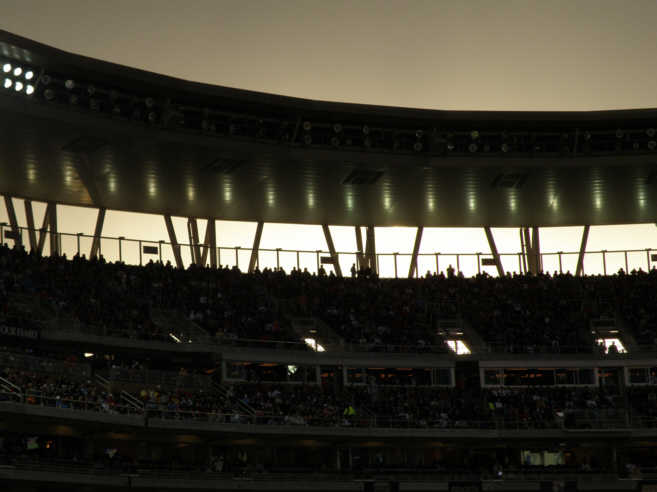 A beautiful, glowing sunset after the rain.
Keep It, Already
But that brings me to one other fan behavior which needs non-taser modification.
Just take a look at the body language of the Twins players the next time a fan throws back an opponent's home run ball. They are embarrassed when that happens. It reflects poorly on them, because it's disrespectful to the other team. We've all read about those unwritten rules, right? Well, they apply to fans too.
What's more, when something like that happens (a game-tying homer in the 9th), all that the players are thinking about is getting that next guy out and getting back to the plate. Now the game has to stop, Cuddyer has to trot out and field the ball, toss it to a ball boy, and get back to his position before the game can continue. Not cool. (You may not have noticed it but the ball boy usually just tosses it to another fan like a routine foul ball.)
The homer that Brennan Boesch hit on BPM night sailed way over our heads. It was a monster moon shot (448 feet and the longest hit yet at TF, according to HitTrackerOnline.com). The appropriate response is awed silence, or maybe even polite applause because that was one awesome hit.
I go to TF to see great players play a great game, and when you see a hit like that, even if it wasn't by your team, you just have to say "wow" and give the guy some props. Throwing the ball back is like spitting in his face.
You know what? If I catch a Major League baseball, I'm hanging on to it. It either came off of a Twins hitter's bat or out of a Twins pitcher's hand. Either way, I'm good.
In fact, to continue channeling Charlton Heston, you'll get my Major League baseball when you pry it out of my cold, dead hand (or kindly replace it with an autographed equivalent).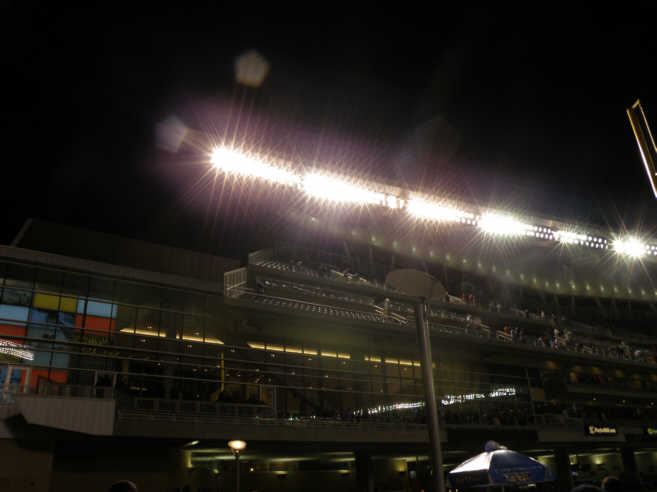 A last look on the way out.
Talkin' Baseball
Have you noticed that people are talking baseball all over the place? Even talk about the weather -- ubiquitous in these parts -- has got a baseball undercurrent. "Will they play tonight?"
Even birders are talking baseball these days! How unexpected is that?
I gave my tickets for last Thursday to our daycare provider, and she reported that they were primo seats for the dance of nature that is Kirby the Kestrel. Kirby's thumbnail review of TF: "I ate yummy moths, and the seat width was just perfect, but I didn't sit very much."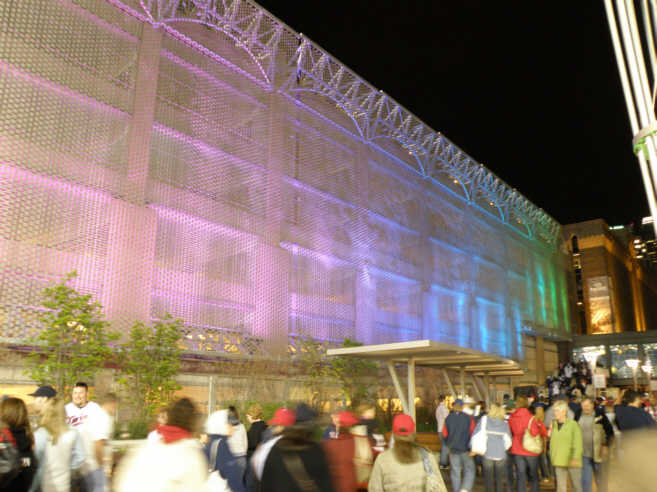 Then you turn around to this!
It's all a part of that thick baseball thread being woven anew through the community.
Almost forgot to mention that I'll see you down at the game tomorrow (Wednesday) afternoon. It's the first trip for my lovely spouse, and we'll be up in 323. See you there!
Comments
To utilized enhanced comment features, please enable cookies in your browser.
---
This page was last modified on May 12, 2010.