So Long, Yankee Stadium (Updated, Again)
October 18, 2008 2:43 AM

COMMENT
Let's move from the lamented loss of one old ballpark to the seemingly unlamented loss of another.
Nothing said here can add to or take away from the legacy and mystique of Yankee Stadium. In fact, until a couple of weeks ago my only experience of The Stadium had been through TV and books.
That has now changed.
You see, as the summer ticked by, I realized that I didn't want to miss the chance to see first-hand a legendary baseball place. That turned out to be a great decision (see sidebar for some MasterCard-style trip details). Now I can at least offer some informed observations at the most significant ballpark closure in recent memory.
My expectations weren't unusually high. I've visited many ballparks and, even though I read up on the history of each one before going, I'm always a little surprised by what I find. Most reviewers tend to miss the things that interest me, and getting a feel for a place is a personal experience anyway -- unique to each fan. That fact has led me to almost totally disregard other reviews, other than for logistical details which can come in handy.
So even though people always talk about Yankee Stadium as a "baseball cathedral" that is "full of ghosts," I didn't go there expecting to find any. I was intrigued that many players have spoken about being intimidated by the structure itself at first, then by the history, then by the fans. I was also keenly aware that the place's reputation is intertwined with that incessant song: "If I can make it there..."
Here are some quick observations, then we'll dig in a little bit deeper.
Observation #1: It's Just a Ballpark
What struck me first was how unremarkable it all was (reputation and invisible history aside). Far from a cathedral, it felt like a working ballpark -- a place where baseball is played and enjoyed. Nobody was speaking in hushed tones or bowing down to the baseball gods before entering their assigned seat. These may be hallowed grounds, but most of the people I saw were just out for a good time.
People left their empties under their seats. Some got a little bit drunk -- most did not. The food was routine (Centerplate is the vendor, same as the Metrodome). Every now and then the faint smell of piss wafted over our section.
Observation #2: It's Tired
I don't know why, but I sort of expected everything to be a little more updated and a little bit better maintained.
The famous blue of the seats is pretty faded when viewed up close. There is plenty of rust (though not nearly as much as I saw over at Shea), and it can be almost impossible to read the section, row, and seat signs.
A season ticket holder sitting behind me was telling his group about how he's been helping people find their seats for years. The numbering is confusing, the doorways don't line up exactly with the sections they claim to, and the seat numbers in the boxes use an antiquated numbering system which could easily lead a first-time visitor astray.
The concourses were tiny (photos later in this article), and not especially posh. There is lots of cement, and a feeling even more cramped than the Metrodome.
The scoreboards are clearly old technology, maybe not quite as old as the Metrodome, but close. There was, for example, a slightly updated clapping hands graphic, but it was still monochrome and "animated" only in the technical sense.
Observation #3: It's Big
Getting off the subway, the ballpark is almost invisible because of its sheer size. There is no buffer zone around it, so sidewalks rub right up against the gigantic walls. My first impression was this: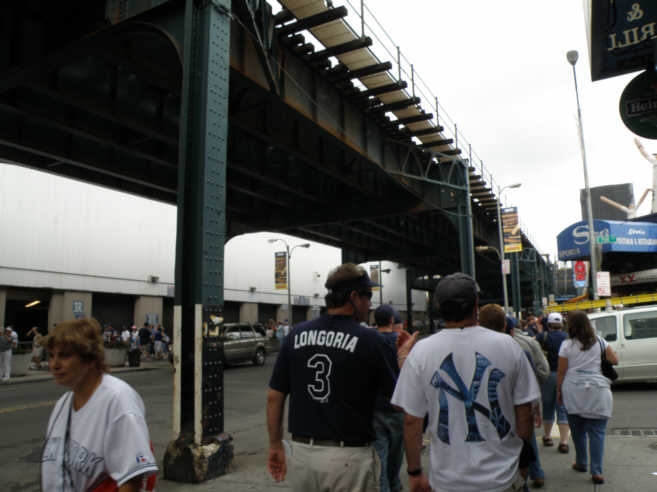 That is the gun-metal gray wall of The Stadium just beyond the elevated tracks.
I quickly realized that if I was going to get any interesting pictures at all, I'd have to walk away from the park and look back at it. So I did just that, getting as far as two blocks away at several points before I could get anything interesting. A lot of New York is like that, right?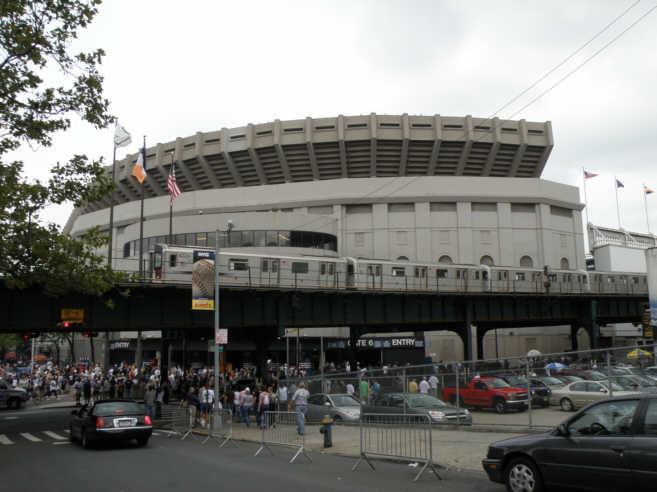 From about two blocks away you can finally get an idea of what it looks like. Just to my left (but out of view) was a valet parking stand where a limo was idling.
I've noticed a homogenization in the game as marketing strategies and techniques which succeed in one place get copied to all the rest. This was on full display.
The activity in and around the park felt a lot like the activity in and around any ballpark before a game. There were vendors, scalpers, throngs of well-behaved fans, even announcements coming from loudspeakers that were essentially interchangeable with those you hear outside the Metrodome (though the voice, as you might expect, was significantly more dignified).
Knowing that security wouldn't let me in with my duffel bag, I checked it at Ball Park Lanes for $5 before heading out into the crowd. Actually, I officially joined the stadium crowd when I got onto the jam-packed #4 subway -- another surprising similarity with the Metrodome.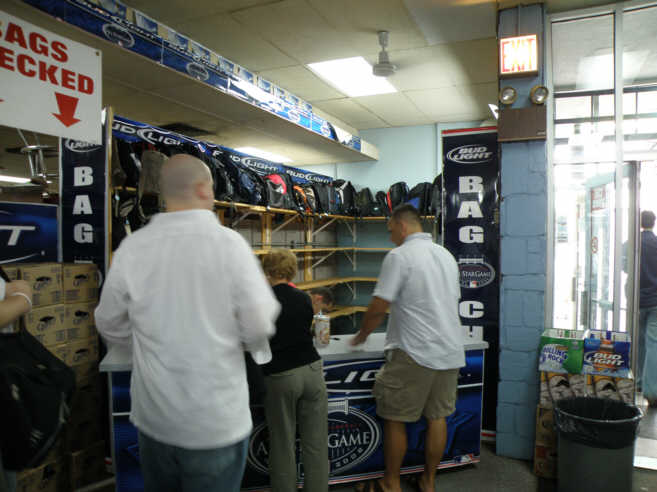 Bag checking at Ball Park Lanes was incredibly simple, as was the pick up later. The line was short and fast-moving.
A Bustling Scene, A Powerful Identity
As I emerged from the subway a full two hours before game time, I was a little bit shocked to see how large the crowd was already around the stadium. There was lots of commerce on display, but also a fair amount of just plain sight-seeing and soaking up the atmosphere. This is one of the great benefits of having your stadium in the same place for so long: the neighborhood has adapted to support it.
Though the crowd would be seeing one of the very last games ever at The Stadium, there was no sense of impending doom or even a whiff of melancholy. There was also only the tiniest visible interest in the new ballpark, which already looms large next door.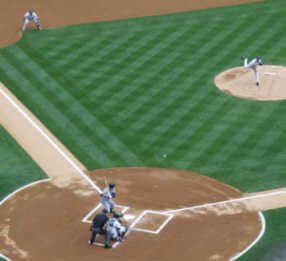 Mussina's first pitch. (Playing 3rd: Not A-Rod)
I walked all the way around the new park, snapping a ton of pictures, but I was literally the only person doing so. On the south edge a few people had wandered across the street to peer through the construction fence, but I have to admit that I expected to see many more curious fans.
The new stadium -- and by implication the disappearance of the old stadium -- seemed to be a complete non-issue. Even after I'd been sitting among the fans in the upper deck for three hours, I got no sense of excitement about it, and barely even any interest. How could this be?
Do They Care? Oh, I Get It Now
Though Tiger Stadium may have been older, there has arguably never been another stadium so closely linked to a team's identity than Yankee Stadium. Yet there have been only muted objections to its demise and replacement.
In fact, until just a few days before the final game, there wasn't even an organization in existence called "Save Yankee Stadium." Given its storied history, you'd think there would be at least somebody who cared enough to want it saved.
At least that's what I thought before I went there. Gaining the first-hand experience was an eye-opener. I can't say that I was disappointed, but I was a little underwhelmed.
Ever since returning I've been sort of obsessed with Yankee Stadium, mostly in an attempt to understand what it has that has made it such an icon, and what it lacks that makes people content to see it go. The answers weren't what I expected.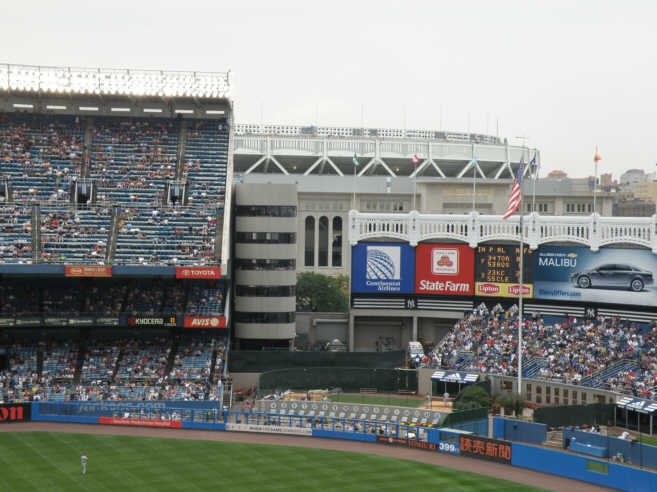 The New as viewed from The Old.
Why An Icon?
Well, reason number one seems a little obvious:
There's no question that so much winning cannot help but fill a place with a sense of Destiny. It wallpapers over the fact that, during plenty of periods in their history when the economics were not so overwhelmingly in their favor, the Yankees have stunk up that place. They sure did the day I was there!
Reason number two has to be that the place is just plain beautiful. Not the outside -- which is pretty ugly in many ways (more about that in the next section).
But the inside, just like a beautiful face, is close enough to symmetrical that it seems perfect at first glance, and far enough from symmetrical to remain interesting upon closer inspection (see: Angelina Jolie). This owes a lot to the original configuration, which is still visible in plain sight, though the field no longer follows its contours.
Given that the original plans were to eventually enclose the entire outfield, it's sure odd that the area of the playing field should be so lopsided toward left. Perhaps that was to accommodate football or some other anticipated activity. But it brings the overall configuration very close to the golden ratio -- that magical formula which allows humans to perceive something as perfectly balanced (not unlike a 3-2 count -- which is also very close).
Reason number three definitely has to do with knowledgeable and passionate fans. They sit and watch the game. They know the players. They talk baseball. They have an attitude. They do not do the wave.
The people who have inhabited Yankee Stadium -- both on the field and in the stands -- have made it something of the ultimate Great Baseball Place.
You can also make a case for the ghosts, and the many other memorable events (beside the sheer winning), but those seem somewhat peripheral to a first-hand observer.
Why Let It Go?
First and foremost, though it occupies the same patch of land, it is not your grandfather's Yankee Stadium.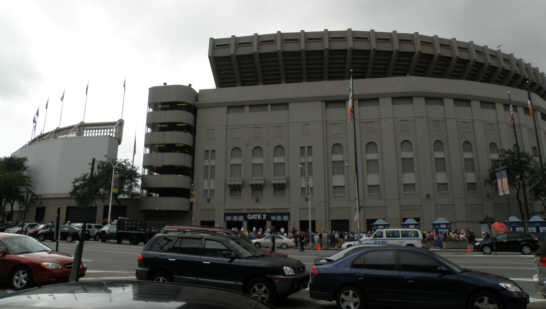 Those little oval additions are positively laughable!
The Big Renovation managed to turn a steel-and-concrete classic (which was in pretty bad shape) into a nondescript 1970s monstrosity. My biggest surprise was that it never felt like a ballpark from a bygone era (unlike Wrigley and Fenway). It felt a lot like Kauffman and some of the concrete donuts.
In other words, it felt much more like a 30-year-old utilitarian concrete stadium, not an 85-year-old steel-and-concrete classic.
This is immediately noticeable when you walk around the outside. Despite its very familiar appearance, I was struck by how terrible the painted brick and "windows" appeared. A simple round of sandblasting could have restored much of the original appearance at much less cost than building a replacement!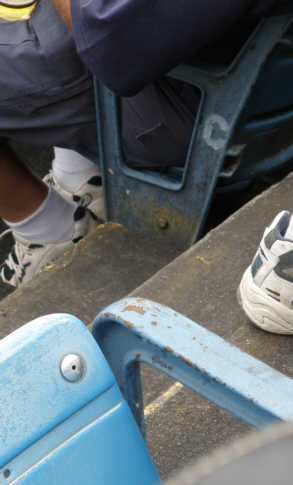 Row indicators are spray-painted with stencils over rust and peeling paint.
The rounded additions just scream shag carpeting (which probably runs up the walls and onto the ceilings). You have to imagine that everything inside is avocado green and burnt orange! They really break the sense that this is a ballpark from the classic era.
In addition, the seats are all faded and rusty -- and not in a good way like at Fenway (where they at least get a coat of paint every now and then). Here the paint was peeling.
My second biggest surprise was that the whole park felt so tired. It felt kind of like well-worn shoes with just enough scuff marks that you wonder if they're really worth polishing again.
I came away not so surprised that the team might want to replace it, and not so surprised that the fans might be willing to let it go. It has served its purpose, and it's time to move on. New Yorkers do that type of thing better than anybody. Sentiment, OK to a degree. But practicality (and finance) will always win out.
That may actually explain why only the smallest fringe element ever cared enough to want to save it.
But Replace It?
So the new pad will be a step up from what they've known for a while, right?
Not so fast.
The facade is an homage to (not a reproduction of) the original. It's close enough to give a feel for the old, but makes some key additions in the name of grandeur. It's forgivable, but I bristle at such hyperbole in the publicity. The facade is in no way a copy or faithful reproduction of the original. It's just kind of a riff on it. The notes are pretty close, but the tune isn't quite the same.
Actually, I think the facade for New Yankee Stadium has a soulless quality which immediately brings to mind the New Comiskey. I would love to figure out why, but new construction just cannot match the appearance of those old window openings. They always come off as looking fake. Here's a quick comparison:
The seating bowl will lose a fair amount of its height, something that many opposing players cite as the most intimidating part of the old stadium; many have said they felt like the fans were right on top of them.
The loss of the highest rows would be OK, but for the fact that the upper deck is actually moved back from the field to accommodate -- you guessed it -- luxury suites (see diagram). Again, this is a modern amenity and common to every park. But the upper deck fans will likely have a much different experience.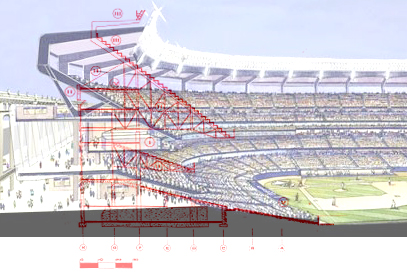 Red is old Yankee Stadium. This diagram comes from FieldOfSchemes.com
The shape of the playing field in fair territory is identical to the old, but the foul territory changes dramatically. The following diagrams are from BallparkTour.com:
Just eye-balling it, I'd say the new park will be a bit more friendly to pitchers. There will be less put-outs right behind the plate, but that loss will be more than made up by additional catches down the lines.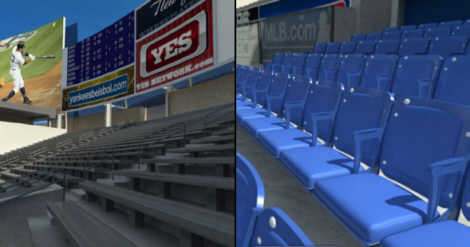 These two sections are within a few feet of one another.
And I was shocked to see in the 3D seat selector that the bleacher seats have no backs!
I know this may be traditional, but if you're going to make upgrades everywhere else, why not there? A bunch of seats in the main grandstand lower deck will actually be getting cushions, for goodness sake! But the cheap seats remain numbingly uncomfortable?
The concourses will bear no relation to the original stadium, which is understandable. In the original, they were decidedly cramped and dingy. But some of that will be missed, because it gave the place a warmth (unlike, say, the cramped concourses of the Metrodome, which I would hazard to guess are actually much larger than those at the old Yankee Stadium).
Here are typical views from the four levels in the original Yankee Stadium (from lowest to highest):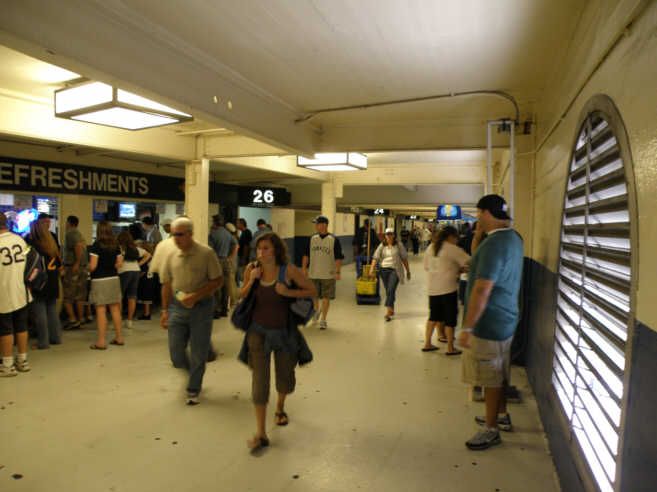 Directly above the ceiling here is the hidden concourse which served the upper deck prior to the renovation. That concourse was closed off to the public, but became a service level for ballpark employees. It's one of the many quirks which will be lost when the wrecking ball takes the place away.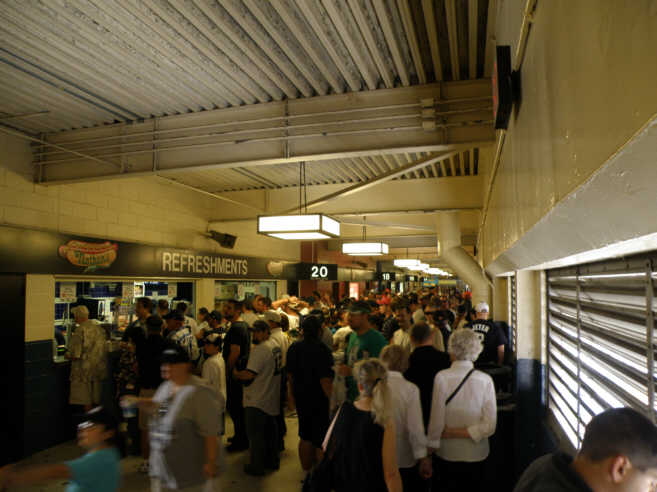 This concourse, the uppermost, was built on top of the now-hidden old concourse during the 70s renovation.
Though it is tempting, it isn't really fair to compare the new Yankee Stadium to the old -- just as it isn't really fair to compare the original to the renovated version. These must be considered three different stadiums.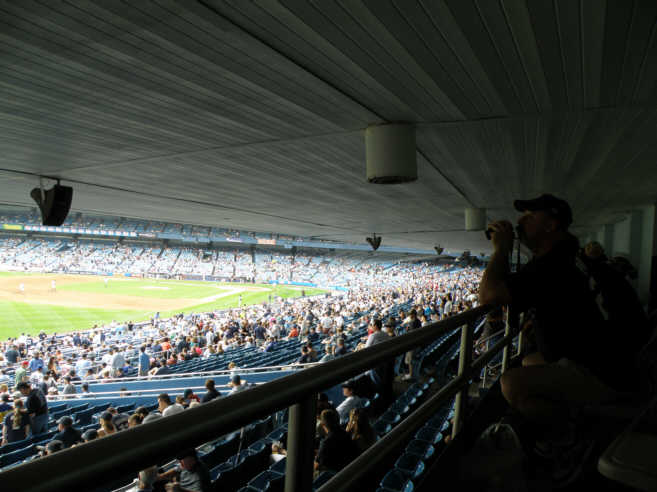 Our cantilever friends will be happy to learn that there will be sections with views like this in the new stadium.
The new version going up across the street could turn out to be a great ballpark, but I'm not optimistic. Even setting aside my bias as a Twins fan, there are some obvious things that it will have working against it:
1. It's huge. The old stadium was tall but not wide. The upper decks were essentially stacked on top of the lower deck. This made it feel bigger -- like it was looming over the playing field ( a source of much intimidation of visiting teams). The new one is expansive and much wider, and there is no stacking of decks whatsoever. It is thus not nearly as imposing. While the old one leans forward like a vulture hovering over its prey, the new one leans back on its elbow -- a little over-confident, if you ask me.
2. It's a mall. Despite what is said about the concourses, the place is set up like the ultimate baseball mall. I suspect that its interior will feel much more like Miller Park or even the Mall of America -- spacious but heavily merchandised and movement-controlled. You will likely find yourself shopping much more, and maybe wonder why.

3. All vestiges of the old days are gone. Like most newer parks, there is a clear delineation between the moneyed and the rabble. From a revenue standpoint, it makes some sense. You don't want some half-drunk to sneak into the good seats and disturb all the baseball-themed entertainment being witnessed. But that approach can have a very detrimental effect on the fans. I think the Twins could face something similar, though their ballpark doesn't quite take it to New Yankee Stadium extremes.

4. It's not where it should be. I know it's only across the street, but there's something just wrong about abandoning such a storied patch of land. Even the least sentimental fan will probably feel a small twinge when they see the vacant lot (and eventually softball fields) where The Stadium used to be.
Maybe the question should be: Which of the three things I listed above as iconic will transfer to the new ballpark?
1. The winning? They can take all their banners, but they haven't won anything in their new park yet.
2. The beauty? I'm sorry to say that the new park, with a much more symmetrical layout, does not retain the quirky golden ratio. It is simply not as beautiful.
3. The fans? Tough call. Some will certainly transfer, but I heard much in the conversations around me to suggest that not all will. Prices will continue to shoot upward, and there were people around me in the upper deck who clearly felt they were going to be priced out.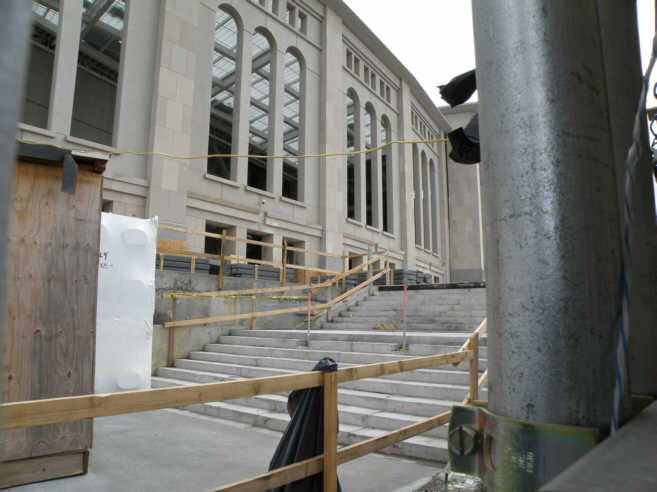 For some inexplicable reason, a lot of the new parks being built these days feature grand staircases like this one.
Weighing all I have learned, despite the newness, they Yankees are trading a fair amount of mystique for new revenues. The net may look good on the balance sheet, but at the expense of some purity. Much like the 1970's-era renovation of the original, I think there will be a long debate over whether this change actually constitutes an upgrade.
Does that matter in the long term? Time will tell.

Despite what those signs say, every one of these places was selling either snacks or Yankee memorabilia out of its front door. Do you suppose anything like this will spring up anywhere near the new Twins ballpark?
Comments
To utilized enhanced comment features, please enable cookies in your browser.
---
This page was last modified on January 21, 2010.