Spring Swing (Finale) and More
May 10, 2009 11:25 PM

COMMENT
Yesterday I promised you the conclusion of my walking tour. We'll get to that in a minute. But first, we need to address another major issue which popped up in yesterday's comment section:
...we do not endorse nor cooperate with independent blogs. -- Scott O'Connell, Twins
...we have instituted a no photography policy - the same as they did with Yankee Stadium and CitiField - to maintain the integrity of the information we distribute to the public. (...)
While I appreciate blogs and other fan Web sites dedicated to following the construction, much of the information shared is speculation and discussion rather than information based in fact.
Our goal is to provide fans enough information on Target Field while saving some of the "Ah-ha" moments for the day we open in April of next year. -- Kevin Smith, Twins
So, what are we to make of this? Are they talking about some other long list of blogs out there that are providing in-depth coverage of the Target Field construction and related development issues?
Maybe, but I doubt it. They are probably talking about us.
First, I should say that none of this is a surprise. I've suspected it for some time. My recent requests to tour the construction site have either been ignored or unceremoniously denied. I haven't seen a press release in months. I only found out the official reason for this chill in the air (the preservation of so-called "Ah-ha" moments) late last week, though not directly from the team (to be fair, I didn't ask them directly, though I was about to).
Second, to the criticisms, this site has obviously engaged in far more opinion than factual reporting. That's what a blog is. But I've always tried to answer factual questions which came up, and verify facts before writing about them -- while making sure not to pretend that I am a reporter. I'm not. I'm a fan, just like you.
Third, I've tried pretty hard to stay away from speculation unless I could not get hard information. But so far I've been able to get answers to just about any question I've asked, which has actually allowed this site to aid in diffusing some early unwarranted criticisms of the project. For example, I think we've all had a hand in reducing anxiety about the HERC plant and, to a certain extent, the lack of a roof. I think we've done some solid PR work along the way which has benefited the team.
Fourth, I believe that this site has always been a friend to the project. Mostly that's because I think they've done so many things right. When I started the site, I was afraid that this ballpark might get botched like the Metrodome, or Great American, or the Washington monstrosity (which was being designed simultaneously). I was prepared to be a strident voice for the fans.
And I have been (and will continue to be) critical when something worrisome arises (I've got a big one in my hopper right now that we'll be talking about in the coming days). But that's in keeping with why I created the site. In fact, about three years ago, in my first post to this web site, I set out what I hoped to accomplish here, describing this site as:
...a little bit of therapy, a little bit of fantasy, and a little bit of organization so that the fans get something to say about our new home.
Yes, it's our home. Players and owners will come and go, but we and our children and their children will be going to this park for a long time. So I want to love it. I don't want a copy of Camden Yards. I don't want a watered down Coors Field or SBC (or whatever it's called now). I don't even want a Fenway or a Wrigley or a Tiger Stadium -- except in the sense that it must be unique, comfortable, distinctive, and definitely ours. We'll be calling this place home for a long time, so let's make sure it lives up to our expectations.
In retrospect, that does sound a little strident, doesn't it? Well, that's still the mission statement of this site, but I'm pleased to report that very little in the way of strident tones has been necessary.
In fact, in many ways it has been easier and more fun than I ever imagined. Having read a great deal about how these projects come together, and having shuddered at some of the earliest concept drawings, I feared that we would get a cookie-cutter retro park because the Twins management would either sleep-walk through the process, not have much creativity to give, or just try to cut corners to save money.
When I started, I did not have any way of knowing just how imaginative and engaged in the details the team's management would be. I had no idea that they would be pushing HOK (and all of their partners) to stretch beyond the routine. It's been a pleasure to document their creativity and diligence to the needs of the average fan and the community at large.
It's also been a pleasure to meet some of the people who run the team, and get a glimpse behind the curtain to where the ideas are being generated and then worked out. I think you would agree that the team has been quite gracious and kind toward this site and us ballpark geeks.
Why would that change now?
Well, people that I talked to about this at a gathering Sunday night suggested that perhaps I (and we) have become a thorn in their side. Perhaps we have given away things they wanted kept private. Perhaps we have become pesky, or snippy, or demanding, or cocky, or authoritative, or just plain stolen some of their thunder (you can Google "new twins ballpark" for a possible example of this).
If so, that's disappointing because no such things were ever intended, and I certainly never intended to spoil anybody's reveals. I'm just about trying to answer my own (and your) curiosity. And I've always been mindful of the fact that the team has no more obligation to me (or us) than they do to any of their fans. They don't owe me or anybody the right to take pictures inside (although if you want to push the public funding aspect, I suppose a case wouldn't be hard to make). I've been a little surprised to be considered "media" by the team up to this point, but I'll take that because it's accurate. Blogs are mass media while simultaneously niche media, and I know how many of you are out there (significant new milestones in traffic to this site were reached in April).
The bottom line is that I just want Target Field to be a great ballpark and become a huge success. I've always hoped that maybe I could do something small to help in that endeavor. That's a hope I will retain until the day the place opens (and perhaps beyond). Whether it's still possible is up in the air.
Pix
Here are the final Spring Swing tour pix. They seem a little bit anticlimactic, eh?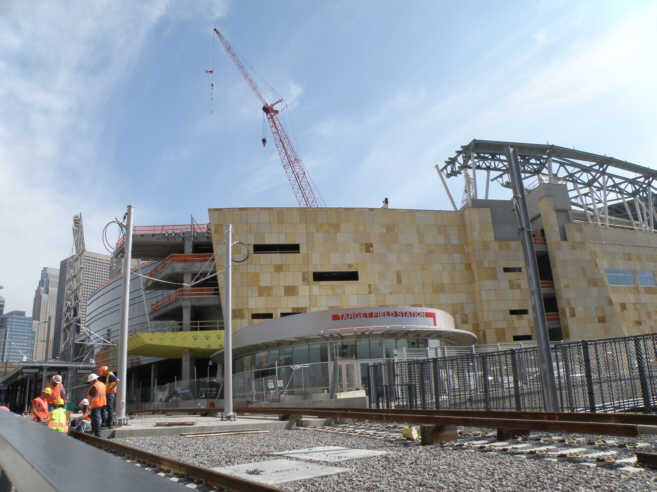 That group was working on something very carefully, but I couldn't tell just what it was.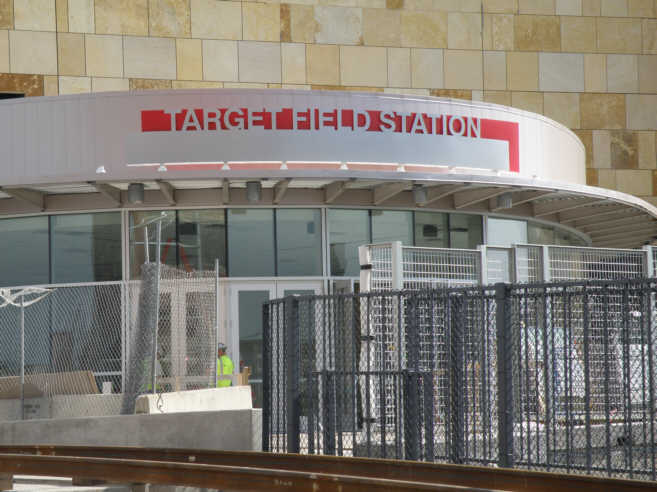 The Northstar stop has a name.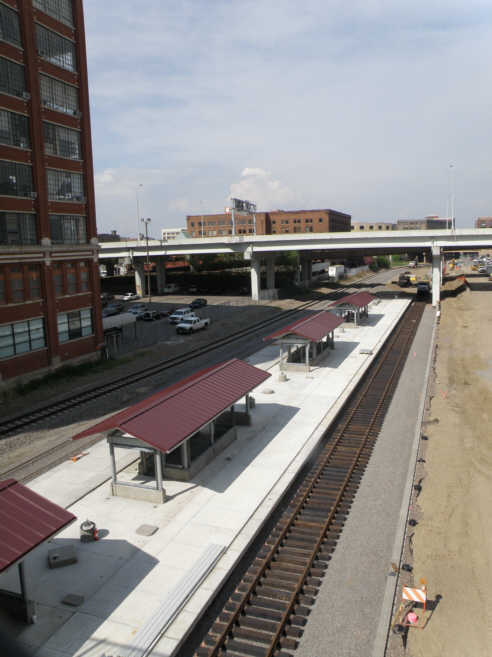 Here's the Northstar platform.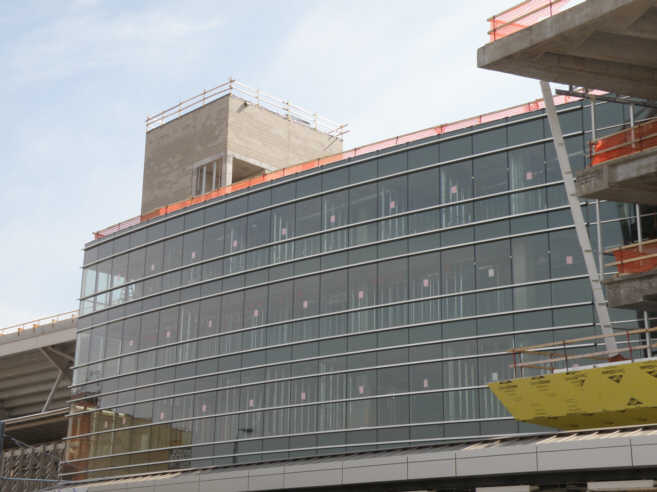 Very nice Admin glass.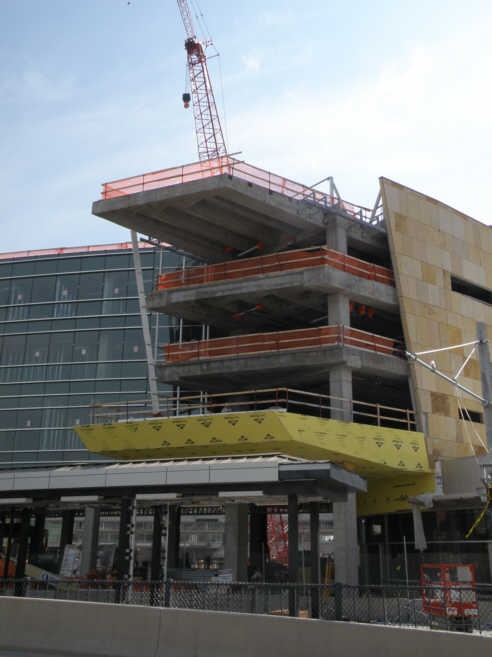 Another classic space in the making above the Hrbek gate.
Now, why is there horse shit on the street next to Target Field? (I saw it in two places. Mounted police maybe?)
So, where do we go from here? Stay tuned.
Comments
To utilized enhanced comment features, please enable cookies in your browser.
---
This page was last modified on January 16, 2010.
"You talk about the magic, the aura, but what really makes a stadium is the fans. Concrete doesn't talk back to you. Chairs don't talk back to you. It's the people who are there, day in, day out, that makes the place magic."
– Bernie Williams
Explore the Site
Here are 50 images chosen randomly from the 3042 found on this site. Click the image to be taken to the original post. A new list is created every 10 minutes.

All three seating mounds

What are they hanging over there?

Nuts on Clark (a couple blocks north of Wrigley Field)

Gate 6 is quite large

A view into the park down Sixth Street from just beyond Hennepin. Note that one side of the street contains century-old, classic buildings -- structures which are likely to last another century or more. The other side, not so much. (Click the image to see what it looked like from exactly the same spot 97 years ago.)


More flowers, more pennants.

Footings for the Seventh Street walkway from the A ramp.


The gate has grown a row of sponsorship



I noticed this detail while taking the previous picture. I figure that it must be the VIP entrance from the surface parking lot. I don't think there is any parking inside the ballpark, so this entrance will likely be for suite-dwellers and other VIPs, though I can't say for sure whether players will enter here.




Stairs down to the sidewalk from the skywalk over Seventh

Ballpark magic: Infield materializes (click to enlarge)

On this day, George was handling fruits and veggies right inside gate 34.


In the top of the 9th, the sun hit our backs and summer took one last long look.

I love these upper neighborhoods.


Limestone still dominates the Seventh Street walkway from a pedestrian point of view. But brick take over as you move upward -- a concession to cost, no doubt.

For those who have never seen it up close, that's what it looks like when steam comes out of the HERC plant.

Here's a rack of lights being prepared for lifting into the canopy.

The finished product. Note that, at the very bottom of this image, you can just barely see the tops of the windows which look into the Champion's Club. (Home Plate Box)

Supports for the little sections in the outfield.


This is what passes for imagination at Miller Park -- they didn't even get the shape right! (Source: LP)

The Metrodome has sure been tarted up.

Looking back toward First Avenue
Touring the Rapid Park site (L-R: Commissioners Wade, Vekich, Sykora, Cramer, and tour guide Chuck Ballentine, source: RP)


I suppose that one day my son will graduate from Mrs. Fields to Hooters. At least he won't have to travel too far. *Shudder*

573 Club

This appears to be the floor to the home dugout!
Integrating the administration building was really a great idea. Actually, there will be more things inside than just offices, but that will probably be some sweet space.


A spectacular golden hour



A close-up of the rooftop party deck.



Glossary
BPM - Ballpark Magic
BRT - Bus Rapid Transit
DSP - Dave St. Peter
FSE - Full Season Equivalent
FYS - Fake Yankee Stadium (see also: NYS)
HERC - Hennepin Energy Resource Company (aka the Garbage Burner)
HPB - Home Plate Box
HRP - Home Run Porch
LC - Legends Club
LRT - Light Rail Transit
MBA - Minnesota Ballpark Authority (will own Target Field)
MOA - Mall of America
MSFC - Minnesota Sports Facilities Commission (owns the Metrodome)
NYS - New Yankee Stadium
SRO - Standing Room Only
STH - Season Ticket Holder
TCFBS - TCF Bank Stadium
TF - Target Field
Selected Bibliography - Analysis

Selected Bibliography - Surveys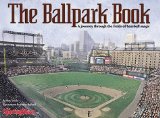 Not a "Third Edition" exactly,
but it replaced the above title
(2000)


Original edition (2000, round)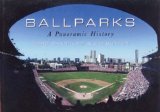 (2004, very large coffee table)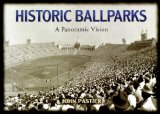 (2006, very large coffee table)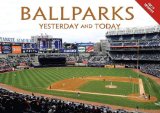 Combines the previous two titles
(2007, medium coffee table)

Selected Bibliography - Nostalgia



Book and six ballpark miniatures
(2004)