A Football Place: Nuts and Bolts
September 3, 2009 10:19 PM

COMMENT
Now that a major milestone for Target Field is in the rearview mirror, let's step back and take a look at a few more images from that other stadium opening around these parts. (Click here for part one of my look at TCF Bank Stadium.)
There was so much to like about TCF Bank Stadium that I doubt I could even list it all. One of its greatest powers was the simplicity of the design of the seating bowl. It's a horseshoe. Open on one end. That makes it, schematically at least, deeply similar to its predecessor, and much more aesthetically pleasing than an enclosed (especially -- gasp -- symmetrical) oval.
They could have easily enclosed that end and added some seating, but leaving it open connects it very tangibly to the U and lends an airiness to it.
And what they did with that area is also special because it makes scenes like this wonderfully possible:
In all of the literature they mention that the stadium has about 50,000 seats, but that it is expandable. It's easy to see where some expansion could come:
Just beyond that banner is a large flat roof onto which some 30,000 more seats could be plopped. OK, it's more complicated than that, but expandability is a good thing, especially if you harbor any desires about attracting another, somewhat more visible, tennant.
But I'll tell you this: This is not a multi-team stadium. Just about everything is branded in a very permanent way with an M. If the Vikings have any ideas about paying for 30,000 more seats and moving in, they can just forget about it. This is the Gophers' stadium, and don't you ever forget it. Here are just a couple of examples of permanent logos (the big M's in the seats also qualify, of course):
There are lots more, including those fabulous gigantic gates which open onto University Avenue.
It's one of the things I hate most about the Metrodome. It just never felt like it really belonged to any of the teams which called it home. It could change its spots in a couple of hours, and even then there is an impermanence about the branding. Banners are just not the same as wrought iron.
With the Twins and Gophers gone, the Vikes do intend to make the place their own (for at least as long as they play there), including selling naming rights to the roof, among other things. (You may one day be taking a leak in the Viagra troughs.)
Much has been made about the decision to use bench seating without backs at TCFBS. I find it murder to sit on these things for more than a few minutes, so at first I thought that was insane. But now I understand. You can rent your seat back, have it professionally installed, for $48 per season. It's a revenue stream!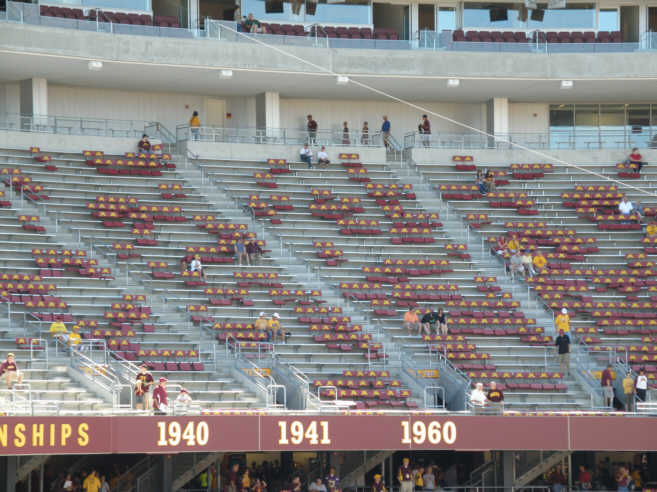 Lots of people are doing it.
I don't follow football stadium construction closely enough to know if this is an innovation or just the adoption of something commonly in use elsewhere.
I also haven't seen this sort of thing before:
The seats are bolted to the floor, but it appears that they can be quickly removed and rolled away. It may be the state of the art in accessible seating (that's where I saw them) but I just don't know.
You may remember that I was surprised to learn a few weeks ago that Target Field will include some catwalk access to areas of the upper deck (er, View Level). I found some similar short catwalks at TCFBS.
These particular ones connect the DQ Club to the seating bowl and what I presume are some sort of premium seats (they looked like regular seats to me, but having access through the lounge requires a special ticket).
Here's the view back toward the door:
Premium seat options are plentiful, as you know. There are special elevators from the main concourse, tucked away. The elevator lobby that we used also had privileged access to one of the pro shops...
...along with extensive, TCFBS branded recycling and trash receptacles: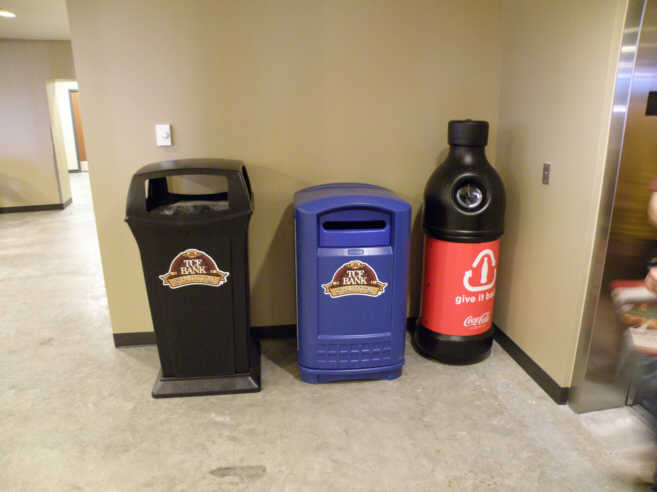 I will take a picture of just about anything.
Here's just one of the reasons football stadiums are so different from baseball facilities: you can put the premium seating above and behind all the rest of the regular seating.
Even though the classes are rigidly separated at TCFBS, just like everywhere else, it is possible to forget that you are among the rabble because the premium seats don't really intrude. In a baseball stadium, the premium seats always push the cheap seats up and farther away from the playing field. In a football stadium, they tend to ride above the top of everything else (Metrodome excepted, of course).
There are some four or five levels (depending on how you count) of premium seats at TCFBS. We saw only a small portion of them, and I'm not sure that would be my first choice for how to see a game (my host mentioned as much when I picked up the tickets; he planned to use his regular seats much more than the Loge boxes). But if your investment is more about networking and deal-making than it is about football, the space is perfect. There were plenty of quiet nooks which one of the ushers told me were specifically included so people would have a place to go and talk on their cell phones!
One thing the premium areas do have in abundance is good food. I don't know if these prices are permanent or just for the exhibition but they were not bad.
The other day I mentioned the trend toward gigantic staircases in sporting facilities (I also saw examples at NYS and CitiField), and TCFBS features plenty of them. They are very long and actually pretty impressive. My hunch is that new facilities favor these because accessibility issues are completely resolved by elevators.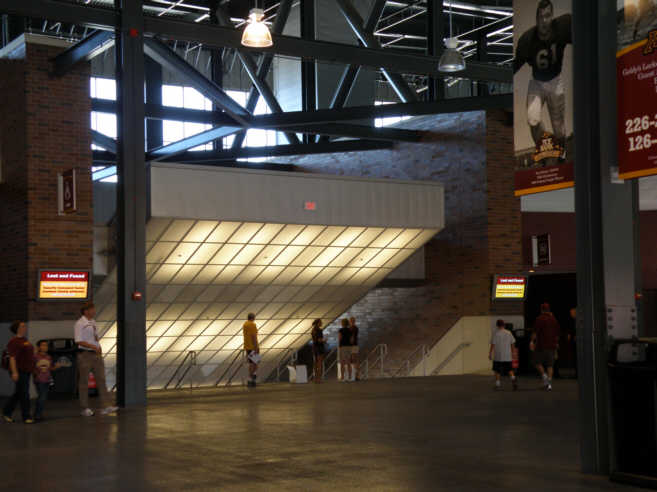 Staircase entrance. You cannot miss them.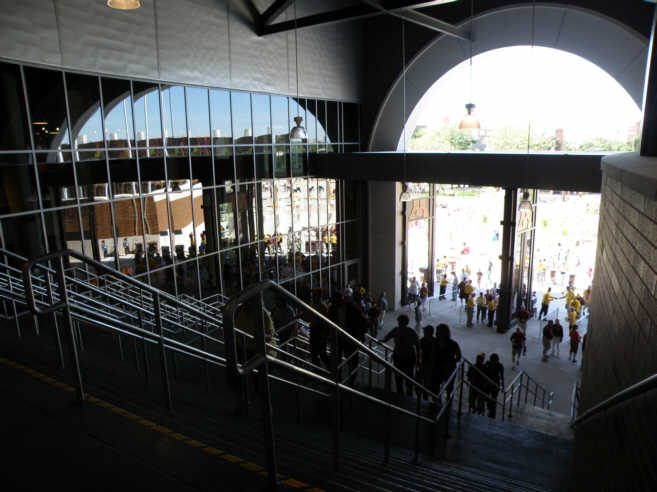 Note the gigantic -- and very permanent -- M's on the gates at the base of these stairs.
Access to the upper sections is also largely by staircase.
Even so, they managed to incorporate very spacious exit ramps (not even hinted at on the outside facade, even though they do have windows as you get closer to the ground).
The Twins, of course, took exactly the opposite approach on their circulation ramps, choosing facade elements (the louvres) which call attention to them. Both approaches work, but I think I prefer the Twins' approach generally. Circulation is a central function of these buildings, and there's something to be said for letting a building look like what it is. That said, TCFBS is certainly a justified exception given the goals of the facade, and the genuine beauty they accomplished.
As you enter or exit from the north or east (and maybe the other directions) you will have to cross a little moat like this one:
These are rain gardens, handling the stadium's runoff. Very cool.
Here are a couple of random images, including two that I promised in the earlier entry.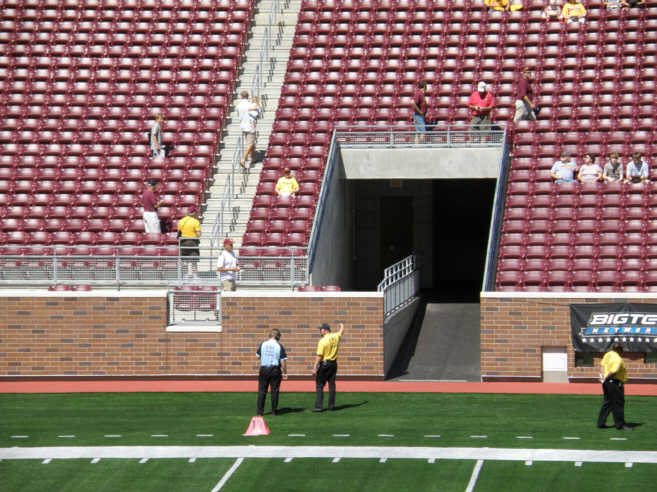 Field access on the visitor's side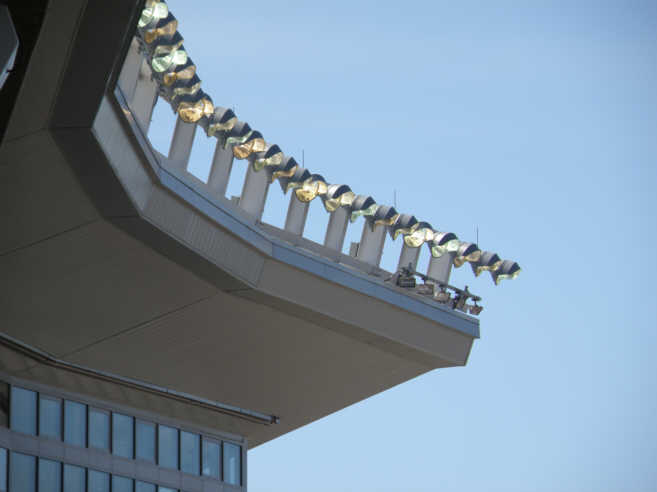 The lights have covers on the top, presumably to reduce light pollution
Did I mention that the cheerleaders looked pretty sharp?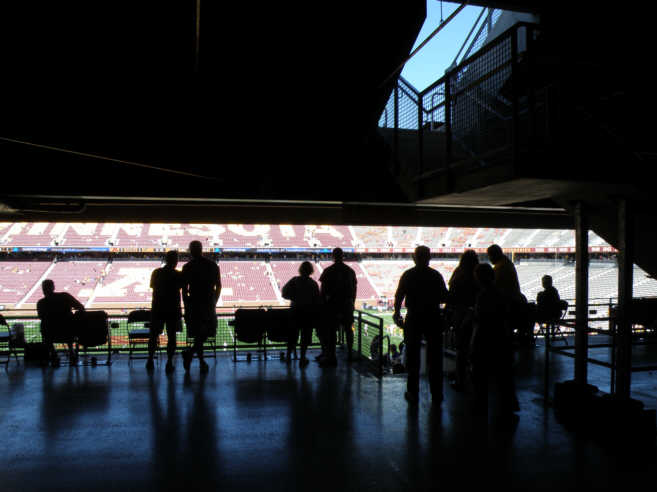 Open concourses do mean that you can glimpse the field no matter where you are, but not really the game.
This weekend I'm headed back to the State Fair with some friends. This is the group of guys (all U of M alumni) that always makes a stop at the U of M booth out there. Normally, I just look at stuff and pass through rather quickly. This year, I'm grabbing something to wear to show my colors!
I'm out of town again for a couple of days, but you can watch Facebook for updates from my phone until I get to a computer again. (Today it was a trip to Murphy Field in Waunakee, WI, and I'll be posting a picture of my baseball-themed birthday cake just for fun as soon as my battery finishes recharging.)
My sister-in-law is letting me use her MacBook tonight and I feel a little bit like a fish out of water here. If there are typos, I apologize. The buttons are all in the wrong places, and I can't type like normal. Where the hell are Home and End and Delete (the real Delete, not that Backspace disguised as a Delete key) and PgUp?? Yep, I'm a geek alright. And I don't quite get what people like about these things, but I'm glad I had this opportunity to get back to a picture set that I thought you would enjoy.
I do keep up on comments on my phone a few times each day and I'm testing some new code that allows me to respond without opening the site (a feature I hope to make accessible to all in the near future).
Thanks for stopping by and for all the kind words. I really do appreciate it.
Comments
To utilized enhanced comment features, please enable cookies in your browser.
---
This page was last modified on September 3, 2009.
"You talk about the magic, the aura, but what really makes a stadium is the fans. Concrete doesn't talk back to you. Chairs don't talk back to you. It's the people who are there, day in, day out, that makes the place magic."
– Bernie Williams
Explore the Site
Here are 50 images chosen randomly from the 3046 found on this site. Click the image to be taken to the original post. A new list is created every 10 minutes.



The main ticketing area beneath the restaurant.

Original outfield configuration

Clyde Doepner's Met Stadium Memorabilia (Source: LP)


The Fifth Street side is pretty busy. There's a small street entrance to the B ramp, then ticket booths and an entrance gate, a rare exterior section not covered in limestone, the wooden screen covering the circulation ramps, the administration building, and finally (just out of view) the interface with Northstar. All of that sits behind the LRT action. How pedestrians will interact with this side of the park is a great mystery to me. You know that Metro Transit won't be letting them cross the tracks anywhere but at either end of the block...




Also warming things up are these planters.

Secret entrance exposed!

The storage tunnel is barely visible at left behind that guy.

The Overlook

Gate 6 Oliva, with the 573 Club looming large over it (I wonder how Tony feels about that)

Shh. Don't tell those people working behind the ticket windows about these automated ticketing machines (underneath the plaza stairs)

Louver samples on display.

Click to enlarge greatly.

Ticket window at Gate 29/Carew



These are the footings for the staircase which will connect the plaza to the skyway.

Red is old Yankee Stadium. This diagram comes from FieldOfSchemes.com

There are some great banners on fencing down Target Way. I'm not sure just who sees them.


Those two empty seats in the front row are where we started the game.




This is the staircase (ramp?) leading up to the trapezoid. Nice flagpole too. You'll be able to find me and Ben McEvers at the base of that flagpole on opening day in 2010!

A spot that's always full!

Discussions in progress on some very brown grass...

The splendid view from the roof of the Minikahda building. (Click to enlarge greatly.)

Bag checking at Ball Park Lanes was incredibly simple, as was the pick up later. The line was short and fast-moving.

Now from the inside looking at the same area.

A look at Gate 34.




Ballark Authority members listen to the LEED introduction


This would be easy to miss, but I found it on a cart located directly behind the Batter's Eye seating on the upper concourse in center field.

Through the windows of the Metropolitan Club you can see one of the displays of Met Stadium memorabilia.

Here's a first view of the surprisingly spacious walkway on Fifth between the ballpark and the LRT platform.



The flowers don't have quite the fullness depicted in the original sketches (where they were positively overflowing), but they are quite lovely -- a great, subtle touch. And that's probably a very challenging place to grow anything.

Back of scoreboard; facade in context.
Glossary
BPM - Ballpark Magic
BRT - Bus Rapid Transit
DSP - Dave St. Peter
FSE - Full Season Equivalent
FYS - Fake Yankee Stadium (see also: NYS)
HERC - Hennepin Energy Resource Company (aka the Garbage Burner)
HPB - Home Plate Box
HRP - Home Run Porch
LC - Legends Club
LRT - Light Rail Transit
MBA - Minnesota Ballpark Authority (will own Target Field)
MOA - Mall of America
MSFC - Minnesota Sports Facilities Commission (owns the Metrodome)
NYS - New Yankee Stadium
SRO - Standing Room Only
STH - Season Ticket Holder
TCFBS - TCF Bank Stadium
TF - Target Field
Selected Bibliography - Analysis

Selected Bibliography - Surveys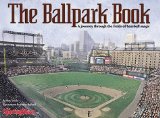 Not a "Third Edition" exactly,
but it replaced the above title
(2000)


Original edition (2000, round)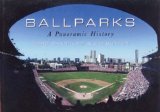 (2004, very large coffee table)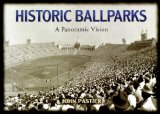 (2006, very large coffee table)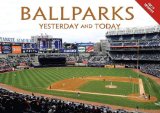 Combines the previous two titles
(2007, medium coffee table)

Selected Bibliography - Nostalgia



Book and six ballpark miniatures
(2004)