Tick, Tick
April 10, 2010 1:15 AM

COMMENT
You know tomorrow is Christmas, so good luck sleeping tonight.
That's the prevailing feeling around here these days, and has been for a while. With just over two days to go, I'm going to try and keep the distractions coming a little bit so we don't all chew one another's heads off in rabid anticipation...
My story of last Saturday's game starts with the easiest parking I've ever had for a game: $5 at a lot about four blocks from the entry to the plaza (six total blocks to gate 34). We would return after the game to find it still about 70% vacant, and we would wait exactly zero minutes to get out. I was home within about 15 minutes of the end of the game.
This brings to mind something I learned recently about wayfinding. Did you know that most people won't even start looking for parking until they actually can see their destination? This is especially true when people are in unfamiliar territory (which the TF neighborhood will be for many, many people).
The problem is that, if you do that with Target Field, especially if you're coming from the downtown side, you'll be beyond 90% of the parking before you even start looking.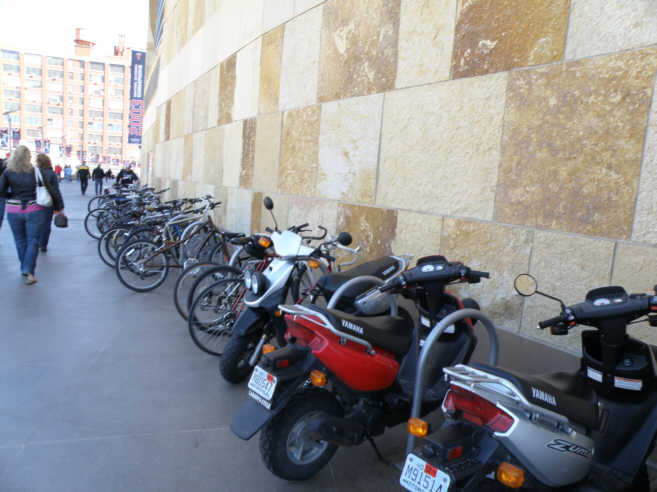 What a great sight!
Thus, at least part of the advice being given by the mayor is worth heeding: seek your parking by looking at a map before you head down. Then follow the electronic signs dotting the streets if you need further guidance.
The other part of the mayor's advice, hop on the train to get from your parking spot to the park, is pretty much laughable. Within about an hour of the start of a game, every train which pulls into downtown will already be full. Don't bother with that.
And don't look for a bus either. There are so many spots within plain old walking distance -- five blocks or less -- that you don't need public transportation for that last leg. Hell, there are even rickshaw-like things roaming the streets offering free rides (plus tip, of course).
After an easy park and a quick walk, we got to see the unveiling of the Killebrew statue -- which will take any middle-aged Twins fan back to a very good emotional place.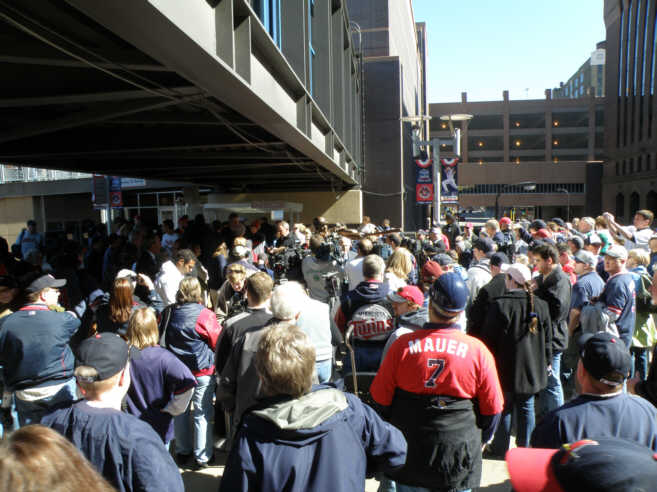 Harmon is visible (barely) at the very center of the crowd.
After the unveiling, we cut back to Kieran's for some fish and chips. That's when I really started to wonder if I was in a different city.
The food/service/atmosphere -- even prices -- were fantastic. And the warehouse district has just never looked better than it does through those gigantic windows. (See sidebar for one downside of the new Kieran's location.)
After lunch, we hit the plaza, took in the new sights, sounds and smells (grills!), then took a walking tour around the outside of the ballpark.
You've all probably done this, so I'll just hit a couple of the things I noticed which had changed.
First, the sidewalk on the opposite side of Seventh was roped off, forcing people to one corner or the other.
I know why they do this, but it's very disappointing.
There are long stretches of time when there is absolutely no traffic on Seventh. This is based on the light timing down at Second Ave, and the lack of traffic from a couple of the directions that get the green.
One of the things I hated most about the Metrodome was the fact that pedestrian traffic, especially on the south side, was so closely controlled that it lost all sense of life. Pedestrians are why the plaza exists, so routing them away from it is counter-productive.
On game days, Seventh should be treated as part of the plaza. That's how they are designed to interact. Those orange cones and no crossing signs look very unfriendly.
More productive would be wide crosswalks right where the doors of the A ramp empty onto the sidewalk, tended by traffic control officers.
Next, history is now on display all around the outside of the park. The banners are huge and if you start at the pro shop, you can take a stroll chronologically through the history of the Twins in the postseason. Great touch!
The outdoor patio at Hrbek's is now in place, and it's pretty classy. If anything is ever built above that parking lot across Seventh, this could become a great little corner of the ballpark.
Around the corner, bike racks -- and they were pretty full! (See photo above.)
Down the promenade, there are banners on every light pole, temporary fencing in place for light rail boarding, and much more life than I think many people expected out there on gameday. Oh, and the Ford Centre makes a fantastic backdrop for the walk.
Coming around the Northstar circulation building (I forgot to peak in at the new art), we saw a gigantic crowd get off the latest LRT train.
Further down, I noticed that a new permanent barrier has gone in between the sidewalk and the tracks. I don't know if this was in the plans all along, or added after they saw what it was like, but it sure made me feel a whole lot safer walking along there with trains coming and going.
Having made it all the way around, we entered through gate 3. We climbed the steps, walked a few paces directly forward, and saw this: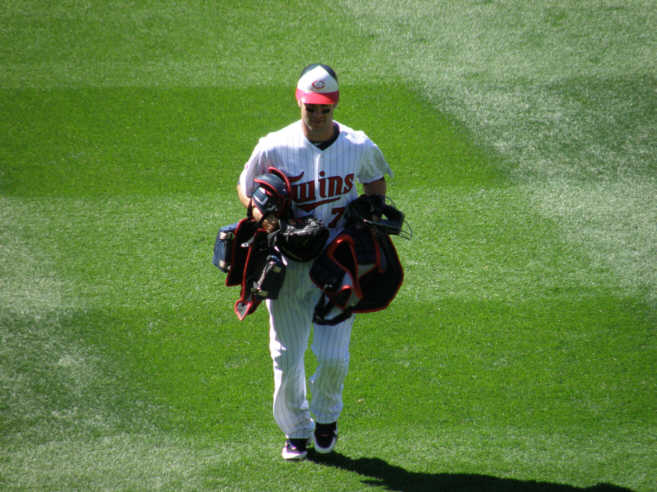 There are no caddies in baseball.
One of the amazing things about Target Field is the proximity of the playing surface to the gates. You step inside, and there's baseball. It's a very undersung attribute.
The natural instinct is to just start looking around...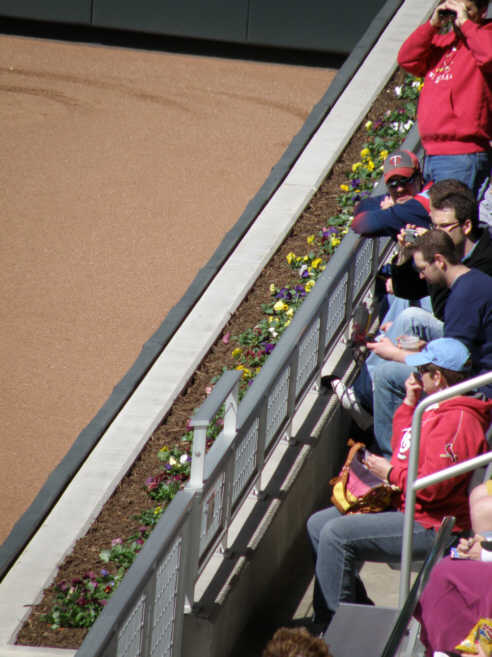 Did you notice the flowers?
How many times did we water down our field as kids? More times than we played games, that's for sure!
Sue Nelson's spot in the Twins Pub has been upgraded. She grew a body guard, and seemed to have even found a few new stops on her organ! In fact, I heard some music from her that I don't think I've ever heard before. It was a distinct improvement over the tired old approach heard at the Gopher game.
Here's hoping they let her be heard out on the plaza and concourses before games, and maybe after the commercials are done between innings. My hunch is that she's got way more skill and imagination than we've heard from her in the past (mostly due to limitations which have been placed on her).
I heard the best line of the day at one of the hot dog carts.
First, these poor souls were battling gale-force winds throughout the game. My guess is that their faces were quite wind-burned by the time the game ended.
Second, the Big Dog was pretty darn good. And for $5.50, not a bad value.
But when someone in front of us tried to order "one hot dog", he was rebuked. "We don't sell hot dogs here. We sell Big Dogs!" Duly noted.
Eventually, we found our way to some standing room at the back of section 110 and watched the game. Jacque Jones got a hit...
...there might have been a touchdown...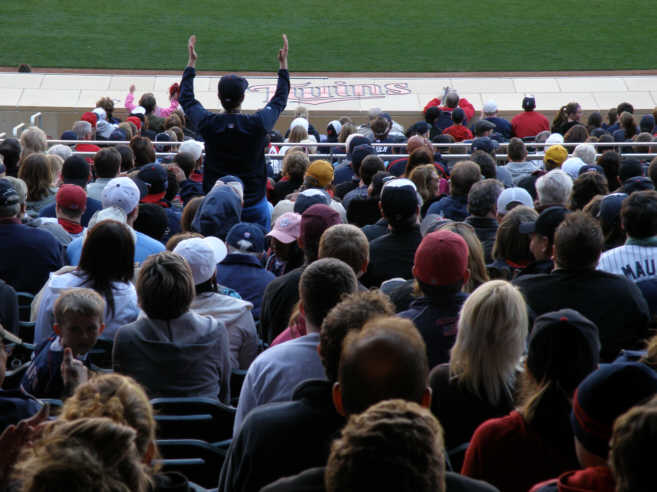 Dude, this is NOT a multi-use facility.
...but mostly we watched in awe as the sun started tilting into full afternoon mode -- which is one of the best lights for baseball (if there is such a thing).
The place looked beautiful. I can't wait for a game that counts.
Comments
To utilized enhanced comment features, please enable cookies in your browser.
---
This page was last modified on April 10, 2010.