Tools
June 3, 2010 10:50 AM

COMMENT
Everybody's talking about blown calls today. The high profile one in Detroit is drawing the most scrutiny, but here in Twins Territory, we've got our own to consider.
Before we go any further, we must admit (as always) that blown calls do not win or lose games. Leaving runners on base, giving up key hits, and other such things win and lose ballgames.
But sometimes it feels like a game was lost on a blown call, and that's just unacceptable. How many times does this sort of thing have to happen before the commissioner's office gets tired of having to explain yet again why they've chosen to limit the use of a simple technology which can make things better?
I've said it before: Limiting the use of instant replay is like saying, "Well, I could use my cell phone, but I'd rather send a telegram because it's so much more pure." And limiting instant replay's use to specific calls is like saying, "Well, OK, I'm going to use my cell phone now, but only for dialing numbers containing 9's and 1's."
It's beyond absurd.
You all know that I am, in fact, a baseball purist at heart. But there comes a time in every purist's life when you have to either acknowledge the realities of the world around you, or buy an orange triangle sign for the back of your buggy.
Of course, this morning everybody is again floating their ideas for fixing instant replay in baseball. And while I'm not really a bandwagon-jumper, I think that last fall I described the solution baseball needs to -- and will ultimately -- implement. So, here it is again, preceded and followed by some more nifty TF snaps (in part thanks to BPM ninja Jared).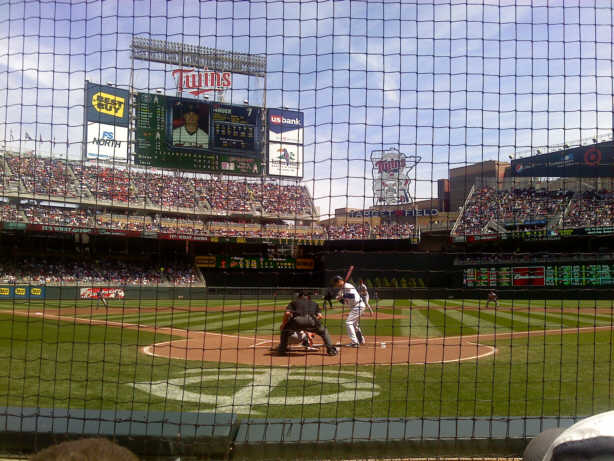 Awesome seat. Awesome sun. Awesome hitter. (Photo by Tony Voda, courtesy Jared Wieseler)
Glare from the IDS never looked this sweet. (Photo by Jared Wieseler)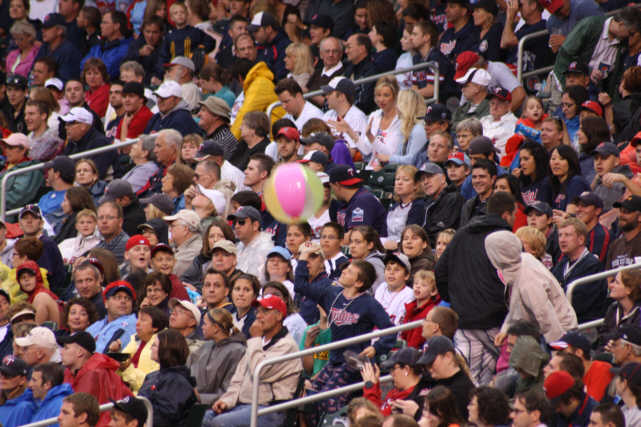 Oh no! Beach ball! But click to enlarge so you can see the wide range of expressions on people's faces. (Photo by Jared Wieseler)
Umpires, Schmumpires
Originally published October 23, 2009
As you know, this post-season has been filled with more umpire gaffes than I can begin to list. (Really, I tried, and the list got too long to be practical to include here. You've seen them all.)
Before instant replay became part of the game, I was against it. Baseball is a human game, filled with human mistakes, and how managers manage umpires (and vice versa) is part of the game. Blow a call now, and you owe me a close one later. I want you to eject me to fire up my team. That sort of thing.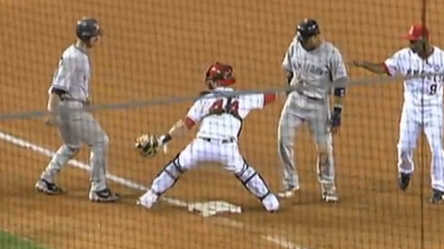 Um, I think that guy is out.
But now that instant replay is part of the game, it's time to get it right -- especially for the playoffs, but not only for the playoffs.
There is absolutely no reason why instant replay should be limited to home runs, other than the potential for it to slow down the game. In other words, MLB knows that it could help in many other situations, but they have chosen to place an arbitrary limit on its use for marketing purposes (slower games = potential loss of TV viewers -- though one could argue that Scott Kazmir is a human casual-fan-repellent in that regard).
And the mechanism for deciding what to review is completely screwed up. Frankly, I don't know how it works. It seems like the umps get together, ask each other who saw what, and then realize that nobody saw what they needed to see. That's a pretty embarrassing moment. For a major league umpire in the current environment, walking to the review booth is an admission that you failed at your job.
Not so with the NFL because each play is a chaotic battle where any player can be visible one moment and invisible the next. Bodies pile up, knees hit the ground, receivers turn away from where the ref is standing. There's no failure associated with missing something in football.
So we need to forget how the NFL does things. That model is wrong for MLB from the first moment.
What is right for MLB is already in plain view, though people seem not to see it.
Think about the check swing. The ump behind the plate makes an initial call. Down the line, another ump has observed the play and made a decision on how he might rule, but says nothing. The catcher gestures down to the other ump. The home plate guy decides whether to allow the appeal. If allowed, the other ump renders his opinion which is final.
Think about the appeal on a tag up. Long after the play is dead, the pitcher throws the ball to the base where he presumes a runner left early. The ump has already seen the play and formed his opinion on what happened. But he does not give his opinion until the appeal is officially made. Once appealed, he renders a decision which is final.
Each of these is beautiful because it preserves the pecking order perfectly and is utterly unobtrusive to the game. It's just a natural part of the rhythm of the game.
The right way to do instant replay draws on each of these. The biggest change it would require is an additional man on each umpiring team. While this is certainly not a small change, it is more than justified.
Here's how it would work:
The replay ump watches a monitor constantly, most likely in one of the camera wells or in another place adjacent to the field designated for this purpose. He sees replays of everything, much like the viewers at home. He is concentrating on the game constantly just like all the other umps, only by watching the camera coverage instead of the direct action. He has access to every camera angle (home, visitor, Fox, TBS, scoreboard, etc.), though he probably doesn't need all of them. One good angle is usually enough.
After a controversial play, if there's an argument, the manager has the right to ask for a review of the play (politely, of course). The umpire on the field decides whether to allow the appeal. If not allowed, there's no recourse. If allowed, the replay ump's decision is final.
That's it, end of story (well, almost). Some details:
There should be no arbitrary limit on how many times a manager could do that. Practically, they would not do it on every close call. They would do it on the same calls where now they come out of the dugout to argue.
Maybe they would come out more frequently at first, but umps can manage that just like they do other sorts of manager tantrums. If a manager does it too much, the request gets denied. Period. It would always be within an ump's right to say, "That was not close. I saw it. No review."
Realistically, however, I think umps would be happy to yield to that, thus saving time on tantrums. I think we would probably find that calls would get overturned rather infrequently, which in turn would discourage managers from overusing it. Having the back-up doesn't have to change the dynamic on the field one bit.
A key thing to remember here is that, unlike football, a review cannot stop a clock and is thus of little or no strategic advantage beyond getting a call right. The time-out-style advantage in football (where asking for a review has the added benefit of giving the team more time to figure out their next play) is enough to need that type of control mechanism. Remember, again, that baseball is not football.
(If you really feel like there has to be a limit on managers, make it at least a baseball-compatible method -- no flags or anything. Just give him three misses before he's out. That is, if he appeals and is right, it doesn't count against him. But the third time he wrongly appeals, he's ejected from the game. I don't think it's necessary, but football may have set the anchor on this one.)
Further, because the replay ump has already formed an opinion, he can just give a simple hand signal from right where he stands, just like on a check swing. There is no delay. Presumably, if a manager has come out to argue, the replay ump has used that extra time to watch extra angles if necessary and will be ready.
Now, I would take this one step further to avoid the obviously blown calls we've seen:
If the replay ump sees a potentially game-changing error (like the Mauer foul call or the non-double-play in Anaheim), he would have the responsibility to alert the crew chief immediately that the call was blown and needed to be fixed.
The mechanism for this would have to be worked out, but it could be as simple as a flashing light above his position to catch the other ump's attention (adding the crowd to the process, which could be fun, albeit looking a little like a price check at our favorite upscale discount retailer), or more unobtrusive, like a wireless connection to an earphone worn by the crew chief.
I'm sure somebody somewhere would object to the added expense of a fifth ump for each game, but that should be disregarded. To protect the integrity of the game, it's worth every penny.
And it does protect the integrity of the game by creating a tool for getting calls right, and removing any embarrassment for the umps on the field. Is a home plate ump embarrassed to ask for the first base ump's help on a check swing? Not in the least. The other ump is not an adversary, just a resource, and nobody has to admit that they screwed up, just decide whether the play was close enough to justify getting an outside opinion -- which is immediately available.
The integrity of the game is damaged much more by the blown calls than it would be by adding a sensible replay procedure. The ultimate results of the playoffs might not have been impacted by all these errors, but then again they very well might have been. That is simply unacceptable.
Now I can see that instant replay, done right, is essential to integrity of the game in our technological era.
More Pix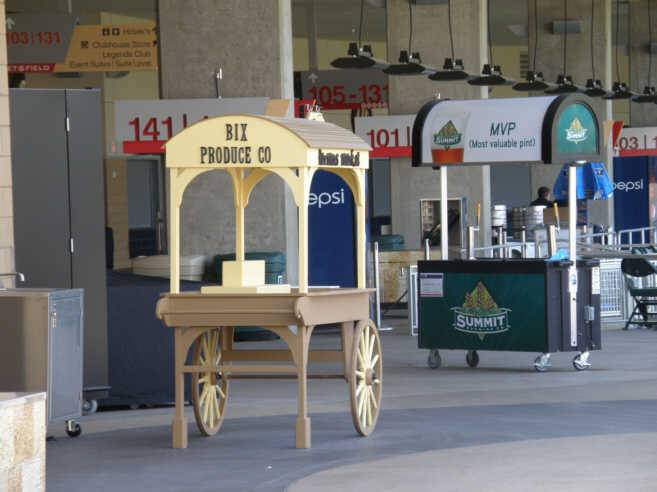 Ye Olde Tyme Vegetable Cart (and its modern cousin)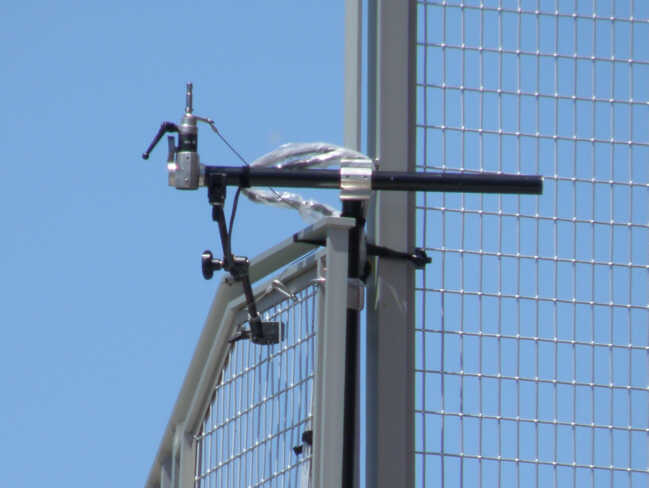 I have no idea what this is or does, but as gear goes, it's totally boss, man. (Attached to a railing just off of the Trap)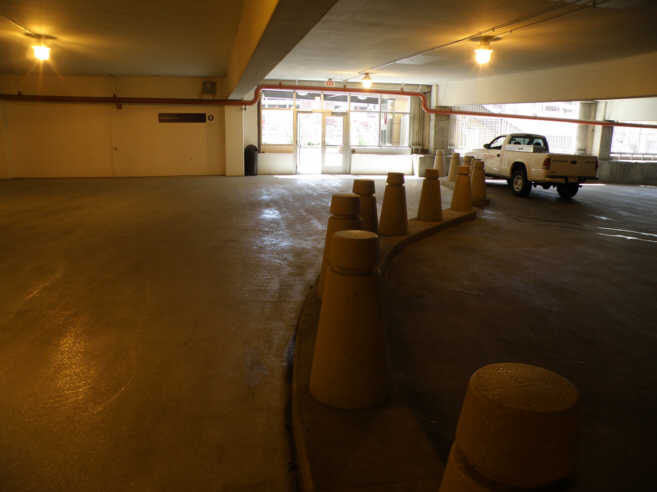 B ramp improvements are finally becoming usable. The doors lead to the plaza beneath the skyway steps.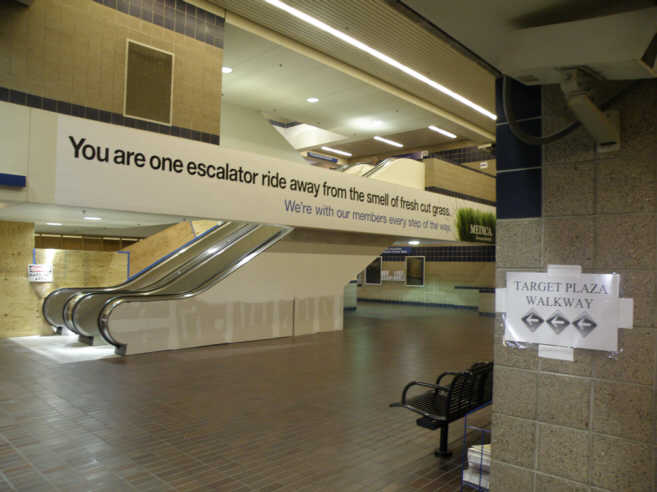 Wayfinding within the B ramp is still a work in progress.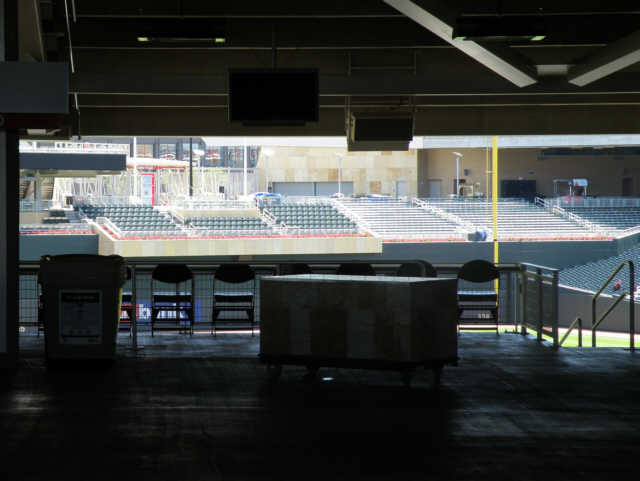 Love the red flowers -- just like the original concept drawings. That NEVER happens.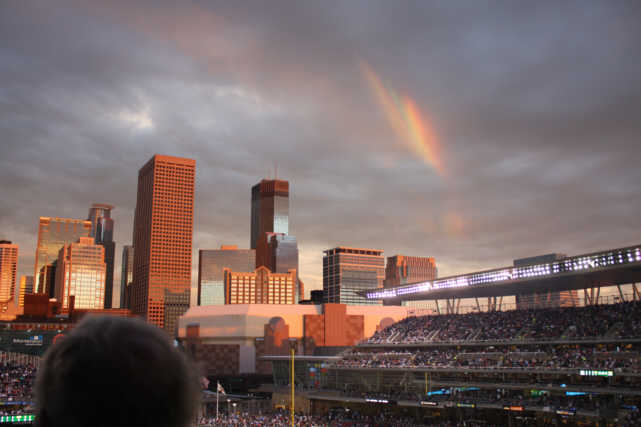 Photo by Jared Wieseler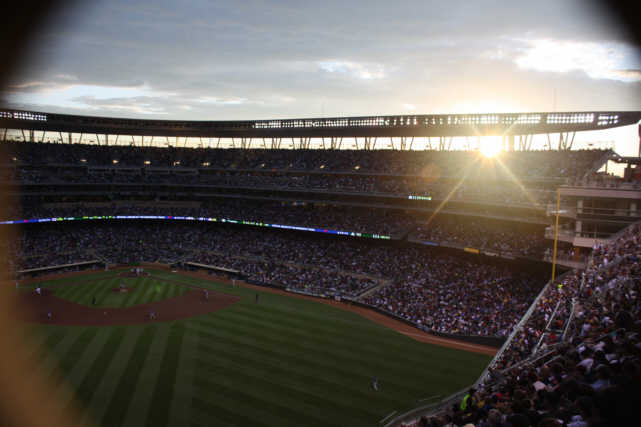 Photo by Jared Wieseler
Many thanks to Jared and Tony. If you'd like to be our official BPM photographer for a game during the next homestand, send me a sample image (rick at this site) and the list of games you're going to.
Comments
To utilized enhanced comment features, please enable cookies in your browser.
---
This page was last modified on June 3, 2010.
"You talk about the magic, the aura, but what really makes a stadium is the fans. Concrete doesn't talk back to you. Chairs don't talk back to you. It's the people who are there, day in, day out, that makes the place magic."
– Bernie Williams
Explore the Site
Here are 50 images chosen randomly from the 3045 found on this site. Click the image to be taken to the original post. A new list is created every 10 minutes.

On this day, George was handling fruits and veggies right inside gate 34.

Cross section diagram of the field structure. (Click to enlarge.)

Ticket booths.

This is what passes for imagination at Miller Park -- they didn't even get the shape right! (Source: LP)

World Series trophies on display at left

1885 Sanborn Map Image (Source: Sanborn Map Collection, Minneapolis Public Library, Copyright © 2001 by The Sanborn Map Company, Sanborn Library, LLC)

The knothole (sans view of anything interesting)


These stairs will go up to the centerfield pavilion.

The art panels on the Fifth Street facade as viewed from the top of the Minnekahda building.




Not from Moose's tour, but it's an image you need to see. (Click to enlarge greatly.)

This looks south and shows how the Northstar tracks are sheltered by the promenade above. This is the side which faces the HERC plant.

A sampling of seats at Fenway Park





Looking out from under Gate 34

Here's another look at the Oliva gate.



Lonely vendor...

The renderings and concept model differ here. MOJO thinks this is the perfect place for a party deck. Dave St. Peter seemed to agree!

They can put a camera just about anywhere. (Photo by Jeff Ewer)

The future history of Minnesota ballparks will go here



The Legends Club retail store is just visible at the right of this picture.

2014 Twins ASG promo bat.


Staging for the next section (Home Plate Box)




Near the end of the Angels' 4-run second inning.


Roll-up metal doors visible at right.
This mural is behind the staircase. The window looks onto the promenade, and the door goes to a kitchen.


Puckett atrium chef stand menu

And another angle looking at the overhang area of the right field pavilion. This looks to me like a great area to watch a game.

Glossary
BPM - Ballpark Magic
BRT - Bus Rapid Transit
DSP - Dave St. Peter
FSE - Full Season Equivalent
FYS - Fake Yankee Stadium (see also: NYS)
HERC - Hennepin Energy Resource Company (aka the Garbage Burner)
HPB - Home Plate Box
HRP - Home Run Porch
LC - Legends Club
LRT - Light Rail Transit
MBA - Minnesota Ballpark Authority (will own Target Field)
MOA - Mall of America
MSFC - Minnesota Sports Facilities Commission (owns the Metrodome)
NYS - New Yankee Stadium
SRO - Standing Room Only
STH - Season Ticket Holder
TCFBS - TCF Bank Stadium
TF - Target Field
Selected Bibliography - Analysis

Selected Bibliography - Surveys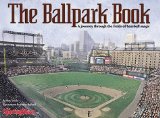 Not a "Third Edition" exactly,
but it replaced the above title
(2000)


Original edition (2000, round)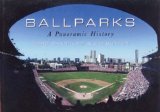 (2004, very large coffee table)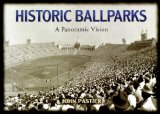 (2006, very large coffee table)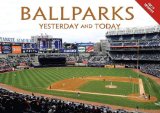 Combines the previous two titles
(2007, medium coffee table)

Selected Bibliography - Nostalgia



Book and six ballpark miniatures
(2004)