Twins Eve
April 1, 2010 12:44 PM

COMMENT
Happy Twins Eve, everybody!
Yep, tomorrow the boys will take their field for the first time. (Rain? Bah!) It is an event not to be missed by anyone reading this page. I hope to see you there.
In the meantime, I have a few topics to cover, some from last Saturday and some from scattered other directions. And I'm going to do it amid another batch of photos I took last weekend.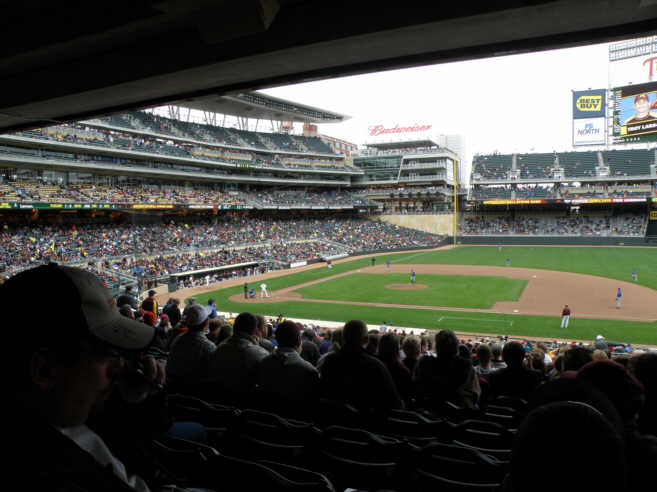 If you are into shade, there are lots of opportunities. This is from the last row in section 108 -- scoreboard not blocked in the least.
Before the Twins take the field tomorrow, a bunch of political types are set to appear, in recognition of all they did to get the place built. It certainly is proper and well-deserved. Without their creativity and determination, it just plain would not have happened.
But there's one guy who probably won't be there, without whom those politicos would never have even gotten the chance to take a swing at the problem. You all may know him as The Greet Machine, but his ballpark friends just call him Shane.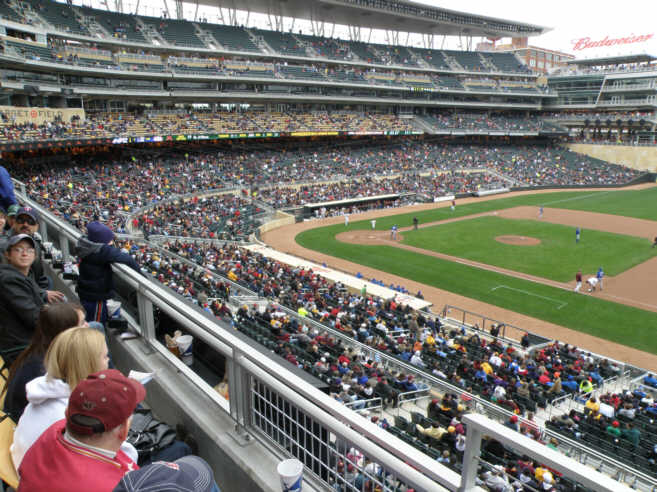 Love the LC!
The story is a pretty amazing one because it's about one guy who decided it was time to get this done, and then somehow managed to find the time and energy to actually do it. He managed to create a forum where people could hash through things, votes could be tallied, and minds could be changed. That's a rare feat.
Many people who have been deeply involved with this project have mentioned Shane to me specifically as the linchpin for getting it going. Some say it's a testament to the power of new media, but that doesn't really go far enough to capture what actually happened.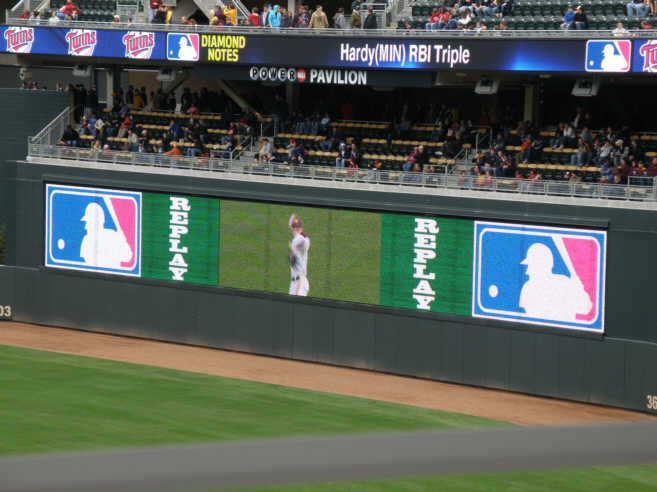 Replays on the out-of-town scoreboard!
In fact, I'm not sure exactly how to summarize the whole process, but I think a big part of it was that it was grounded in Shane's obvious love of the game and the team. He always wrote with passion, enthusiasm, humility, and hopefulness (OK, there were a few less-than-hopeful moments, but they passed relatively quickly).
But beyond that, he started counting.
He did what many within the Legislature and the assembly of lobbyists couldn't figure out how to do. He carefully tracked the positions of legislators, and then managed to recognize and help others utilize that tiny opening of support through which the necessary bill could fit. And it was very tiny. (You may remember that the final meaningful vote passed on a 34-34 tie.)
Back in the dark days of 2000 and 2001, I had tried to do some such lobbying and tracking and found it to be just plain too daunting. The whole stadium issue was a third rail in St. Paul, and the legislators I successfully engaged (some of whom I knew personally) were so hardened against the whole idea, that it just seemed hopeless.
This is the environment into which Shane stepped. He might not have thought, when he started, that a guy with a web site could have such an impact. And, in fact, just any guy with just any web site won't do. There was something about the simplicity of The Greet Machine, the honesty of the place, the optimism, and most of all, the hard -- and smart -- work, which made it special.
Shane, today on Twins Eve, we baseball lovers and ballpark geeks salute you! Thanks for all the work you did which made this possible.
Perspective
I'm sure many of you saw this little tidbit by Tom Verducci of Sports Illustrated:
In this era in which sport is as much about programming as it is competition, and when stadium roof technology has been around for more than a quarter of a century, Major League Baseball should never have allowed a ballpark to be built in Minnesota without a retractable roof.
It's just the latest salvo from the weather-ignorant, but there's a twist here which is worth exploring.
Is baseball just a TV show? I mean, we know that's essentially true with football, but has baseball now come to that point?
If baseball is a TV show, then what he says makes perfect sense. In fact, he sounds like he's suggesting that MLB and Fox should have split the cost of a roof if no one else was willing to pay for it.
Why? Because roofs turn ballparks into TV studios (another reason to hate them).
And if you are a TV executive, it's an easy calculation. Canceled (or rescheduled) playoff games cost you X dollars in ad revenue. A roof costs Y dollars. If X is greater than Y, then it's in your interest -- you, the TV executive -- to pay for a roof.
Over time, you can see that the math just might favor that capital investment.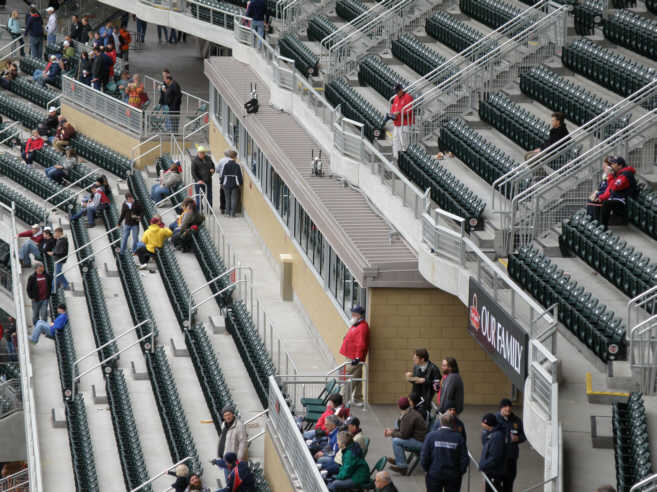 This looks like a Twins Pub, but is actually the scoreboard operations.
But back to the original question: Is baseball really "as much about programming as it is competition"?
If it is, then the ballpark is dead. Fans become like game show audiences -- you need them, so you let them in for free (or cheap) and tell them to watch the "applause" sign (or "scoreboard") for cues on what to do.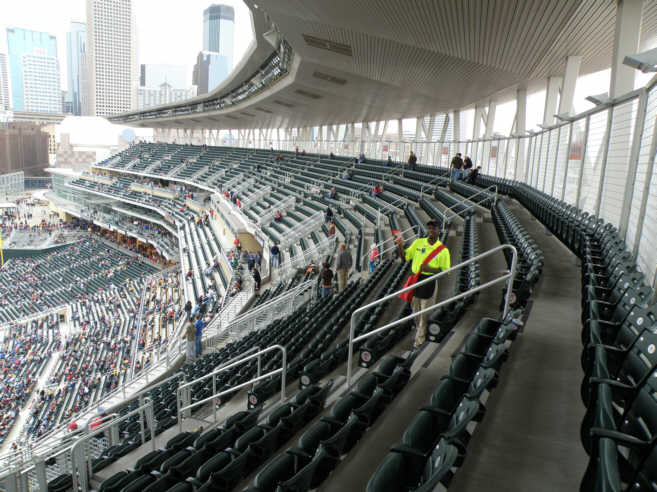 Lonely vendor...
There's no question that the Selig era will be remembered for trying to move baseball completely into the realm of the TV show. It's happened again with the recent teeny, tiny adjustment to the post-season schedule, which might have actually been a meaningful adjustment if Fox had not objected.
That leaves Target Field as something of a statement against the notion of baseball as programming, and for the notion of baseball as competition and community.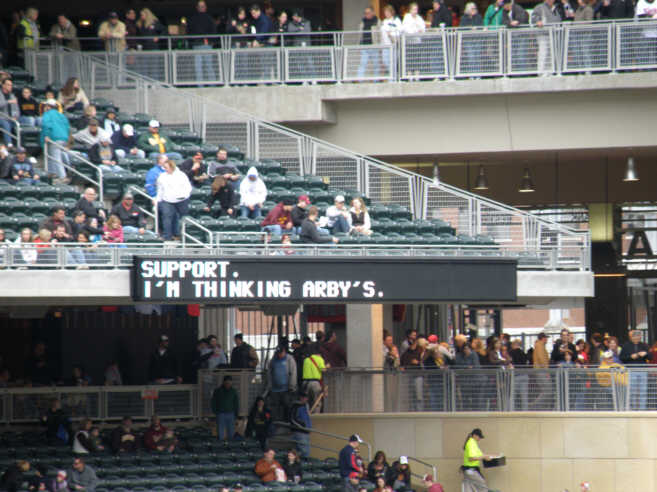 Dedicated closed-captioning ribbon board
It's been pointed out that the Twins would much-preferred having a roof to not. But Jerry Bell is singing a different tune now:
I argued for nine out of 10 years we should have a roof. Looking at the ballpark today, I think it would be a sin to put a roof on it. If we had a roof, the roof would be about eight acres in size and distract from the ballpark. We will have a rainout or two, but we're not going to have too many because of the drainage system.
That may sound to some like the team is just trying to put on a brave face, but I don't get that feeling at all. They've embraced the roofless approach, and now they realize that what looked like a setback was actually a major blessing.
Congestion
My photos of Saturday's crowded concourses led to some discussion about whether it will be like that on Twins gamedays. The answer is that it's pretty unlikely. That's more like what they'll look like as fans leave at the end of a game than what it will look like in, say, the sixth inning.
But there were a couple of especially nasty choke points on the main concourse that will have to be fixed before opening day. They were caused by long lines at mobile food carts which had been set up directly across the concourse from one another.
People had to thread their way, one at a time, between the ends of two lines which touched one another.
Perhaps those lines were made longer by some troubles at the fixed concession stands, but it's something the team will have to watch closely. Even a 10-foot offset of those carts would probably be enough to avoid the problem.
An Invitation
Hopefully you are getting in shape for opening day. But you'll need to know where to party before you head out to the game. Well, here's an invitation for all of you, presented by long-time reader Jeff Bull (OG Jeff):
- Pre-game fun 3 blocks from Target Field on April 12th
- On the front lot at Herschel Lofts - 748 N 3rd St.
- BBQ and festivities from 11am - 2pm
- Specials at The Loop Bar and Restaurant during the game
- BBQ food/drink provided by North Loop businesses for $5
- Lots of prizes and giveaways include jerseys, caps, tees & Twins tickets
- Site will have a large tent in case of weather
Though it does promote some North Loop businesses, this is not a for-profit event. In fact, it's just a party being thrown by some guys, which somehow got kind of big! (That's what happens when you throw a party three blocks from the biggest event of the season.)
Hope to see you there. And thanks, Jeff, for the invite.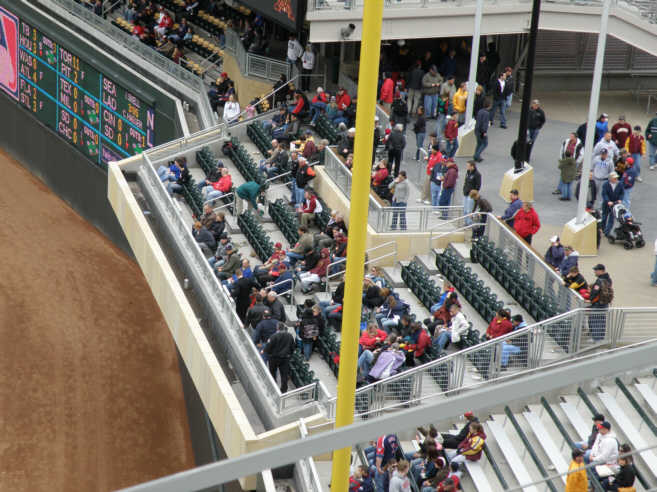 The Overlook
Overlooking
There are still tickets available in the Overlook for Tuesday, May 4 -- an event we've dubbed BallparkMagic Night at Target Field. But they won't last very long.
Announcing BallparkMagic Night at Target Field
Come and see the Overlook (section 136) with your fellow fans! 59 tickets have been reserved in the first five rows just for us and are being sold here exclusively at face value with no fees! (We can talk later about where to meet before the game.)
Only
$22
per ticket! (limit of 4 per person)
Sue Nelson, and her organ, in one of the Twins Pubs
Organized
I took the picture above in the Twins Pub on the first base side. Organist Sue Nelson was chatting with fans, and listening for her next cue on a headset.
The whole scene looked a little bit slapped together. While it's nice to have her accessible, one has to believe that she'll get tired of being in a bar before very long.
More to the point is that the organ, late of the Metrodome -- and with roots that potentially stretch back to Met Stadium -- sounds kind of lousy in the new park. Its sound took me instantly back to a place I thought I'd escaped.
I'll admit that I'm hoping the setup is temporary, and that some additional consideration will go into getting a new instrument, and maybe a modified role for Sue.
As a musician by trade, I'm somewhat sensitive to the role music plays in audience enjoyment of an event. Knowing what's possible with the organ (and recognizing that it need not replace recorded music entirely), it feels like a reboot is in order on this element.
Finally
And finally a funny, but kind of sad note that I discovered in one of the suburban papers:
"We were pretty disappointed," said Jim Stodgman of Giles-Nalla Roofing in Coon Rapids.
He's referring to the day that his truck pulled up to Target Field with 162,000 custom-made shingles for the roof of the new stadium, the result of an order placed in 2002 by a subcontractor for the Twins.
"They told us that there had been a mistake and the order should have been canceled a couple of years ago," Stodgman laments. "My driver had no choice but to turn around and bring them back here."
His staff of 25 had labored carefully over each individual piece, painstakingly inscribing every one with the familiar TC logo, matching specifications for a retractable roof that was designed in the late 1990s, but cut from the final stadium design in 2005. His company has worked on almost nothing else since the order was placed.
When asked what they would do with the unused inventory, Stodgman just shrugged. "I'm going to use a few on a shed in my back yard, but the rest, I just don't know. Maybe we could do a few players houses."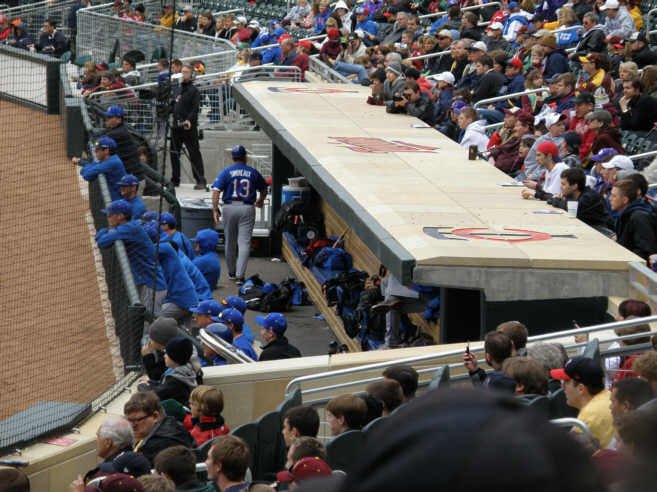 It's pretty easy to see right into the Twins dugout!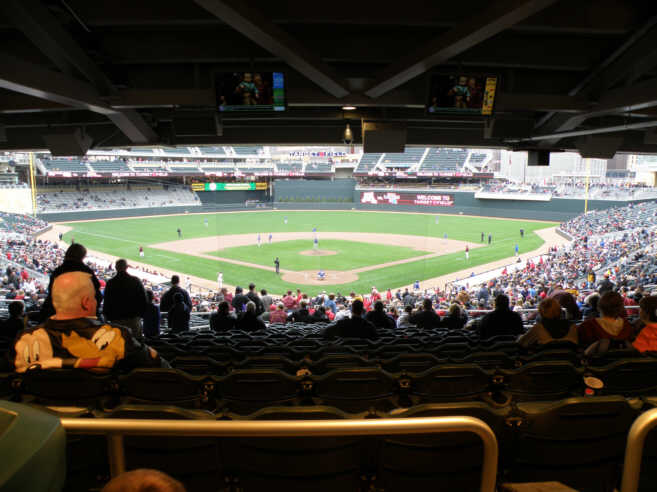 Good seats, but no scoreboard or sky.
Happy April!
Comments
To utilized enhanced comment features, please enable cookies in your browser.
Hide Facebook box
---
This page was last modified on April 1, 2010.
"You talk about the magic, the aura, but what really makes a stadium is the fans. Concrete doesn't talk back to you. Chairs don't talk back to you. It's the people who are there, day in, day out, that makes the place magic."
– Bernie Williams
Explore the Site
Here are 50 images chosen randomly from the 3033 found on this site. Click the image to be taken to the original post. A new list is created every 10 minutes.


Ballpark elevation diagram, viewed from Fifth Street. (Click to enlarge.)

7:32 PM Glare begins at about the left field foul pole.

This is the staircase (ramp?) leading up to the trapezoid. Nice flagpole too. You'll be able to find me and Ben McEvers at the base of that flagpole on opening day in 2010!

Which way to the skyway? Really??

Champion's Club moat (windows are found at the base of the limestone behind the seats -- not visible in this image)




Hops! (conceptual only)

Here's a rack of lights being prepared for lifting into the canopy.

That is the gun-metal gray wall of The Stadium just beyond the elevated tracks.


I never think of Ron Jackson at all.

Home Plate Box, Section 111, Row 8 or 9-ish (Click to enlarge greatly.)

TCF Bank Stadium (click to enlarge)

This is the view from the Seventh Street circulation ramp. It will eventually be covered by the wood louvers.

Quote wall

Though there's nothing there now, you have to believe they'll find a way to add a party deck up there at some point.

Champion's Club details (click to enlarge)







Reverse stairway view

Print press box

The reverse angle shows that the signage will only partially obscure views from the top of the ramp. The wall is pretty high up there, so you'll need something to stand on, but it appears that this is one of the so-called "knotholes".

The rendering which excited a fan base! (Inset is an enlargement of the pictured neon sculpture.)
Write your own caption. (Photo by Jeff Ewer)


Legends Club seats in context (above the main concourse, below the suite level)

These are the footings for the staircase which will connect the plaza to the skyway.

Signage for the concession stand which is available from the plaza (plaques are up on the fencing)

Steel meets concrete, with the last rays of sun visible through the suite and concourse openings at left.

Click to enlarge greatly

Seals Stadium

Camera mounts


Nathan greeting the other pitchers on the all-Metrodome team (October 4, 2009)

Photo by Jared Wieseler

Because of the scale, it's sometimes hard to realize that there are actual guys down there doing the tough work! Here they are getting ready to pour a footing.

Lots of pix waiting to be seen from Bert's memorable night.

At one point, we thought these windows might represent one of the so-called knotholes. But nope. Nothing to see here. (Nearest I can tell, there will be no view of the playing field whatsoever from the Seventh Street sidewalk.)


Where you are, and where you can go.

Thome steps in.

Just up the foul line, it looks like the base of the wall in foul territory on the right side.
Glossary
BPM - Ballpark Magic
BRT - Bus Rapid Transit
DSP - Dave St. Peter
FSE - Full Season Equivalent
FYS - Fake Yankee Stadium (see also: NYS)
HERC - Hennepin Energy Resource Company (aka the Garbage Burner)
HPB - Home Plate Box
HRP - Home Run Porch
LC - Legends Club
LRT - Light Rail Transit
MBA - Minnesota Ballpark Authority (will own Target Field)
MOA - Mall of America
MSFC - Minnesota Sports Facilities Commission (owns the Metrodome)
NYS - New Yankee Stadium
SRO - Standing Room Only
STH - Season Ticket Holder
TCFBS - TCF Bank Stadium
TF - Target Field
Selected Bibliography - Analysis

Selected Bibliography - Surveys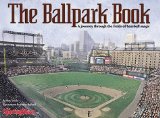 Not a "Third Edition" exactly,
but it replaced the above title
(2000)


Original edition (2000, round)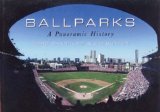 (2004, very large coffee table)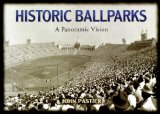 (2006, very large coffee table)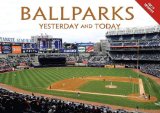 Combines the previous two titles
(2007, medium coffee table)

Selected Bibliography - Nostalgia



Book and six ballpark miniatures
(2004)