New-Look TwinsFest 2014
January 29, 2014 12:03 AM

COMMENT
Reports in the media have been generally favorable toward this year's TwinsFest reboot. I didn't get to go, but here are some highlights as reported by BPMers who did.
First, from CSG Mike:
The crowds were not bad on Saturday afternoon from 1-3pm, considering it was "sold out." I think they probably limited it to the right number of tickets. I would compare it to a full game scenario in the LC. Make sense? Overall the spaces seemed rather disjointed. Unlike previous TF where it was all held in one giant space... They used the Suite level, LC, and service level (-2)...
The LC is where a lot of the action was. The 96.3 radio was broadcasting (and playing on the speakers), there were many food options, there were lots of games that seemed aimed at kids, they had additional signs pointing out the player memorabilia that is always on display, the press box was open and they had the Yard Sale. It was either outdated regular merchandise or game used items from B and C list players that I barely recognized. The best I saw was some Drew Butera items. I was disappointed. Oh yeah they also had some of the more corporate sponsors set up in the Metropolitan Club. Players Wives club, Treasure Island, Metro Transit, All Star Week Volunteers, a Get Tony O in the HOF booth, etc. It took me about 5 min to walk through the Metro Club.
Next we headed down to the service level. The main attractions down there were 3 things.
1. The Home Clubhouse. Neat to see, but also completely cleaned out and staged with the new BP jerseys (which DSP just happened to advertise on twitter last night).
2. The Champions Club was transformed into the FSN Stage where they had a list of different past players talking or running bingo. When I walked through Tony O was talking about working hard in school. It was kind of odd because I didn't see ANY kids in there listening to him preach.
3. It seemed like most people were down there for the collectors. It was the usual lots of cards or other items, most were over priced and uninteresting. I did find my Dome seat back so it wasn't a total waste.
Things that were a flop on this level were the Grounds Crew area. There was 1 sign and 4 riding lawn mower looking items. No one seemed to care. They also had signs for "$5 for 5 cuts" in the batting cage. There was no line and while I was in the CC I saw only a few in the cages. Probably not what they were expecting.
As I said before, overall it was unimpressive. The most fun I had was playing a game with myself of "guess who that player is before looking at the name on their jersey back." I was about 50/50 on the day.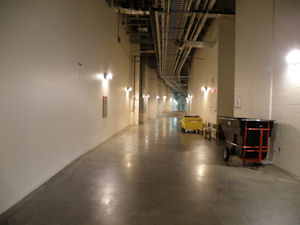 Darker than it looks here
I've read lots of comments about the substandard subterranean digs for the card show. Having made my way through this space many times, I know how dark it can be -- and I bet cold as well. It's also basically just a basement, so there's really not much of interest to see there.
It's so uninteresting, in fact, that I had to go back to 2010 to find the last picture I took down there (seen at right). As you can see, it's a part of the ballpark which isn't very glamorous.
At one point the Twins apparently considered temporarily enclosing a portion of the main concourse with plexiglass walls for the event. That would probably be pretty costly, but what a great way to experience the ballpark in winter! I hope they reconsider this before next year.
From NotMendoza:
This afternoon I went to TwinsFest with wife and 5 year old daughter. It was a particularly good time for us as the Twins seemed to really focus on family.
We parked in the ramp across the street and took the club level skyway into the event. We went to the Metropolitan Club first and spun wheels for some complimentary licorice and baseball bat pen. While wife & daughter got a burger & fries, I chose to chill & look out the club level windows at the field.
A Twins rep walked up and asked if I wanted to join Trevor May or Alex Meyer in Fan Feud in the Champions Club. A contest based on family feud where fans join players to answer Twins related trivia such as "In a survey of 100 Twins Fans what is the first thing they do when they enter the ballpark?" While I do not like being in front of more than a couple people I figured what the f*** and volunteered us anyway and had about an hour until the event.
We walked up to the suite level where TC's den was. Fortunately TC was not there as my daughter is freaked out by the bear. She did grasp my hand tightly as Spot the dog, mosquito, loon, and babe walked by. She was happy to get her picture taken in the den and was able to get a free Good Night Baseball book signed by the author too.
Later we made it down to the service level where Pops wanted to tour the Twins clubhouse. The line was about 100 people long so we passed on that. Then we went to the Champions Club where Bingo was being played. We tried to play but it soon ended after about 5 calls were made.
Finally it was Fan Feud time. Two groups of 5 on a team played in front of us. So we asked a mom & son if they wanted to play on our team when it was our turn. They agreed so we actually had a team of 6 with Alex Meyer being our captain. He was very personable in meeting everyone and good with the kids, as was the host, Corey Provus. When the question "Who do Twins fans say is the greatest homerun hitter?" was asked my daughter rejected our hint of Justin Morneau and responded TC. It was a fun experience for us and after three rounds of Feud we got t-shirts and a picture with Alex. He and Trevor stayed to sign for all fans who stuck around.
It was about 45 minutes before the conclusion of the event. We headed back to club level to get a balloon for the girl and walked through the Press/Radio/TV area. Pops wanted to tour the Twins clubhouse so we checked that out again with no line, as well as the manager's office. It was interesting that the interviews with Gardy after the games are actually done in his office about 3 feet away from his desk. The batting cages were viewable and there was little to no line there as well. After about 3 hours of the Fest we headed for home.
Overall the Twins really focused on family this time around. While some areas seemed bare such as the media area behind home plate, other areas were really done up well such as the TC den. There were plenty of games and a lot of fan interaction with players and club personnel. During our walks in the hallways & rides on the elevators we went by Rod Carew, Dave St. Peter, Jared Burton, and Terry Ryan.
It took some planning to find things yet it was not crowded and there were not long waits for elevators to get to places. It was good to check out the Clubhouse & Champions Club as well as other places that are not areas I would generally experience. I thought it was pricier for us at $20 each adult $10 for a girl and $5 processing fee, but we bought very little food and got a lot of freebies. And it was good to be out & about somewhere both kids & adults could find fun activities.
It's clear from comments I've read everywhere that long lines remain the bane of TwinsFest. That's discouraging, especially if it persists after the reboot. Basically, if you want to get an autograph, or see the home clubhouse, or do some of the other activities, you may have to give up an hour or more of your time there to wait in the long line. That makes the increased ticket price even harder to bear. (I'll never forget the year I spent a full three hours in line waiting for Harmon Killebrew's autograph, and then only getting it because he was gracious enough to go 15 minutes beyond the end of his scheduled time.)
Imagine this!
Every year I come back to the idea that they need to distribute timed tickets for all of the high-demand elements. Technologically, it's an incredibly easy thing to do (sort of like taking a number at the deli, only tickets have times instead of sequence numbers).
If you want to see the clubhouse, you swing by when you arrive to get a ticket with a time on it, then go about your business until your time comes up. At that point, you walk down to the clubhouse and immediately go through it. No waiting, and everybody gets to see what they want. Worst case, you get a time on your ticket that is too far out in the future. But at least you know ahead of time rather than having to stand in the long line only to get turned away.
The risk in trying a strategy like this is that, if you distribute all of the timed tickets first thing in the morning, people will all arrive before the gates open and create a long line just to get those tickets. This would just shift the line and defeat the whole purpose.
So, to get just a little more sophisticated, you could even make the timed tickets part of the online system. When buying your TwinsFest tickets, you indicate which of the high-demand events you want to do, and get those times assigned right then (first come, first served). That way, you could actually time your arrival to coincide with your scheduled event times.
Or maybe the answer is to harness technology even a little bit more. Just register your phone number at the station you want to visit, then the system does a digital lottery and sends a text if you get selected. If too much time passes and you don't get selected, you get a text which informs you of this and encourages you to try again. (I just took a few minutes and sketched out how to do this technologically. Easy peasy. Hey Twins, call me and we'll introduce it at TwinsFest '15! Patent Pending.)
For the Twins, there are big advantages to solving the problem of long lines, the biggest being the ability to sell way more tickets to the event because crowd and line control aren't such a big issue. They'd probably sell more food, too.
Finally, here's from another Mike:
I went to Twinsfest with the wife on Saturday - just like NotMendoza, we parked in the ramp across the street and entered Target Field through the Club Level Skyway.
The Metropolitan Club had a lot of the sponsor booths and things, we got some free licorice and other things from KLN Family Brands. Treasure Island also had a spin the wheel to win prizes.
They definitely focused more on the family aspect of it this year, which was a nice thing to see. Lots of interactive activities and games. A lot more up-close interaction with the players too.
The service level is where all of the vendors and collectors were. I bought a few things, but was disappointed with the lighting. If they can find a way to make it a bit brighter down there, it wouldn't be as bad.
The line for the clubhouse tour was very long so we skipped that. It was nice to get a behind the scenes look and self guided tour of the the Champions Club, Legends Club, Press Box and so on.
Definitely a much more intimate setting and was glad they limited the tickets because the crowds did not seem so bad other than the line to the Twins Clubhouse. We were able to see many players up close as they moved throughout Target Field. Another new addition I noticed this year was that all players were wearing their home white jerseys which was nice to see. Much more easy to recognize the players that way.
The Yard Sale was nice. Reminded me of the moving sale they held at the Metrodome in November 2009. They were picked over pretty good when we got there by late morning. It's one of those things where you probably had to be there early to get the best selection, but they still have quite a few things. I found some ticket strips from Kirby Puckett weekend in 1997 for $1 each and bought a few of those. Also bought some St. Paul Saints and Minneapolis Millers mini pennants for $1. They had a lot of the manager bobbleheads for sale. Also saw a lot of jerseys and game used bats and caps for sale.
We skipped the suite level as that was essentially autographs only. Not sure if the Majestic Twins Pro Shop was open or not but we never made it in there.
I realized after we left that I missed the 2014 All Star Game display booth. Not sure what it consisted of, but would have been interesting to see.
All in all, I thought it was run very well. There are definitely things they can improve or enhance and there are opportunities to add things as well down the road. I wouldn't mind seeing them transform the field into a "Winterfest" type of thing that we have seen in Cleveland and Boston. Ice skating rink, snow tube hills, etc. I can't complain too much about the $20.00 price because it's basically an all-inclusive self guided tour of Target Field as well. But how many years can that go on until you have seen everything? I also understand they limited tickets to 6,500/day from what I heard.
Someone told me they heard the Twins are going to bring back the single game ticket sales as part of Twinfest 2015, which I think would be a great idea as well. Maybe they were experimenting with that this year with the sale of Home Opener tickets?
Our family didn't go mostly because other things on our schedule would have made it a tight squeeze. But in looking at the map, I didn't really see much that my kids would want to do anyway. From these reports, and others I've read, it sounds like I might have been wrong about that. The Twins appeared to have focused on family fun, which is a great idea (too bad it didn't look like that on the map).
One thing is for certain, if there had been snow fun out on the field or plaza (and it was a few degrees warmer) we would certainly have gone.
I've argued for a few years now that this event was desperately in need of a reboot. It sounds like moving it to Target Field provided the opportunity and the team made some good use of it. Now let's hope they tweak this and make it better, rather than reverting to the Convention Center or, God help us, the new Vikings stadium.
I'm headed out to the ballpark next week for a big draft party, and very much looking forward to hanging out there while there's still snow on the field. What better way is there to whet the appetite for another season of outdoor baseball?
Comments
To utilized enhanced comment features, please enable cookies in your browser.
---
This page was last modified on January 29, 2014.
"You talk about the magic, the aura, but what really makes a stadium is the fans. Concrete doesn't talk back to you. Chairs don't talk back to you. It's the people who are there, day in, day out, that makes the place magic."
– Bernie Williams
Explore the Site
Here are 50 images chosen randomly from the 3046 found on this site. Click the image to be taken to the original post. A new list is created every 10 minutes.

Here's what they do in April at Comerica Park

The Pro Shop.

Here's a closer look.

Then you turn around to this!

Reasonable (if not overly generous) leg room




Click to enlarge

Spring of 1982 (click to enlarge greatly -- can you pick out Kent Hrbek?)


Town Ball Tavern balcony

The reverse angle shows that the signage will only partially obscure views from the top of the ramp. The wall is pretty high up there, so you'll need something to stand on, but it appears that this is one of the so-called "knotholes".
Poles through the gap


This is what passes for imagination at Miller Park -- they didn't even get the shape right! (Source: LP)

This looks toward the middle of the park. The third base side of the Legends Club is to the right up ahead, while the 573 Club is just barely visible at the end of the hallway. It extends to the left.

Infield dirt used as accents
I see an opportunity in this view for an Abbey Road-style promotional photo! Mauer, Morneau, Nathan and Cuddyer walking toward the ballpark. The only question: which one takes off his cleats?


Stairs down to the sidewalk from the skywalk over Seventh

Puckett atrium menu part 2 (Those prices match elsewhere in the ballpark.)

Not from Moose's tour, but it's an image you need to see. (Click to enlarge greatly.)



Citi Field as viewed from Shea.


We took refuge for a time in the Twins Pub where you can drink a beer (or just hang out) and listen to some ballpark tunes. The organ is decorated with a TC (of course) and what looked like drawings which Sue has received from kids.






Click to enlarge.


Special guests in the trees!

One thing that the design disguises nicely is that the Pro Shop (and other key components) are actually built over lanes of freeway. That can clearly be seen here.




Fencing is going up all along the plaza

Looking back toward downtown from the end of the balcony


This is the HERC Premonade with railroad tracks snaking beneath. (I think this should be named the Halsey Hall Premonade. Seriously.)
The splendid view from the roof of the Minikahda building. (Click to enlarge greatly.)

(Click to enlarge)

The electronic sign has been corrected (and never forget that ballpark is one word, not two)

Glossary
BPM - Ballpark Magic
BRT - Bus Rapid Transit
DSP - Dave St. Peter
FSE - Full Season Equivalent
FYS - Fake Yankee Stadium (see also: NYS)
HERC - Hennepin Energy Resource Company (aka the Garbage Burner)
HPB - Home Plate Box
HRP - Home Run Porch
LC - Legends Club
LRT - Light Rail Transit
MBA - Minnesota Ballpark Authority (will own Target Field)
MOA - Mall of America
MSFC - Minnesota Sports Facilities Commission (owns the Metrodome)
NYS - New Yankee Stadium
SRO - Standing Room Only
STH - Season Ticket Holder
TCFBS - TCF Bank Stadium
TF - Target Field
Selected Bibliography - Analysis

Selected Bibliography - Surveys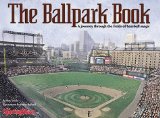 Not a "Third Edition" exactly,
but it replaced the above title
(2000)


Original edition (2000, round)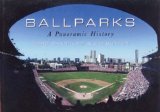 (2004, very large coffee table)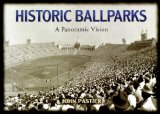 (2006, very large coffee table)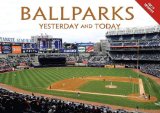 Combines the previous two titles
(2007, medium coffee table)

Selected Bibliography - Nostalgia



Book and six ballpark miniatures
(2004)