Roll It Over
January 2, 2010 3:18 AM

COMMENT
Hey, it's 2010! A new year. A new decade. A new ballpark.
The countdown up in the header rolls on, and finally it has dipped beneath 100 days.
It's a little hard to believe how much can happen in a year. Here's last New Year's Eve:
New Year's Eve, 2008
Talk has turned to getting tickets for the hope opener. Thousands will try, but only about 39,000 will succeed. Many of them already know who they are. Will you be among them?
The Twins want to hold a lottery to make it seem like some fans who might not otherwise get in can have some hope. I, for one, do not find the words "hope" and "lottery" to sit very well together in the same sentence.
As I write, StubHub shows 662 total tickets available for that game (for a cool $7K per ass -- $3500 per cheek -- you can do the Legends Club; best seats in the house, if you ask me). But with so few in general circulation at this point, how many tickets can you imagine will really be available by lottery? A couple hundred maybe? And how many of those will then be resold for a tidy profit?
If you really want to be there, start saving your pennies, my friends.
On KFAN the other day, Dave St. Peter said there will be opportunities for fans to take tours before opening day. "Open houses," he called them. I'll see you there!
I stopped down one gray day last week and got some new video of the wind veil:
The noise you hear in that video is totally freeway -- not the veil or the wind. The veil was, as far as I could tell, completely silent. It's more like a big sheet of perforated and hinged metal -- a sail with a little more staying power than fabric.
As to the freeway noise, I've had mixed experiences with it. Some days it's almost silent, even with cars zipping by. On other days you will not be able to be heard while speaking out on the plaza. It's a pretty Jeckyll and Hyde sort of thing.
Parking Woes
Here's a quick story about my experience getting that video. I went downtown to stop at Barnes & Noble to pick up a book that my wife ordered as a gift. They were the only bookstore in town who had it.
I've done this in the past plenty of times, and I just pull in at one of the 15-minute meters along Marquette. But when I got there, this is what I saw: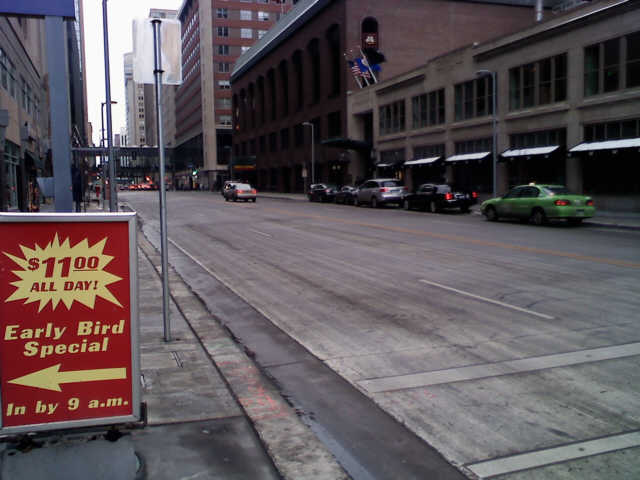 A desolate Marquette Ave
And looking the opposite direction: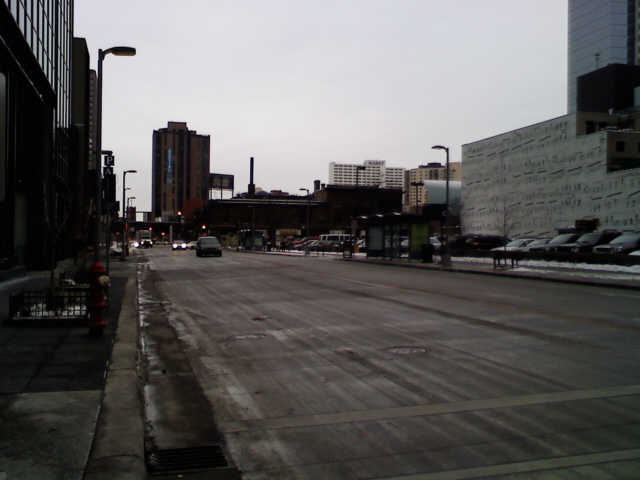 Marquette looking south
It's the first time I'd been here since they completed rebuilding the street to accommodate multiple bus lanes. I was a little bit shocked, and my heart sank.
In place of my extremely convenient short-term parking meters was a very skinny (about half a car width) curb cut for drop offs at the Foshay tower, and then bare curb as far as the eye can see. What's more, what was parking has become a lane of traffic, so even the loading zones are gone.
As I cruised around looking for an alternative, I happened onto Second Avenue and found the same thing there. What was once loading zones and some very handy parking meters is now a lane of through traffic.
I have not seen a less attractive streetscape in a very long time. (Though I will admit that the scent -- of Murray's steaks -- was heavenly.)
You don't have to tell me the benefits to commuters that these new bus lanes provide. I actually thought this was a good idea -- until now. As usual, Minneapolis takes one step forward (2-way traffic on Hennepin) and three back (the botched First Avenue design, and these brutal remakes of Marquette and Second). And hold your breath, because the Central Corridor LRT route could dwarf all of these in the sheer magnitude of its bad judgment.
Personally, I think that trying to bring all those buses into the core of downtown is pure folly. This city needs strategically-placed transit centers at the various edges of downtown (like the one in the B ramp, or the ones in Uptown and Midtown), and some sort of circulation mechanism for shuttling people into and out of the core.
And there should be one-hour parking meters lining every single street from corner to corner. (If you have to be somewhere for more than an hour, you belong in a parking ramp. If you have something to unload, most of these buildings have super nifty loading docks beneath them. And it's about impossible to get anything useful done in less than an hour. Parked cars make a city feel safe to pedestrians, bicyclists and motorists alike. Their comings and goings serve as a form of traffic calming all in itself. And you can still turn all that parking into lanes of traffic during rush hour -- if you absolutely must.)
Parking, Part 2
My parking story might end there. But it does not.
Knowing that I was going to the ballpark anyway, I just decided to pull into the A ramp like normal, and walk back to B&N. Only it's not normal. My entrance (from 7th Street) is closed. Upon entering on the other side, I'm greeted by an attendant who asks me for $7.00. That's right, it's all event parking between now and New Year's she explains.
Appalled because I only planned to be there for a half hour or so, I told her I would just pull through. Now, have you ever tried to pull through these ramps? It's nearly impossible. In fact, the A ramp is so poorly signed that I went around the 3rd level three full times before finding an escape hatch. (It didn't help that one of the options was closed for construction -- without any sign anywhere indicating such.)
And that's the ballpark angle of this little story: There's gonna be congestion and confusion in these ramps come April, the likes of which hasn't been seen in these parts since, oh, let's say the Carter Administration. (Feel free to point out that Timberwolves fans have figured this all out and, if you want a fight, that Twins fans are smarter than Wolves fans. But I don't think it matters.)
The first time I pulled into the A ramp while covering ballpark construction, it took me a while to wind my way to the roof, and when I was done it took a couple of laps around that roof to find my desired exit. (It also cost a lot less back them. For at least a year I never paid more than $1.00 on exit. At some point that morphed into $2.00 or $3.00 or $4.00. I smell rats.)
I know these ramps are huge, but the circulation design and signage truly stinks. Do you think anything will be done about this by opening day? Doubt it. The only question is how long it will take before baseball patrons force the issue.
I still haven't figured out my sneaky parking spot for games, but I have a couple of leads (i.e. friends with condos in the neighborhood -- a strategy which has saved me a ton of money over at the Dome).
Parking, The Conclusion
Let me finish my parking story by noting that the redo of Second Avenue has also wrought some undesirable parking changes (thought the bike options have increased nicely). I ended up at a yellow meter across Sixth Street from Target Center. The sign clearly said "30 minute limit enforced for all vehicles including handicapped" and that 25 cents bought 8 minutes. So I happily dropped four quarters in, and then noticed that another sign said "15 minute maximum". How stupid is this?
Well, as you can guess, I was peeved at my city (and in a hurry) when I took the photos below. And I began to feel for a moment like Target Field could turn out to have some venom when it comes to neighborhood integration. Lord knows that the City of Minneapolis, my genuinely beloved home, is sort of clueless on how to do the little things which can make a city seem welcoming.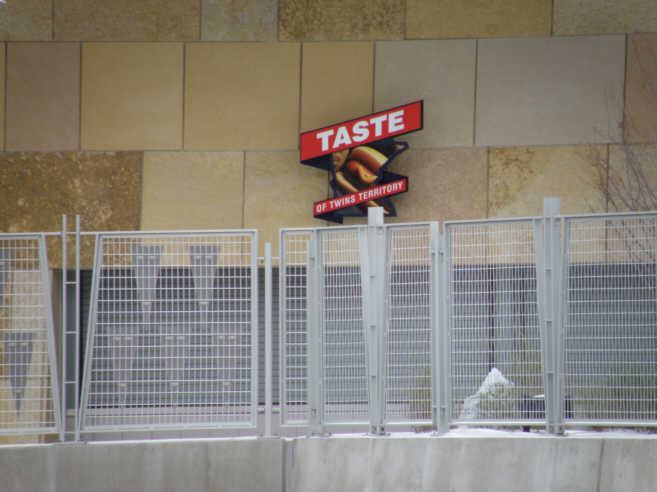 Signage for the concession stand which is available from the plaza (plaques are up on the fencing)
A detail from the above image shows that the section signage is now in place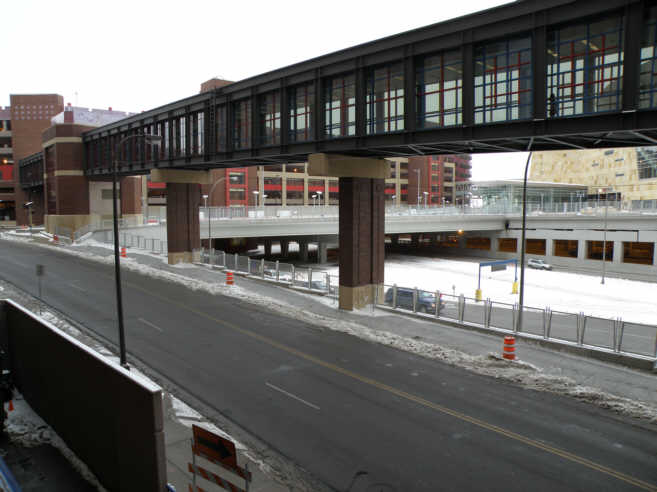 Bike parking available along Second Avenue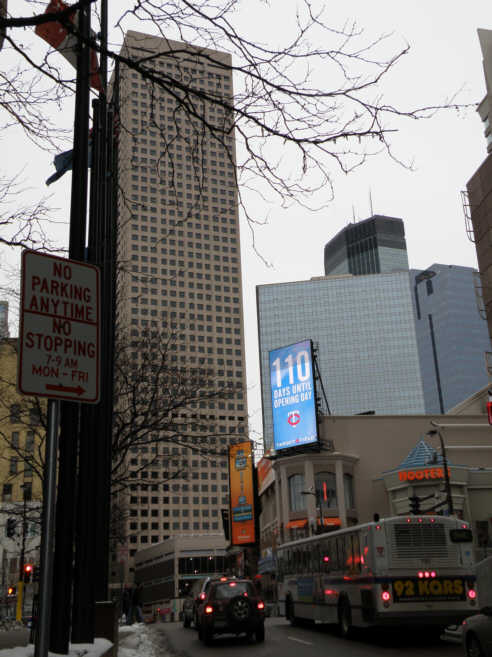 A photo taken as my meter ran out.
Hockey
I swear that any sport looks better when played in a baseball stadium. I'm not much for hockey, but it sure looked great at Fenway. Here are some representative clips.
(So, just how awesome are Dropkick Murphys and James Taylor -- separately, of course?)
Now, here's the OT, with the winning goal:
The place looked even greater as the sun started to go down. Can you imagine a game like this at TF?
There's just something about baseball stadiums.
Comments
To utilized enhanced comment features, please enable cookies in your browser.
Hide Facebook box
---
This page was last modified on January 2, 2010.
"You talk about the magic, the aura, but what really makes a stadium is the fans. Concrete doesn't talk back to you. Chairs don't talk back to you. It's the people who are there, day in, day out, that makes the place magic."
– Bernie Williams
Explore the Site
Here are 50 images chosen randomly from the 3033 found on this site. Click the image to be taken to the original post. A new list is created every 10 minutes.
Air conditioning condensation on the floor.

Outside, lots of window space

Look! Speakers!

Playing surface dirt out there? Maybe. (click to enlarge)

The view from the corner of Ford Centre. (Feel free to tie up your boats here.)

Three weeks ago this was a patch of scruffy trees. Now it's a patio. In case you were wondering, that's where I've been...


Guerrier had tossed a ball to a fan wearing a Twins jersey, who dropped it. If you're going to wear the uniform, he was saying, you gotta make the play. The ball ultimately went to a fan wearing a Randy Moss jersey, and everybody laughed.


The back row of seats in straight-away center. Note that, beyond those seats, you can see the planters (for flowers) on the front of the Left Field Bleachers.(Batters Eye)

One more exterior view shows that, while the original look was attractive in a way, it seems to be a variation on the look of the Washington ballpark (albeit with a much more coherent collection of elements). What's remarkable is that the design team has refined the concept amazingly well, improving it immeasurably. What we're actually getting is clearly descended from this, but it's in a whole different league:

Limestone still dominates the Seventh Street walkway from a pedestrian point of view. But brick take over as you move upward -- a concession to cost, no doubt.


Legends Club fireplace (there are two)

These outfield stands will likely remain visible to passersby.

The brown grass was left over from the first attempt at groundbreaking (canceled after the 35W bridge collapse)


This is also the promenade, where the first indications of the final texture of the walkway can be seen. This layer of concrete is going on top of gravel (as has been done over on the plaza).

This looks from the base of the stairs, behind the big pillars, toward the street.

This is a good overview of the spot where the Northstar (bottom) and LRT (top) will intersect.

Metropolitan Club

Franchise history before Minnesota. (Click to enlarge.)
Target Plaza looking toward the grandstand


The main ticketing area beneath the restaurant.

The Target Field grass, it turns out, will be green. (This is a photo representing the concept of grass only. The actual Target Field grass apparently will not contain dirt patches, weeds, or dandelions. Imagine that -- if you can!)


(Click to enlarge greatly)


Not from Moose's tour, but it's an image you need to see. (Click to enlarge greatly.)


Loading docks to the right, VIP entrances to the left.



TC gets ready to release the hounds. (Kids get to run the bases after Sunday games.)

Signature elements. (And they wonder why we think the real trees look so small...)

Double plays will be turned here.

LRT throngs after the game



TCF Bank Stadium (click to enlarge)


That's Noah and my brother, Chris, checking out the Loge Box amenities

I do love the upper concourse. Feels like home already.


Yankee Stadium


A peak inside what will become the main concourse.
Glossary
BPM - Ballpark Magic
BRT - Bus Rapid Transit
DSP - Dave St. Peter
FSE - Full Season Equivalent
FYS - Fake Yankee Stadium (see also: NYS)
HERC - Hennepin Energy Resource Company (aka the Garbage Burner)
HPB - Home Plate Box
HRP - Home Run Porch
LC - Legends Club
LRT - Light Rail Transit
MBA - Minnesota Ballpark Authority (will own Target Field)
MOA - Mall of America
MSFC - Minnesota Sports Facilities Commission (owns the Metrodome)
NYS - New Yankee Stadium
SRO - Standing Room Only
STH - Season Ticket Holder
TCFBS - TCF Bank Stadium
TF - Target Field
Selected Bibliography - Analysis

Selected Bibliography - Surveys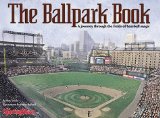 Not a "Third Edition" exactly,
but it replaced the above title
(2000)


Original edition (2000, round)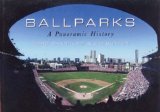 (2004, very large coffee table)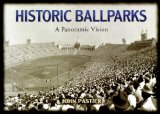 (2006, very large coffee table)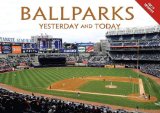 Combines the previous two titles
(2007, medium coffee table)

Selected Bibliography - Nostalgia



Book and six ballpark miniatures
(2004)