Let's Play Seven!
October 29, 2014 12:08 AM

COMMENT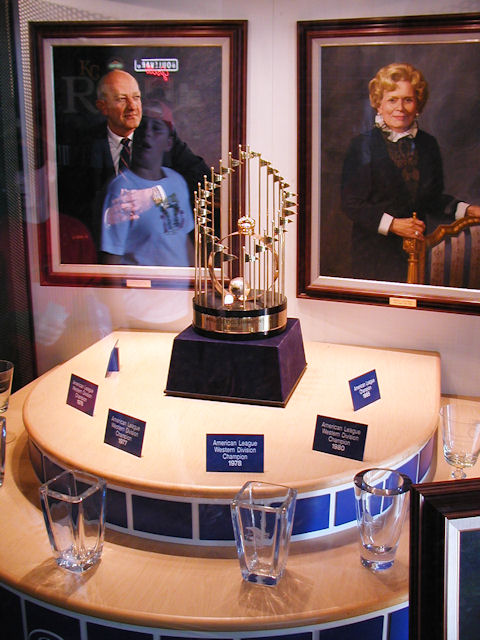 Trophy case at Kauffman Stadium in 2002 (Apparently, if you won a division in the 70s, you got a beer glass.)
Drop everything. This is what we live for.
Until the second inning of tonight's game six, I was prepared to take my kids to a Halloween party tomorrow night. It's a really good one, too, that we've been to in several previous years. But we won't be going this year.
This is the first year in the past 20 or so that I haven't had a rehearsal to go to on a Wednesday night. And it's a good thing because I would have had no choice but to cancel it and deal with the consequences later (which I know a little bit about from my experience during the 2010 playoffs).
Setting priorities on an occasion like this is remarkably easy.
Everyone in our household will be rooting Blue, except for the youngest, who inexplicably chose Orange -- probably just to be a contrarian to his brother. But it didn't take long for true rivalry to set in, and with it the chance to see who could out-root the other. It's largely a draw, with each party proving capable of significant gloating -- despite having played no measurable role in the outcome of the games.
And the allegiances of first graders, even when hastily struck, turn out to be very powerful. We've had genuine tears at various points in this series. So just in case the Giants do not win tomorrow night, I've been preparing a speech about disappointment, and things beyond our control, and more stuff like that. I'm prepared to mute my own joy and absorb a few tears on my shoulder.
My kids are tough competitors, and I wouldn't dare say anything like "Winning isn't everything" to either of them. At their current ages (nine and six), winning is pretty much the only thing. And in a certain way, I'm right there with him. Now is not the moment to snuff out natural competitive urges.
The only thing I can think of which might make the occasion more exciting would be to have the home town nine on the field. That's more or less impossible to imagine right now, especially given that what we've seen throughout these playoffs looks very little like what we've seen over the past few years out at our new-ish ballpark.
But thinking about that possibility does remind me that we know a thing or two about game sevens in these parts, right? No less than three of them have been played within five miles of my house.
But I'm also realizing that the current drought of 23 years is actually longer than the one we suffered through when I was growing up. It was only 22 years between Sandy Koufax and Frank Viola -- an interval which seemed to stretch forever. This recent batch of Series-less years has seemed to stack up quicker, somehow, but the numbers don't lie. This has gone on too long.
More important to this current moment is that Roger Angell got his wish: There will be another game before winter.
And who knows? We may be hosting the defending WS Champs at the Home Opener!
Regardless of who wins, when the final out is made, you'll forgive me if I slump like someone above the Arctic Circle watching the sun slip below the horizon for the last time before the winter solstice.
Housekeeping: This site has been under some sort of weird attack for the past month from someone in Germany, or it may be the Ukraine. I've been trying to mitigate it with the help of my host provider, but it has resulted in outages for which I apologize. I'm crossing my fingers that it's finally licked.
And good luck tomorrow night in the Playoff Challenge, Luke! Go Royals!
Comments
To utilized enhanced comment features, please enable cookies in your browser.
---
Inventory
September 29, 2014 12:23 PM
---
Twinshine
July 16, 2014 1:47 AM
Yes, Jeter. Of course. It was his night, and deservedly so. Even I, whose mother hates Derek Jeter, cheered for him. It was only the second time I've ever done so (the other being when I visited the original Yankee Stadium and pretended to be a Bomber fan for exactly one game). And tonight it felt weird and wrong and right and inevitable and necessary and splendid all at the same time.
---
Festing
July 13, 2014 1:38 AM
There were times, in the past week, when I started to get the feeling that the Convention Center would be a very empty place this weekend. Simply put, it seemed like everyone wanted to give away their Fanfest tickets.
---
Starshine MPLS
July 12, 2014 1:46 AM
On September 10, 2008, the Twins called the media (including yours truly) to the roof of Target Center to announce their pipe dream of starshine at their nearby, gradually-materializing new home.
It was a very cheery event, with tons of back-slapping and gleams in the eyes of politicians and other notables. There were hot dogs and Cracker Jack, bats and balls festooned with prototype All-Star logos, and lots of posing after the requisite speech-making. In the near distance cranes soared and silently twirled, and orange safety fencing adorned construction edges which would one day be actual places.
---
Earlier Articles
Anything Is Possible March 31, 2014
New-Look TwinsFest 2014 January 29, 2014
Metrodome: Three Final Thoughts (not Shots) January 20, 2014
Replay, Finally January 18, 2014
A Job, Well, Done December 31, 2013
Atlanta Perspective November 16, 2013
Replay It, Baby November 14, 2013
Brave Moves...? November 11, 2013
TV or No TV? November 10, 2013
Around the Horn #2: Saints in Lowertown July 22, 2013
Around the Horn #1: New Siebert April 13, 2013
Being There April 3, 2013
Bundling April 1, 2013
How Long Again? March 18, 2013
Thinking Baseball March 3, 2013
Season Gone November 2, 2012
Thanks, TK. You Earned This. September 12, 2012
Bring on the Stars September 1, 2012
August Afternoon August 2, 2012
To Care and Not To Care July 16, 2012
Sights and Sounds July 15, 2012
Now, Where Were We? Oh Yes: Baseball May 30, 2012
On Being Wrong May 11, 2012
Yes, I Want a Stadium, But... May 5, 2012
Stadium EndGame 2012 April 26, 2012
Pick Me Up April 24, 2012
Hopener 2012 April 11, 2012
Home Again April 9, 2012
TwinsFest Fun February 22, 2012
Pitchers and Catchers, Oh Yeah February 19, 2012
Twins in '12 and RT's Whiff January 24, 2012
The Delusional Hills of Arden October 13, 2011
Overheard September 30, 2011
The Final Nail August 26, 2011
Magic, Indeed August 23, 2011
Gathering, Gawking August 19, 2011
Not So Much August 7, 2011
How Much Hope? August 4, 2011
Bay Ball, Part 3 June 25, 2011
Nine For Nine June 17, 2011
Commissioner for a Day June 13, 2011
Bay Ball, Part 2 June 8, 2011
Bay Ball, Part 1 June 2, 2011
Acknowledgements and Adjustments May 22, 2011
Harmon Killebrew May 17, 2011
Killer News May 13, 2011
Make-Up Game April 28, 2011
Find Your Happy Place II April 18, 2011
Just the Best Parts April 9, 2011
Now, Where Were We...? April 8, 2011
Baseball, Again April 2, 2011
Opening Day (Somewhere) April 1, 2011
Recession (of snow, that is) March 29, 2011
The Poetry of Frustration March 20, 2011
Find Your Happy Place March 18, 2011
Melting March 17, 2011
Tower Time March 16, 2011
Tarp Away March 14, 2011
More TV or No TV? February 17, 2011
Hibernatus Interruptus January 21, 2011
You Are Hereby Enshrined January 5, 2011
Best Ballpark Ever? October 25, 2010
Aftertaste October 10, 2010
Deep Breath October 8, 2010
October Sun October 6, 2010
October Sunday October 5, 2010
162 and Counting October 3, 2010
Nothing Rational Here September 26, 2010
Zeus Favors Gemini (Apparently) September 23, 2010
Day Game (After Clinch) September 22, 2010
Sky High September 21, 2010
Stuffed Sox (and more) September 17, 2010
Places: 573 Club September 3, 2010
Legends Club Scraps September 2, 2010
Places: Legends Club, Part 2 (Puckett Side) August 26, 2010
Places: Legends Club, Part 1 (Carew Side) August 24, 2010
Real Outdoor Baseball August 22, 2010
Places: Third Base Lounge August 20, 2010
Places: First Base Lounge August 20, 2010
Roof Dance August 6, 2010
System Shock August 3, 2010
Let the Games Begin July 16, 2010
Independence July 3, 2010
Attention July 1, 2010
Round Up June 16, 2010
Road Blues June 8, 2010
Tools June 3, 2010
Early Dog Days May 28, 2010
Live Game Thread May 27, 2010
Live Game Thread May 26, 2010
Live Game Thread May 25, 2010
Victoria's Take May 14, 2010
Settling Down May 11, 2010
Getting Together May 4, 2010
First Homestand Redux April 26, 2010
Day Game April 22, 2010
Instant Karma April 13, 2010
Opening Day April 12, 2010
Tick, Tick April 10, 2010
Looking Back, Forward April 7, 2010
Harmon Killebrew, HOF, #3 April 5, 2010
Rod Carew, HOF, #29 April 2, 2010
Twins Eve April 1, 2010
Just Look March 31, 2010
Identity March 24, 2010
Slack-Jawed March 20, 2010
Not So Sneaky Peeks March 19, 2010
The Plaza Is Ready March 13, 2010
Images of the Plaza (Part 2) March 10, 2010
Images of the Plaza (Part 1) March 9, 2010
Great Days, Believe It March 7, 2010
Learning, Discovering March 4, 2010
Training Time February 24, 2010
Eight Weeks and Counting February 17, 2010
A Whiff of Baseball February 1, 2010
Signs and Portents January 20, 2010
Chicken - Brats - Fries January 17, 2010
Roll It Over January 2, 2010
What Tom Petty Said December 4, 2009
Change-Up November 27, 2009
Oh Say, Can You See? November 18, 2009
Beyond Ballparks October 30, 2009
On CBP, Umping, and Gawking October 23, 2009
Amenity Deliveries October 20, 2009
And we'll see you at Target Field! October 14, 2009
Hello, Metrodome October 11, 2009
Playoff Day Off October 8, 2009
Metrodome Magic! October 6, 2009
After Midnight October 6, 2009
An Era That Won't End October 5, 2009
Game On October 4, 2009
A Fitting Send-Off October 3, 2009
Celebrate Good Times October 1, 2009
Autumnal Equinox September 22, 2009
September Stretch September 21, 2009
A Football Place: Nuts and Bolts September 3, 2009
Leaves of Grass August 29, 2009
Grassy August 28, 2009
The Grass Moves! August 24, 2009
Restoration August 23, 2009
Opportunity August 22, 2009
Plaza Trees August 21, 2009
Ninja-Style Details August 12, 2009
Going Ninja August 11, 2009
Inside the Bowl August 1, 2009
Dotting I's July 29, 2009
A Preview (And Not) July 25, 2009
A Moose Tour July 21, 2009
Take the Survey July 19, 2009
July Poking Around #3 July 15, 2009
Intermission July 14, 2009
July Poking Around #2 July 10, 2009
July Poking Around #1 July 10, 2009
Sunny Summer Dream July 5, 2009
Story Time June 24, 2009
OK, New Thread June 13, 2009
More Toppings June 8, 2009
One Topped Off, One Finished Off June 6, 2009
Yeah, We All Shine On May 29, 2009
Now THIS Is Twins Territory May 28, 2009
A No Photo, Web Only Tour May 23, 2009
Key Ballpark Ingredient: Swagger May 20, 2009
Plunked May 13, 2009
Spring Swing (Finale) and More May 10, 2009
Spring Swing (Part 4) May 9, 2009
Spring Swing (Part 3) May 8, 2009
Spring Swing (Part 2) May 8, 2009
Spring Swing May 7, 2009
Play Ball! Finale April 29, 2009
Play Ball! Tour - Part 2 April 25, 2009
Rain, Homers, Seats, Dogs April 23, 2009
Random Thursday in April April 9, 2009
Ahh, That's More Like It April 8, 2009
Hello, Goodbye April 7, 2009
Fun With Former Twins April 1, 2009
A Ninja Tour March 30, 2009
Plaza Particulars (Part 2) March 10, 2009
Plaza Particulars (Part 1) March 7, 2009
Ballpark Spring Training March 6, 2009
Of Topiaries, Hops and Wind Veils February 12, 2009
Sunny Tour Finale February 4, 2009
Seeing Our Shadow February 3, 2009
Hello, February! (14 months out...) February 2, 2009
So Long, January! February 1, 2009
So Long, Baseball Friend January 5, 2009
Happy New Year! December 30, 2008
Your Ballpark Calendar (and more) December 15, 2008
A New Plaza Design? December 1, 2008
The Concourse, Of Course November 27, 2008
Plaza-Walking November 16, 2008
View From the Ground November 12, 2008
Strolling the Promenade November 7, 2008
Tour Photos, Part Two November 5, 2008
Ah, the View (Level)! November 5, 2008
You Decide! November 4, 2008
Trick or Treat, Metrodome Style October 31, 2008
Canopy Skeleton! October 28, 2008
So Long, Yankee Stadium (Updated, Again) October 18, 2008
So Long, Tiger Stadium October 11, 2008
Sunny Steel Stroll October 10, 2008
Twins in '08: Ballpark Magic October 2, 2008
All About Levels September 19, 2008
It Could Have Been Better/Worse September 16, 2008
Experiencing The Stadium September 13, 2008
Washed Out, But It's OK September 12, 2008
An All-Star Bid September 10, 2008
Rain, Rain, Go Away September 9, 2008
A Football Stadium Takes Shape August 31, 2008
Rooftop Visions August 30, 2008
What's Ballpark Magic? August 22, 2008
Flag Pole: En Route? August 20, 2008
Sent to the Showers (For the Team!) August 20, 2008
The Newest Twins Fan August 11, 2008
Sunset Limestone July 29, 2008
From the Plaza July 19, 2008
Stoned! July 16, 2008
Move Along, Nothing to Enjoy Here July 12, 2008
Home Land -- Safe! July 10, 2008
Becoming a Baseball Place June 25, 2008
Tailgaiting? Wind? Golf? June 5, 2008
Construction Update - May 29 May 30, 2008
Halfway Home May 17, 2008
Hooky, Anyone? May 16, 2008
New Ballpark Construction Views #3 May 10, 2008
New Ballpark Construction Views #2 May 9, 2008
Ballparkus Tourus Interruptus May 9, 2008
Construction Update from Greg May 7, 2008
A Better View May 3, 2008
Sharing and Caring Thoughts April 19, 2008
Curses April 15, 2008
Fox9 Report on Ballpark Names April 4, 2008
Ballpark Name Domain Wrap-Up April 4, 2008
Twins to Speculators: Hold Your Domains! April 3, 2008
Ballpark Jots April 2, 2008
Land O' Lakes Field?!? April 2, 2008
Hi-Def? Lo-Def? April 1, 2008
Sometimes It Snows In...March March 31, 2008
Ballpark Name Clues March 21, 2008
Let's Review March 20, 2008
Just Add Beams February 15, 2008
Frigid Plaza Progress February 12, 2008
Quick Construction Update February 7, 2008
Model Details - Twinsfest 2008 February 6, 2008
Santana Banners January 30, 2008
Model Details - An Earlier Vision January 23, 2008
Let It Pour! January 23, 2008
Model Details - Part 5 January 22, 2008
Model Details - Part 4 January 21, 2008
Model Details - Part 3 January 20, 2008
Model Details - Part 2 January 19, 2008
Model Details - Part 1 January 18, 2008
Shaking It Off January 18, 2008
Blah, Ballpark, Blah January 16, 2008
So Long, Class of '01 November 24, 2007
Ballpark Odds and Ends November 22, 2007
Construction Update November 20, 2007
Being Green November 5, 2007
Touring the Virtual Tour November 3, 2007
A Tale of Two Outfields November 3, 2007
Sizing It Up October 31, 2007
Live at the Meeting October 30, 2007
Respect. October 20, 2007
Done and Done October 15, 2007
Piles to Rails to Cranes September 28, 2007
Let's Build August 31, 2007
A Fair Discovery August 23, 2007
Ramping Up August 21, 2007
Accidental Preview August 16, 2007
Rescheduled August 9, 2007
Well, Now What? August 9, 2007
Impatience. Shock. Grief. August 1, 2007
Plan Your Outing August 1, 2007
Color Dreams July 24, 2007
Webcam! July 11, 2007
Summer Smells (of Rats) July 6, 2007
Officially Nuts June 25, 2007
Bad Ballparks June 25, 2007
A Special Fan June 19, 2007
...and a Major Concern. June 12, 2007
A Major Find June 11, 2007
Mark Your Calendar June 11, 2007
More Model Talk June 6, 2007
Concepts and Measurements June 1, 2007
First Dirt May 21, 2007
Introductions May 17, 2007
Poised and Ready May 15, 2007
No More Guesswork May 10, 2007
So, It Begins May 8, 2007
Happy Sigh. May 2, 2007
The Magic of the Event April 28, 2007
But Can It Soar? April 17, 2007
Watch Out For That Railing! April 15, 2007
More Reacting April 14, 2007
A Great First Impression April 12, 2007
Ah, Unveiling At Hand April 10, 2007
Washington Malaise March 14, 2007
Stealing Our Thunder March 13, 2007
Crickets March 8, 2007
Pogin on Almanac March 2, 2007
Potential Sites March 2, 2007
Heads Up March 2, 2007
Communication, People February 28, 2007
Wither, Rapid Park February 26, 2007
Equal Time February 24, 2007
Bad Faith? February 18, 2007
How Much Room...Really February 9, 2007
Wind Tunnel? December 14, 2006
A Tantalizing First Glimpse December 7, 2006
Wireless Dreaming November 15, 2006
Fake History? October 27, 2006
We Don't Need No Stinking Roof! October 26, 2006
Playoff Ballparks 2006 October 5, 2006
Becoming a Baseball Town October 1, 2006
Ballpark Seats With a View? September 29, 2006
Oh, the Ideas! September 28, 2006
Make It a Green Field September 26, 2006
Honoring Baseball's Mill City August 6, 2006
About Authority August 4, 2006
A Hot Dog...Please? July 28, 2006
Ballpark History Foiled July 13, 2006
Who's Got the Details? June 29, 2006
Loose Ends June 23, 2006
Meet the Ballpark Authority June 22, 2006
More Reasons June 21, 2006
Proudly Anti-Roof June 15, 2006
To Roof, or Not to Roof June 13, 2006
Baseball Soon, Parking Now, Lumber Then June 8, 2006
Killebrew Field June 6, 2006
Flag Pole - Part 2 June 5, 2006
A River Runs Through It June 2, 2006
The Plan June 2, 2006
How Much Ballpark? June 1, 2006
Getting There (and Out) June 1, 2006
Some Flagpole History June 1, 2006
A Great Baseball Place? June 1, 2006
Introducing the Site May 31, 2006
Some St. Peter Answers May 31, 2006
A Brief Delay May 31, 2006
It's Official May 28, 2006