Inventory
September 29, 2014 12:23 PM

COMMENT
So, it's time to take stock, right? OK, here goes.
Earlier this week my mom began cleaning up the garden that she tended so lovingly in our yard this summer. It was beautiful beyond just the love she put into it, but there are now four bags of yard waste out behind our garage. Victoria's garden section by our back door, every bit as beautiful, has also been returned to bare dirt.
We've already picked the one tiny, perfect pumpkin which resulted from Truman's seed-planting experiment. (His bean plant didn't survive the transfer from plastic cup to garden.) He was more excited than can be fully captured here, and followed the pumpkin's progress almost daily after it was discovered hiding beneath a big leaf. It will probably take a scalpel, but he's determined that it be turned into a jack-o-lantern.
If everything goes as planned, tomorrow I will remove the last of our window air conditioners. I've already put the grill to bed (we're out of charcoal), and likely mowed the lawn for the last time. Patio furniture will go into the garage next, at which point I'll realize again that I never did get the hammock out into the yard this year like I hoped. The bikes and scooters will be wedged in a little tighter, and the sleds will come to the front of the stack.
I rediscovered my scraper/brush in the trunk of my car the other day, and took a long second look at the bags of ice melt stacked just inside the hardware store's front door. I'm not ready, I decided.
My baseball card collection for 2014 is not quite complete yet. I'm at the point where whatever I buy at a store will be mostly doubles, and it may be time to fill out the remainder of my set with a strategic eBay purchase. I don't usually buy baseball cards, but this year they took the place of those statistical analysis/prediction books I usually buy in March, mostly because those books have gotten so serious and boring.
For about a minute, when I discovered the yellow-bordered Yasiel Puig card, I thought maybe there was some financial future in baseball cards. That card sold for $10 on eBay, as did a red foil Xander Bogaerts. (I'm still holding a numbered uniform patch card from a Brewer named Jean Segura.) In the end, however, it looked more like gambling than entrepreneurship. The pleasure of completing the set will have to be the reward.
Truth be told, the greatest reward in that particular activity, and one of the great baseball moments of the season for me, was when Truman opened a package and joyfully proclaimed that he'd found a Twin! I asked who it was. Joe Mauer? Glen Perkins? TC Bear? (I truthfully ran out of possible players after those two names came to mind.)
He still gets the logos a little confused, and I could see across the desk that it was an Astros card. So, without looking too closely, I tried to let him down easily. But he insisted, and then pointed to a tiny M-logo. Sure enough. And I probably would never have spotted that myself.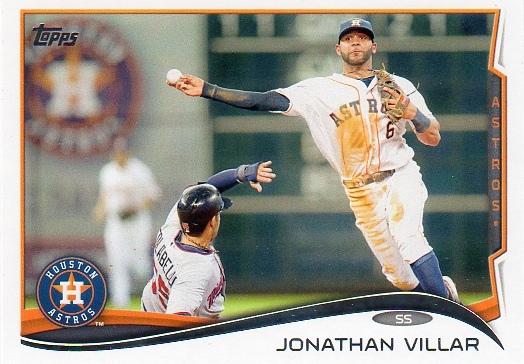 Would you have spotted that Twin? When you were five years old?
One of my other great baseball moments came at the annual Fiesta de Beisbol, hosted by our friend Mike (known as 'fiesta' around these parts).
The event starts with an all-ages game at the park down the street from his home, and I got to face a kid who could really pitch -- and was taking the whole thing very seriously.
His heat was probably in the 50s, and he was getting it over the plate. I was able to foul off a couple and then knocked a clean single right over his head (which turned into a bases-clearing homer, as often happens in such games).
When you don't play a lot, which I don't, it's easy to forget what that kind of contact feels like, and it's a great feeling (wooden bat, of course). What's more, I was reminded that hitting is really a form of deflection. The more energy the pitch has in it, the more there is to deflect. So the goal is not to absorb any of the energy, and maybe even add some. Deflecting a pitch in the 90s must be a total rush.
I told the kid he was needed down at Target Field. (Only half joking.)
And with that, I suppose it's time to take stock of the Twins in 2014. 70-92. Last place. Pretty stinky.
Actually, in all truthfulness, it feels a little like 2000 all over again. If you look back at the 2000 roster, a lot of the pieces that would make for a great decade were already there and maturing in front of our eyes.
I remember that Tom Kelly was on the ropes. Many people called for him to quit or be fired after that year (69-93), his fourth with 90 or more losses. But he was unwilling to quit in the middle of all that losing, and I don't blame him. He wanted to see the boys turn a corner, and somehow he made it through that off-season. 2001, as we all remember, was a breath of fresh air. A corner was, in fact, turned. Only then did Kelly yield up his seat on the bench.
Maybe I'm just wanting to be hopeful right now. I don't like the thought of another year like this. Much of my summer was spent watching Dr. Who with my kids instead of Twins games.
Don't get me wrong: I love Dr. Who. But science fiction should be for passing time in the off-season! With the Twins losing, we're probably going to run out of new episodes long before spring training!
But I digress.
I'm sympathetic to Ron Gardenhire's lot. Really, this mess isn't his fault. Or even Rick Anderson's.
But I keep coming back to a time, long ago, when I worked in middle management for a large local corporation. (Shudder.)
You see, this company was pretty profitable, and had a CEO who, though not exactly charismatic, was competent, even excellent at times. Everybody who worked there was happy, and knew their jobs pretty well. The place was running smoothly, and the culture was stable and predictable, and the money kept rolling in until...
Unexpectedly, the company was sold. And the new owner was not satisfied with letting things run the way they always had. He had ideas. He had goals. He wanted more, more, more. Overnight, the culture of the company changed from one of contentment and happy money-making to one of chaos. And uncertainty. And fear. And, well, excitement.
This new owner quickly replaced all of the upper management, and then started working his way down. We got new directives, new goals, new strategies, new priorities. New ideas began to surface and permeate everything we did. Everything we had ever known was thrown out the window. It was very unsettling, and at first no one could understand why things needed to change. The money had been good. The work had been pleasant and productive. The company was successful and had been running so smoothly.
But to our great surprise, with the same exact front-line employees, under new leadership, the company took a big jump in profitability. Within a few years it was virtually unrecognizable from its former self, and was enjoying successes on a scale not even imagined under the former management regime.
It turned out that there had been a problem, but no one saw it. Contentment with a certain level of success had set in, and constancy, which had seemed like an asset in the company's culture, turned out to be an enemy. Had the shake up not taken place, we might never have known that anything greater was even possible.
It's not a perfect analogy to the Minnesota Twins, of course.
But I look at that list of players up at the top of this page, add to it in my head Revere, Morneau, Cuddyer, Gomez, Ortiz, and I shake my head. I think of Joe Mauer and shake my head. Did our management guys get everything out of these players that was possible? Or did they give up too quickly, try to fit round pegs into square holes, or simply not imagine opportunities that might have been there? Or did constancy just win out?
For some of those names, it's easy to see why they left the Twins. And it's possible that some of them benefited simply from a change of scenery. And some of them still aren't very good, but happen to be in just the right place at the right time. But I've thought long and hard about this, and I wonder if the scenery inside the Twins baseball operation has become too static. Constancy may, in fact, be the enemy right now.
This is not to say that there's anything wrong with what anyone is doing specifically right now. Remember, the original CEO of the company I worked for had been reasonably good at his job. But I've started to wonder if Gardy and Andy are that guy. I've started to wonder if what these players need most in order to reach their full potential is a new set of eyes looking at them, a new set of voices cajoling them, a new set of directives, and goals, and strategies, and priorities.
Maybe players tell no tales when they leave a team. Then again, maybe when Torii Hunter says publicly that the Twins are "always about next year" that creates waves which ripple quietly out into the industry until they dissipate on the shores of other players and their agents.
Maybe, in addition to shaking up the culture within the organization, now is the time to make a bold statement to the rest of the baseball world, to hire someone unexpected, someone who speaks Spanish, someone with fire and a few new ideas, someone who likes striking out opposing hitters and hates the whole insane notion of "pitching to contact."
I'm going to stop this post now, because I just saw a headline that Gardy's been fired.
More inventory to come...
Oh, and be sure to make your playoff predictions!
Comments
To utilized enhanced comment features, please enable cookies in your browser.
---
Twinshine
July 16, 2014 1:47 AM
Yes, Jeter. Of course. It was his night, and deservedly so. Even I, whose mother hates Derek Jeter, cheered for him. It was only the second time I've ever done so (the other being when I visited the original Yankee Stadium and pretended to be a Bomber fan for exactly one game). And tonight it felt weird and wrong and right and inevitable and necessary and splendid all at the same time.
---
Festing
July 13, 2014 1:38 AM
There were times, in the past week, when I started to get the feeling that the Convention Center would be a very empty place this weekend. Simply put, it seemed like everyone wanted to give away their Fanfest tickets.
---
Starshine MPLS
July 12, 2014 1:46 AM
On September 10, 2008, the Twins called the media (including yours truly) to the roof of Target Center to announce their pipe dream of starshine at their nearby, gradually-materializing new home.
It was a very cheery event, with tons of back-slapping and gleams in the eyes of politicians and other notables. There were hot dogs and Cracker Jack, bats and balls festooned with prototype All-Star logos, and lots of posing after the requisite speech-making. In the near distance cranes soared and silently twirled, and orange safety fencing adorned construction edges which would one day be actual places.
---
Anything Is Possible
March 31, 2014 1:46 PM
It is rainy in the Twins Cities today. The sky is as grey as it gets, and the chances of actual sunshine are around zero percent. There is more cold, and more snow, in the forecast.
My yard is still partially covered with snow, the top of which now sports a crust thick enough that my kids can walk across it without leaving footprints or, thankfully, getting their socks and shoes wet. The remaining cover is thickest out in the middle of the yard, about where home plate generally gets placed, right in front of the garden bed that my mom will fill with hostas in a few weeks. Those plants will be mined over and over all summer long for balls which got by someone's bat, but my mom doesn't seem to care. She's a fan.
---
Earlier Articles
New-Look TwinsFest 2014 January 29, 2014
Metrodome: Three Final Thoughts (not Shots) January 20, 2014
Replay, Finally January 18, 2014
A Job, Well, Done December 31, 2013
Atlanta Perspective November 16, 2013
Replay It, Baby November 14, 2013
Brave Moves...? November 11, 2013
TV or No TV? November 10, 2013
Around the Horn #2: Saints in Lowertown July 22, 2013
Around the Horn #1: New Siebert April 13, 2013
Being There April 3, 2013
Bundling April 1, 2013
How Long Again? March 18, 2013
Thinking Baseball March 3, 2013
Season Gone November 2, 2012
Thanks, TK. You Earned This. September 12, 2012
Bring on the Stars September 1, 2012
August Afternoon August 2, 2012
To Care and Not To Care July 16, 2012
Sights and Sounds July 15, 2012
Now, Where Were We? Oh Yes: Baseball May 30, 2012
On Being Wrong May 11, 2012
Yes, I Want a Stadium, But... May 5, 2012
Stadium EndGame 2012 April 26, 2012
Pick Me Up April 24, 2012
Hopener 2012 April 11, 2012
Home Again April 9, 2012
TwinsFest Fun February 22, 2012
Pitchers and Catchers, Oh Yeah February 19, 2012
Twins in '12 and RT's Whiff January 24, 2012
The Delusional Hills of Arden October 13, 2011
Overheard September 30, 2011
The Final Nail August 26, 2011
Magic, Indeed August 23, 2011
Gathering, Gawking August 19, 2011
Not So Much August 7, 2011
How Much Hope? August 4, 2011
Bay Ball, Part 3 June 25, 2011
Nine For Nine June 17, 2011
Commissioner for a Day June 13, 2011
Bay Ball, Part 2 June 8, 2011
Bay Ball, Part 1 June 2, 2011
Acknowledgements and Adjustments May 22, 2011
Harmon Killebrew May 17, 2011
Killer News May 13, 2011
Make-Up Game April 28, 2011
Find Your Happy Place II April 18, 2011
Just the Best Parts April 9, 2011
Now, Where Were We...? April 8, 2011
Baseball, Again April 2, 2011
Opening Day (Somewhere) April 1, 2011
Recession (of snow, that is) March 29, 2011
The Poetry of Frustration March 20, 2011
Find Your Happy Place March 18, 2011
Melting March 17, 2011
Tower Time March 16, 2011
Tarp Away March 14, 2011
More TV or No TV? February 17, 2011
Hibernatus Interruptus January 21, 2011
You Are Hereby Enshrined January 5, 2011
Best Ballpark Ever? October 25, 2010
Aftertaste October 10, 2010
Deep Breath October 8, 2010
October Sun October 6, 2010
October Sunday October 5, 2010
162 and Counting October 3, 2010
Nothing Rational Here September 26, 2010
Zeus Favors Gemini (Apparently) September 23, 2010
Day Game (After Clinch) September 22, 2010
Sky High September 21, 2010
Stuffed Sox (and more) September 17, 2010
Places: 573 Club September 3, 2010
Legends Club Scraps September 2, 2010
Places: Legends Club, Part 2 (Puckett Side) August 26, 2010
Places: Legends Club, Part 1 (Carew Side) August 24, 2010
Real Outdoor Baseball August 22, 2010
Places: Third Base Lounge August 20, 2010
Places: First Base Lounge August 20, 2010
Roof Dance August 6, 2010
System Shock August 3, 2010
Let the Games Begin July 16, 2010
Independence July 3, 2010
Attention July 1, 2010
Round Up June 16, 2010
Road Blues June 8, 2010
Tools June 3, 2010
Early Dog Days May 28, 2010
Live Game Thread May 27, 2010
Live Game Thread May 26, 2010
Live Game Thread May 25, 2010
Victoria's Take May 14, 2010
Settling Down May 11, 2010
Getting Together May 4, 2010
First Homestand Redux April 26, 2010
Day Game April 22, 2010
Instant Karma April 13, 2010
Opening Day April 12, 2010
Tick, Tick April 10, 2010
Looking Back, Forward April 7, 2010
Harmon Killebrew, HOF, #3 April 5, 2010
Rod Carew, HOF, #29 April 2, 2010
Twins Eve April 1, 2010
Just Look March 31, 2010
Identity March 24, 2010
Slack-Jawed March 20, 2010
Not So Sneaky Peeks March 19, 2010
The Plaza Is Ready March 13, 2010
Images of the Plaza (Part 2) March 10, 2010
Images of the Plaza (Part 1) March 9, 2010
Great Days, Believe It March 7, 2010
Learning, Discovering March 4, 2010
Training Time February 24, 2010
Eight Weeks and Counting February 17, 2010
A Whiff of Baseball February 1, 2010
Signs and Portents January 20, 2010
Chicken - Brats - Fries January 17, 2010
Roll It Over January 2, 2010
What Tom Petty Said December 4, 2009
Change-Up November 27, 2009
Oh Say, Can You See? November 18, 2009
Beyond Ballparks October 30, 2009
On CBP, Umping, and Gawking October 23, 2009
Amenity Deliveries October 20, 2009
And we'll see you at Target Field! October 14, 2009
Hello, Metrodome October 11, 2009
Playoff Day Off October 8, 2009
Metrodome Magic! October 6, 2009
After Midnight October 6, 2009
An Era That Won't End October 5, 2009
Game On October 4, 2009
A Fitting Send-Off October 3, 2009
Celebrate Good Times October 1, 2009
Autumnal Equinox September 22, 2009
September Stretch September 21, 2009
A Football Place: Nuts and Bolts September 3, 2009
Leaves of Grass August 29, 2009
Grassy August 28, 2009
The Grass Moves! August 24, 2009
Restoration August 23, 2009
Opportunity August 22, 2009
Plaza Trees August 21, 2009
Ninja-Style Details August 12, 2009
Going Ninja August 11, 2009
Inside the Bowl August 1, 2009
Dotting I's July 29, 2009
A Preview (And Not) July 25, 2009
A Moose Tour July 21, 2009
Take the Survey July 19, 2009
July Poking Around #3 July 15, 2009
Intermission July 14, 2009
July Poking Around #2 July 10, 2009
July Poking Around #1 July 10, 2009
Sunny Summer Dream July 5, 2009
Story Time June 24, 2009
OK, New Thread June 13, 2009
More Toppings June 8, 2009
One Topped Off, One Finished Off June 6, 2009
Yeah, We All Shine On May 29, 2009
Now THIS Is Twins Territory May 28, 2009
A No Photo, Web Only Tour May 23, 2009
Key Ballpark Ingredient: Swagger May 20, 2009
Plunked May 13, 2009
Spring Swing (Finale) and More May 10, 2009
Spring Swing (Part 4) May 9, 2009
Spring Swing (Part 3) May 8, 2009
Spring Swing (Part 2) May 8, 2009
Spring Swing May 7, 2009
Play Ball! Finale April 29, 2009
Play Ball! Tour - Part 2 April 25, 2009
Rain, Homers, Seats, Dogs April 23, 2009
Random Thursday in April April 9, 2009
Ahh, That's More Like It April 8, 2009
Hello, Goodbye April 7, 2009
Fun With Former Twins April 1, 2009
A Ninja Tour March 30, 2009
Plaza Particulars (Part 2) March 10, 2009
Plaza Particulars (Part 1) March 7, 2009
Ballpark Spring Training March 6, 2009
Of Topiaries, Hops and Wind Veils February 12, 2009
Sunny Tour Finale February 4, 2009
Seeing Our Shadow February 3, 2009
Hello, February! (14 months out...) February 2, 2009
So Long, January! February 1, 2009
So Long, Baseball Friend January 5, 2009
Happy New Year! December 30, 2008
Your Ballpark Calendar (and more) December 15, 2008
A New Plaza Design? December 1, 2008
The Concourse, Of Course November 27, 2008
Plaza-Walking November 16, 2008
View From the Ground November 12, 2008
Strolling the Promenade November 7, 2008
Tour Photos, Part Two November 5, 2008
Ah, the View (Level)! November 5, 2008
You Decide! November 4, 2008
Trick or Treat, Metrodome Style October 31, 2008
Canopy Skeleton! October 28, 2008
So Long, Yankee Stadium (Updated, Again) October 18, 2008
So Long, Tiger Stadium October 11, 2008
Sunny Steel Stroll October 10, 2008
Twins in '08: Ballpark Magic October 2, 2008
All About Levels September 19, 2008
It Could Have Been Better/Worse September 16, 2008
Experiencing The Stadium September 13, 2008
Washed Out, But It's OK September 12, 2008
An All-Star Bid September 10, 2008
Rain, Rain, Go Away September 9, 2008
A Football Stadium Takes Shape August 31, 2008
Rooftop Visions August 30, 2008
What's Ballpark Magic? August 22, 2008
Flag Pole: En Route? August 20, 2008
Sent to the Showers (For the Team!) August 20, 2008
The Newest Twins Fan August 11, 2008
Sunset Limestone July 29, 2008
From the Plaza July 19, 2008
Stoned! July 16, 2008
Move Along, Nothing to Enjoy Here July 12, 2008
Home Land -- Safe! July 10, 2008
Becoming a Baseball Place June 25, 2008
Tailgaiting? Wind? Golf? June 5, 2008
Construction Update - May 29 May 30, 2008
Halfway Home May 17, 2008
Hooky, Anyone? May 16, 2008
New Ballpark Construction Views #3 May 10, 2008
New Ballpark Construction Views #2 May 9, 2008
Ballparkus Tourus Interruptus May 9, 2008
Construction Update from Greg May 7, 2008
A Better View May 3, 2008
Sharing and Caring Thoughts April 19, 2008
Curses April 15, 2008
Fox9 Report on Ballpark Names April 4, 2008
Ballpark Name Domain Wrap-Up April 4, 2008
Twins to Speculators: Hold Your Domains! April 3, 2008
Ballpark Jots April 2, 2008
Land O' Lakes Field?!? April 2, 2008
Hi-Def? Lo-Def? April 1, 2008
Sometimes It Snows In...March March 31, 2008
Ballpark Name Clues March 21, 2008
Let's Review March 20, 2008
Just Add Beams February 15, 2008
Frigid Plaza Progress February 12, 2008
Quick Construction Update February 7, 2008
Model Details - Twinsfest 2008 February 6, 2008
Santana Banners January 30, 2008
Model Details - An Earlier Vision January 23, 2008
Let It Pour! January 23, 2008
Model Details - Part 5 January 22, 2008
Model Details - Part 4 January 21, 2008
Model Details - Part 3 January 20, 2008
Model Details - Part 2 January 19, 2008
Model Details - Part 1 January 18, 2008
Shaking It Off January 18, 2008
Blah, Ballpark, Blah January 16, 2008
So Long, Class of '01 November 24, 2007
Ballpark Odds and Ends November 22, 2007
Construction Update November 20, 2007
Being Green November 5, 2007
Touring the Virtual Tour November 3, 2007
A Tale of Two Outfields November 3, 2007
Sizing It Up October 31, 2007
Live at the Meeting October 30, 2007
Respect. October 20, 2007
Done and Done October 15, 2007
Piles to Rails to Cranes September 28, 2007
Let's Build August 31, 2007
A Fair Discovery August 23, 2007
Ramping Up August 21, 2007
Accidental Preview August 16, 2007
Rescheduled August 9, 2007
Well, Now What? August 9, 2007
Impatience. Shock. Grief. August 1, 2007
Plan Your Outing August 1, 2007
Color Dreams July 24, 2007
Webcam! July 11, 2007
Summer Smells (of Rats) July 6, 2007
Officially Nuts June 25, 2007
Bad Ballparks June 25, 2007
A Special Fan June 19, 2007
...and a Major Concern. June 12, 2007
A Major Find June 11, 2007
Mark Your Calendar June 11, 2007
More Model Talk June 6, 2007
Concepts and Measurements June 1, 2007
First Dirt May 21, 2007
Introductions May 17, 2007
Poised and Ready May 15, 2007
No More Guesswork May 10, 2007
So, It Begins May 8, 2007
Happy Sigh. May 2, 2007
The Magic of the Event April 28, 2007
But Can It Soar? April 17, 2007
Watch Out For That Railing! April 15, 2007
More Reacting April 14, 2007
A Great First Impression April 12, 2007
Ah, Unveiling At Hand April 10, 2007
Washington Malaise March 14, 2007
Stealing Our Thunder March 13, 2007
Crickets March 8, 2007
Pogin on Almanac March 2, 2007
Potential Sites March 2, 2007
Heads Up March 2, 2007
Communication, People February 28, 2007
Wither, Rapid Park February 26, 2007
Equal Time February 24, 2007
Bad Faith? February 18, 2007
How Much Room...Really February 9, 2007
Wind Tunnel? December 14, 2006
A Tantalizing First Glimpse December 7, 2006
Wireless Dreaming November 15, 2006
Fake History? October 27, 2006
We Don't Need No Stinking Roof! October 26, 2006
Playoff Ballparks 2006 October 5, 2006
Becoming a Baseball Town October 1, 2006
Ballpark Seats With a View? September 29, 2006
Oh, the Ideas! September 28, 2006
Make It a Green Field September 26, 2006
Honoring Baseball's Mill City August 6, 2006
About Authority August 4, 2006
A Hot Dog...Please? July 28, 2006
Ballpark History Foiled July 13, 2006
Who's Got the Details? June 29, 2006
Loose Ends June 23, 2006
Meet the Ballpark Authority June 22, 2006
More Reasons June 21, 2006
Proudly Anti-Roof June 15, 2006
To Roof, or Not to Roof June 13, 2006
Baseball Soon, Parking Now, Lumber Then June 8, 2006
Killebrew Field June 6, 2006
Flag Pole - Part 2 June 5, 2006
A River Runs Through It June 2, 2006
The Plan June 2, 2006
How Much Ballpark? June 1, 2006
Getting There (and Out) June 1, 2006
Some Flagpole History June 1, 2006
A Great Baseball Place? June 1, 2006
Introducing the Site May 31, 2006
Some St. Peter Answers May 31, 2006
A Brief Delay May 31, 2006
It's Official May 28, 2006