From the Plaza
July 19, 2008 12:33 AM

COMMENT
In case you missed it, here is the WCCO video report of the limestone installation. Sue Turner crams in a whole bunch of little details into a very succinct report. Despite the presence of four TV cameras, I think hers was the only actual video report.
Here are some of those details:
- Limestone installation will stretch into the summer of 2009
- 100,000 square feet of limestone (100 truck loads)
- Designed to emulate bluffs visible along the Mississippi (I'll have a photo soon for comparison purposes)
- The tone of the stone will be darkest at the bottom, lightest at the top (apparently makes the building look taller, though I don't know why they would need this)
- The stone formed between 435 and 480 million years ago
- There are about 300 panels in total
- The stone is quarried by Vetter Stone Company
If I can ever get it uploaded (I hate YouTube since Google took over and the lawsuits began), I'll link to the complete press conference with Dan Mehls, of Mortenson Construction. But not right now...
Now, here are a few more things I saw from the plaza the other day. Looking through my photos, I've probably got a few more days of juicy images for you. MOJO has the walk-around tour covered beautifully. Thanks, Chris!
There's really no way to describe the atmosphere of the plaza, even in its currently unfinished form. The steel which will be the restaurant dominates the view, but in a very good way. Its angles have a drama and excitement which draw you toward the field.
The large planters which are visible in the animation and the model are well underway. I was imagining small, portable planter boxes, but these are anything but small, and certainly not portable. They are huge! It will take a lot of dirt to fill them, and there will be lots of room for flowers or bushes or trees or whatever. Here are a couple of images.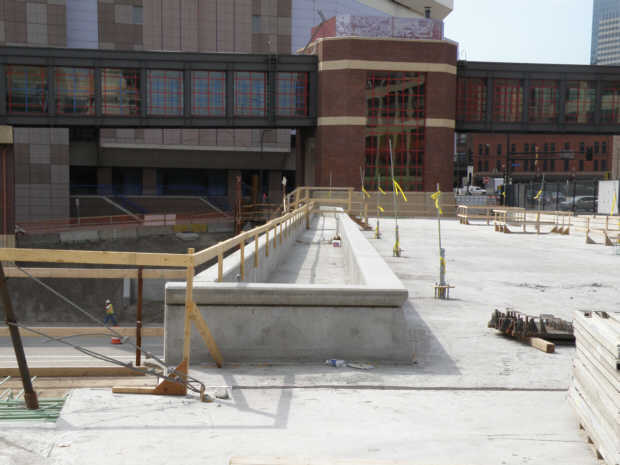 Looking up toward Seventh Street.
Looking up toward Sixth Street.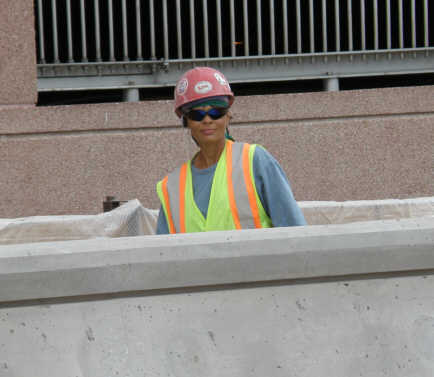 A mysterious smile from within a very deep planter!
The view up Sixth Street was surprisingly muted, not what I expected at all. The skyway just overwhelms everything, forming something of a wall between the plaza and the city. This may be a good thing, but my first impression was a little bit of disappointment given how spectacular the reverse view is from inside the skyway.
(This is a little conundrum I seem to face all the time. Often, while driving on I-94 through Wisconsin, I'll spy a beautiful house on a beautiful hill and think, "I bet that's a great place to live." Then I realize that, no, it can't be because it's right next to a freakin' freeway!)
Like the restaurant, the Pro Shop is a stunner when viewed up close. Again, it draws you in, and, with the restaurant, defines the area where Gate 3 "Killebrew" will be located. It's a most welcoming place already.
The Pro Shop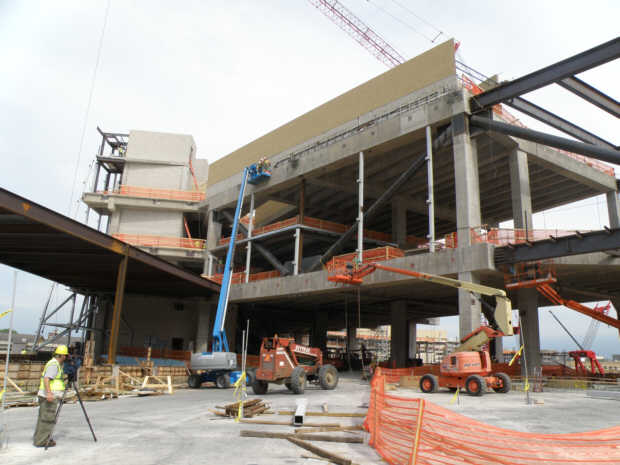 Gate 3 "Killebrew"
I asked Kevin Smith if anything was settled yet about vendors on the plaza. He said they haven't even started working on that yet, but, with all that space, there would definitely be some.
"All that space" is right. Overall, the plaza reminded me immediately of a market I visited during a high school trip to Toledo, Spain. There the plazas are central to the towns or neighborhoods, and they are ringed on all sides with multi-story buildings while tiny streets snake off and disappear in various directions.

Two plazas in Spain. (Brad and I were pretending to steal coins from the fountain. We were all just so darn funny back in high school, eh?)
The plaza on the left above is actually in Madrid and contains a very large fountain (which is quite common). But you can see how the buildings form a solid barrier along the edge. They go all the way around, though the plaza area is quite large.
On the right is a cathedral plaza in Toledo which features tree plantings much like those which will be on the ballpark plaza.
In our setting, the parking ramps and Target Center (well, the skyway, actually) create the formal perimeter, and Sixth and Seventh streets do appear to slink off and disappear. It was a powerful effect -- I was transported back almost 30 years in a heartbeat.
I think it was also made more powerful by the knowledge that a year ago it was just open freeway there! This is a genuinely new and stunning public space for the city of Minneapolis. And it was created out of thin air!
This brings up a quick subject I wrote about long ago: traffic noise. There simply was none. Even with traffic moving at a normal clip below and around us, it was an utter non-factor. Construction noise may have covered some of it, but I made a point of trying to listen just for traffic, and had to strain to hear it.
Our tour of the plaza went all the way to the edge where the right field stands (the part with the overhang) will be. It's not there yet, but the view is spectacular.
Game Notes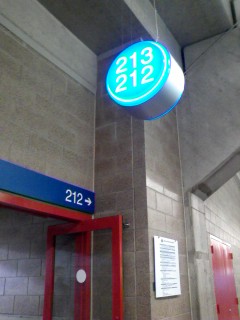 New section labels, but some curious choices.
The Twins got the second half started tonight with a 6-0 win over Texas. I was there and had some brief game notes.
The first is something I've been meaning to mention all season. The Metrodome concourses got some new section indicators this year. They are lighted, highly visible, attractive, but lack the one very important piece of information which would have made them more useful than what was already there: Which end of the row am I entering at?
Ushers are forever looking at tickets and telling people to go out into the concourse and enter at the other end of the section. How many times have you tried to enter a section only to be greeted by a large group, tickets in hand, coming out to simply enter at the other end? Even tonight I advised a man holding seat 30 in my row that I was in seat 1, and he'd have to crawl over 29 people to get to his seat unless he exited and then reentered at the next door down.
There should be signs to indicate this: "Section 215 - Seat 1" or "Section 215 - Seat 30."
I know how the numbering works (seat 30 of section 201 is next to seat 1 of section 202, etc) but most people just don't get it. Signs are a simple solution.
Obstructions?
We were sitting down the right field line -- the part of the dome where you can't see anything that happens in right field. It made me wonder if there will be a similar problem at the equivalent spot in the new ballpark. I don't have an answer for that yet.
Blare!
We were also in row 11 of the upper deck. I did not buy these tickets, and probably would not have because I have learned that rows 10, 11 and 12 in the upper deck are the absolute worst for the sound system. Some sections fare better than others, but if there is a speaker directly in front of you and you are in one of these rows, forget about having any conversation between innings or before the game starts. It is just too loud. And blaring. And mind-bogglingly obnoxious.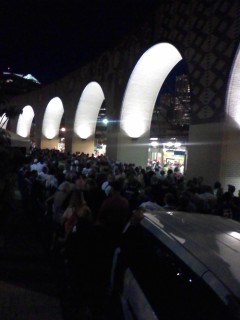 LRT throngs after the game
I know that I shouldn't hate that between-innings announcer -- he's just doing his job -- but I do. His voice goes through me like a skewer when I'm in that Blaring Zone.
Can this be fixed? At the Dome, no. Thankfully, it will be a completely different scene in the new park. I have yet to ask any questions about the sound system, but I'm certainly curious.
Train Crowds
I rode the LRT to the ballpark. I do this when I'm not in a hurry. Getting to the game is no problem. But after the game, oh boy! I waited for 45 minutes to get on a train. Even then, they were packed in like sardines. The lines stretched a long distance onto the plaza from the station.
It raised some serious concerns about the size of the platform at the new ballpark. This definitely merits further investigation.
Finally, one game-related thought.
Instant Replay
I'm a purist at heart, but technology is good at solving some problems and should be incorporated in as unobtrusive a manner as possible. So, while I'm a fan of adding instant replay capabilities to the umpire staff, I am not a fan of the "fortress of solitude" strategy which has been proposed and could be making its debut any day now.
In case you are unfamiliar with it, a lone ump will sit in a windowless room with a million TV monitors and access to every TV camera in every ballpark for every game in progress. Then, when a call needs to be reviewed, the crew chief in the ballpark will call the super-ump by cell phone and ask for a review.
This is pretty stupid, if you ask me. MLB is convinced that it won't happen all that often, and that one ump should be able to handle whatever volume of work comes along. That's total BS. Once it's available there will be three questionable calls per game. And he'll get calls from five crew chiefs simultaneously. And he'll have to look at three angles on each play.
Stop the madness!
My first preference would be to simply show the replay on the scoreboard and let the umps look at it that way. No mystery. No delay. No fortress of solitude. The official scorer could oversee which replay or replays get shown. No game slowdown and the crowd is entertained by being essentially in on the process.
Barring that, it would be better to have an extra ump on every crew who sits in the booth watching replays. He would be available for an appeal just like when a catcher asks for an appeal on a check swing. He'd be watching replays all the time, and probably know the answer to any question which may be posed before he's ever called on.
If an appeal is called for, the crew chief just points to the booth and a hand pops out of the window with either an "out" fist or a "safe" hand or a home run "twirl" or whatever. Again, it's fast and consistent with the way the game has always been played.
I'm no expert on these things, but I know a kludgy solution when I see one, and the fortress of solitude approach is a big-time kludge. It will fail. Spectacularly.
All for Now
Enough of my rambling. Next up, I will have some concourse and escalator shots! I'll leave you with a sight that took our construction tour group a little by surprise.
Comments
To utilized enhanced comment features, please enable cookies in your browser.
Hide Facebook box
---
This page was last modified on January 21, 2010.
"You talk about the magic, the aura, but what really makes a stadium is the fans. Concrete doesn't talk back to you. Chairs don't talk back to you. It's the people who are there, day in, day out, that makes the place magic."
– Bernie Williams
Explore the Site
Here are 50 images chosen randomly from the 3042 found on this site. Click the image to be taken to the original post. A new list is created every 10 minutes.

Photo by Tyler Wycoff




This looks like a Twins Pub, but is actually the scoreboard operations.

Lots of speakers, but in some places, no sound.

Tickets!

Main Concourse

The beautiful Promenade has become a sea of temporary barricades. (Smoker's Row outside the unnumbered gate)

Such promise. (Click to enlarge.)

Looking through it, you can see the outfield pavilion (upper deck at least).

This is a great spot for casually watching the game.

Open concourses do mean that you can glimpse the field no matter where you are, but not really the game.

Glare from the IDS never looked this sweet. (Photo by Jared Wieseler)


Detroit got this part right!

Today's late-inning office.

Compare this picture, from the open house in March, with the one above and you'll see that some furniture reconfiguration has taken place.


For executive entertaining

The Metropolitan Club (click to enlarge)




Gate 29 Carew (note the walkway above open to the street where you can shout down at your lost friends to tell them where to meet you)



The pouring is taking place at the very bottom of this photo.

This is NOT Twins Territory anymore


The field will feel very close.

Notice the temporary railing extensions

Though there's nothing there now, you have to believe they'll find a way to add a party deck up there at some point.

Click to enlarge.

Hardware in the window! (But why are there three trophies? 1924?)

This is as close as I could get to a pedestrian-eye view of Seventh Street (looking west away from downtown). It's inviting, not imposing, and remarkably dignified.


A few weeks ago there were sand volleyball courts here. When the park opens, this will be surface parking. Maybe one day there will be something more interesting built on top of that parking...

We bumped into Jerry Bell (at right)!


I'm not sure why there's a wreath on Gate 3. (I quickly checked the headlines for any dreaded Killebrew news. Whew.) It looks to be in celebration, maybe of the move.


Now looking north, the tracks emerge from beneath Seventh Street as freight tracks only. The Northstar line ends at the northwest corner of the ballpark. One day, however, you can bet that other passenger trains will approach from the southwest metro on these tracks -- if our legislators are smart and persistent, that is.


A glimpse of the rather plain west facade (the side which faces the HERC plant).


Nuts on Clark (a couple blocks north of Wrigley Field)
Glossary
BPM - Ballpark Magic
BRT - Bus Rapid Transit
DSP - Dave St. Peter
FSE - Full Season Equivalent
FYS - Fake Yankee Stadium (see also: NYS)
HERC - Hennepin Energy Resource Company (aka the Garbage Burner)
HPB - Home Plate Box
HRP - Home Run Porch
LC - Legends Club
LRT - Light Rail Transit
MBA - Minnesota Ballpark Authority (will own Target Field)
MOA - Mall of America
MSFC - Minnesota Sports Facilities Commission (owns the Metrodome)
NYS - New Yankee Stadium
SRO - Standing Room Only
STH - Season Ticket Holder
TCFBS - TCF Bank Stadium
TF - Target Field
Selected Bibliography - Analysis

Selected Bibliography - Surveys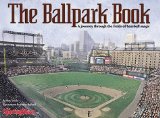 Not a "Third Edition" exactly,
but it replaced the above title
(2000)


Original edition (2000, round)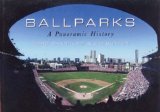 (2004, very large coffee table)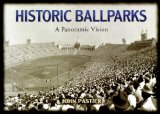 (2006, very large coffee table)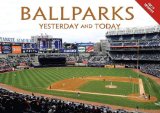 Combines the previous two titles
(2007, medium coffee table)

Selected Bibliography - Nostalgia



Book and six ballpark miniatures
(2004)