Beyond Ballparks
So Many Subjects for a Season's Last Gasp
October 30, 2009 1:45 AM

COMMENT
Seat logos in place
At dinner last night, Vic asked, "What time is the game?"
What game? Oh, 3 o'clock Sunday.
"No, the World Series. Doesn't it start tonight?"
So it did. And the question might be, how is it that I didn't realize that right away? I'm very interested. It certainly looks like a great series on paper.
But I'd slipped out of baseball mode because the scheduling is all screwed up. I know, this is not news. About the only people who think the schedule is fine wear suits with either Fox or MLB logos on the pocket.
Of course, ratings were up for game 1. Predictable with the Yankees in the picture.
I could go on and on about what's wrong with the scheduling, but I've got too many other subjects to get to tonight. Let's just say that TV executives are nothing if not unimaginative, risk-averse weasels. There are opportunities to program the playoffs and World Series in a way that eliminates the need for the Yankees or Red Sox while still getting ratings. Given that the Bombers are historically only in 4 out of every 10 World Series, you'd think that a little creativity might be in order for those other 6 years...
(By the way, that's a real statistic. There have been 105 modern World Series, and the Yankees have appeared in 40, or 38% of them. That's definitely beyond the threshold of statistical significance. Can you say, "competitive imbalance"?)
But MLB has drunk the Kool-Aid. It's another reason why the Selig Era will long be remembered as the Big Sell Out.
In fact, at one point tonight I heard Joe Buck describe the World Series as "the last round of the playoffs." Given the fact that the WS no longer even pretends to be about determining which is the best team in baseball, how sad is that image?
Replay Redux
The problem is now epidemic. The umps are losing their credibility. We know it, the managers know it, the players know it, the umps know it. Their confidence is down, and even more calls are being blown.
Blame it on HD if you want. There's nothing like watching a blown call over and over in HD to make you remember it forever. Forget that it's one or two calls a game. Two calls in rapid succession tonight were each potential game-changers. This isn't a little problem anymore.
The time to fix this is NOW. The winter meetings are just over a month away. Now is the time for someone to take a fully-developed instant replay overhaul plan to the rest of the brain trust:
1. A fifth ump on each team is stationed at a monitor just off the playing field with access to replays from all cameras in the park. (That's a total of 15 more umps. Their union will like that and it's not all that expensive.)
2. Managers can appeal any play (except balls and strikes) to an ump on the field who decides if a replay check is warranted. (No formal limit to the number of appeals. Abuse can result in ejection from the game.)
3. If appealed, the replay ump renders the call by hand signal immediately. (No slowdown of the game under most circumstances.)
4. If the replay ump sees something needing to be corrected, he communicates it to the crew chief who makes the correction on the field immediately.
If you agree that this idea is at least the start of a meaningful reform, please cut and paste the above into every baseball bulletin board you frequent (take credit for it yourself, if you wish). Maybe we can catch somebody's eye and get this done.
Next up: Technology to monitor the lines just like they have in tennis, both for the foul lines and for the edges of the plate. I hate it when the little diagram comes up (even as "unofficial" as they keep telling us it is) and shows that a strike was not a strike or a ball was not a ball. This is not complicated or expensive technology.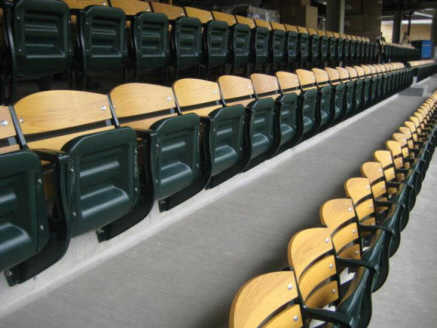 Center field seating
Speaking of that, why don't they just keep that little diagram on the TV screen at all times? Put it up in a corner, kind of like they have on the Gameday system, which I love because you get a very useful graphic of how the at-bat is progressing.
Hey You Kids! Get Outta My Yard!
I'm feeling cranky, so let's get into something that really pisses me off because it is so insanely dumb.
I saw a blurb for something called the Roku which allows you to watch MLB.TV Premium games right on your TV. Well, like all of these MLB digital services, it allows you to watch any out of market game.
The logic is that, if I want my own team's games, I have to subscribe to cable.
Well, I'm not going to subscribe to cable or satellite just to get Twins games! Maybe some people do, but I will not.
That means my money is staying in my pocket, even though I'd be happy to give it directly to MLB. Hear that, MLB? I'm keeping money in my pocket that I really wish I could give to you if only you'd let me watch my favorite team's games on your nifty digital service.
I understand why they do it, but that doesn't mean it's not stupid. In fact, it is stupid.
NYS on TV
In these playoffs we've now gotten some very long looks at New Yankee Stadium. (Have you heard that some of the cement is cracking?)
I've noticed a couple of things. First, they have a canopy of lights not unlike the one at Target Field (which isn't nearly as innovative -- conceptually -- as the publicity might have you think). But they have turned off the lights behind home plate and above the foul poles.
I don't know why, but it seems very intentional. For the benefit of the players? Umps?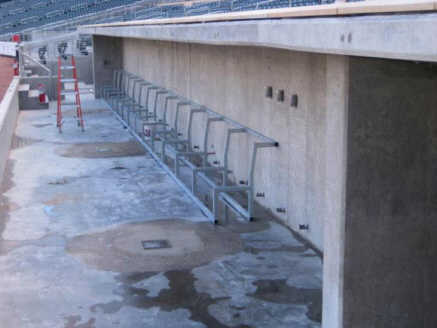 Skinny dugouts at TF
Second, every time I see a shot of the railings at the front of various decks, they look an awful lot like the ones at Target Field. I suppose there's no harm in buying something that works, but if it's true, I don't like it. Unfortunately, I can't get a long enough look to know for sure.
Third, it appears that the dugouts are very shallow, again similar to those at TF. Whether the Twins will have those nifty out-front benches I don't know. But those shallow inner benches are a big change from what we've known all these years. Its not a bad thing, just another observation.
Fourth, in one shot tonight I saw the ribbon boards showing the very same "Make Some Noise" graphic we've become accustomed to at the Metrodome. Makes sense, I suppose, that whoever makes the ribbon boards makes the graphics.
But the whole scoreboard-prompting-the-crowd-to-get-into-the-game thing seems beneath Yankee fans. In fact, I think it's even getting to be beneath Twins fans.
We'll make noise if you give us something to make noise about. Period.
Fifth, the relievers have a nifty glass-enclosed clubhouse out there in the bullpens. Nothing like that at TF.
Phillies, Too
Following up on my previous post about Citizen Bank Park looking way taller than TF, I've determined from architectural cross sections that the top rows of each park are at the almost exactly identical height of 116' 1" from the playing surface.
There is still a large difference in the horizontal distance from the front row of upper deck seats to the foul line. The best measurement I can get is that the front row of CBP seats in the upper deck may be as much as 35 feet further from the foul line than TF. (The foul line is the best reference because there is a significant difference in the amount of foul territory.) There is some ambiguity because the upper rows of CBP are razor-straight, while TF curves around the field.
The answer appears to be that the TF upper deck seats are decidedly better, but they are not any lower to the playing surface.
On another note, it may be interesting to measure Matt Stairs. We're watching the game tonight and Vic says, "He looks like your dad." And you know what? In terms of his physique, she's right.
So...seeing that guy in the World Series makes me think: Gimme a bat!
On the other hand, seeing former-Twin Charlie Manuel (a player remembered from my childhood days out at The Met) as a wise, old baseball sage makes me feel a little bit older myself.
A baseball franchise only comes of age when it scatters its former players around the game as wise, old baseball sages. You have to stay in one place for a long time before that can happen. Fifty years of Twins in Minnesota is, therefore, a very special thing.
Larry DiVito, mowing
Oh Yeah, This is a Twins Site...
The Twins announced today that they will be having a big rummage sale on November 7. On the one hand, if I can be there, I will. On the other hand, I gotta believe that much of what we'll find there is stuff nobody really wants.
They rolled out a couple of bobbleheads and Homer Hankies for the Fox9 news cameras, but anything interesting like that will probably be gone in the first few minutes. After that, I'm picturing bin after bin of old media guides and schedule magnets.
...and Target Field
Dan Kenney reports that the "super flush" went off without a hitch. It sounds funny, but it's a major milestone for the project.
This will be a great neighborhood. Note that the covering is being built for the emergency access. Also, note the streamers above, which appear to be monitoring air flow.
On a tangentially-related note, I recently read a book called Subterranean Twin Cities by local caver Greg Brick. It's a great book, and contains a whole chapter on Bassett Creek which, as you may remember, runs beneath Target Field. In fact, there's apparently a pretty large underground waterfall just downstream from the park.
Another milestone, the light burn-in, has hit a small snag, and it's bugging some, but not all, of the neighbors.
Here's something significant that was discovered in the Ballpark Authority's most recent job site report:
"The Twins have determined to make modifications to the terrace level railings because of sight-line issues."
I've asked a couple of people about this but gotten nothing definitive yet. Shorter seems like one obvious option, but redesign would be another. I'll let you know what I hear.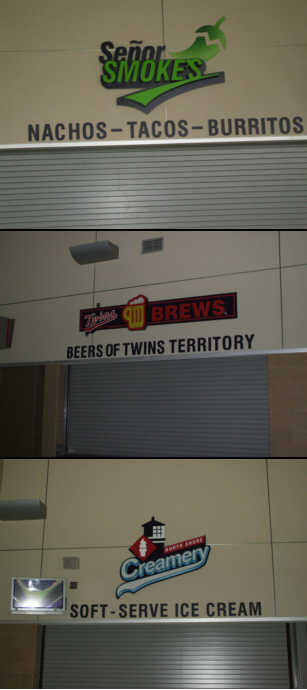 This is some of the signage in place for concession stands.
A Couple More Random
Special thanks to Andy, Steve and Paul for the photos in this entry. I also got a lot of information about ticket pricing which I intend to churn and publish, but haven't had time for just yet (thanks to Jim and John for that).
I made a small change to the coding of the comment form to further thwart the spam bots which have been ratcheting up my bandwidth costs. If you do not see a comment form on this or another page, just check to make sure that cookies are enabled in your browser and refresh the page. Drop me a line if you have any problems.
I've been encouraged by some readers to maintain the following link in the interest of changing how the costs of the site are covered:
Enough donations and I can banish the ads -- which I'd love to do. But there's no pressure here. I'm not MPR. As I've said before, I didn't start this site as a money-making venture. If you feel like you've benefited from the site, I'd appreciate your consideration. That's all. (As a Minnesotan, I feel a little bit sheepish about even bringing it up.)
In fact, I started this site to talk ballparks, and maybe have a place now and then to exercise the baseball part of my brain (which does actually have other parts too, exercised elsewhere). To that end, I read a fabulous article about why ballparks matter. Technically, it's a plea to the new owners of the Cubs to get at the urgent task of rebuilding Wrigley Field in place. But it gets to the heart of how the design of a ballpark affects the whole psyche of a franchise. Very perceptive.
In the comments to my last post, MattW used a wonderful phrase to describe Target Field: "naturally retro."
It refers to the fact that the design of the park is wholly intertwined with the piece of land on which it was built. There is very little in the way of arbitrary quirkiness (and before you mention the overhang, let me just say that it amplifies how the freeway pushes against that quadrant of the site).
When we hear reviews of the place next spring, I think it's possible that people may not appreciate just how important this is to the overall success of the facility. Of course, I'm jumping ahead. I'll need to see a game or two (or 10) there first.
Question
Tonight, during the game, Vic posed a question that never occurred to me before, and for which I had no immediate answer (though I bluffed a theory almost immediately):
Why run around the bases counter-clockwise?
Comments
To utilized enhanced comment features, please enable cookies in your browser.
---
This page was last modified on October 30, 2009.
"You talk about the magic, the aura, but what really makes a stadium is the fans. Concrete doesn't talk back to you. Chairs don't talk back to you. It's the people who are there, day in, day out, that makes the place magic."
– Bernie Williams
Explore the Site
Here are 50 images chosen randomly from the 3046 found on this site. Click the image to be taken to the original post. A new list is created every 10 minutes.

Here's the entrance from the seating bowl. It's down the outer moat, just beyond the last of the Dugout Box sections.

Now looking north, the tracks emerge from beneath Seventh Street as freight tracks only. The Northstar line ends at the northwest corner of the ballpark. One day, however, you can bet that other passenger trains will approach from the southwest metro on these tracks -- if our legislators are smart and persistent, that is.

An early concept for the pedestrial bridge. (Source: Ballpark Authority, RP)

Click to enlarge greatly. See yourself?
Looking up toward Seventh Street.


This is the LRT bridge under construction as viewed from the east looking west. The ballpark facade would be at the left in this photo.
Looking down Sixth Avenue toward the plaza

Pawlenty makes it official!

Mussina's first pitch. (Playing 3rd: Not A-Rod)

(Click to enlarge greatly)

Security cones?



View Level

Many people will approace the park from this direction and it's a pretty great first glimpse. It features all the design elements in modestly condensed form, and still manages to look like a ballpark (instead of something else).
This is where you will put out your butts -- I mean enjoy some pretty flowers.

A spot that's always full!


You can't get there from here.

This is also the promenade, where the first indications of the final texture of the walkway can be seen. This layer of concrete is going on top of gravel (as has been done over on the plaza).

Time to paint those supports Vikings-purple.

From an earlier visit: Don't bother with those escalators either. They were also roped off. And how about a bench? Or a planter? Or even a trash can? That woman is doing the only thing she can: leaning up against a post to do her texting.




This view, from the Minnekahda building (or possibly a predecessor), looks toward the right field corner. The City Market, at left, occupied the land where the B ramp and Target Plaza now stand (over I-394). And the Overlook now juts out just a little beyond where that driveway enters the railyard.


And another angle looking at the overhang area of the right field pavilion. This looks to me like a great area to watch a game.

This is the entrance behind home plate (not visible in the renderings which have been released). It shows that the upper deck is set back from the facade -- a very good thing if it remains in the final design.

A closer look into the park from down the street. How great will this view be during a game??

The east wall of the building looks like it will be the first part completed. These are probably supports for the plaza, and they hug the very edge of the site.
The splendid view from the roof of the Minikahda building. (Click to enlarge greatly.)

These images are found at the top of the staircase, which leads to the Suite Level.


Locations for ticket machines near the Hrbek outdoor plaza

7:32 PM Glare begins at about the left field foul pole.

Another B ramp glimpse (don't loiter here!)

Welding workers

Walkway connection


An overview of the model display.

Bench seating just off the plaza



Can you name that field? (Braemer Park, Edina)
You write the caption...

Glossary
BPM - Ballpark Magic
BRT - Bus Rapid Transit
DSP - Dave St. Peter
FSE - Full Season Equivalent
FYS - Fake Yankee Stadium (see also: NYS)
HERC - Hennepin Energy Resource Company (aka the Garbage Burner)
HPB - Home Plate Box
HRP - Home Run Porch
LC - Legends Club
LRT - Light Rail Transit
MBA - Minnesota Ballpark Authority (will own Target Field)
MOA - Mall of America
MSFC - Minnesota Sports Facilities Commission (owns the Metrodome)
NYS - New Yankee Stadium
SRO - Standing Room Only
STH - Season Ticket Holder
TCFBS - TCF Bank Stadium
TF - Target Field
Selected Bibliography - Analysis

Selected Bibliography - Surveys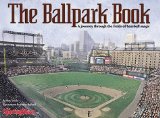 Not a "Third Edition" exactly,
but it replaced the above title
(2000)


Original edition (2000, round)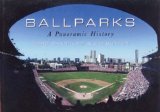 (2004, very large coffee table)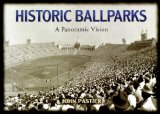 (2006, very large coffee table)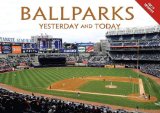 Combines the previous two titles
(2007, medium coffee table)

Selected Bibliography - Nostalgia



Book and six ballpark miniatures
(2004)