A Fun Game One (and Won)
April 6, 2017 9:06 AM

COMMENT
Well, let's cut right to it: Monday's opener was a whole lot of fun.
Watching the game was fun. Making my way through the unexpectedly large crowd was fun. Just being at the ballpark was fun. The Twins even looked like they were having some fun. (The Royals started out that way, but it didn't last.)
There's not much new at Target Field, but lots of little things are worth noting. And the first is to note the tragic removal of the pulled pork sandwich from the State Fair concession stand. Did it move, or is it just gone? I couldn't find it anywhere, and it's the one thing I eat almost every time I go to a game. With the cheeseburger, I considered it the best value at Target Field. Oh, maybe that's the answer...
But speaking of food, the line for the mini donuts has officially gone insane. When I walked the outfield concourse during the late innings, the line stretched all the way out to gate 34. Now, the mini donuts are good, but they're certainly not good enough to justify waiting at least half an hour. That's crazy. (But I'm happy for the vendor -- an independent.)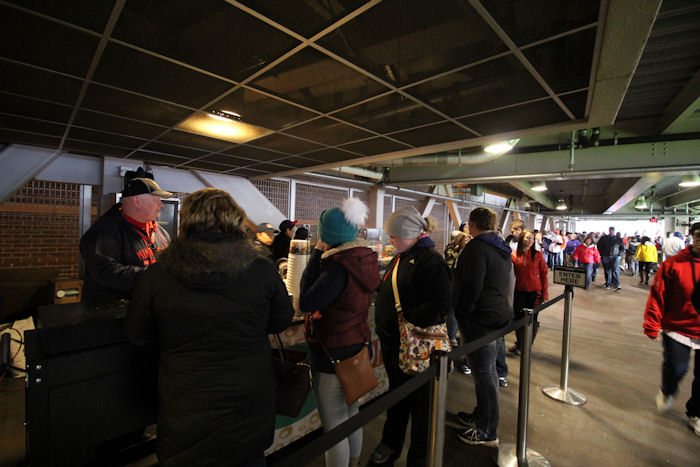 I didn't count, but I'd estimate at least 100 people in this line for mini donuts during the 8th inning.
You can't buy a $1 scorecard anymore, and that's a bummer, if not exactly a surprise. Instead, there's a similar scorecard (without the team rosters) stapled into the middle of the Twins Magazine, which was being given out for free. So, the price is right.
But I always just liked the whole concept of handing over a buck, and getting something so much better -- so tangible, practical, traditional, and perfectly suited to the occasion -- in return. In a very real way, it felt like an act of conjuring: the instant conversion of a meaningless and virtually useless piece of paper into one on which a story could be recorded, carefully and systematically, just for joy of it, and maybe the reliving and retelling later. Try doing that on a dollar bill (WheresGeorge.com notwithstanding).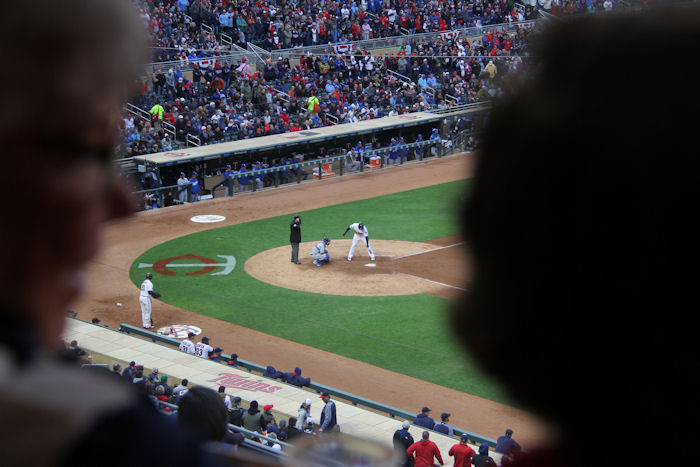 These two ladies were chatting up a storm about the game, and knew what they were talking about. They were INTO this moment when Sano batted with the bases loaded in the 7th (he took a walk and got an RBI).
You know, I never read those Twins Magazines anymore. They are really unsuited to the occasion, and I can't stand the fluffy, unending, self-promotional hackery. Yes, some Twin went to a hospital. Yes, some Twin or another is looking to "get back to form" or "capitalize on last year's performance" and other such flotsam. I really don't care, and I find the writing to be exhaustingly, unflinchingly chipper (which I know isn't the fault of the writers, just part of their job). Honestly, I was more interested in the players when I knew less about them and they seldom got a chance to talk. Why would I care what a ballplayer has to say? Just make the plays!
My favorite player profile of all time was a couple of terse paragraphs in a program from about 1970, which revealed that Blyleven's first name is really Rikalbert -- which turns out not to be exactly correct, but it was just the right kind of interesting. In the context of a baseball player, I'll take interesting over accurate any day. (He was born Rik Aalbert Blijleven, 66 years ago today, which I'm guessing will get a mention or two on this afternoon's broadcast.)
But I digress. Let's talk french fry lights.
They were mostly on, although there were places where they gave off some heat without much light. I don't know if they are cycling them, or if maybe they've discovered another, power-saving setting. But there's no question that, on a coolish day, a whole lot of ballpark life is happening beneath the french fry lights.
It's certainly a distinctive thing about Target Field (though I think they are now cropping up elsewhere). I feel about them much the way I do about skyways: They are necessary, a little strange, innovative, clever, somehow really wrong, but ultimately appreciated, and thus defining, in an unspecific way, of who we are up here.
Oops. Again, I digress.
The size of the crowd was a surprise to me. One usher told me that the game was sold out, but the announced attendance of 39,615 would be a bit shy of that. The seating bowl looked around 80% full at the peak, which I absolutely did not expect as I headed down there.
At one point before the game started, I encountered a huge bottleneck in the concourse behind the Homerun Porch bleachers. People were moving in from Gate 3, but were getting blocked by what turned out to be a hot dog cart pushed way too far out into the concourse: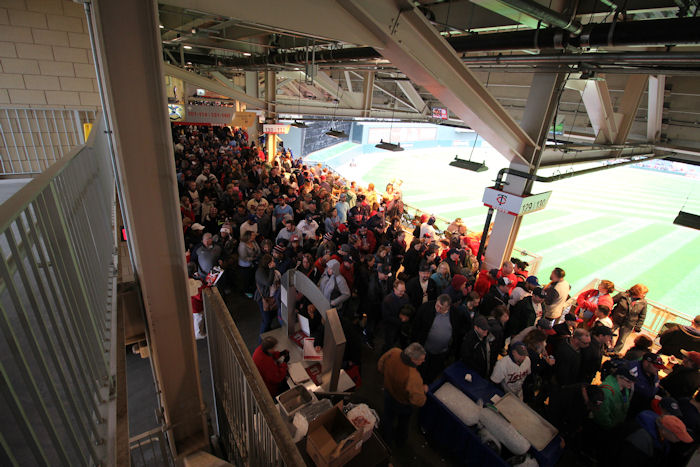 I assure you that not all those people were waiting for hot dogs -- which just aren't that good.
I should admit that I just love ballpark scenes like that one. It's so visceral. So Opening Day.
And I also must admit that I was stuck in this back-up for about five minutes before I decided to put my knowledge of the ballpark to good use. I made my way into the bleacher area, threaded quickly through a whole bunch of empty seating, and emerged upstream far enough to get on the ramp, then diagnose and document the clog. Know your ballpark, people!
It's also worth noting that this probably wasn't a problem at all with only half as many people there for Wednesday's game.
The lighting change was more significant that I expected. As you may know, the lighting in the canopy was changed out to LED bulbs, and with that came a change in light temperature (which I assume everyone now knows about because of the labeling on the LEDs you buy at Target). At one point, I was sure that the sun had broken through the cloudy blanket, but it turned out to just be the new field lighting. That's a pretty significant upgrade, especially since it comes with both a significant energy and maintenance savings.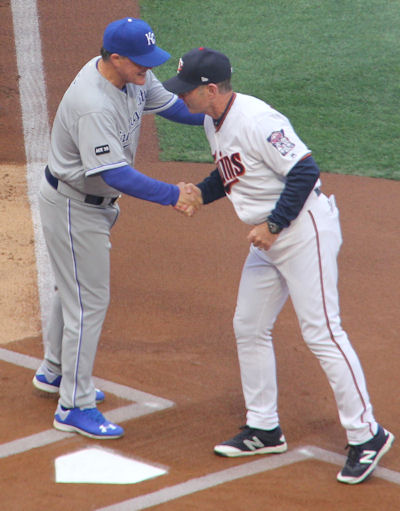 A real-life Minnie (aka Ned) and Paul
Those lights can also apparently pulse brighter if they want. It happened during the pregame, right before the Twins took the field. At first I thought I must be mistaken, but by the third pulse I was able to determine that it came from the canopy. It's a very cool effect, which must come with some limitations on its use. I hope they don't go crazy with that. There were also some colored LEDs under the canopy, but they were a little bit underwhelming. I'm guessing they will be very nice during night games.
Lots of things were redesigned on scoreboards. I guess we're all sort of used to the idea that where we looked for information the last time we came to the ballpark might have changed. I had trouble finding the time, which I think is gone completely from the auxiliary ribbon boards, and all too often not displayed at the top of the Twins Tower. I also had trouble finding the "last play" info (also used for Twingo). Eventually, I found it above the out-of-town scoreboard in right center (though I didn't look on the main grandstand side).
More troublesome was the new font that they are using. At one point I was sure that the last play was "S-3" and thought it must be some new sort of scoring. A quick check on my phone told me it was actually "5-3", as in, ground out to third. Similarly, when Mike Minor came in for the Royals, I wrote "86" for his uniform number because that's what I saw on the scoreboard above the bullpens. When he turned around, however, it was clearly "26", and a second look at the board confirmed that the number "2" looks weird in that font. A small thing, but really worth fixing since so much information has to be easy to read at a glance. (I don't really like having to drag my phone out to get info that should be easily readable on the scoreboards somewhere, but that sure is a First World complaint, isn't it?)
There were fireworks as the Twins were introduced. A nice idea, which led to some very smokey pictures as the introductions continued. There were no fireworks during the National Anthem, presumably not to scare the eagles in attendance. Unfortunately, weather nixed the anticipated flyover during the SSB (very precisely noted on the day's schedule as "2:58.30 p.m." -- which the event people and musicians hit perfectly nonetheless).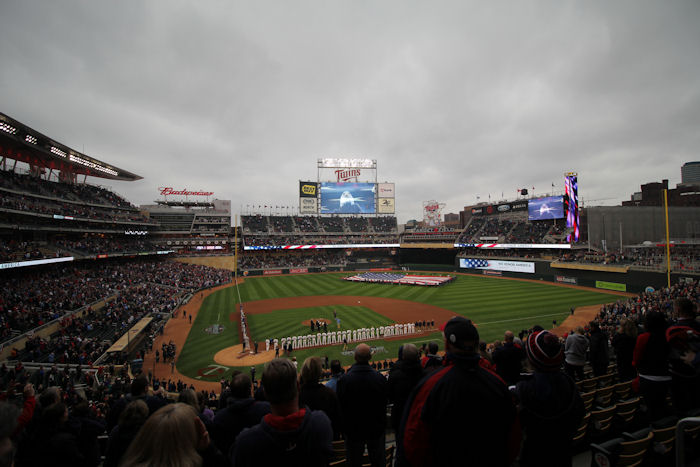 The flyover that wasn't.
Did I mention that it was fun? Everybody was in a great mood, even when it looked, in the early innings, like the Twins were about to pick up right where they left off at the end of last season. If you had told me in the third inning that the Twins would win the game handily, I would have wondered whether you'd been standing under the french fry lights too long.
But they did win, and it wasn't close, and we all got to end our otherwise fun day with a very nice Twins win.
Let the good times roll.
Comments
To utilized enhanced comment features, please enable cookies in your browser.