After Midnight
July 8, 2016 11:01 AM

COMMENT
If you are like me, and I know that at least some of you are, you think that a good rainstorm can be almost as much fun as a ballgame. So a night that contains both? Well, that's pretty special.
* * *
It started with an invitation a couple of weeks ago from our own Mike Menner (Fiesta), who had a spare ticket to Tuesday night's game. We made some plans, did the ticket exchange, and expected to next see each other at our seats before the game.
Then the weather rumors began to catch my ear, ever so slightly. It started, as many summer storms do, with meteorologists seeing something murky in their extended forecast crystal balls. A full 24 hours before game time, the talk turned to the potential for Something Of Significance. By mid-morning on game day, the certainty of storms had become conventional wisdom, despite the complete lack of even a single cloud in the sky or blob on the radar.
It's truly amazing what the computer models can dream up, and we know that we should pay attention, at least a little, when all of the weather people are pounding the same drum. But we also know what that drum beat means as far as the ballgame goes: Nothing. Nada. Squat.
The Twins have their own meteorologists, with their own crystal balls, tucked away in a nondescript room directly behind the visitor's dugout. These mysterious non-public weather-watchers have a much different task from your average TV guy or NWS guardian of the public safety, along with a whole different set of incentives.
The only thing they want -- nay, need -- is to get the game in if at all possible. So they don't care about lines of thunderstorms, radar-indicated tornadic vortices, watches or warnings or even the rain itself, unless it's headed toward, or directly above, that relatively tiny patch of green grass on the outskirts of downtown. And they're not looking for a beautiful day or even clear skies. They are looking for a window; more specifically, a three hour window into which a major league baseball game can be shoehorned. And they want it even more if the alternative would be disrupted travel plans, with ramifications to the pitching rotation that no one really wants to contemplate.
I tried to keep this in mind as I started looking at blobs on the radar for myself sometime Tuesday afternoon. At first, I thought the whole thing would track to the north and there would be no disruption at all. On that basis, I made plans for everything family-wise (meaning transportation and food) that needed to happen before I could leave the house at the normal time for a night game.
But then more blobs started appearing, uncannily like the computer models had predicted. At first they were green, like a garden salad on central Minnesota's plate. But eventually they developed into those rolling boils we know so well, where fiery vegetables spawn on top of that otherwise leafy green weather salad.
At this point, it's impossible not to become your own meteorologist. You can see on the radar what direction it's all heading, about how fast, and whether it's getting stronger or weaker. I concluded pretty quickly, by about 6:30, that the game would be a complete washout. The reds and oranges stretched out to Marshall, and the green went all the way to South Dakota.
In the back of my mind, there were a couple of other considerations. I knew that green on the radar means light rain -- sometimes even light enough that you can play in it. This presented some hope. I knew that a day game was scheduled for the next day (because my kids were going). This argued for an early cancellation so everyone could stand down and be ready to go bright and early. But I also realized that they were playing a west coast team. This argued that a start of even 10:00 PM would be acceptable to the visitors because the game would be seen in prime time back home, which, in turn, argued for patience. Still, I didn't see anything but rain and storms on that radar. I certainly saw no window.
But the Twins saw something that I did not see. At some point they saw a potential window forming. They recognized that the storms were picking up speed at the front, and weakening quickly at the back. They correctly guessed that it would all be over by about 10:00.
Mike had sent me a message from the Townball Tavern around 6:30, deciding to call it a night. And who can blame him? It was torrential downpours at that point, with no chance they'd start on time, and almost no chance they'd play at all. I heartily supported his decision, though now I fear that my poor meteorology, conveyed to him via text message, swayed his decision too much.
I just couldn't understand why the radio and TV guys kept saying that the teams were going to do everything they could to get the game in. Watching the radar, it seemed delusional.
The sense that I would be leaving the house that night had started to dissipate, and so when the kids challenged the grownups to some Connect Four, I joined in. We hung out together in our basement family room as the storms rumbled by, marveling at the incredibly bright lightning, instant thunder, and winds that tipped our patio furniture. We talked, in casual terms, about where we might place ourselves down there in the event of some really severe weather.
Thankfully, at least in south Minneapolis, this was the kind of storm you can enjoy without worrying too much. Rumbles, rain, blowing branches, fleeting flashes. It was really the best that Minnesota summer storms can offer, without the fear that it might require defensive basement positioning.
As we played, I kept an eye on the radar, and left the radio on in the background to enjoy some of the Rain Delay Theater they broadcast. Dan Gladden's interview with Rick Dempsey was a great pleasure (and featured a great discussion of the competitive vegetable garden which used to be behind the outfield walls of Memorial Stadium in Baltimore).
Eventually, around 9:00 PM, I saw on the radar the same thing the Twins' weather seers had discerned much earlier. I clapped my hands when I heard on the radio that the first pitch would be thrown at 9:50 PM. By then, my kids would be in bed, and my spouse would be headed that way. There was no reason for me to sit around and watch the game on TV when I had a ticket sitting right on my desk. So I headed out with a big smile on my face.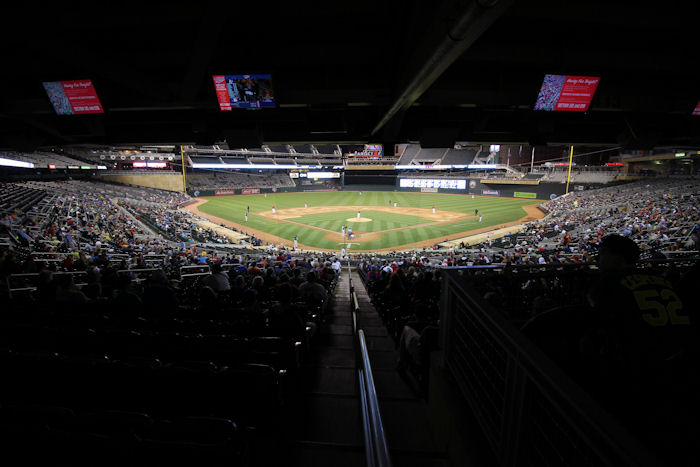 This is the whole crowd, save for a very few in Legends and suites. The upper deck was closed all around the park.
In some ways, this was my dream game: A night game, when the ballpark looks like an oasis of light and life in a darkening city. A late night game, when it feels like when the Ferris Wheel is still running, but only one couple is riding, just before the midway closes. A cool game in the summer, when the sweat of the day's air has been cleansed away by a refreshing twilight shower. A post-twilight game, in which the game begins and ends under a sky with no sign of lingering daylight.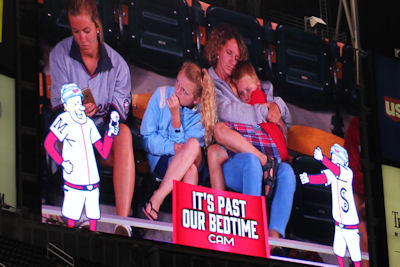 Unique scoreboard fun
A delayed game, when the only remaining fans are either very stubborn, or incredibly die-hard. A tiny crowd, where the individual voices matter, and some of them are coming from the dugouts. And a freebie, knowing that the ticket will be recyclable into another chance to see the boys of summer under more typical circumstances.
The atmosphere was loose. The Twins looked good. The fans were noisier than I expected, and included a surprisingly large contingent of A's fans. (I shouldn't have been surprised. What else were they going to do?)
With the upper deck (where my ticket would normally have led me) closed, we were told to sit anywhere -- except Legends, Champions, or the Dugout Boxes. That's nice enough, but I flashed on a 20-some inning game back in the Metrodome days, where there was no moat, and the few fans still there after the 14th-Inning Stretch got to sit right behind home plate. That would have been a nice perk (they could have simply closed the Champions buffet to anyone without a wristband, but I know, it's complicated).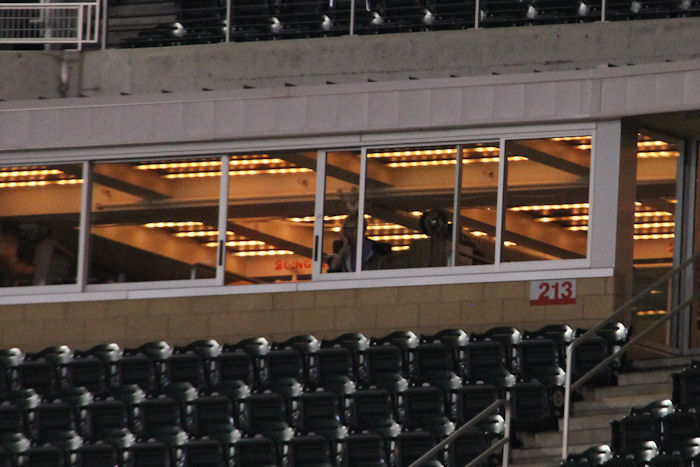 Sue Nelson was a trooper, staying through the whole game, playing from an empty club to a nearly-empty ballpark.
I moved around a lot, but the whole time I felt like I was actually attending one of those late-night west coast games I used to fall asleep to on the radio when I was a kid. (Oh, Herb, I still miss your voice. RIP)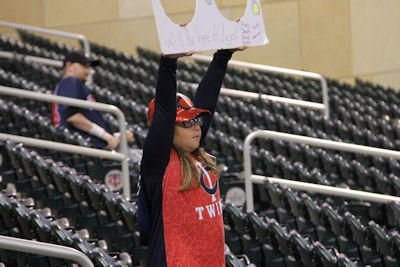 I think everyone in the park got on the big board except me and this girl, who, unlike me, gave it a pretty solid effort.
The Twins would not have had to play well for me to enjoy this, but they did play well. Good pitching from Tommy Milone, of all people. Lots of home-nine offense. Back-to-back homers from Vargas and Kepler (at opposite ends of the baseball physique spectrum), and a late but grand shot from Sano.
I didn't go there to eat, and there was hardly any food to be had. Only a handful of stands were open on the main concourse, each with only one register, resulting in absurdly long lines given the size of the crowd. I bought my scorecard at the souvenir stand inside Gate 29 just as the clerk was counting her till and covering everything up -- in the first inning!
You probably heard that the announced attendance was around 16K, the lowest official total in Target Field history. But my eyes would guess no more than 2K in the stands in the first inning, and more like a few hundred when the final out was recorded.
Among the die-hard attendees were a bunch of kids whose parents decided to stick it out. In the ninth I talked to one parent who had two children sleeping (deeply and uncomfortably) in their seats, with his third still clinging to consciousness. He said, with a wry smile on his face, that they'd been there since 7:00, and couldn't bear to leave early. Now THAT is a true fan family.
There were tons of fun touches. At one point, someone in the outfield shouted, "Day-O!" and was immediately answered by a lone voice from somewhere behind the plate. This led to a cacophony of solo voices doing the same from around the park, capped by the sound guys playing the real thing.
A's fans were in large enough numbers that they managed to fill the ballpark with chants of "Let's go A's!" during their eighth inning rally. After that, I overheard lots of smack talk back and forth right around the tarp, up the left field line, all in good fun.
After Sano's late homer, I heard a large chorus of very deep voices shouting, and it could only have been the Twins themselves cheering him around the bases. Can players on the field hear the dugout separate from the general roar of the crowd? On this night, they definitely could.
Foul balls were an adventure as kids came running from every corner when something landed in an empty section (which happened regularly). And the Twins ball boy seemed to be throwing more rejected balls than usual up into the stands behind the Twins dugout. It got so that the same few people seemed to be catching them all, and then tossing them to some kid who didn't have one yet. Score that: BB-Fan1-Fan2. (I read that the Twins were giving out gloves to kids at one point, but I didn't see that happening.)
My big celebrity sighting was Kevin Gorg!
When Robbie Grossman worked a walk in the eighth, at about 12:45 AM, the sound guys played a long cut of Patsy Cline's classic "Walkin' After Midnight." The crowd roared along (at least as much as a few hundred people can "roar").
I started noting times on my scorecard after midnight, which came during the seventh inning at-bat of the A's Matt McBride. The clocked flipped to 1:00 AM almost exactly as the final pitch was thrown.
* * *
There's a mystery which falls over the city and its ballpark at such a late hour. Even the lights of the skyscrapers beyond the outfield walls have diminished to almost nothing. Only their red aviation warning lights pierce the darkness, like rubies of prosperity. Nearer the ground, a few lighted signs remain, beacons of ongoing commerce. The trains are running, but the bell has a plaintive center that isn't noticeable during the din of a normal game. The sky is as dark as you'll ever see over a baseball game, which makes the ballpark lights seem that much more like sirens. The shadows themselves look different, if only because we see them through eyes which, but for this unique opportunity, might otherwise be closed.
Everyone in the place had made a conscious decision to stay out late into this night, and it was a spectacularly beautiful one after the rain passed. I wore a jacket and needed it. For most, it was a pretty loose experience. The toughest decision was whether to look for a dry seat, or use your pants to dry one off as you sat down.
Occasionally, you could see a question in the eyes of parents with sleeping kids: "Why are we doing this?"
There are a lot of potential answers to that question. For me, it felt like I was somehow at a private party with 50 of the world's best baseball players, and a few hundred of the biggest fans. And we were seeing something that most people were sleeping through. And while they slept, we were watching people making pitches, making plays, swinging bats, and hitting balls that shot like meteors -- early, secret Perseids -- across that black sky, tiny humans finding a way to slice the infinite mystery of night.
And I guess that's enough reason right there.
Comments
To utilized enhanced comment features, please enable cookies in your browser.
---
This page was last modified on July 11, 2016.
"People ask me what I do in winter when there's no baseball. I'll tell you what I do. I stare out the window and wait for spring."
– Rogers Hornsby
Explore the Site
This site currently contains
3176 original images.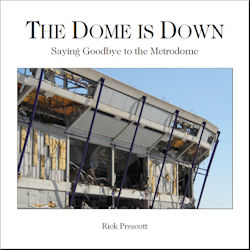 Reflections on the last days of a bad baseball place.
78 pages, with over 50 full color images.
Available on Amazon.
"Just take the ball and throw it where you want to. Throw strikes. Home plate don't move."
– Satchel Paige
"No matter how good you are, you're going to lose one-third of your games. No matter how bad you are you're going to win one-third of your games. It's the other third that makes the difference."
– Tommy Lasorda
Random Image
(Click to see in context)

One thing that the design disguises nicely is that the Pro Shop (and other key components) are actually built over lanes of freeway. That can clearly be seen here.
Random Image
(Click to see in context)

The plaza as viewed from across the park. The right field overhang section will be built just in from where the plaza supports are.
"Now, you tell me, if I have a day off during the baseball season, where do you think I'll spend it? The ballpark. I still love it. Always have, always will."
– Harry Caray
"All the ballparks and the big crowds have a certain mystique. You feel attached, permanently wedded to the sounds that ring out, to the fans chanting your name, even when there are only four or five thousand in the stands on a Wednesday afternoon."
– Branch Rickey
Random Image
(Click to see in context)

A familiar view through the top floor elevator lobby window in ramp B (HRP View and Terrace).
"I see great things in baseball. It's our game - the American game. It will take our people out-of-doors, fill them with oxygen, give them a larger physical stoicism. Tend to relieve us from being a nervous, dyspeptic set. Repair these losses, and be a blessing to us."
– Walt Whitman
"Now there's three things you can do in a baseball game: You can win or you can lose or it can rain."
– Casey Stengel
"You talk about the magic, the aura, but what really makes a stadium is the fans. Concrete doesn't talk back to you. Chairs don't talk back to you. It's the people who are there, day in, day out, that makes the place magic."
– Bernie Williams