Archives (Pre-Blog Articles)

The articles linked here predate the creation of this web site, but are still related (at least tangentially) to the genesis of Target Field.

While these articles were being written, I was also posting regularly to the DTFC forum site as sort of the resident ballpark geek. Also, that's the era when Shane Nackerud's site (Greet Machine) was the focus of tracking the political process for getting the bill through the Legislature. I did a fair amount of reading, and occasional posting, there as well.

Eventually I hope to recapture that archived material and save it here.



Roof Thoughts (Repeated) March 22, 2007

A Better Site? February 9, 2007

Warning Shot? January 5, 2007

Bluster? December 15, 2006

On the Met May 26, 2006

Hello, DSP May 25, 2006

For the Fans May 23, 2006

No Indentation May 23, 2006

Google Earth Preview May 23, 2006

Roof Views May 23, 2006

On Orientation May 22, 2006

Footprint Talk May 22, 2006

On Symmetry May 22, 2006

Not When, But What May 21, 2006

Closer or Farther? May 3, 2006

On Pawlenty 3 April 21, 2006

On Pawlenty 2 December 3, 2005

On Relocation October 18, 2005

On Pawlenty July 11, 2005

On Kauffman and Avoiding Boring July 10, 2005

Weather Note June 27, 2005

Enter Santee June 9, 2005

Weather Check 2 May 25, 2005

Weather Check May 23, 2005

Legislative First Pass May 11, 2005

Rapid Park Q&A May 9, 2005

Reconsidering a Roof May 7, 2005

Enter Hennepin April 24, 2005

Rapid Park Summary April 16, 2005

Smaller Place/Bigger Place July 17, 2004

Fixing Transportation May 6, 2004

Announcers April 3, 2004

Proud to be an American? March 23, 2004

Warm Up Your Bulldozers March 2, 2004

On Victory Sports February 29, 2004

Personal Seat Licenses January 30, 2004

Is a St. Paul stadium a good idea? January 30, 2004

Financing January 14, 2004

Roof January 12, 2004

HOK Strikes Again January 7, 2004

It's About Ideas November 8, 2003

Why Not Commuter Rail? November 8, 2003

More Ballpark Thoughts November 5, 2003

What Makes a Great Baseball Place? November 2, 2003

Little Guys October 27, 2003

My Mom Hates Derek Jeter October 21, 2003

Say Goodnight, T. C. October 6, 2003

Don't Taunt the Rocket October 4, 2003

Not Tonight October 2, 2003

Twins Win! September 30, 2003

2003 Playoffs September 29, 2003

43-119 September 29, 2003

Cubbies Clinch! September 28, 2003

Game Summary: May 2, 2001 May 3, 2001



"People ask me what I do in winter when there's no baseball. I'll tell you what I do. I stare out the window and wait for spring."
– Rogers Hornsby
Explore the Site
This site currently contains
3176 original images.
Random Image
(Click to see in context)

And another angle looking at the overhang area of the right field pavilion. This looks to me like a great area to watch a game.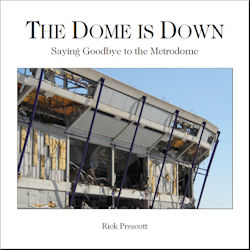 Reflections on the last days of a bad baseball place.
78 pages, with over 50 full color images.
Available on Amazon.
"Just take the ball and throw it where you want to. Throw strikes. Home plate don't move."
– Satchel Paige
"No matter how good you are, you're going to lose one-third of your games. No matter how bad you are you're going to win one-third of your games. It's the other third that makes the difference."
– Tommy Lasorda
Random Image
(Click to see in context)

A cold afternoon in 323, but we had our trusty Twins blanket -- made by my mom when Noah was born.
"Now, you tell me, if I have a day off during the baseball season, where do you think I'll spend it? The ballpark. I still love it. Always have, always will."
– Harry Caray
"All the ballparks and the big crowds have a certain mystique. You feel attached, permanently wedded to the sounds that ring out, to the fans chanting your name, even when there are only four or five thousand in the stands on a Wednesday afternoon."
– Branch Rickey
"I see great things in baseball. It's our game - the American game. It will take our people out-of-doors, fill them with oxygen, give them a larger physical stoicism. Tend to relieve us from being a nervous, dyspeptic set. Repair these losses, and be a blessing to us."
– Walt Whitman
"Now there's three things you can do in a baseball game: You can win or you can lose or it can rain."
– Casey Stengel
"You talk about the magic, the aura, but what really makes a stadium is the fans. Concrete doesn't talk back to you. Chairs don't talk back to you. It's the people who are there, day in, day out, that makes the place magic."
– Bernie Williams